Dear Parents and Carers,
What a busy month it's been! Since the last edition of the Wooden Post, years 1, 3, 5 and 6 have all been on trips, year 4 had a Roman experience day at school, we had World Book Day and more recently Red Nose Day when lots of rules were broken for charity! I must say, I've never done an assembly lying on the floor before! It has been such a joy to see the children having these wonderful experiences again and to hear all about the amazing things that they have done and seen on their trips and adventures. Check out the year group information for photos and more information.
Thank you for all of your support for the book fair that we had during World Book Week. The book fair raised a whopping £1212.11. With this fantastic amount, we can now order lots of much-needed free books for the school.
As we move closer to being more normal post COVID, we are so pleased to once again welcome volunteers back into the school. If you are able to spare some time each week to help in school, please let the office know.
Finally, just a quick reminder that children return from the Easter holidays on Thursday 21st April for the summer term. I am hoping that this glorious sunshine will continue over the Easter holidays.
Kind regards,
Mrs Lagares
Second Hand Uniform Sale (date to be confirmed)
Please can we ask you to have a look over the next few weeks to see if you have any good condition uniform (new logo) that you no longer need. Please bring in any donations from the 21st April 2022.
No scooters / bikes to be ridden within the school grounds. Bikes and scooters should be walked to the bike shed.
Uniform - please ensure children wear the correct school uniform, including PE kit.
Water bottles - children are encouraged to bring a water bottle to school each day, especially as the weather starts to get warmer. Water bottles must only contain water, juice or squash is not permitted.
Birthdays - children can bring sweets to hand out at the end of the day and / or wear their own clothes for the day. If your child's birthday falls at a weekend or holiday, they can do this just before or after the weekend or holiday.
Sad Farewell to Mr Munden
Mr Munden will sadly be leaving us on the 22nd April 2022, to work as a Site Controller at another primary school. We would like to thank him for everything he has done over the last 7 years. He will be sorely missed by all.
Raring2go! Spring Magazine
Our spring digital magazine is full of great ideas for you to enjoy everything that Spring offers. From crafting to gardening and enjoying park life that's just on the doorstep. There's a great word search and fact sheet on trees (Page 6&7) to encourage both kids and parents to get out and about and learn more about the environment in a fun way along with lots more things to do.
https://magazines.raring2go.co.uk/ascotbracknellandwokingham/spring/
Children's Jubilee Digital Art Competition
For details of requirements and how to enter, check our Jubilee competitions page - https://www.bracknell-forest.gov.uk/platinum-jubilee-competitions.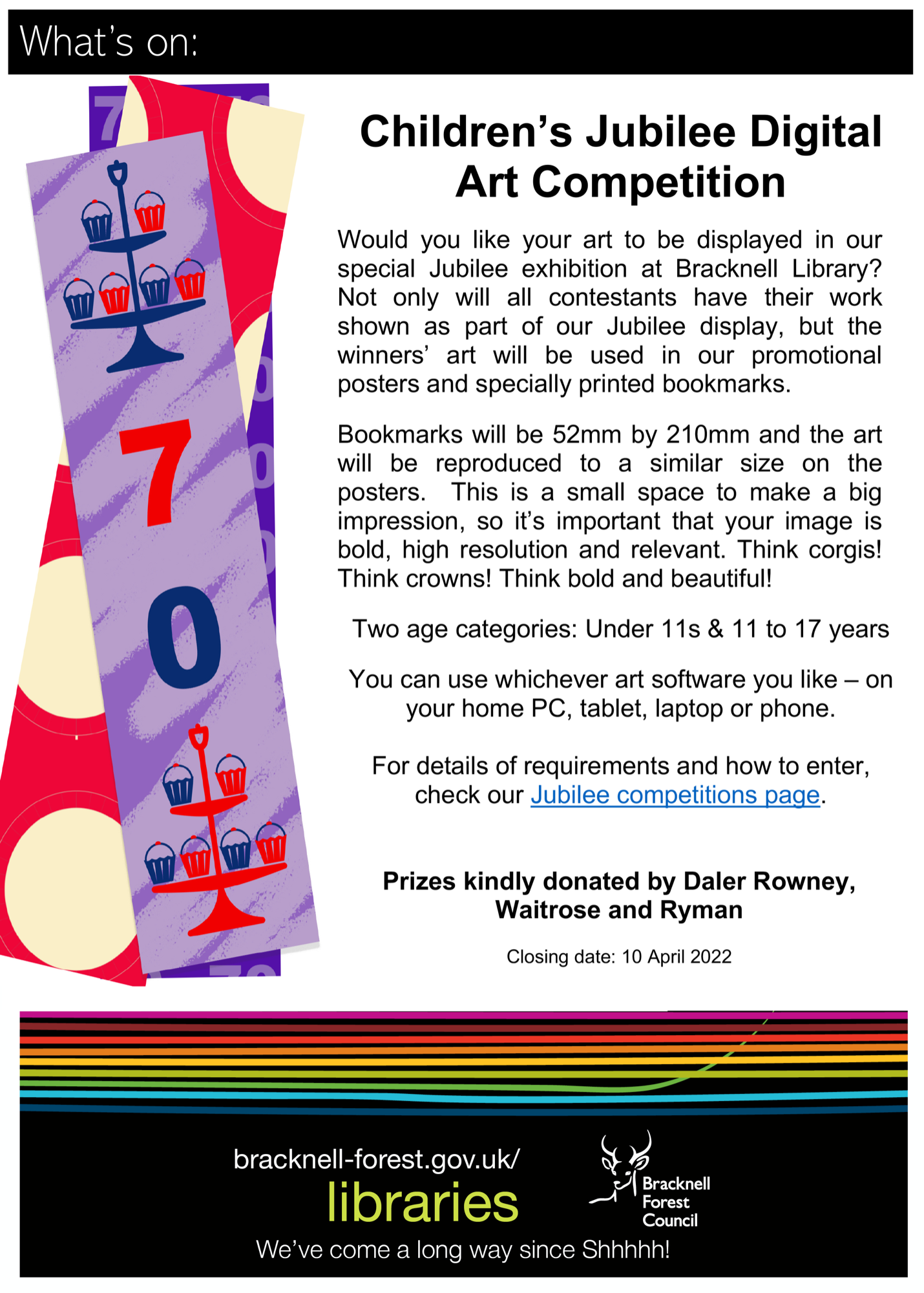 Parent Support Workshops
To book a space please email your name, school and contact number to Inge.Taylor@bracknell-forest.gov.uk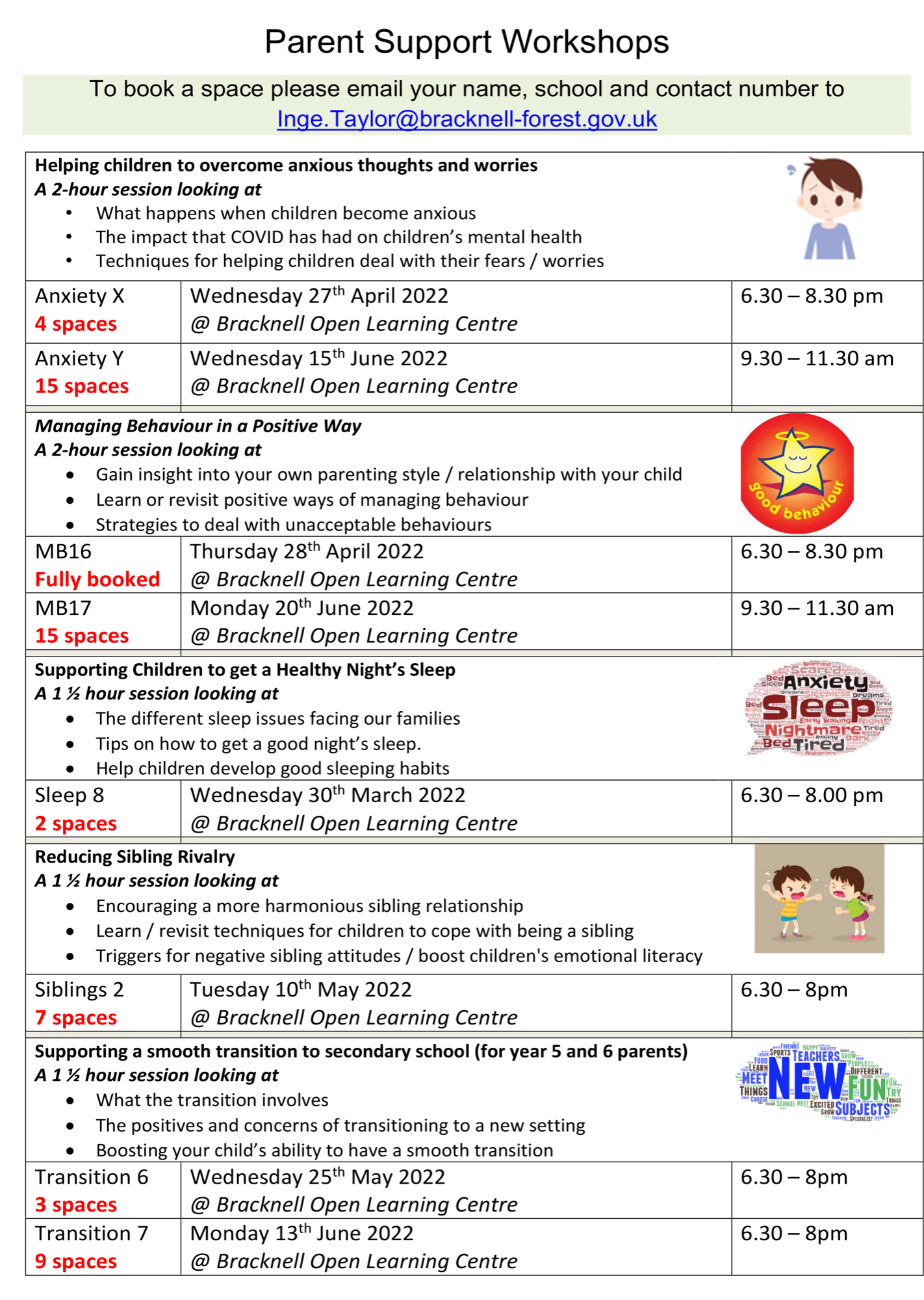 Your chosen course which will be delivered face to face at the Bracknell Open Learning Centre. You will be asked to complete an enrolment form prior to the start of the session and to follow COVID guidelines. Your place at the session will be confirmed prior to the course and if the paperwork is not completed your space will be offered to someone else.
Nursery Roundup
The children had an exciting start to the term hunting for bears! The children greatly enjoyed listening to the story "We're Going on a Bear Hunt' and greatly enjoyed acting out the story using the small world figures in the bear hunt themed tuff tray and acting it out themselves in the playground. They climbed in and out of the tyres pretending it was 'squelchy mud' and used the climbing frame as the 'deep, dark cave'. Some children have even drawn pictures showing the places that the family from the story walked on their bear hunt.
The children got to celebrate both Shrove Tuesday! The children listened to stories about pancakes (Mr Wolf's Pancakes) and took part in pancake races in the Nursery Garden, some children tried very hard to toss and catch the pancakes and had lots of fun doing this as they did when they got to eat pancakes.
The children have taken part in Book themed activities throughout World Book week. The theme was 'Stories from around the World' and in groups, the children heard and acted out 'Handa's Surprise', 'We're Going on a Lion Hunt' and The 'Ghanian Goldilocks'. They have spoken about their favourite stories, coloured in favourite book characters and even made them into puppets. They learnt about bookmarks and how they are used, and they also got to make their own bookmark characters from lolly sticks. Of course, the highlight of the week was seeing all the children in their amazing costumes on Thursday!
For Science Week the children have been investigating growth and change, they planted cress and took responsibility for the watering their plants and have observed them throughout the week. As well as this, the children took part in a Spring themed nature walk on Tuesday, they observed signs of Spring such as grass growing, buds on trees and lots of daffodils!
Reception Roundup
Over the last few weeks Year 1 have been very lucky to have some guest speakers, telling them all about their jobs and how they involve vehicles and transport. There was a visit from a plane engineer, a member of cabin crew, a mechanic, as well as a postman and lady. The children thoroughly enjoyed listening to what they had to say, looking at photos, watching videos and they also had lots of interesting questions to ask!
The children also learnt about what an emergency is and how to make an emergency call and got very busy creating emergency vehicles using collage materials and making car tracks on large pieces of paper with cars and paint.
It was fantastic to see all the children dressed up in their costumes for World Book Day and for showing a real enthusiasm for all things 'book' throughout the day. They enjoyed a costume parade, a book scavenger hunt, making reading dens, listening to several stories during the day and they ended the day with a reading quiz. The day was themed around the story 'Emma-Jane's Aeroplane' and the children enjoyed making their own flags and junk model planes.
The children were very excited to use the bee-bots in class this week. They learnt how to programme them and give them directions to follow and used this knowledge to direct the bee-bot along a giant road puzzle.
There was lots of fun during Science week. The week began by learning about Spring and looking for signs of Spring outside. The theme of the week was 'growth' and the children enjoyed planting their own seeds which they are looking forward to watching grow into watercress. They enjoyed reading 'Jack and the Beanstalk' and enjoyed making 'castles in the clouds' (Duplo blocks covered in shaving foam) the children described the bricks as slippery, smelly and cold when covered in shaving foam! We then read the story 'Three Billy Goats Gruff' and explored ways to make a new bridge for the goats. The children also enjoyed some other Science based activities which included 'free the dinosaur', making slime and making bridges using pasta and playdough.
Te class were very lucky to have a visit from a nurse to explain how she helps people as part of her job. The children had lots of questions to ask and experiences to share with her. Some of them were even bandaged up by Nurse Charmaine!
Finally, the children have enjoyed learning about space! They have learnt facts about planets and even had a go at writing a fact about their chosen planet. We will turn their facts into a class fact file which the children can then enjoy looking at and reading in the reading corner. They have used paper mâché to create the different planets this week and will be painting them next week.
Year 1 Roundup
'World Book Week' was thoroughly enjoyed by both children and staff. It was great seeing the children's 'Shelfie Selfies' which were uploaded to Google Classroom and it was amazing to see the love of reading in Year One and the 'extreme reading' challenge highlighted some amazingly exciting places to read!
Over science week the children continued learning about animals and were learning about different features of animals. Did you know that Camels have eyes on the side of their heads so they can spot predators from all around? The children particularly enjoyed researching their own animals, using the Ipads!
On the Friday of science week the children became scientists for the day and carried out many exciting experiments. They were given the opportunity to explore and create their own bubble wands. This was particularly messy, but the children's curiosity and hard work and determination was commendable and there were definitely some scientists in the making!
We were incredibly lucky with the weather this week, and it was lovely walking around the beautiful grounds of Wellington Country Park in the sunshine.
The children were so well-behaved, and several visitors even came up to Miss Smart and Mrs Critchlow to comment on what lovely children they indeed were!
The children spent the morning feeding animals and learning about their diets which linked to their science topic this term. The children had clearly remembered their facts about animals and impressed the Wellington staff with their knowledge of 'carnivores', 'herbivores' and 'omnivores'. A particular highlight was when the children were able to hand-feed the friendly animals. What a treat!
Year 2 Roundup
As always the children had a lot of fun celebrating World Book Day. The children all looked fantastic and thoroughly enjoyed sharing their favourite books and characters with their classmates.
During science week, the children enjoyed carrying out their own investigation. The had great fun making their own slime, taking turns to mix and play to get the right consistency. Once made they enjoyed finding out how far they could stretch the slime. After this the children carried out an investigation to see who had made the stickiest slime by adding rice to each groups slime and then after it was mixed in, tried to stretch it to see how far it could be stretched before the rice fell out!
In maths the children are focussing on fractions; exploring equal and unequal fractions, have explored halves, quarters and thirds by dividing a whole shape or whole amount into equal parts. We have used practical resources such as Numicon and pictorial representations such as pizza to visualise these fractions.
Year 3 Roundup
Year 3 really enjoyed book week and dressing up for World Book Day! They have focused on the book 'Kensuke's Kingdom' by Michael Morpurgo and have completed lots of activities around the text including map drawing and drama.
The children had a really fascinating visit to the Sri Guru Singh Sabha Gurdwara in Slough and were taken on a tour by three amazing volunteers who had given up their time to share their place of worship with the children.
During the tour the children visited the Langar, where food is prepared and served using donations for anyone who attends the Gurdwara needing a free hot meal. The children were amazed by the size of the cooking pots and bags of rice as well as the huge fridge!
After the Langar, the children visited a prayer room and saw a copy of The Guru Granth Sahib. It was amazing to hear that the language of Punjabi, which the book is written in, hang their letters from the top of the line rather than sit them on the line.
The last place visited was a smaller prayer room where the children were shown 'The Five Ks'. The children looked at each one and found out what they symbolised to Sikhs. For example, the wooden comb is to remind them to keep a clean mind and body and look after the body they have been given.
During STEM week. We have learnt about how the areas of science, technology, engineering and maths are connected with transferable knowledge and skills and how many of the different subjects we learn at school are linked in the same way.
During the week, the children found out about different people who work currently in STEM roles and have found out what their job is and what skills they use to do it. They then had a go at an investigation that linked to their role. They investigated the permeability of rocks, designed a digital device with appropriate inputs and outputs and made switches to operate electrical circuits.
They were lucky enough to have visit from Heidi, who is an evaluator at a fragrance company and the children were shocked to hear that it takes 20 years to become a perfumer! After her visit, the children had a go at putting their own observational skills to the test and investigated different fragrances.
Year 4 Roundup
During Book Week, Year 4 were studying the book 'Escape from Pompeii' by Christina Balit which linked well with both their art topic for this half-term, and their history topic from last half-term, the Romans.
Year 4 have had their first 'Reading Buddies' session with Year 1. Every Monday, after lunch the children get to read their stories to the younger children and listen to them reading too. The children are amazing role models to the younger children and made the staff very proud.
The children had a great time when Ufton Court visited Wooden Hill to hold a Roman Day! The children learnt about Roman life and 'trained' as legionaries in the Roman army.
For 'Science Week' Year 4 got to look at how science is used in everyday life and discuss some job roles that require skills of science. They were incredibly lucky to have Adam visit on Monday afternoon, who is a sound engineer. They had great fun learning about how sound is made and learning about the frequency of different sounds. After learning this, the children made their own string telephones. When the children spoke into the cup, their voices sent sound waves which vibrated the bottom of the cup. The vibrations were then transferred to the string which was attached to the base of the cup. These then went along the string and into the base of the second cup and this is how the sound of our voice is transferred: through vibrations!
Year 5 Roundup
Year 5 have been reading the book The Last Bear by Hannah Gold. It is about a girl named April who moves to Bear Island with her father and finds a real, live polar bear! They got to draw their own front covers, compared settings and wrote letters from April, plus they got creative by sculpting salt dough polar bears as well as drawing them. The children looked brilliant all dressed for World Book Day and there were some great entries into the Extreme Reading Challenge.
Their WBD text linked brilliantly with their English topic, reading and writing non-chronological reports on animals including arctic foxes and emperor penguins. They have explored the features of the texts, including subheadings and the different non-fiction shapes from TWS to structure their texts. The children have also been encouraged to write more independently and are making excellent progress, even though it really is very difficult.
The children played their first football match of this half of the season against St Michael's Sandhurst on Thursday. Ten Year 5 and 6 children were chosen to represent the school after working incredibly hard at the practice sessions. It was a tough game, against the team second in the league, but everyone was happy to be back playing football again. The team blew us away with their teamwork, considering it was the first time they had all played together properly. Goalkeeper, Riley, did brilliantly despite the team loosing 4-0.
Year 6 Roundup
This year, unfortunately for Year 6, World Book Day fell upon the week of their mock SATs week. However, this didn't stop them from having as much fun as possible packed into one day. Firstly they held a fashion walk - the audience had to guess who we were dressed as for the day. Also, the children combined art and review writing by creating a watercolour or drawn scene from the book called The Day Way Came and added in their opinions and views around this to build it.
The children had a fantastic day at Ufton Court, and were able to experience a range of activities from farming as evacuee children to decoding Morse code as soldiers and using artefacts as historians.
Year 5&6 got to play their first football match of this half of the season (after a cancellation last week) against St Michael's Sandhurst and despite loosing all the children really enjoyed the match, see report above in the Year 5 Roundup.
Wooden Hill Primary and Nursery School
Staplehurst, Bracknell, Berkshire RG12 8DB
T: 01344 421117 E: secretary@office.woodenhill.bracknell-forest.sch.uk