Year 6 News
Spring Term- Week 8- 1st March 2021
On Thursday, the children celebrated World Book Day by coming to school dressed as their favourite book characters. They enjoyed an online workshop by Sita Brahmachari, author of 'The River Whale', who shared some inspirational tips for story writing, had a scavenger hunt in the library and tested their literary knowledge with a special book-themed quiz. They were extremely pleased to receive a new selection of books to add to the class bookshelves courtesy of the sponsored Read-a-Thon which raised a staggering about of money to help enrich the children's reading experiences throughout the school. Well done to everybody who read and raised... Happy Reading!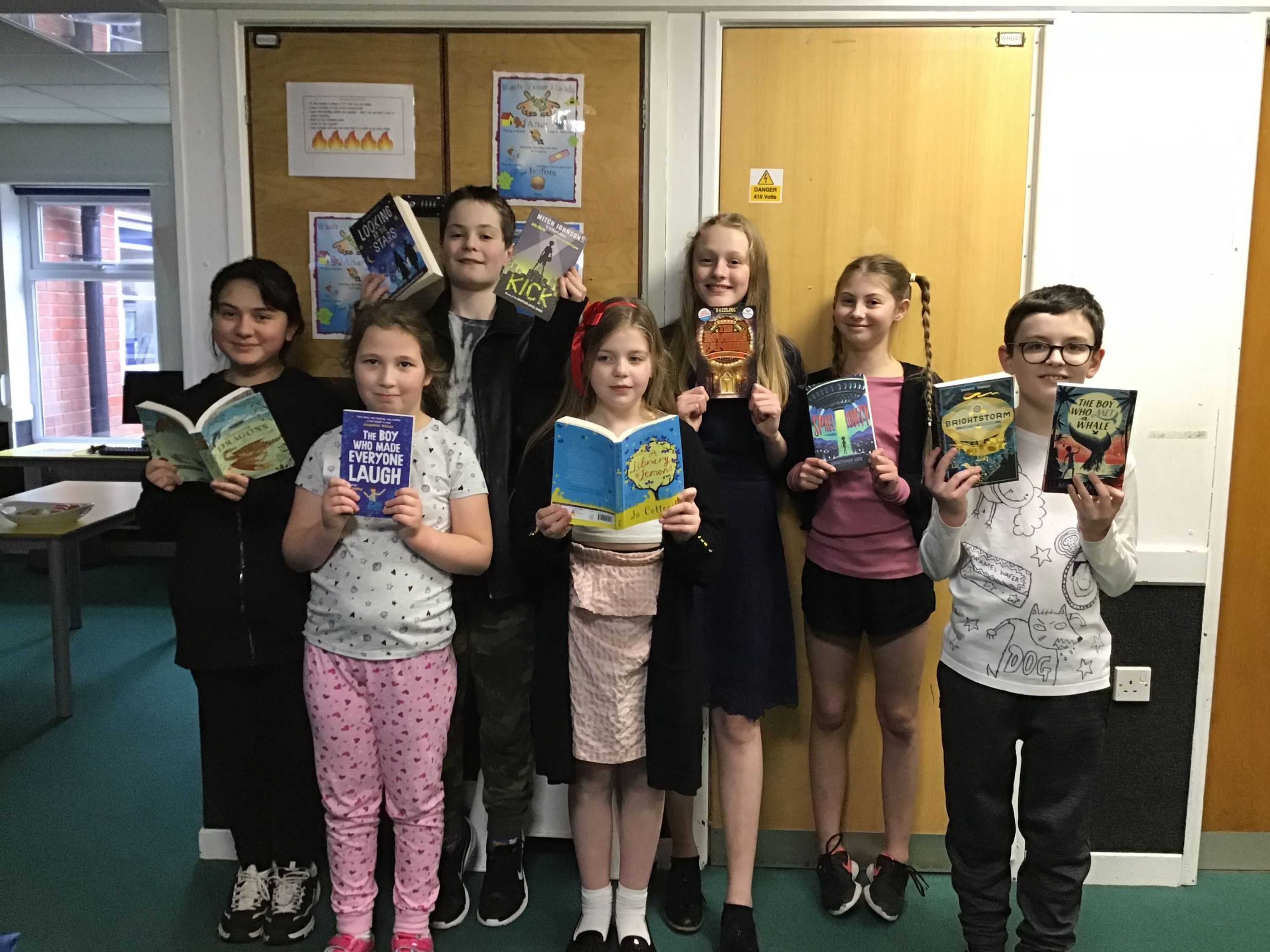 Spring Term- Week7- 22nd February 2021
In Art this week, the children were learning to experiment with a range of shading techniques using pencils. They practised using straight and curved lines, adapting the direction and pressure of their strokes for different effects, and used stippling, hatching and scumbling to give the impression of a variety of textures to make their sketches appear three-dimensional. Using these skills, the children then chose from a selection of photos taken during the period of the Blitz in Second World War London to create some evocative sketches that captured the mood of the turbulent time. Here are a few of their fantastic efforts (clockwise from left: Megan, Julia, Maddie and Oscar).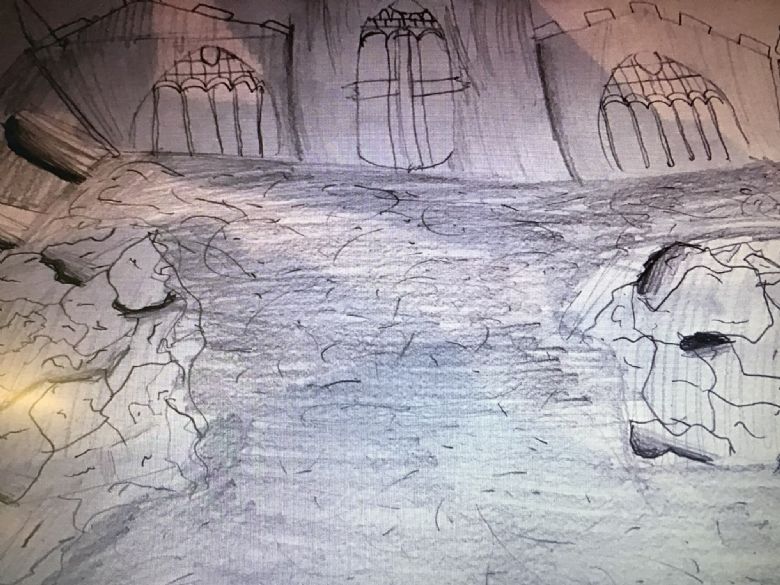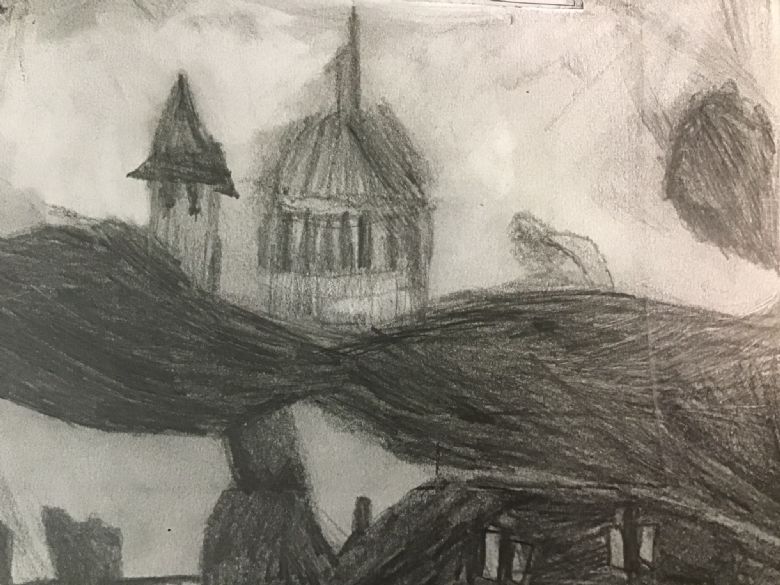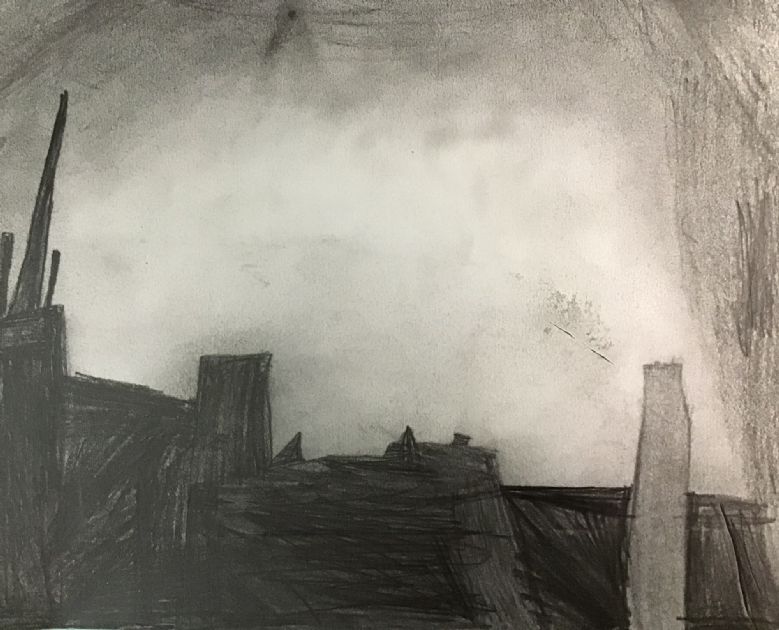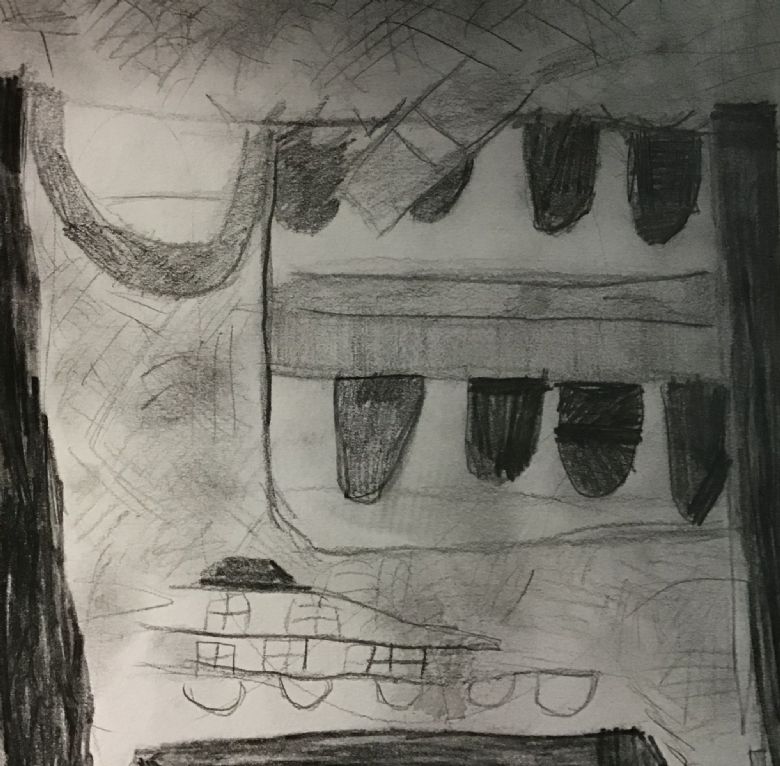 Spring Term- Week 6- 8th February 2021
This week the children at home and at school have worked very hard on a newspaper report. The newspaper report that the children wrote together was based on Goldilocks. This is the sentence stack that was put together using sentences from home and school:
GOLDIE LOCKED UP!
Cunning criminal on the loose in local woodland following bungled bear burglary.
At approximately 7am, a viscous vandal, who has now been identified as Goldilocks, recklessly destroyed a clueless bears' home. The incident took place in Dainty Woods and police believe it was a planned attack because of her known anti-bear views.
The stealthy stealer is still on the loose, lurking among us. Police have told people not to interact with her. It is still a mystery whether she is alone or working in a group. Noticed anything strange lately? Are your windows and doors locked? Check underneath your beds.
Mummy Bear, aged 55, explained how painful this attack had been for her family. "My kid aint sleeping 'cause his bed's broken in half". (Daisy). The seriousness of the crime was underlined by PC Fraser Fox (Tommy). "We received a call at the station just after 10.30 am telling us that a robbery had taken place. We are confident that we will catch her soon but, for now, do not approach her as she is dangerous. I am confident that we will make an arrest soon". (Miles)
In recent times, crimes committed in the woods have rapidly risen by 82.5%. Criminality has taken many forms. These include: defacing listed trees, embezzlement of forest funds and general anti-social behaviour. This state of affairs (in the forest) is at an all-time low (Syke H). In our opinion, irresponsible parents and inadequate moral education is at its worst ever (Ellis). It is most definitely advised that you do not leave your house and don't even leave your windows open. If you have any relevant information, sightings or know the whereabouts of the criminal, call the police or phone Crimestoppers on 0123882600 (Harry).
Moving forward, the police have issued a statement promising that the following initiatives will be put in place:
• Fines for entering the forest
• Barriers around the forest
• More officers out every night (Tyler)
The Woodland Watch- led by chameleons- has organised a daily surveillance patrol (Caiden). Jessica, a teacher from Goldilocks' school stated, when told about the crimes, "We are surprised she did that. She generally has strong grades and good behaviour. Why would she do that?" (Maisie)
Here are two of the published pieces uploaded from home by Skye and Ellis.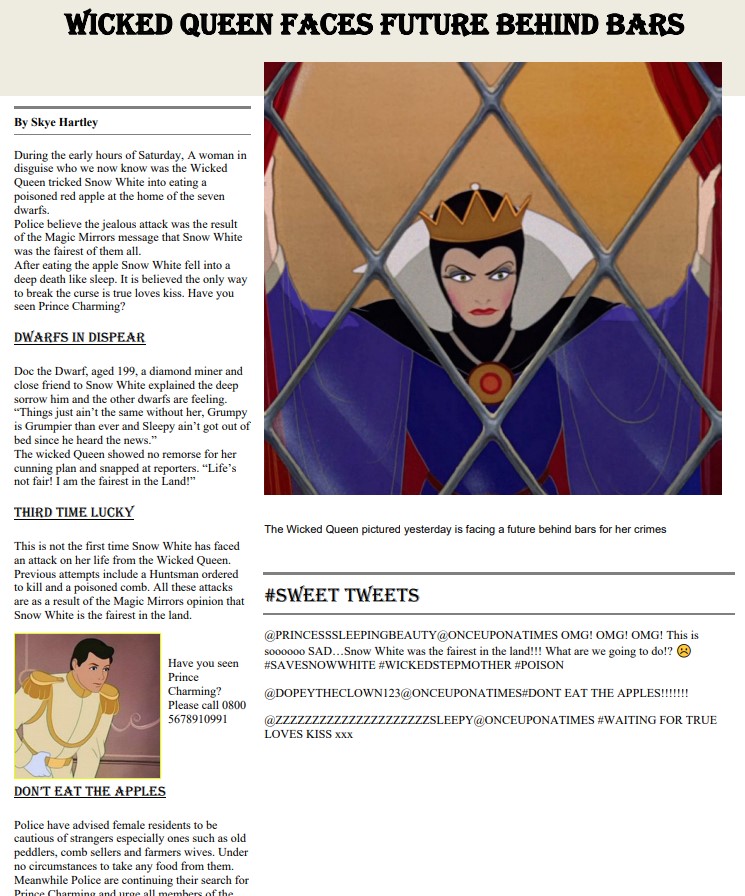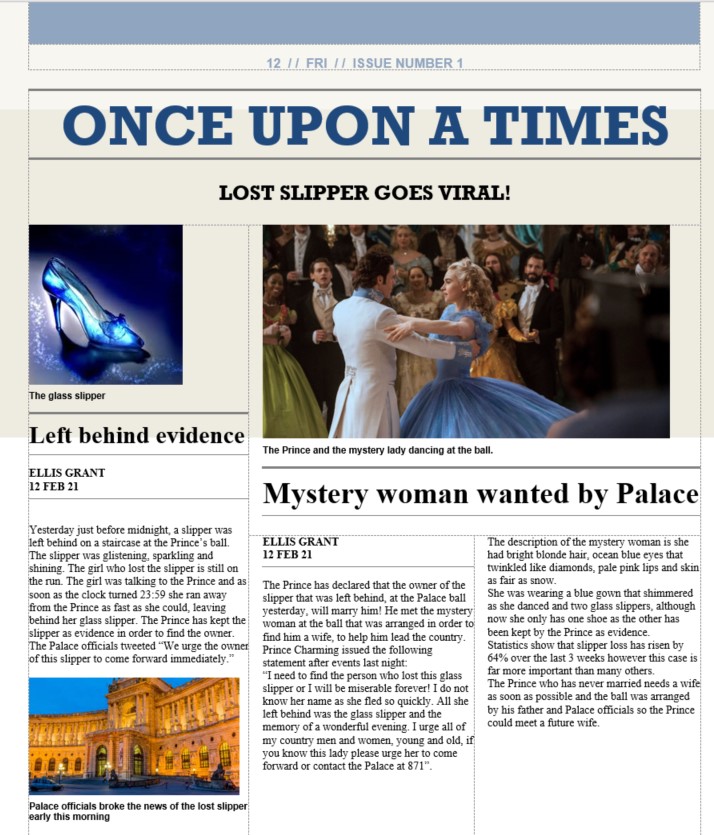 Spring Term - Week 5 - 2 February 2021
Spring Term - Week 4 - 25th January 2021
This week, the children have been fully immersed in our Victorian topic and focussed on the artist, William Morris. The children have looked at a range of his previous work and picked out patterns to help them create their own designs.
They then used these to bring their designs to life - including the use of a range of printing techniques using natural dyes such as beetroot juice, kale and mud. The children have produced some extremely good work which we would love to show you.
Autumn Term 2 - Week 7 - 18th December Christmas week!
Well, what a very odd week it has been in Year 6! On Monday all of Mr Billers' class and several children in Mrs Critchlow's had to go home and isolate. The children at home have worked hard on Google Classroom and Mr Billers has been really impressed by some of the work submitted.
In school, Mrs Critchlow's children delivered their persuasive speeches passionately and very professionally.
The rest of the week in school has been spent in a glittery Christmas activity way. The highlights have been our vast class paper chain and the amazing table cloths made for our Christmas dinner.
On Thursday morning, all of the children working at home and those in school met for a Year 6 party via Google Meet. We did a Christmas quiz, a scavenger hunt and Mr Billers wowed us with maths tricks. It was a wonderful way to end the week all together!
| | |
| --- | --- |
| All together! At home and at school! | Working very hard to solve one of Mr Billers' maths tricks! |
Autumn Term 2- Week 6 - 11th December 2020
This week in Year 6, we have been focussing on writing up our persuasive speeches on climate change. We have chosen topics that we are passionate about that require global attention. Some of these include: palm oil, deforestation, the use of plastic and land use. We are very much looking forward to delivering our speeches next week.
In maths, we have completed our topic on fractions and have moved on to geometry, focussing on understanding co-ordinates in four quadrants and translating shapes across these.
We completed our study of Manaus by producing a travel brochure that highlights all of the wonderful and different attractions that can be seen if you were to visit.
We have ended the week by beginning to practise some Christmas songs and activities that we look forward to sharing with you next week.
Autumn Term 2- Week 5 -4th December 2020
It has been a very busy week in Year 6. We have continued our work on Greta Thunberg in English and have learned lots more about climate change. We will begin writing our own persuasive speeches next week and are looking forward to sharing these.
In maths, we have tackled division of fractions and have been using all four operations to solve problems. We realised how much we need to know our times tables when working with fractions and know that we need to continue to work on learning these at home.
In our topic lessons, we particularly enjoyed finding out about Manous in Brazil. This is the setting of the novel we have been reading called 'Journey to the River Sea' by Eva Ibbottson which we have thoroughly enjoyed. It was really interesting to see pictures of the Rio Negro as it joins the Solimões river and becomes the Amazon.
On Thursday, we had a very wet PE lesson. We were very lucky that Miss McGowan came to the rescue with a set of table tennis equipment which we had great fun with in the classrooms.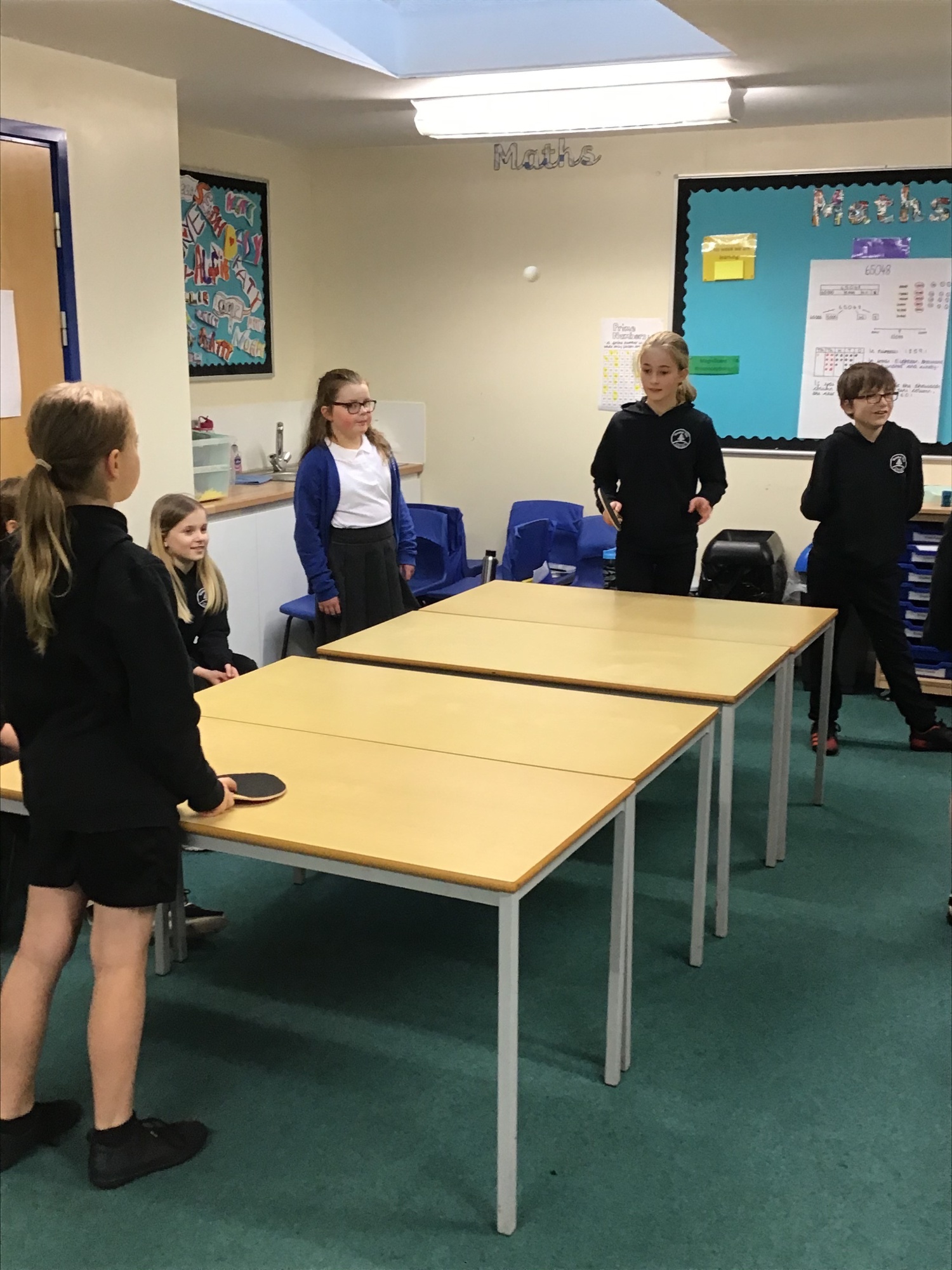 Autumn Term 2 - Week 4 - 27 November 2020
In Year 6 this week, we have been excited to start their new English unit focussing on persuasive speeches. We are using Greta Thunberg as our role model and have been learning about global warming, fossil fuels and the effect these have on our planet. We have enjoyed learning about this concept and finding out lots of scientific information. We are looking forward to preparing our own speeches, on aspects that are important to us, in the coming weeks.
In maths, we have continued our work on fractions and are now feeling more confident when adding, subtracting and multiplying fractions. We have also been using our maths skills in geography this week, when we compared the average temperature and rainfall between the city of Manaus, Brazil and Bracknell. We used tables to record the data and a bar and line graph to help us interpret this data.
We also say a 'see you soon' to Miss Wright this week as she starts her maternity leave; we look forward to her returning towards the end of this academic year.
Autumn Term 2 - Week 3 - 20 November 2020
This week is Anti-Bullying Week. On Monday morning, we began with an assembly which helped us to remember the main information surrounding 'bullying' and reminded us of the differences between bullying and unkind behaviour. That afternoon, we looked at this topic in more detail and had long discussions about it. Some children created posters to help share their thoughts. Take a look below at some of them: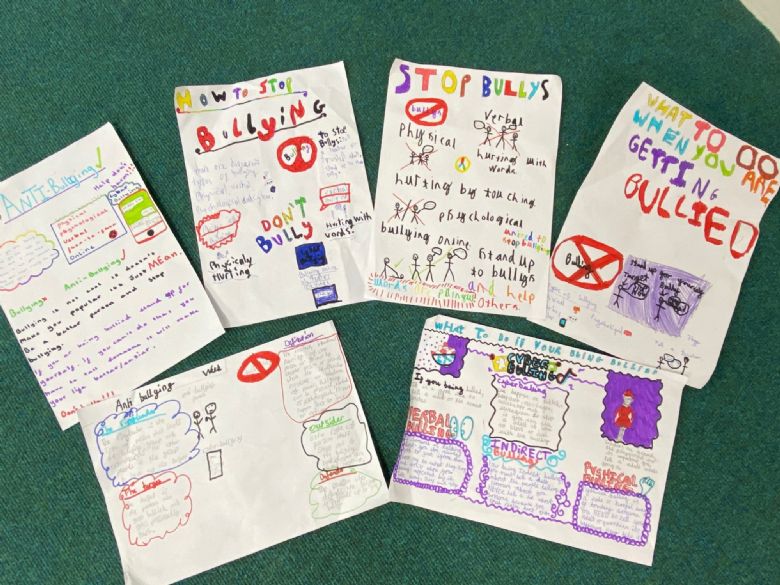 Autumn Term 2 - Week 2 - 13 November 2020
We have been working incredibly hard this week, fitting lots of new learning opportunities into each day. We have been learning lots of new skills in maths, focussing on fractions and using a wide range of mathematical skills to help solve difficult problems. To help us further, we are working on improving our times table knowledge so that we can improve our maths skills in all concepts - we have certainly enjoyed competing in the Times Table Rockstars competition this week.
In English, we have been on an exploration through the jungle to experience the sights and sounds of what our character would have faced on her journey. This ended with a trip to discover the effects of a volcanic eruption.
We carried out an investigation in science this week to understand how both a series and parallel circuit works. We focussed on the effects of battery power in a circuit and how this causes a bulb to become brighter.
Autumn Term 2 - Week 1 - 6 November 2020
This week, we have been incredibly pleased with how the children have returned to school after half term and are straight back into their learning. They have shown excitement and enthusiasm in beginning/continuing the following units:
Maths - Fractions and Geometry
Writing - The Firework-Maker's Daughter
Reading - Journey to the River Sea cont.
Science - Classification
RE - Christianity cont.
Geography - The Americas
French - The Weather
PSHE - Health and Wellbeing
PE - Frisbee and Tennis
Keep checking back here each week for updates on how they are getting on and, if you wish to know more, check out the 'Knowledge Organisers' for some of these subjects.
Autumn Term - Week 6 - 16 October 2020
This week, we reached the end of our first 'The Write Stuff' writing unit based on the book 'The Journey' by Francesca Sanna. Now, it was time to begin our own stories. We spent two lessons planning our narratives: thinking about the different plot points, the success criteria we wanted to achieve and the ways in which we could achieve it.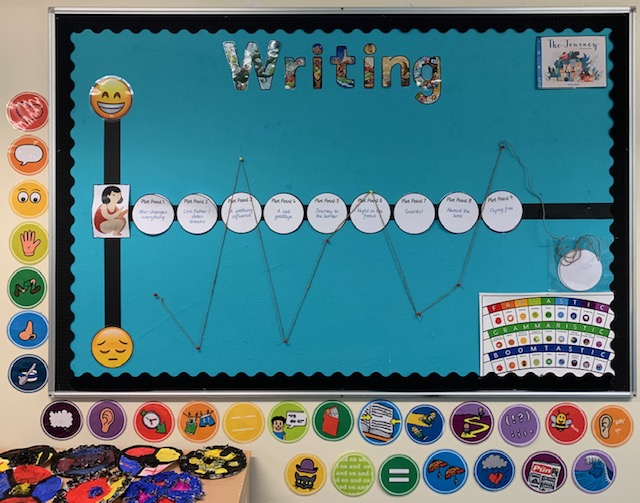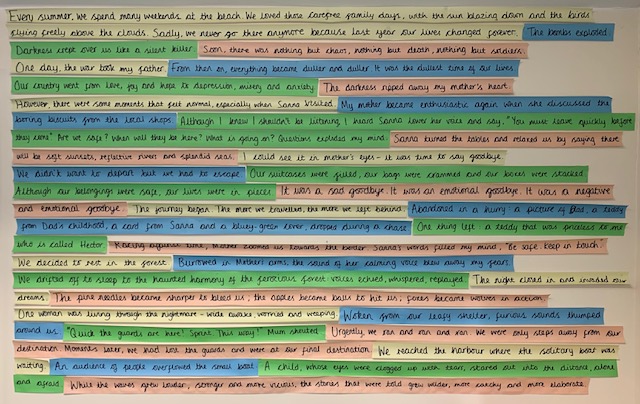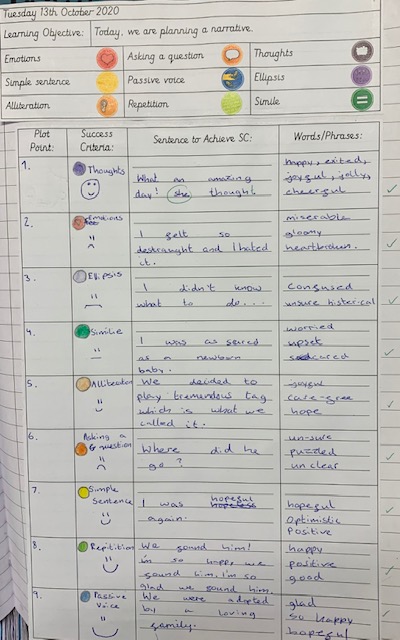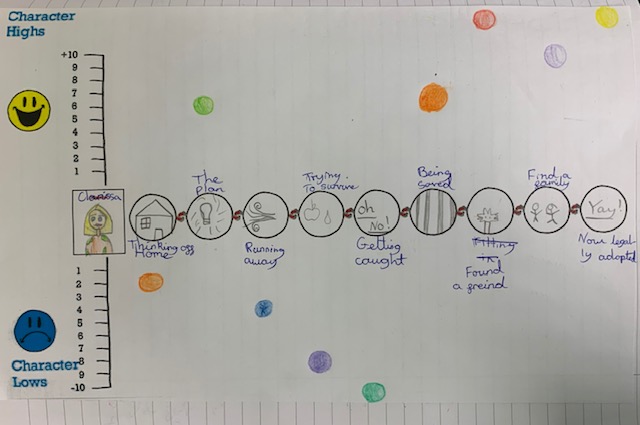 In DT, we finished our Viking shields. Some of us used paper mache whilst some did not; many of us used felt tip pens while others used paint.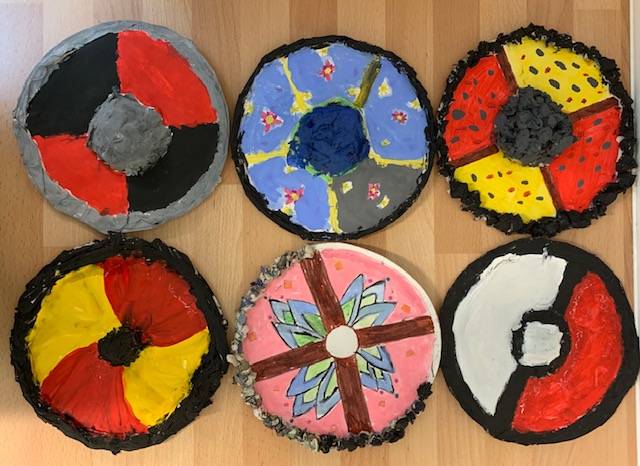 Autumn Term - Week 5 - 9 October 2020
We have been continuing with our Viking topic this week, learning about the similarities and differences between the Vikings and the Anglo-Saxons. In DT, we have researched and created our own Viking shields.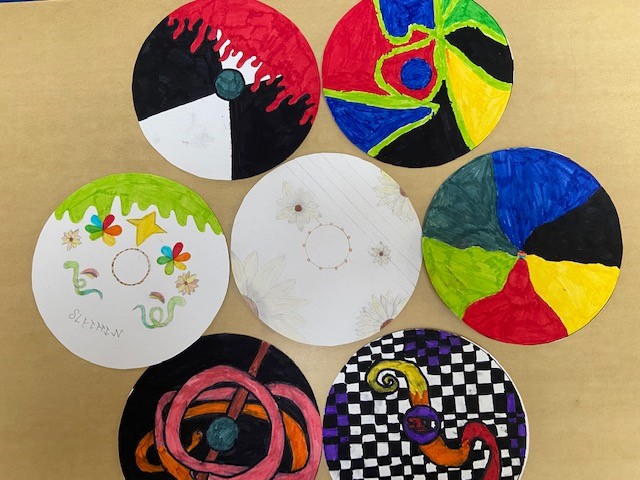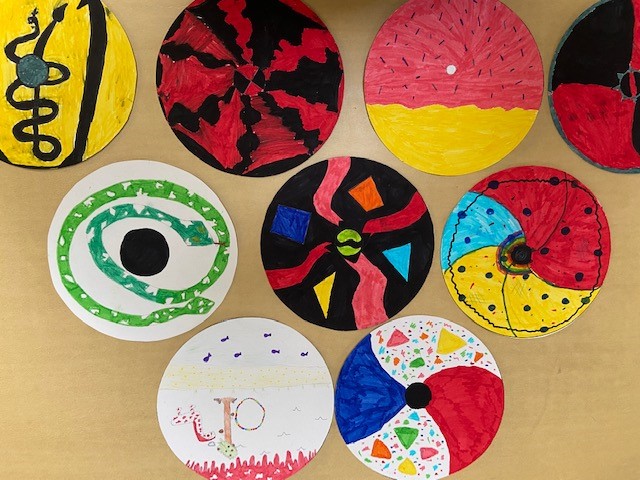 In maths, we have been focussing on the four main operations whilst learning a new skill of long division. This is a challenging concept as it uses so many other mathematical skills. Our English story, The Journey, is building nicely and this week we have been learning about refugees to help us understand the conditions and lifestyle that our main character is subjected to.
Autumn Term - Week 4 - 2 October 2020
This week, in DT, we created the Viking Longboats which we had designed last week. In history, we had looked at how the Vikings invaded Britain and how their longboats were used to help them sneak up on the land since they were designed to come straight up to the shore. After learning about the invasion, the children designed their own longboat and were then tasked to create this boat using mostly recycled goods. Have a look at some images below: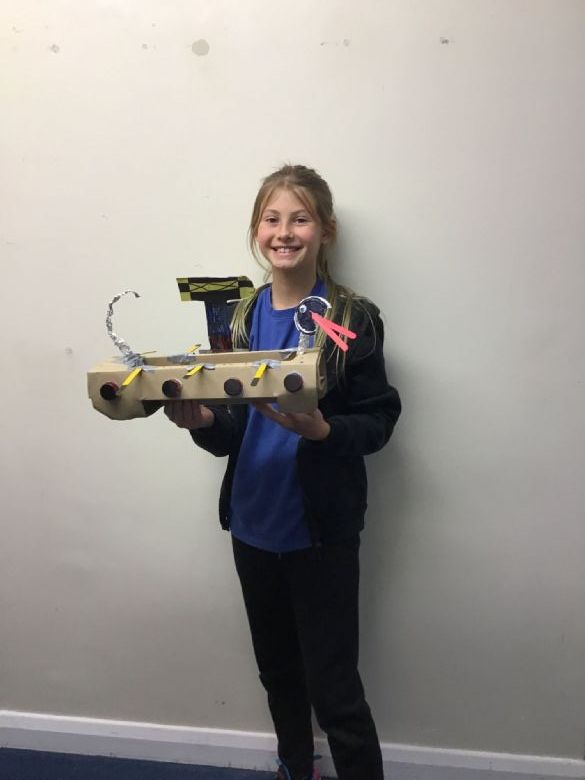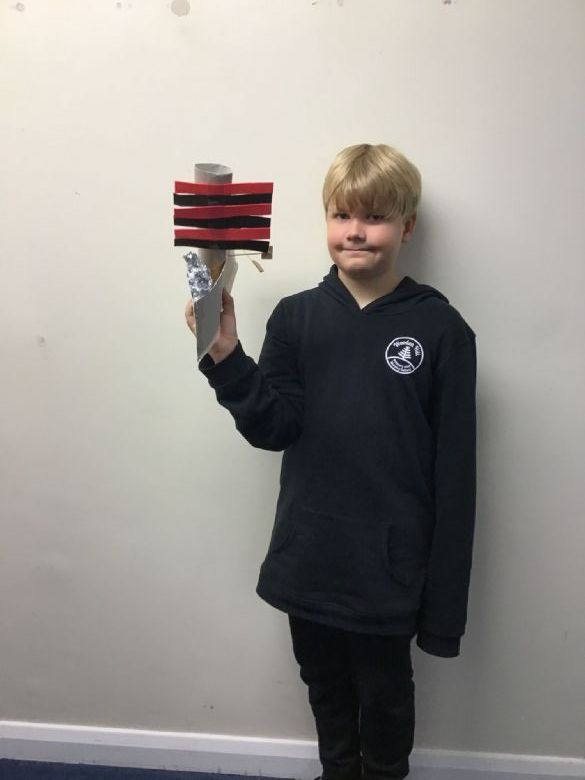 This week also saw the end of our PE unit of 'Athletics'. The children looked at running, taking into consideration their pace; throwing techniques, using medicine balls, javelins and shot putts; controlling jumps and landings, through the tasks of speed bounce and standing long jump; and how to perform a sequence of jumps, learning how to execute a standing triple jump. Here are some images from one of these sessions: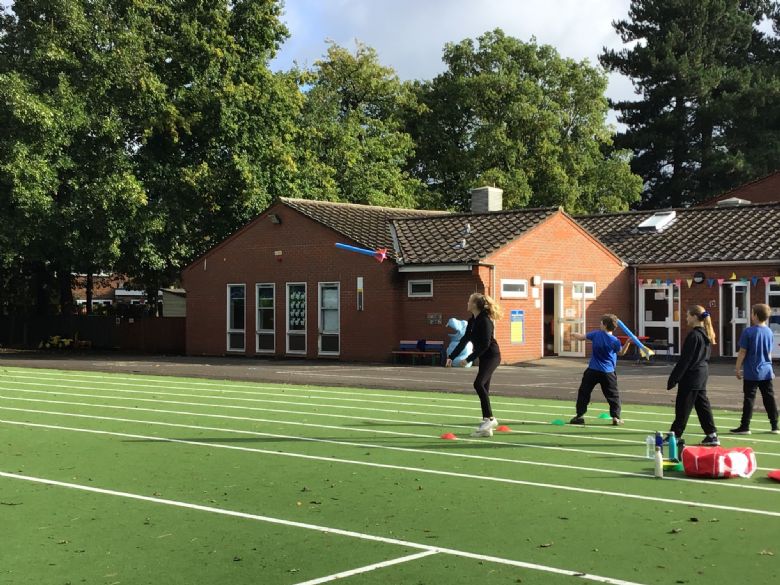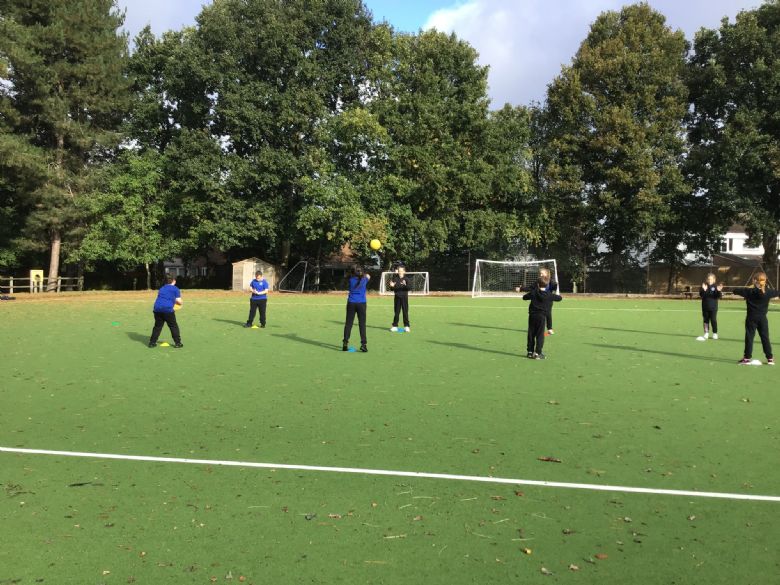 Autumn Term - Week 3 - 25 September 2020
This week, we have been very excited to start our new English curriculum. We are using the story, Journey by Francesca Sanna as our inspiration for our writing. We have been creating short pieces of writing that focus on the positive and negative emotions of our main character and understanding the feelings that children and families went through during a war.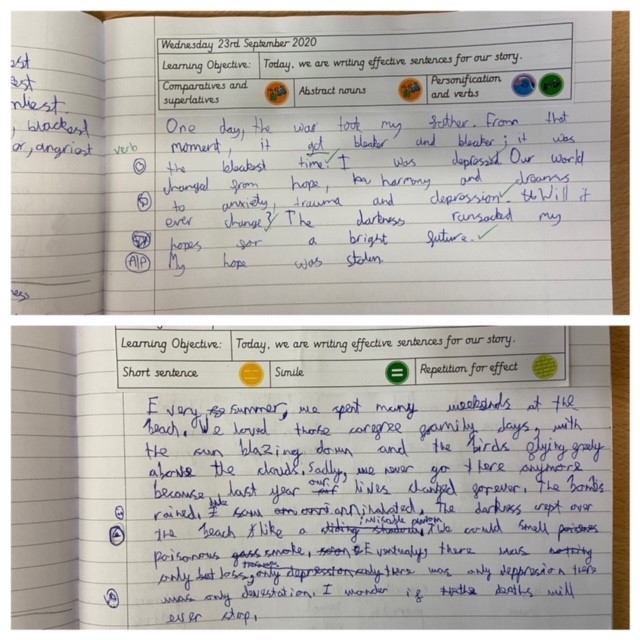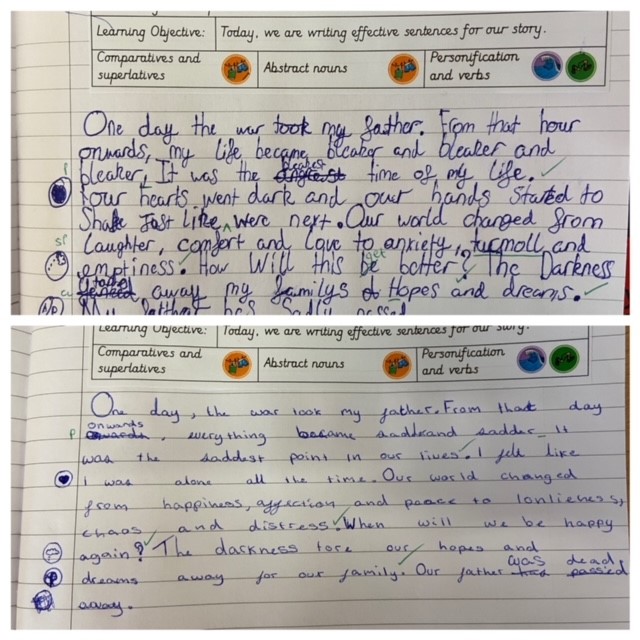 In our topic lessons we have started our research on Viking longboats and have started to design our own. We will be bringing our designs to life shortly and look forward to sharing these with you soon.
Autumn Term - Week 2 - 18 September 2020
Over the last couple of weeks, we have been getting ourselves settled into Year 6 and settled back into the school routine.
In our PSHE lessons, we have been reflecting on our time during lockdown and thinking about the positives and negatives that it brought. We have used this knowledge to think about our emotions and to ensure that we are ready to get back into school life.
This week, we created a display for the office area where we all thought/wrote about three things:
What the hardest thing about lockdown was
What the most unusual thing to happen during lockdown was and
What new skills we learnt during the lockdown.