Year 6 News
Summer Term 2 - Week 4 - 30th June 2022
This week, Year 6 have been working tirelessly on their production. We have been learning our lines and developed our acting to go with them. It's a big task, but the dedication from all children is admirable!
In our History & Geography Week, Year 6 learned about China. Specifically, the Shang Dynasty. We have learned about the geographical difficulties and success of China's placement in Asia, as well as the historical evidence that the Shang Dynasty left behind. To build upon our learning, we designed and made our own 'oracle bones' from salt dough and inscribed them with ancient Chinese characters.
We hope you can join us on Monday, to come in and look at our amazing learning!
Year 5 & 6 Sports Day
On Tuesday, Year 5 and 6 had their sports day. The children were able to compete for their coloured houses with their peers in seven different activities linked to the skills they've learned throughout the year in PE. One of the main skills is being able to work as a team!
All children participated admirably, and the weather was on our side, too. With thanks to the parents for cheering on, we had an amazing afternoon showing off our sportsmanship.
Well done, everyone!
Spring Term 2 - Week 3 - 7th March 2022
World Book Day!
This year, unfortunately for us, World Book Day fell upon the week of our mock SATs week. However, this didn't stop us from having as much fun as possible packed into one day. To begin, we started with a fashion walk - the audience had to guess who we wear dressed as for the day. For the rest of the day, we combined art and review writing by creating a watercolour or drawn scene from our book called The Day Way Came and added in our opinions and views around this to build it.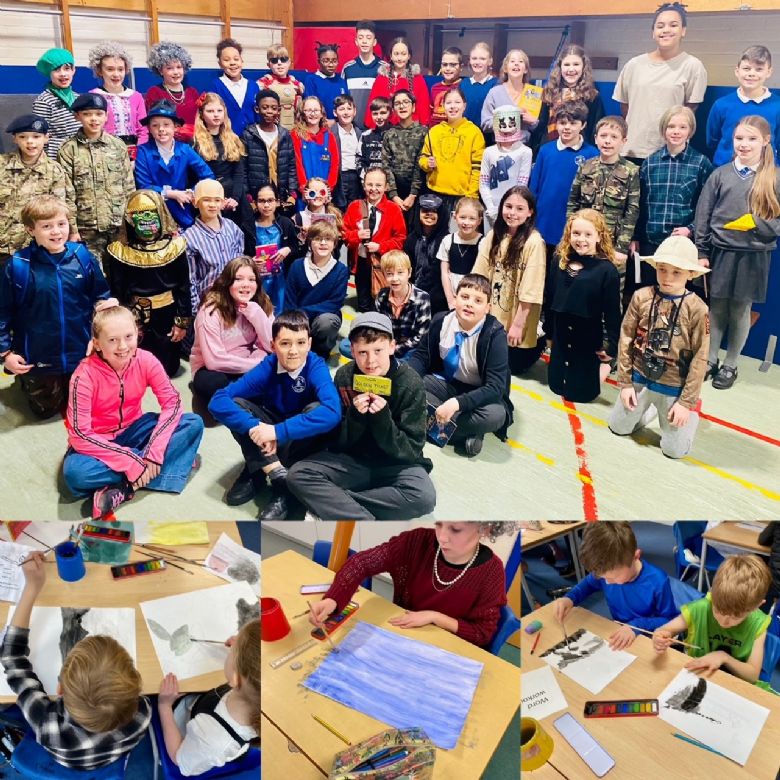 Ufton Court!
On Monday, we had a fantastic day at Ufton Court (although we did sit in a bit of traffic...)
When we arrived, we got straight on with our activities for the day. We were able to experience a range of activities from farming as evacuee children to decoding Morse code as soldiers and using artefacts as historians.
Spring Term 2 - Week 2 - 4 March 2022
We played our first football match of this half of the season (after a cancellation last week) against St Michael's Sandhurst on Thursday. Ten Year 5 and 6 children were chosen to represent the school after working incredibly hard at the practice sessions. It was a tough game, against the team second in the league, but everyone was happy to be back playing football again. The team blew us away with their teamwork, considering it was the first time they had all played together properly. Our goalkeeper, Riley, did absolutely fantastically as their attackers were very confident, saving so many goals! Unfortunately, we lost 4-0 but we are so proud of their effort. There's another match next week (10th March) at home, it would be wonderful to see some extra supporters.
Spring Term 2 - Week 1 - 28 January 2022
English
During our English lessons, we have been exploring the life of Anne Frank and the treatment of Jewish children during WW2. We have used her inspirational diary to immerse ourselves in the conditions that her family faced. From this, we created our own diary entries from the point of view of Anne Frank.
Topic
We concluded our investigation into the conditions best suited for growing bacteria. We used this knowledge to understand how we can store food to prevent it from being spoiled and remain edible.
Our wartime artwork concluded with the bursting shell-inspired 'bomb explosion'. All of our art can be seen on our new display in the hall.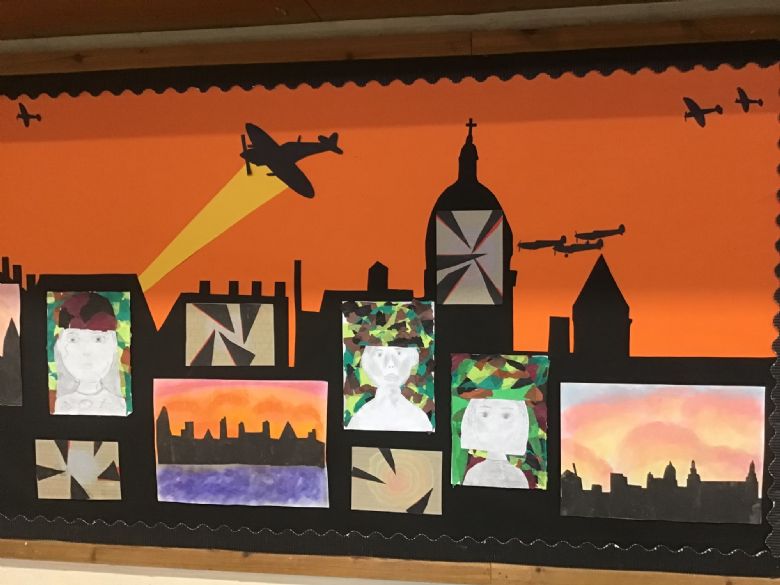 Spring Term 1 - Week 1-4 - 27 January 2022
English
Over the last 3 weeks, we have been developing our diary writing skills. We studied the narrative story 'Rose Blanche' and delved into our understanding of the character. From this, we wrote some amazing diary entries from the perspective of the main character.
Topic
Since returning from our Christmas break, we have jumped straight into a fully immersive learning experience around WWII. We have created a range of artwork using a variety of techniques. We've created collages to understand the importance of camouflage, London landmark silhouettes during the blitz and much more.
We also had an amazing experience day on Wednesday 26th to understand the life of an evacuee. We came in all dressed up and ready to learn! We baked scones using rations, wrote several diary entries throughout the day, and researched the impact of WWII on Berkshire.
There are even more pictures on Google classroom so make sure to check it out over there!
Autumn Term 2 - Week 5 and 6 - 29th November 2021
English
These last two weeks we have been looking at the poem 'Coming Home' by Michael Morpurgo. We have used this Christmas-themed poem to inspire us. We planned, wrote, and published our own version of 'Coming Home' based on the idea of coming home from the last day of school for Christmas. We had a lot of fun playing with a range of writing features such as dialogue, personification, and rhetorical questions.
Science
To continue with our learning about adaptation, natural selection, and evolution, we studied the work of Charles Darwin and the Galápagos Islands. We looked at a range of different areas relating to our subject and in teams, we created an information poster and speech around this. We used this time to present our findings to the class and our teachers, helping us all learn a range of new facts!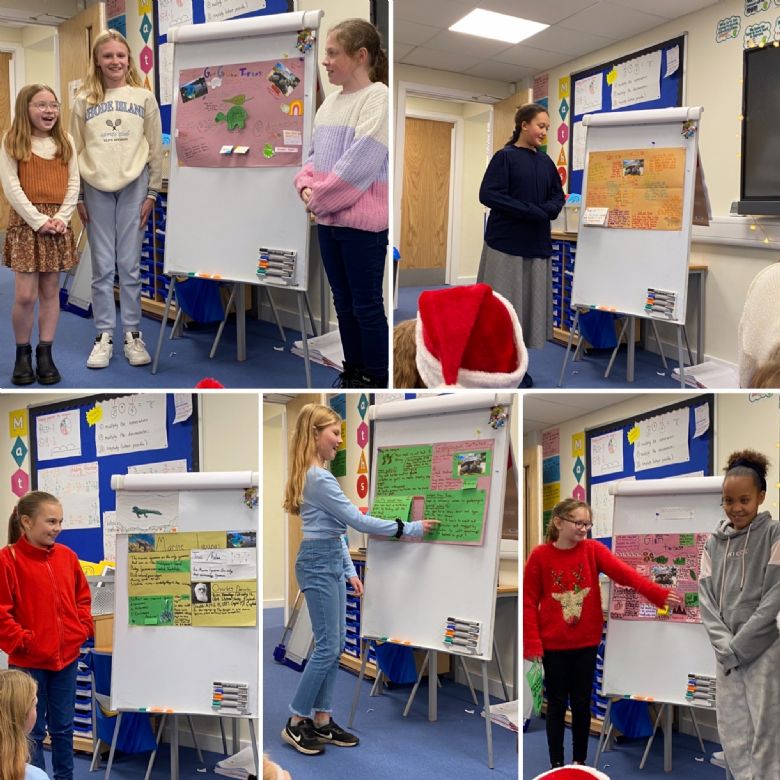 STEM
This half-term, we have been introduced to STEM learning - science, technology, engineering, and mathematics. We were posed with a real-life problem for villagers in Nepal. We had to develop a solution to help transport tomatoes for farmers living in the mountains. We had to use our prior knowledge from Year 5 of levers and pulleys, we had to work as a team effectively, and we also learned about how STEM can help solve global issues and achieve the UN Global Goals.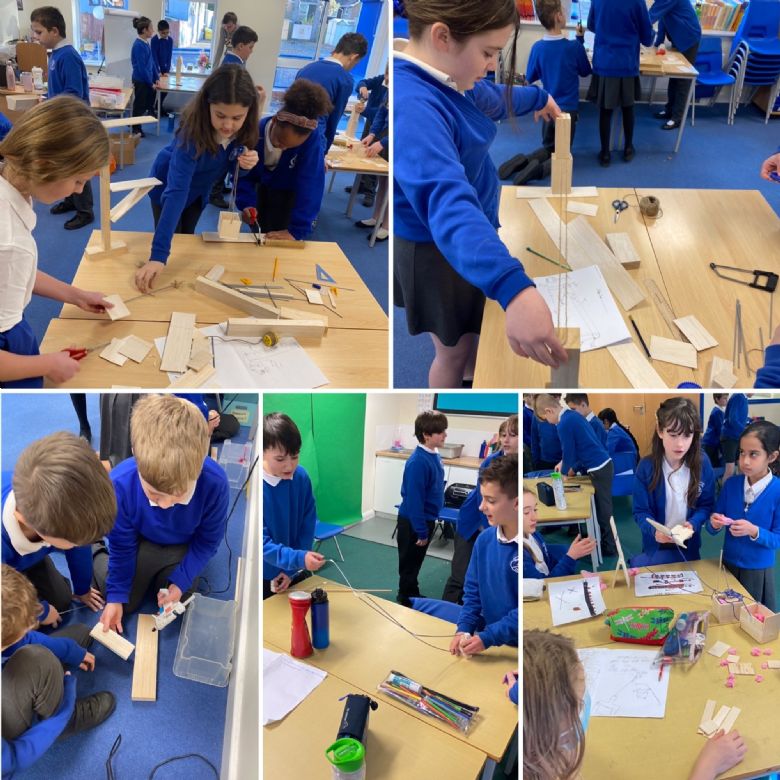 P.E
During our PE, we have been developing our indoor athletic skills. We have been learning about the importance of body control and how to move our bodies in a range of ways, specifically jumping.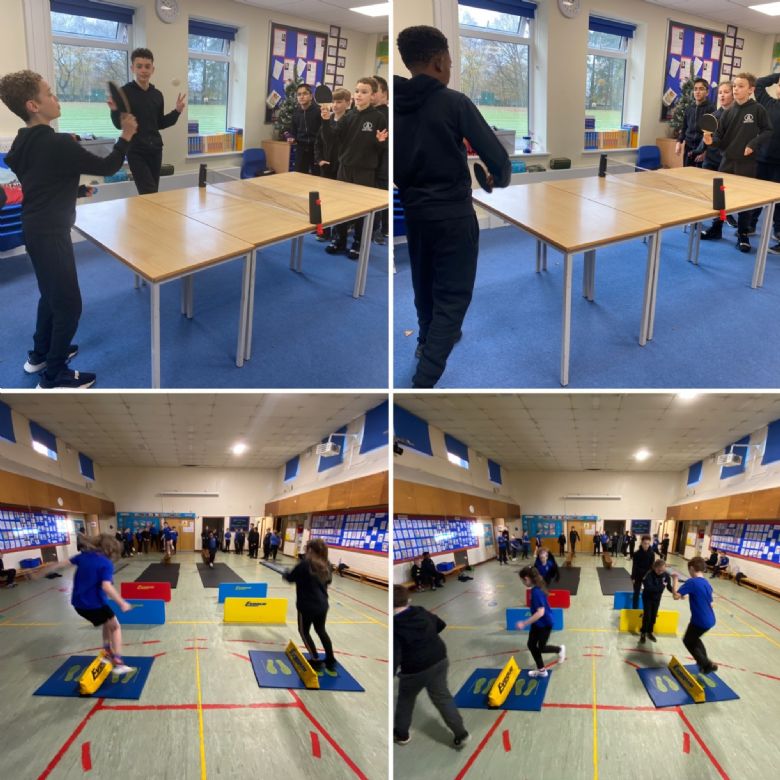 Autumn Term 2 - Week 4 - 25th November 2021
Reading Museum!
After many years of disrupted years at school, we were finally able to go on another school trip! We took a coach to Reading Museum to continue our learning of the Industrial Revolution, the Victorian Era, and local history.
We were able to get a 'first-hand' experience using Victorian classroom equipment as well as trying on some typical Victorian school clothes, too. We even had a Victorian teacher, who was particularly strict!
We had a great time learning through all of these experiences and exploring the history of Reading, too.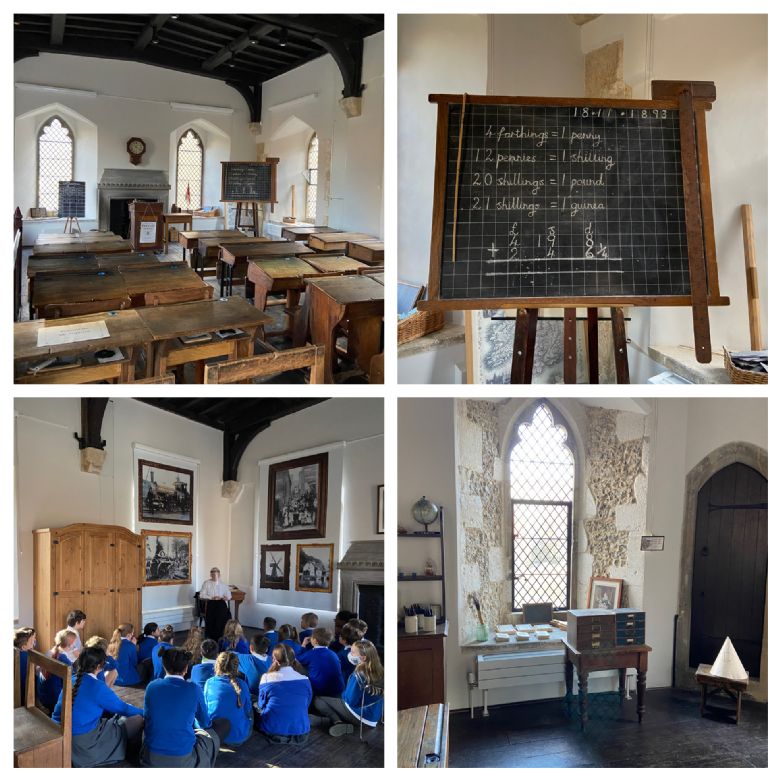 Autumn Term 2 - Week 2 - 12th November 2021
English and Oracy
Finishing off from last week, we concluded our informative speeches. We wrote, edited and recorded them with our partners. We spent a long time perfecting them and ensuring that we got the message across to our audience. We enjoyed being able to do this and play with recording and editing our clips.
Science
This week, we began palaeontologists! We used a range of different sources to help us learn more. We began by learning about Mary Anning, observing artwork, looking at photographs and actual fossils. We then used our knowledge to help us understand what an animal might look like based on its fossil/in-print left behind.
Art
Following on from our research last half-term into William Morris, we created our own nature-inspired tiles to create our own 'Morris & Co' wallpaper designs. We used layering and minimal materials to help us create them, and we had a great deal of fun!
Autumn Term 2 - Week 1 - 5th November 2021
English and Oracy
This week, we have been inspiring ourselves by watching speeches from climate activists; specifically Greta Thunberg. Throughout the week we have been looking into the success of performing speeches and compared them with other forms of performances such as poetry. We were also put under lots of pressure when our teachers made us perform a speech in front of our class with only two minutes practise!! Luckily, we later had half an hour to research and prepare. This taught us the importance of accurate research and time to prepare for our future speeches.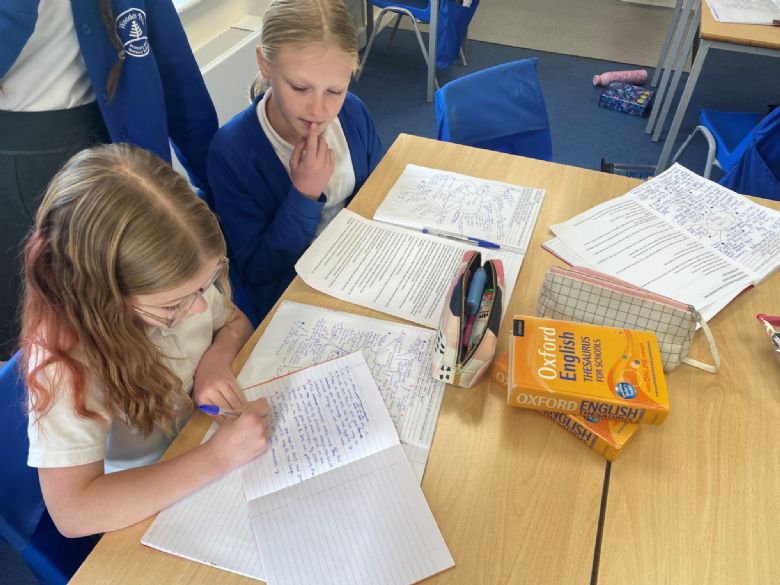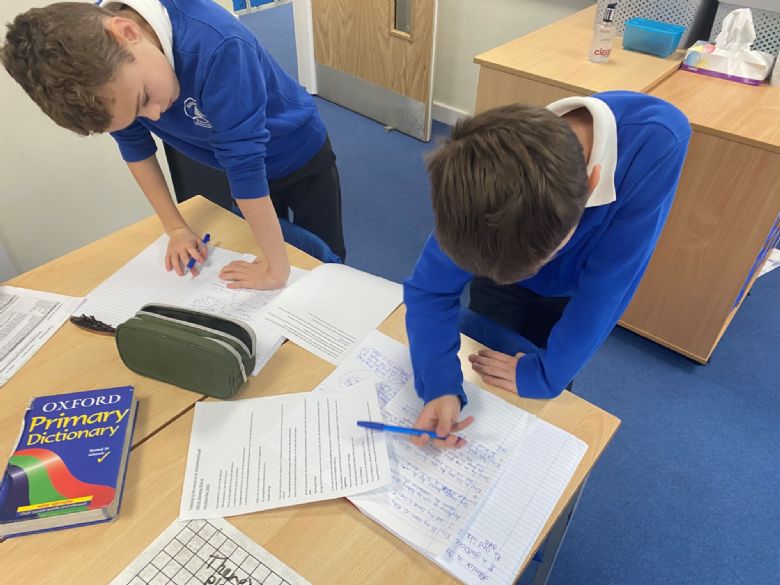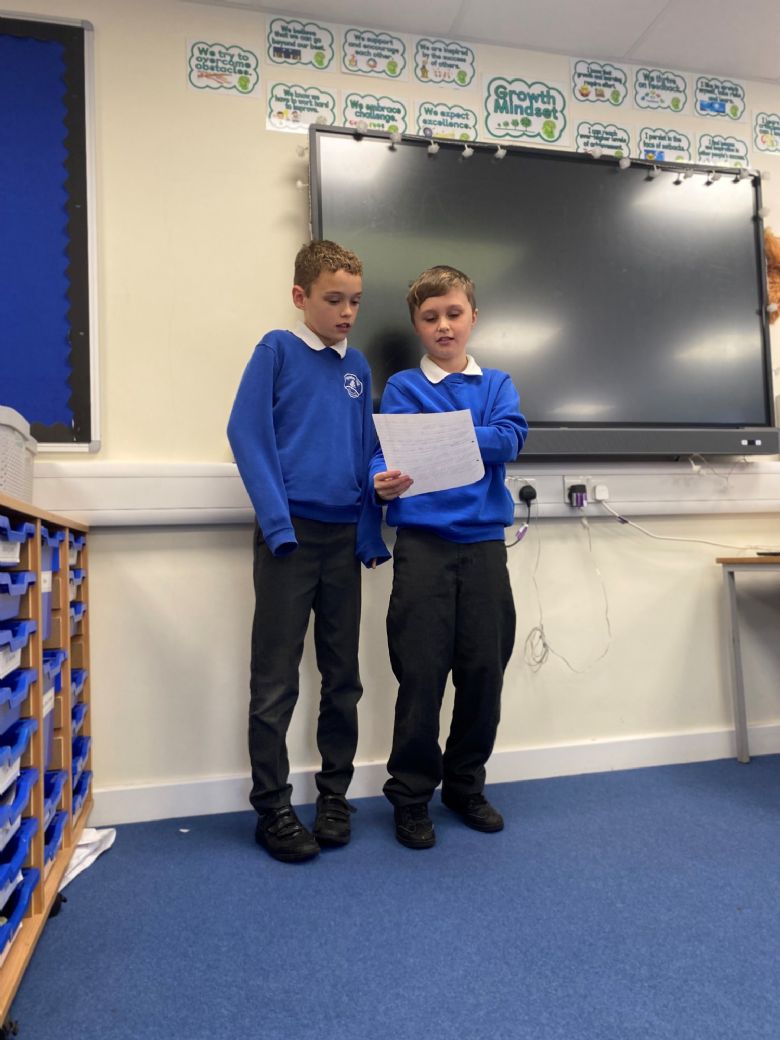 Maths
Throughout our learning in maths this week, we have been revising our knowledge of fractions. Within this, we have learned how to simplify them, convert from improper to whole (and vice versa) and compare fractions, too.
We have used a range of resources to help us such as Carr Bars and bar models - perfect timing for Barvember, too!
Topic
For art this term, we will be looking at the artist William Morris.
This week, we collected a range of leaves of varying colour, sizes and textures to use for observational drawings.

Within our science, we have been looking at evolution and the famous scientists; Mary Anning and Charles Darwin. AS part of this learning, we have been looking at the Mesozoic time period; Triassic, Jurassic and Cretaceous.
Autumn Term 1 - Week 7 - 21st October 2021
English and Reading
This week, we have come to an end with both our reading lessons on Street Child and newspaper report writing by combining the two and writing about 'the boy who escaped the workhouse'. We were able to show off a range of amazing writing features we have learned so far in Year 6, and we had some great fun doing it.
Maths
This week, have been consolidating our learning of the four operations: multiplication, division, addition and subtraction. In doing this, we have learned how to use BIDMAS effectively, how to use known facts to make links amongst other calculations and how to calculate mentally effectively. Why not challenge us at home and see if we can remember what BIDMAS stands for and how to use it?
Science
To consolidate our learning of both electricity and lights over the last half-term, we planned and conducted our own experiments. Our teachers provided us with the question; Does the length of wire affect the brightness of the light?
To do this we were in groups of 2-4 of us, and we discussed our predictions based on our previous learning. We used sentence stems to help us construct our answers as well as the key scientific vocabulary we have been learning. We were then given the rest of the afternoon to make our plan, write out our aim and method, and then to conduct our experiment.
At the end of the lesson, we share our findings and conclusions and we were all impressed by the range of results we had and the way in which we present our results.
Art
After learning about Iceland over the last 7 weeks, we finished off our unit with some cross-curricular work and created the Northern Lights using chalk and silhouettes.
Autumn Term 1 - Week 6 - 14th October 2021
Maths
This week, we have been learning how to identity common multiples, common factors and prime numbers. We have used a range of resources and question types to help us dive further into understanding these areas as well as finding patterns within them.

English and Reading
For English, we have been continuing our newspaper report on the blonde bandit known as Goldilocks! We have been using a range of writing features to improve our writing this week, such as; quotes, dashes for parenthesis and passive voice. We've enjoyed making Goldilocks into a wanted criminal. By the end of the week, we will be creating, planning and writing our own newspaper article based on another criminal from the fairytale world!
As part of our reading sessions, we have been continuing with the novel Street Child by Berlie Doherty. Through our sessions, we have gained a wealth of knowledge around the Victorian era and what like would have been like in the Workhouses. To go deeper into the understanding and author's intent, we have used drama and freeze-frames to portray the imagery from the book.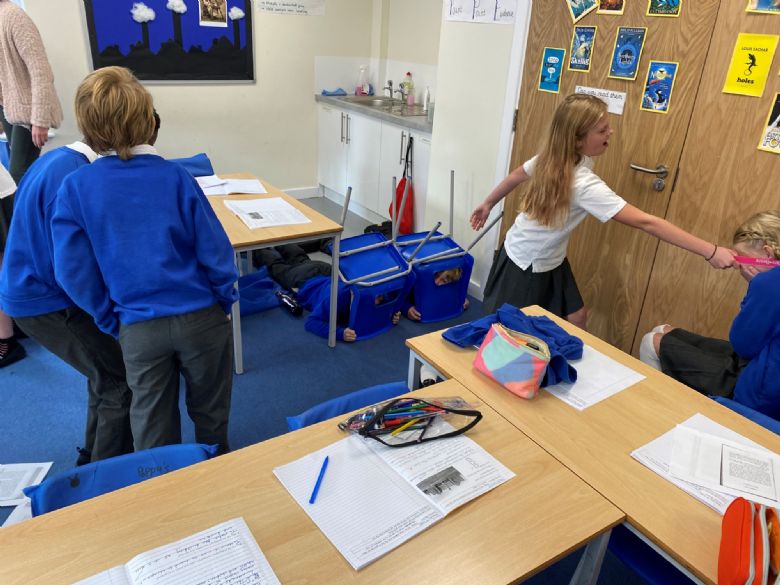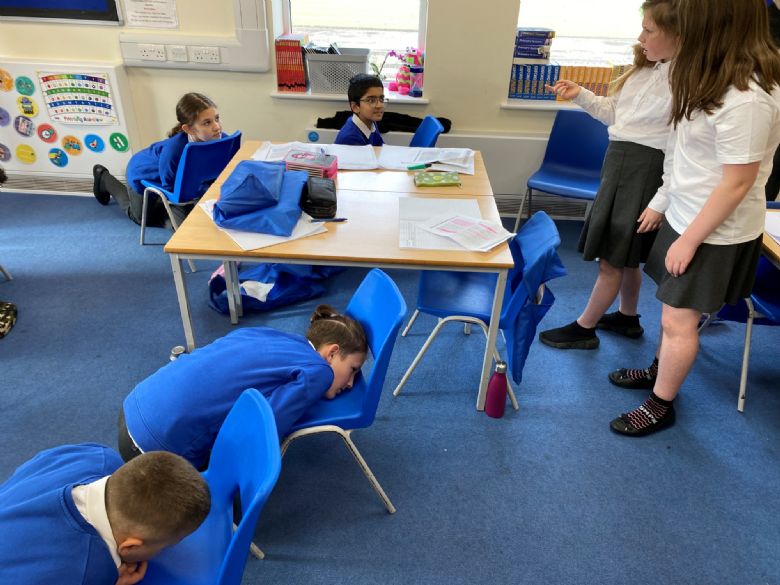 Autumn Term 1 - Week 3 to 5 - 2021
It's been a bit of a crazy few weeks for Year 6 recently, but doesn't mean the hard work hasn't continued. Miss Bolton, Mr Billers and Mrs Kingston have been amazed with how resilient and hard-working everyone has been during a tricky time for all of us.
Maths
We have been learning how to use both short and long division methods as shown below to support our learning in a range of question formats. We have also been finding patterns and relationships amongst numbers and multiples to help us with these methods.
English
Over the last two weeks, we have finished up our work on Paperman and begun our new unit on newspaper reporting. We have been investigating the well-known tale of Goldilocks and the Three Bears and put a criminal spin on it for our reports. We have had plenty of fun with role-play and creating our own snappy headlines.
Autumn Term 1 - Week 2 - 10th September 2021
Maths
This week, we have been learning how to round any whole number with accuracy up to the millions. We have been recapping how we go about rounding and what process we need to follow to be successful. To further our understanding, we have been working on a range of word problems from a variety of contexts to challenge us.
English
Continuing from last week, we have been looking at the silent short film 'Paperman'. We have been using a range of writing lens' such as: pathetic fallacy, alliteration and a range of adverbial openers. We also had an amazing experience day which allowed us to create and design our own paper planes to make the most successful one!
Topic
For our science lesson this week, we were exploring how light travels and investigating how we see things through the eye. To do this, we got our classrooms as dark as possible, grabbed some torches and made our own shadows. It was great fun. We were able to have some amazing conversations and share our knowledge with one another.
During our RE sessions, we have been looking at bible stories such as 'The Creation Story' and 'The Garden of Eden'. We have been focusing on formulating theories on why the bible is so important to Christians. It has been very insightful sharing our opinions and religions with each other, too.
Autumn Term 1 - Week 1 - 3rd September 2021
This week our new Year 6 cohort have come back with a fresh face and a keen learning attitude. Both Mr Billers and Miss Bolton have been amazed by the learning already.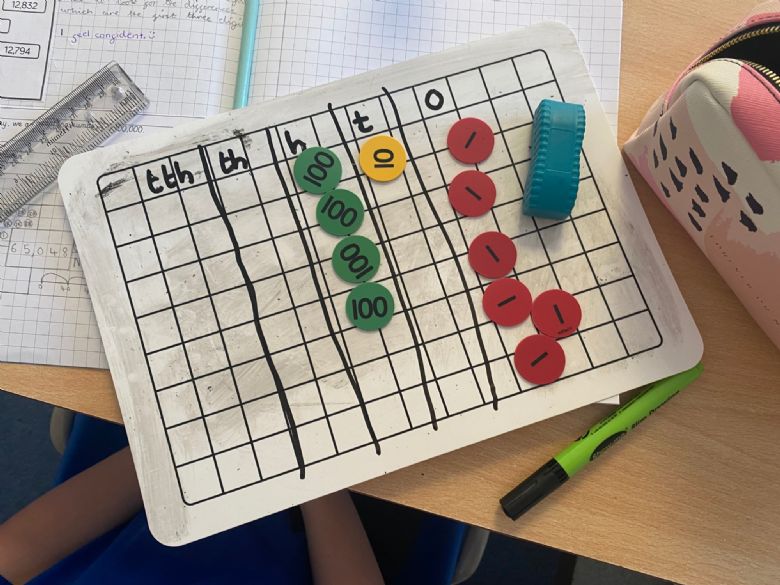 Maths
In our maths lessons this week, we have been recapping place value up to 1,000,000. We have been using a range of resources and methods to help us represent a range of numbers. To extend our understanding further, we have been looking at reasoning and word problems.
English
To begin our learning this year, we have started with a silent film study. We have been watching the Disney short 'paperman' and have begun to compose sentences to create our own narrative to go alongside this film. We have had great fun with some experience days, drama and using a range of writing features.
Topic
For our topic learning this week, we have started to look at the novel 'Street Child' to introduce us to the Victorian era and the industrial revolution. We have been using our 'reading detective' skills to infer and retrieve key information from the text to develop our understanding of this time.
In our PSHE lessons, we have been challenging ourselves to 'change our words and change our mindset'. From these lessons, we have learned the neuroscience behind a Growth Mindset and the importance of changing our mindset.
For PE, we have been practising our catching and passing in tag rugby. Thankfully, the lovely weather meant that we could do this for ages - it was great fun!
We have also been great role models this week. We thoroughly enjoyed reading stories to our Year 1 friends in the sunshine!