Year 5 News
Autumn Term 2 summary
It has been a very busy half-term for Year 5. WE have completed our study of the Ancient Islamic Empire, taking time to think about how we know what we know about the past, the use of sources and their reliability to inform us about the past and taking time to enjoy the beauty and wonder of ancient artefacts. We continued to link our study of history and geography, using our new geographical knowledge to appreciate and understand the significance of the city of Baghdad in early trade routes and the development and expansion of the Silk Road. We also continued our study of Islam in RE, looking at important rites of passage and comparing some of these with Christian celebrations.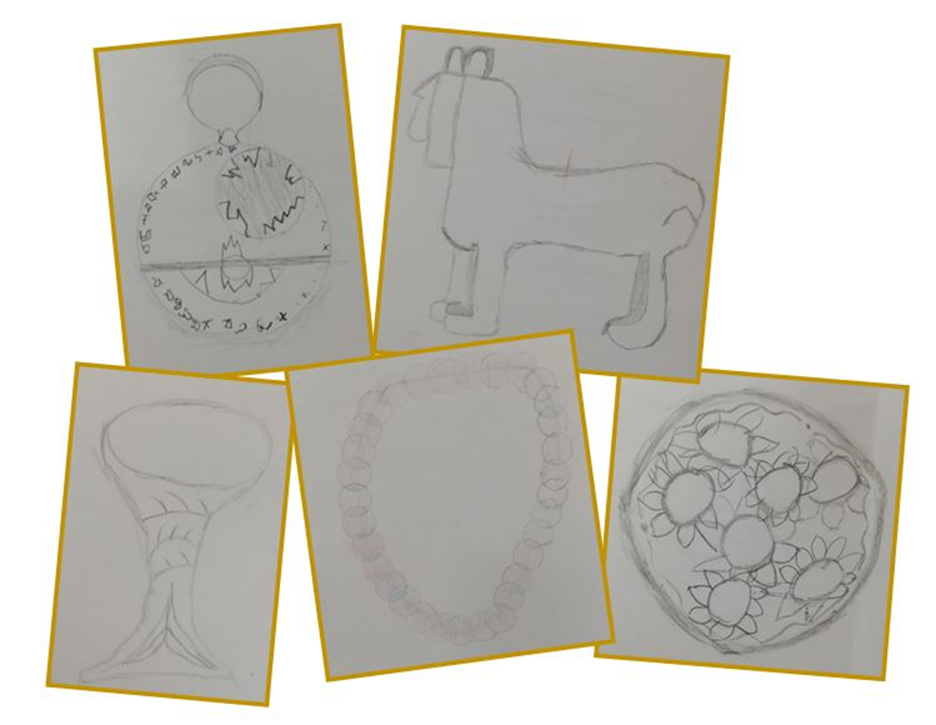 In PSHE, we have spent some time looking at money, considering types of bank accounts, how payments have changed and how to shop safely online. We also looked at attitudes to money and how to understand a bank statement and work out a simple budget. This led to looking at debt and how money can cause us stress and anxiety and ways to help deal with this. We then took a more global perspective, and linking with our English where we are reading the story Kick which explores child labour and exploitation in the Third World, we looked at Fair Trade. This resulted in some very animated discussions. Using this, we have written persuasive letters to a football kit company, encouraging them to only use Child Labour Free Zones and to broadcast this fact on their website.
This global perspective is at the root of our study this year, and in preparation for our exploration of the Kingdom of Benin next term, we had a wonderful African Dance workshop. It was certainly an energetic day! The children learned a little about the continent of Africa and heard music from several different countries, exploring movement, balance and storytelling through dance.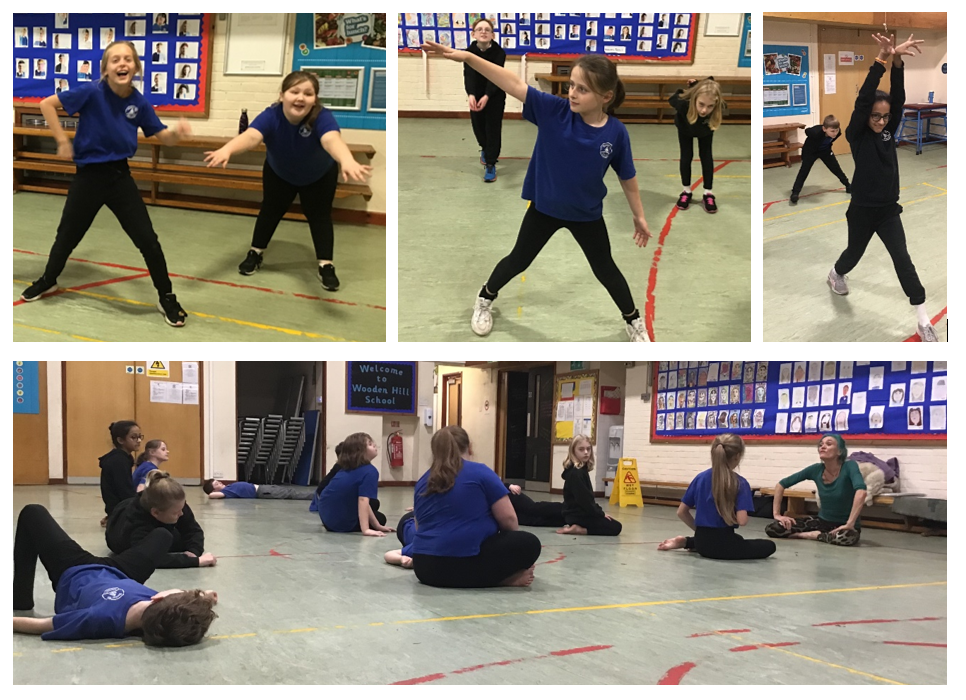 In art, we looked at the Pop Art movement, particularly focussing on Andy Warhol. We looked at his techniques and experimented with different types of print making and use of colour.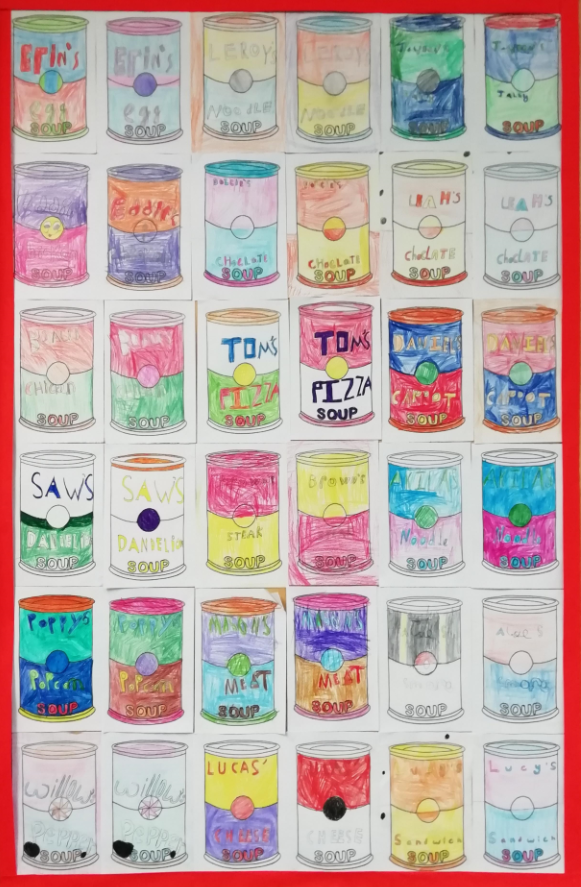 We then took some time to make felt purses in DT, thinking about the process of planning a project, the actual construction of the item and then evaluating the end product.

In Science, we explored different materials and their properties, with many opportunities for experiments and hands-on experiences. We even managed to make some crystals. This led to exploring the difference between reversible and irreversible processes and some wonderful posters explaining these.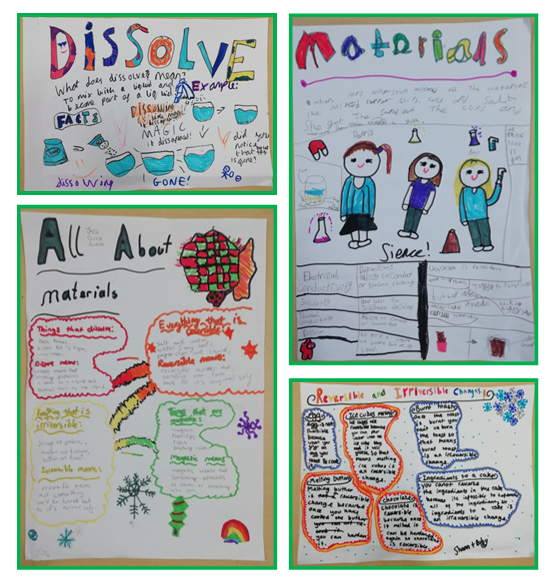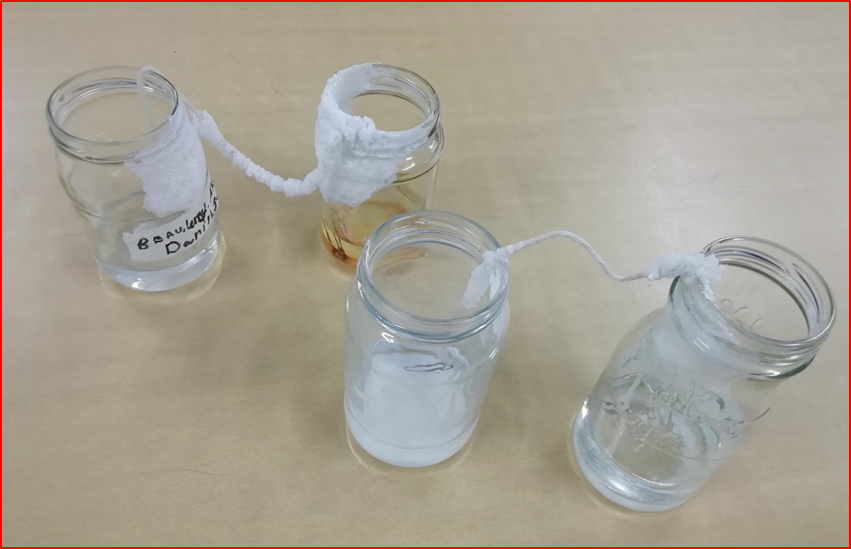 Autumn Term 2 - Week 4 - 25th November 2021
This term, we have been focusing on materials, what they are and where they come from. In English, we have linked this learning to factories and those that produce their materials using child labour, using the book "Kick" by Mitch Johnson. The story follows young Budi, who loves football but is forced to work in a boot factory. Using our research and the book, we have been writing persuasive letters to encourage companies to support Child Labour Free Zones. Do you know where your clothes come from? In maths, we have completed a statistics block, looking at data and different ways to share and present these, including tables, graphs and timetables.
Now, we have moved on to multiplication and division – it is so important that children are practising their times tables at home using TTRS to help them effectively access the tasks in lessons. In science, we have explored materials including reversible and irreversible changes – mixing substances and observing what happens. We have carried out investigations and discussed fair tests and variables each time. We have talked a lot about finding out results and measuring accurately, and presenting our data (which, again, links to maths!)
In art, we have been studying Andy Warhol, looking at his art and printing styles, again using a variety of materials including soup cans!
Autumn Term 2 - Week 1 - 1st November 2021
In English, we have started a new text. We are reading Kick by Mitch Johnson and using the contents to write a persuasive letter to a footballer, about child labour. We have discussed what child labour is and why it occurs, looking up statistics and researching the Rights of the Child. Our lessons this week have been mostly experienced based, please do discuss these ideas with your children so they stay fresh in their minds!
In maths, again, we have started a new statistics unit. We have been collecting, presenting and evaluating data using tally charts, pictograms, tables and bar charts. The children have practised asking and answering questions about the data presented to them.
In Art, we have been looking at the work of Andy Warhol and creating art inspired by him, the children invented some very interesting soup flavours! In Science, we started our materials topic with an impressively-timed Bonfire Night experiment, testing different materials as insulators for hot chocolates. In RE, we have been looking at rites of passage and in Geography we have continued with our Route to Mecca topic from last term. In PSHE, we have been discussing bank accounts, your child may be extra interested in money this week, especially with the Poppy merchandise that has been available.
Autumn Term - Week 7 - 18th October 2021
In English this week, Hannah and the gorilla went on an adventure, we have practised using our senses to describe effectively. The children then planned and wrote their own, independent versions of the story, changing the characters and going on adventures of their own. They were able to use their excellent imaginations to create stories full of description and excitement!
In maths, we completed our addition and subtraction topic with multi-step problems, then used our skills to reason and problem-solve in teams, working on our explaining and discussion skills throughout the week.
In RE, we designed prayer mats using our knowledge of symmetry from art and discussed their use. We have been developing our oracy skills with lots of discussions based learning, sharing our ideas and listening to each other to extend our own ideas. We also got to put our geography skills to the test with a trip to the pavilion, where we had to follow instructions to find clues to solve a puzzle, we had lots of fun.
We hope you all have a wonderfully restful half term holiday and look forward to welcoming you back to learn more about our new materials topic, with the big question "What is it made from?"
Autumn Term - Week 6 - 11th October 2021
In English, we have continued with Gorilla, exciting events happen with the arrival of Hannah's birthday. We used adjectives and dialogue to create suspense when something very unexpected happened!
In maths, we have practised using our knowledge to check our answers. We have used the inverse and rounding to estimate and approximate, with lots of discussion about the "why" behind these skills.
In RE this week, we looked at the interior design of mosques, including the art and architecture and using these ideas to create a design ourselves. In geography, we used more map skills and learnt how to use the scale on a map, including calculating the distance from London to Mecca - a huge 3750km!
Autumn Term - Week 5 - 4th October 2021
In English, we started a new text - Gorilla by Anthony Browne. We focused on building a negative picture this week, using repetition and inner thoughts to show that our character, Hannah, was bored, doing the same old things every day.
In maths, we have moved on to a new topic too, addition and subtraction. Diving straight in with using our place value knowledge to use the formal column method, we have calculated with numbers up for six digits, even using exchanging.
In geography this week, we introduced four-digit grid references and used these skills to plot different cities on a world map. We linked our learning with French as we are learning to talk about our holidays, including answering the question "Tu loges ou?" to share where we would stay, leading to some interesting discussions about holidays in general. In science, we planned our own pattern-seeking investigation after making levers and catapults using lollipop sticks, spoons and elastic bands (the elastic was very important!) We used comparative language and sentence stems to share our findings.
Autumn Term - Week 4 - 27th September 2021
In English, we have continued with the characters from The Explorer and the aftermath of the caiman sighting. We then used the events of the story to write our own independent versions, where new children suffered an accident in settings all over the world.
In maths, we have extended our knowledge of place value and number to explore negative numbers, Roman Numerals and solve code breakers. We have also been practising our skills with arithmetic tests each week.
In geography, we explored maps and atlases, identifying and labelling continents and using 8-point compasses to link to our big question, deciding where Mecca was in relation to Bracknell. In Science, we explored forces through investigating floating and sinking with Plasticine, it was more difficult that we anticipated making a Plasticine boat! We discussed fair tests and variables, using sentence stems to share our observations and make hypothesis' on which forces were at work.
Autumn Term 1 - Week 3 - 20th September 2021
In English this week we have continued with our book The Explorer, learning more about the characters as they bond and friendships grow while they are in the jungle, working together. We have been very intrigued by the clues they are finding, leaving us to believe that there has been another explorer there before them. Disaster strikes again though when Fred spots a caiman in the river while they are finally playing and feeling free.
In maths, we have done even more investigating with numbers up to 1,000,000 including partitioning, problem-solving and rounding. We have worked together as pairs and teams to answer questions and explain our thinking.
In Art, we have created our own zellige style tiles with mosaic counters and tessellated patterns using plastic shapes and are excited to use our skills to create using clay next week.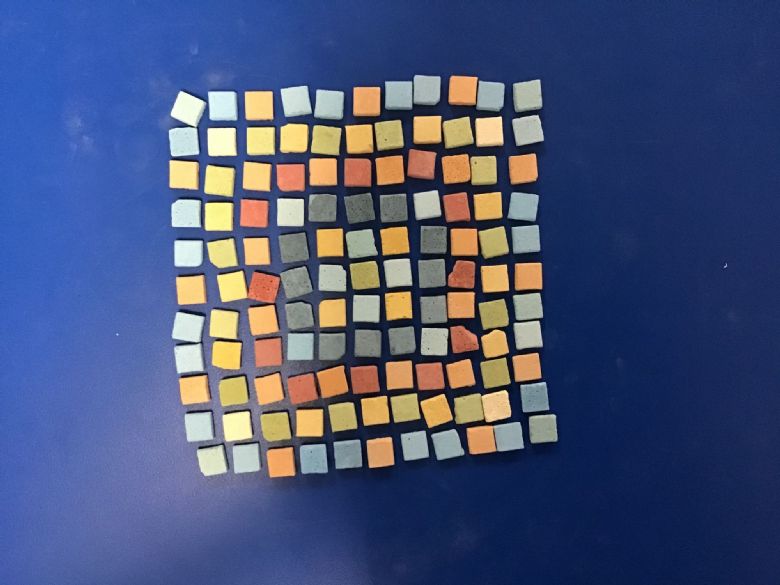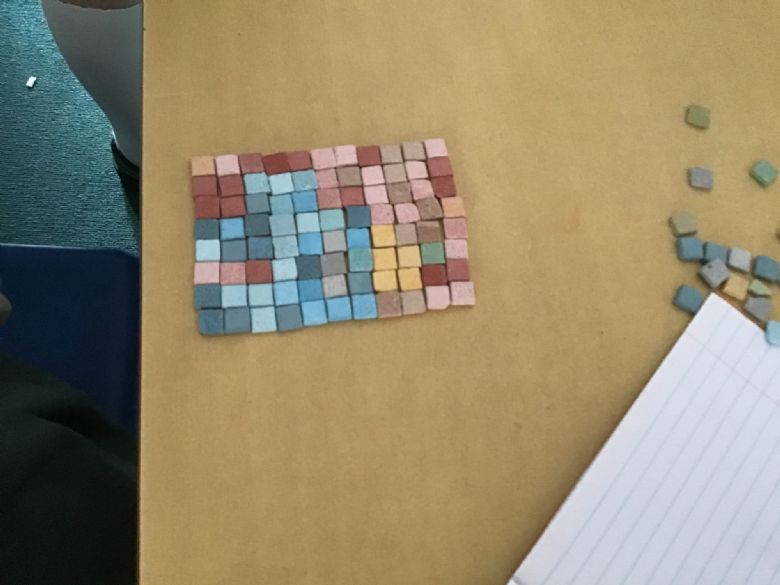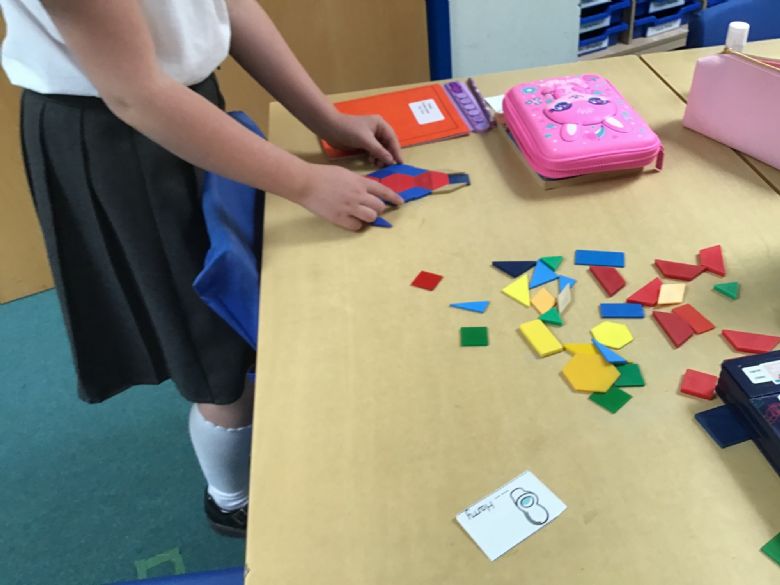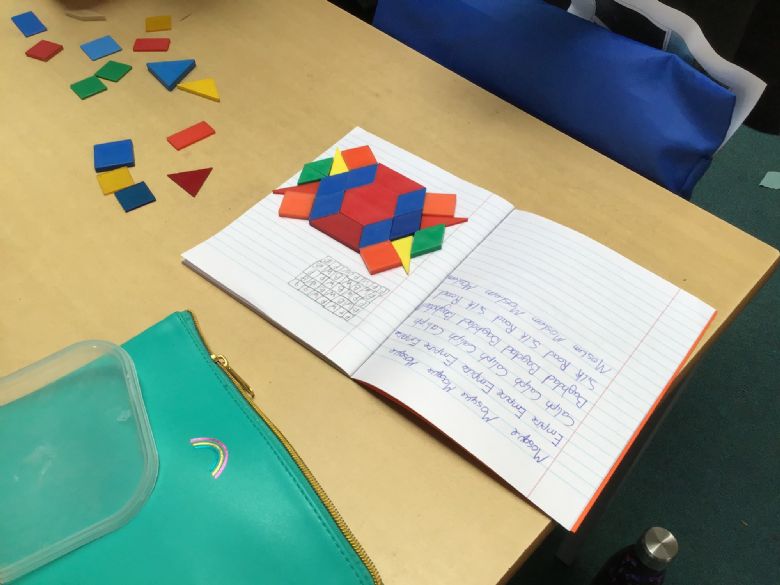 We have learnt more about forces in science including carrying out our own pattern seeking investigation using spinners to test whether the mass would affect the speed it fell. It did, so we practised using scientific target words to explain our thinking.
Autumn Term 1 - Week 2 - 13th September 2021
In English this week we wrote about catastrophic plane crashes after Fred's plane disaster in The Explorer, and the aftermath, focusing on dialogue. We looked at the survival tactics and ideas Fred had in detail, including his idea to build a raft which we had a go at ourselves using sticks and string.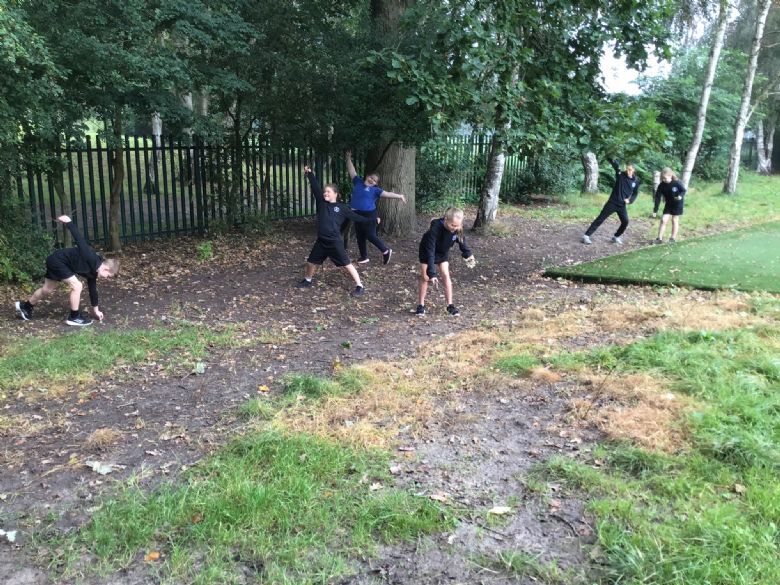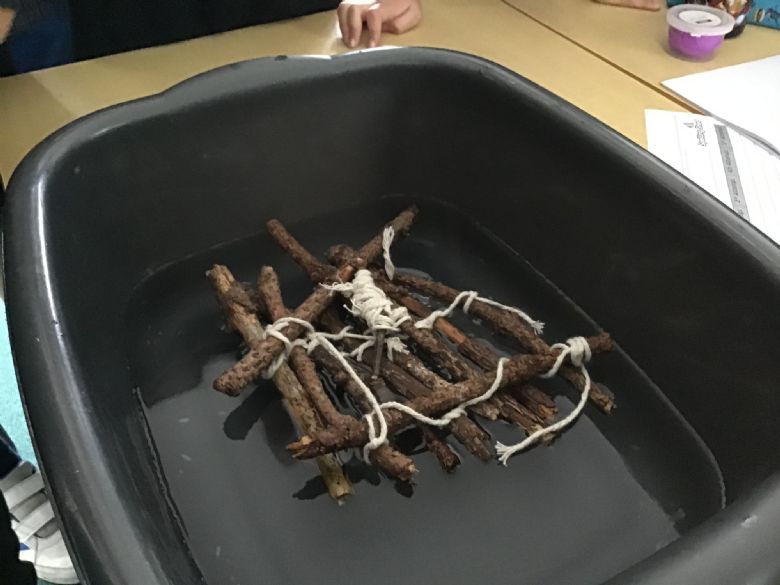 In reading this week, we read the whole story of Malala's Magic Pencil and had great discussions about her whole story too. We thought about comparisons between Malala's life and our own, even debating who was "lucky" to get to go to school - everyone!
In maths this week, we explored big numbers up to 1,000,000 - comparing and ordering using our place value knowledge. We used counters to represent these numbers with place value grids to develop our understanding.
In the afternoons, we have been busy doing our topic lessons. We completed our self portraits which are now on display in the hall.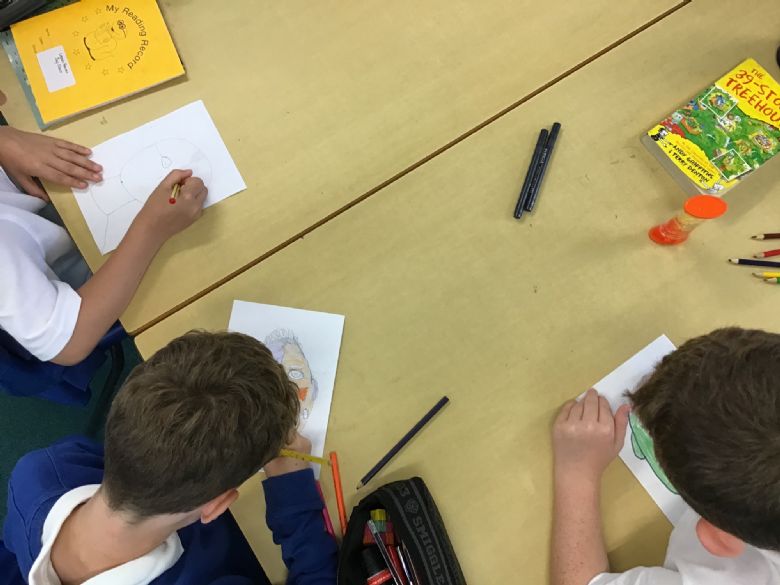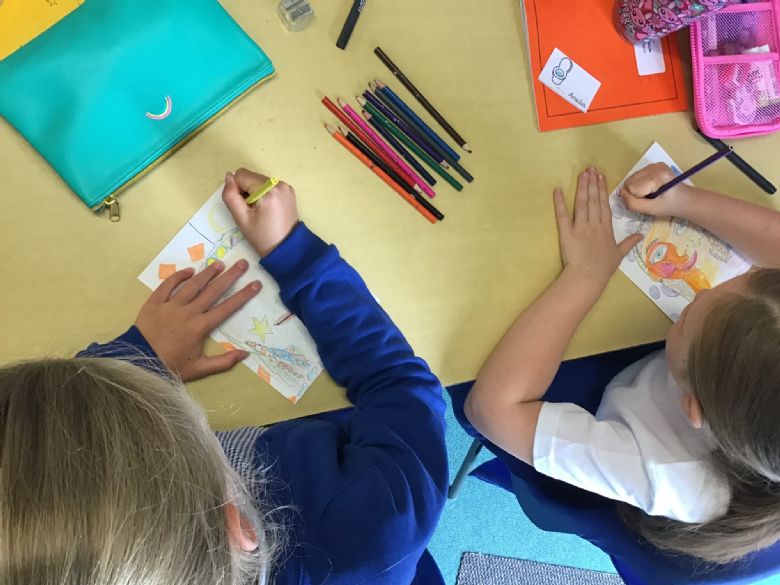 We also did lots of Islamic inspired art including thinking about colour choices and symmetry to create patterns using shapes and squared paper. In science, we explored air resistance by carrying out our own investigations using sheets of paper to see this force at work. We discovered that the greater the speed, the greater the air resistance and vice versa. We also learnt about the prophet Mohammed and why he was so important to Muslims in RE.
Autumn Term 1 - Week 1 - 6th September 2021
Welcome to another academic Year - 2021-2022! How time flies! It has been an absolute joy to have the children back this week, they have all been eager to learn and contribute in all areas of their learning which is absolutely fantastic! Everyone looks so happy and has seemed to settle quickly but please do contact your child's teacher if you have any concerns at all.
In English this week, we have started looking at the book The Explorer by Katherine Rundell (an excellent writer if you're looking for a recommendation) - this story follows a group of children after their plane crash lands in the Amazon, it's gripping with lots of great description and some interesting characters. We have used similes and metaphors to describe different characters, reminded ourselves about conjunctions and fronted adverbials and discussed different synonyms in context.
In reading, we are looking at the book Malala's Magic Pencil which fits in with our topic this half term. We are interested in reading more after the title and the blurb didn't quite match up.
In maths, we have recapped place value and rounding from last year and have been suitably impressed that so many children have remembered so much! We will continue to do arithmetic tests once a week and will try to use TTRS too, it would be fantastic if you could encourage this at home too.
Our overarching topic this half term is RE based, our big question is What is Islam? We will be looking at the history of Islam, Islamic art, basing our geography lessons on Islam and the Journey to Mecca and will be combining these ideas into our science lessons too, thinking about forces and travelling. If any of the above areas are of your expertise, we would love to have you come and share that with us and the children, please do get in touch via the year group email address Year5@office.woodenhill.bracknell-forest.sch.uk
We are very much looking forward to all the fun of Year 5 and working with you all!