Year 5 News
Summer Term 2 - Week 3 - 24th June 2022
This week, in English we have been researching information about Queen Elizabeth I to write facts and questions which we will use to write our biography.
In maths, we have been writing the amount of faces, edges and vertices of 3D shapes. We have also been drawing the nets and exploring plastic shapes.
This week in geography, we have been researching Lyme Regis and Bracknell to create a tourist campaign. We have been planning a poster or an advert to share our findings.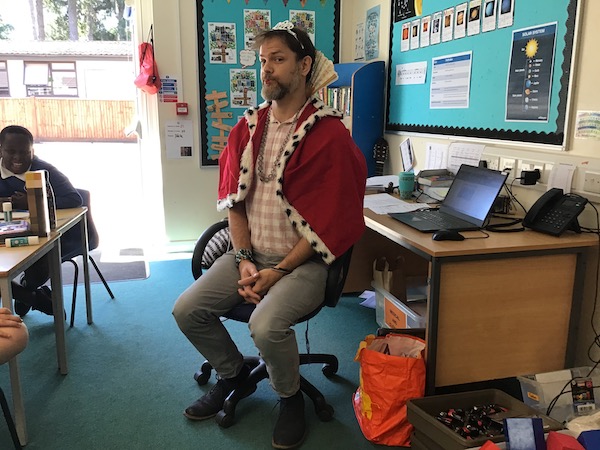 Summer Term 2 - Week 2 - 17th June 2022
This week, in English, we have used a biography about Hatshepsut, a famous Egyptian ruler, to learn about the features this type of text. We used our knowledge of lenses to find them in the text and talk about the effect they had on the reader.
In maths, we completed our test week and started learning about shapes, including different types of triangles and using our knowledge of angles.
We have also started a Geography unit, thinking about maps and exploring human and physical features, and thinking about topography. We were able to apply this and our drawing skills when we walked to South Hill Park to observe them for ourselves.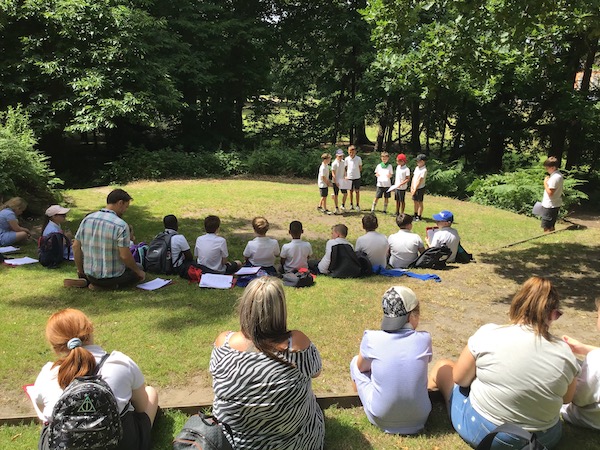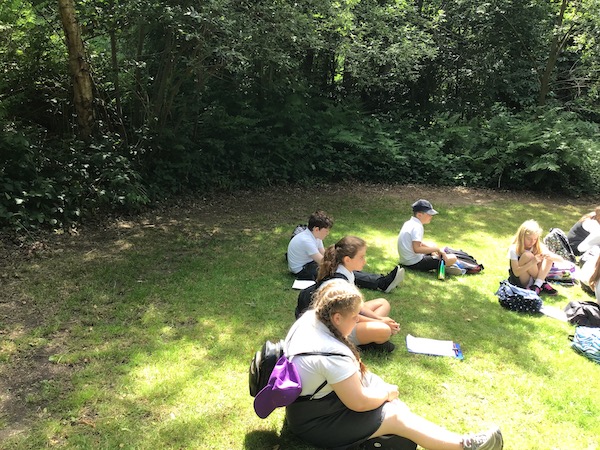 Summer Term 2 - Week 1 - 10th June 2022
We had a fantastic first week back, starting with a DT/History week where we created The Globe Theatre! Each child made a wattle and daub panel (using modern alternatives, thankfully!) and took on a task to create each part to bring together and create the finished product.
In English, we saw some absolutely brilliant debates and some impressive public speaking, arguing whether refugee children should be given places at our school. The children also wrote their own stories based on the short film Marshmallow, featuring monsters! In maths, we have explored angles further and practiced measuring and drawing angles accurately.
Summer Term 1 - Week 6 - 23rd May 2022
As part of their History learning this week, Year 5 have been finding about Tudor life. They had a fantastic time visiting Ufton Court, where they had the opportunity to explore artefacts from the past, be history detectives by searching the grounds for clues, to learn about crime and punishment when re-creating a Tudor courtroom and to play some typical Tudor lawn games.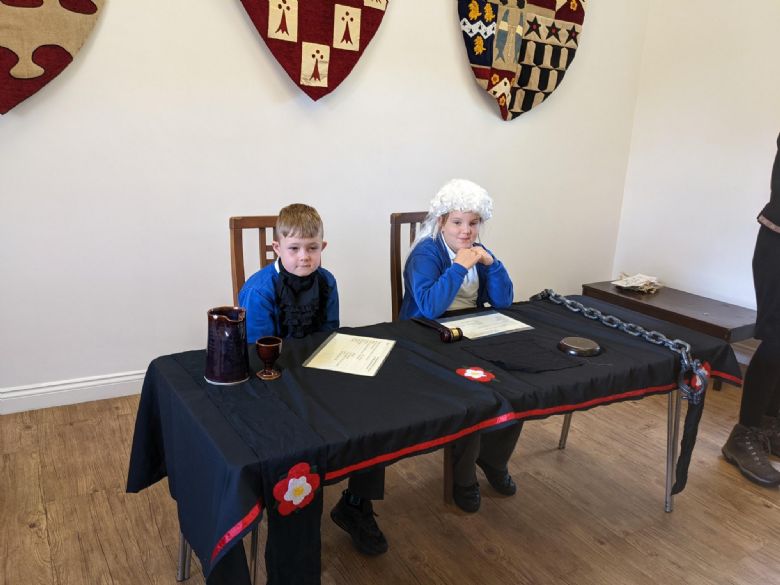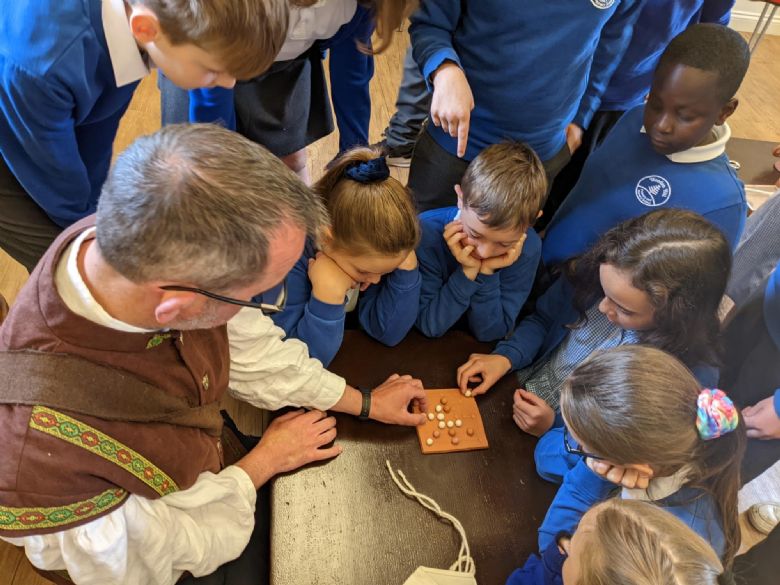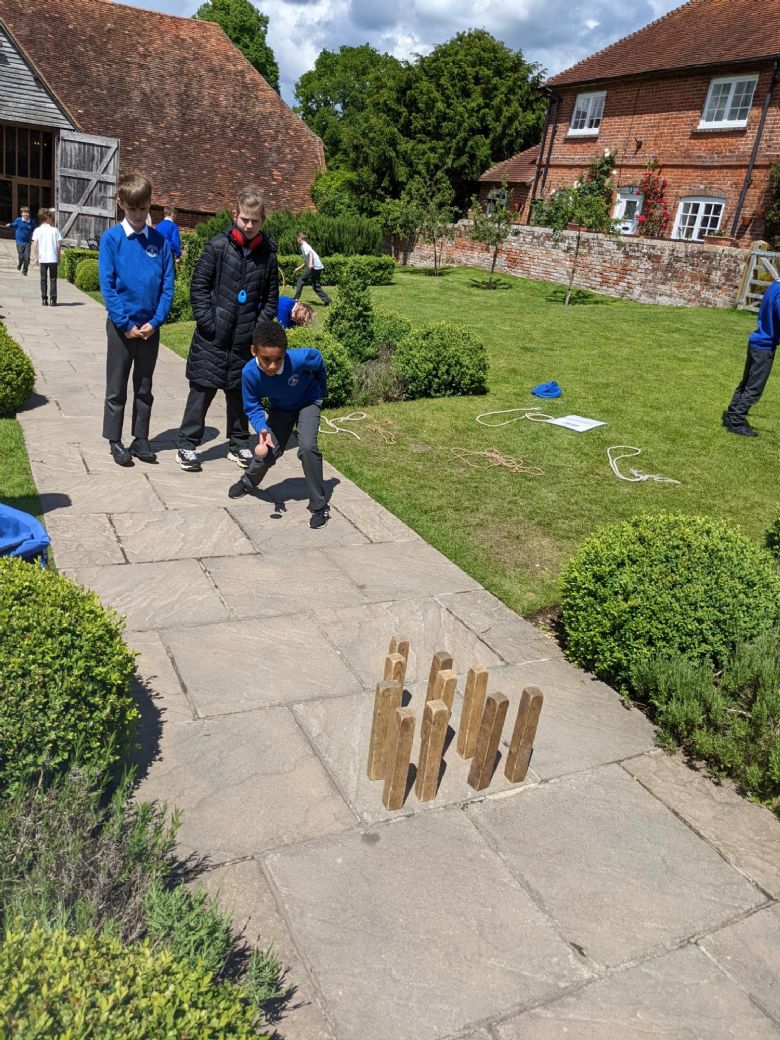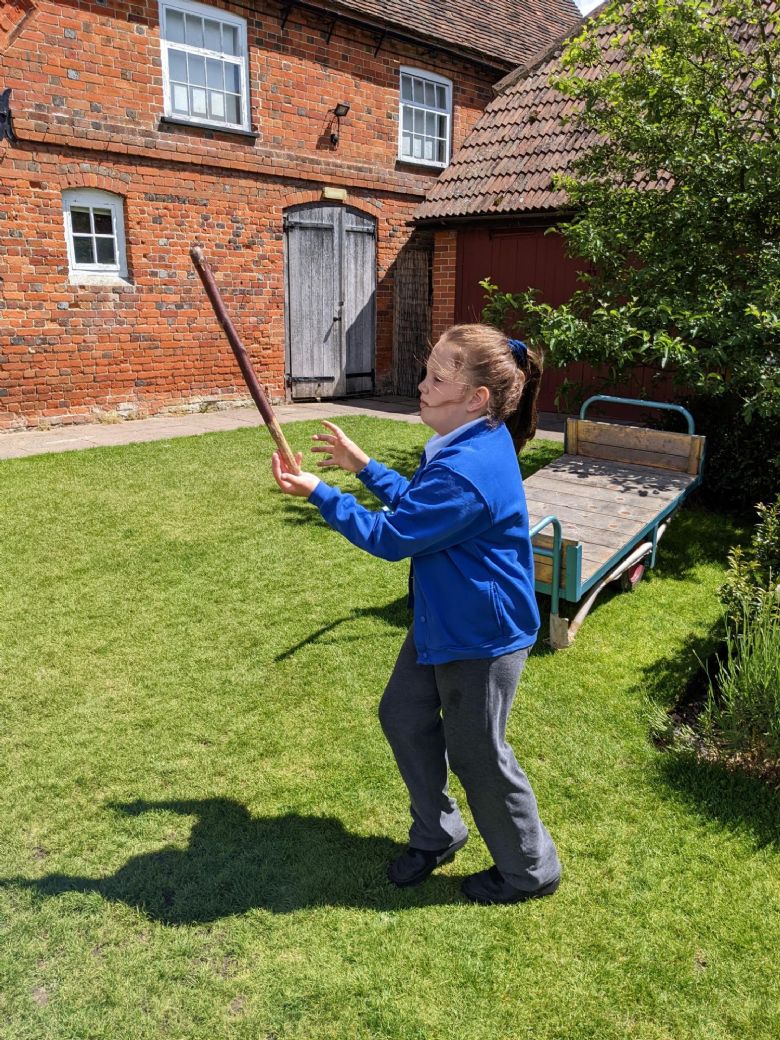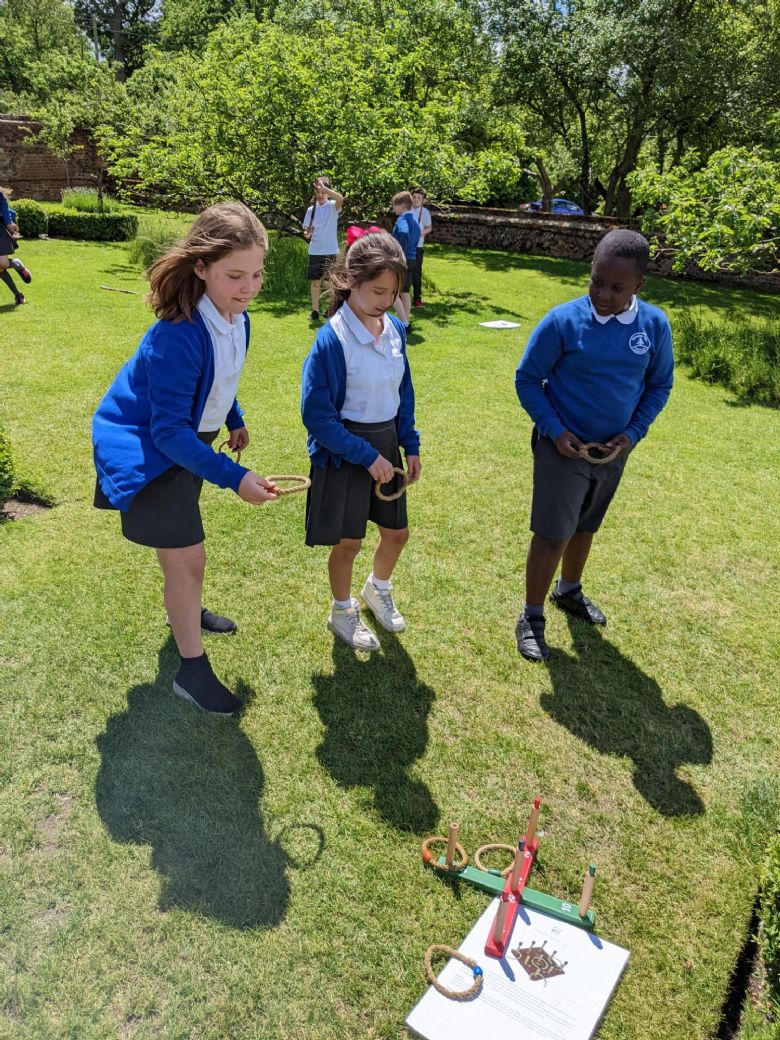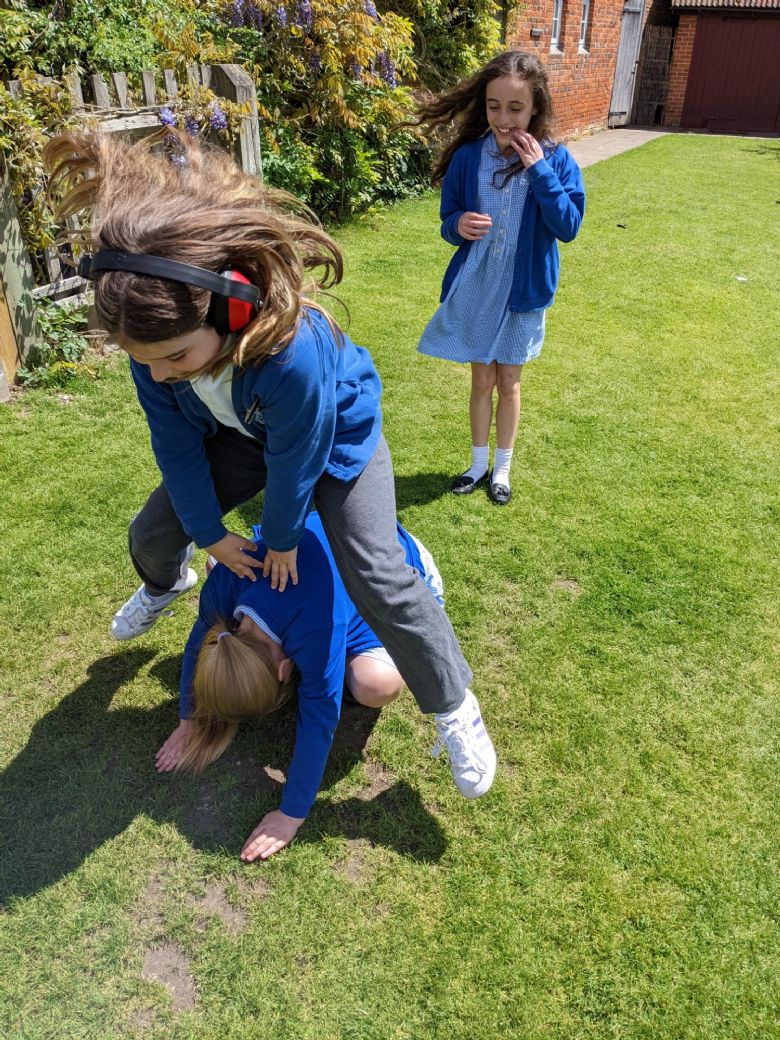 Summer Term 1 - Week 2 - 28 April 2022
To start the summer term, we have been exploring our science topic – space! We had two science days last week where we investigated Mars and Martian sand; comparing and separating different materials and emulating crater creation (using our maths skills of measuring and sharing information in tables). We created our own playdough volcanoes and even made one erupt to see the formation patterns to make smaller versions, cutting them to see the different layers. This week we have been learning about thing much closer to home – Earth, the moon and the sun, including the concept that the earth is spherical, how day and night happen and the phases of the moon (using biscuits!)
In maths, we completed our unit of decimals, fractions and percentages and the children did incredibly well in their assessment! We move on to using decimals in calculations next week. In English, we are basing our writing on the book The Journey by Francesca Sanna, which is about a young girl who has to flee her home because of war.
Spring Term 2 - Week 6 - 1 April 2022
What a hectic half-term it has been! We have crammed in still life drawing in Art, making hot cross buns in DT, not just one but two science weeks focussing on cycles of varying forms including lots of practical activities. The children have really enjoyed this immersive approach to our learning, so we will continue after half term when our topic will be Earth and Space!
In English, we have written speeches based on topics of the children's choice, particularly plastic pollution and polar bears. The children have looked at and listened to speeches before identifying the features and deciding on the TWS lenses that fit along with each idea. They have completed lots of short-burst independent writing before writing some really amazing speeches – we were lucky enough to hear some and they really were so powerful and well done! Our reading lessons based on the poem Mother Earth helped us with the expression and fluency of speaking, every single child made amazing progress performing in just two short weeks!
In maths, we have started our decimals topic, linking in with our previous learning about fractions. Children have transferred skills across both units and have really worked hard on developing their reasoning and explaining skills.
Have a lovely Easter break and we look forward to seeing the children return on Thursday 21st April.
Spring Term 2 - Week 2 - 4 March 2022
This week, we have been celebrating World Book Day with World Book Week at Wooden Hill. We have focussed on the book The Last Bear by Hannah Gold, about a girl named April who moves to Bear Island with her father and finds a real, live polar bear! We drew our own front covers, compared settings and wrote letters from April, plus we've been creative with sculpting salt dough polar bears and following tutorials to draw them too. The children looked brilliant all dressed up on Thursday and we have been loving seeing their photos on Google Classroom, Shelfie Selfies and Extreme Reading Challenge entries – which is closing on Monday!
Our WBD text linked brilliantly with our English topic, reading and writing non-chronological reports on animals including arctic foxes and emperor penguins. We have explored the features of the texts, including subheadings and the different non-fiction shapes from TWS to structure our texts. The children have been encouraged to write more independently and they are showing good progress, even though it really is very difficult, showing great determination. We have learnt lots about the different animals, including parts of their life cycles, which links again with next week's Science topic – animals and life cycles!
In maths, we have continued with yet more fractions! We have been adding and subtracting fractions with common denominators, unlike fractions and even mixed numbers! We have worked hard on drawing and using models including bars and number lines to help us prove our answers and explain our thinking. We have found equivalent fractions every day and the children's knowledge of times tables is definitely improving, if they can be practicing at home too it would be really beneficial!
We played our first football match of this half of the season (after a cancellation last week) against St Michael's Sandhurst on Thursday. Ten Year 5 and 6 children were chosen to represent the school after working incredibly hard at the practice sessions. It was a tough game, against the team second in the league, but everyone was happy to be back playing football again. The team blew us away with their teamwork, considering it was the first time they had all played together properly. Our goalkeeper, Riley, did absolutely fantastically as their attackers were very confident, saving so many goals! Unfortunately, we lost 4-0 but we are so proud of their effort. There's another match next week (10th March) at home, it would be wonderful to see some extra supporters.
Spring Term 1 - Week 6 - 11 February 2022
In English, we have been writing our own stories about receiving a gift – a gift that seemed wonderful until the recipient looked closer! We have practised using our success criteria independently and wrote some excellent stories. In Reading, we looked at two examples of persuasive texts – arguing that teachers should be allowed free chocolate! We explored the features and talked about the purpose & audience for the text to decide which was more effective.
In Maths, we have continued with our fractions topic. We explored common denominators and how they are particularly useful for calculating with fractions. We have added fractions and spotted patterns in sequences, while using our knowledge of equivalent fractions to help us. Multiplication skills have come in very handy once again, I'm so happy to see so many children are improving their skills with TTRS! We have also worked hard on our explaining, particularly using models to help us to understand and support our thinking.
In Art, we made clay sculptures inspired by artefacts from the Benin Kingdom, which we drew last week. In PSHE, we learnt about giving First Aid, from managing an asthma attack to finding someone unconscious. We learnt that it is always important to stay calm, call for help and that we have a responsibility to help. In RE, we discussed the persecution of Christians, the reasons why and explored how we felt about it, making some informative posters. In computing, we discussed systems – we now know how bikes and washing machines work!
We hope you have a wonderful, restful half term. There is a very simple homework task this week – a shelfie selfie! We look forward to welcoming you back on the 22nd February when we'll be starting our new topic: How can we look after our planet?
Spring Term 1 - Week 4 - 27 January 2022
This week, in English, we have started a new film unit called The Present. The children are all finding it very relatable so far as it starts with a boy playing video games and getting grumpy when Mum distracts him with a big box. They were all very good at coming up with reasons why Mum would want him to spend more time outside rather than in front of the TV! We discussed in depth, and with an experience day, what could be in the box and how the boy would be feeling. Next week, we will find out what's inside.
In maths, we have started a fractions topic. The children have shown a good understanding of what a fraction is (when a whole is split into equal parts) and using drawings to help show their ideas. We looked at equivalent fractions which has shown that lots more times tables practise is needed – remember children should be using TTRS three times a week to improve their skills! We have also been developing our explanation skills, asking "How do you know?" to clarify their thinking.
In geography, we presented information about mountains and the different ways they are formed after a practical demonstration last week using shaving foam and biscuits. This has formed part of their homework this week. In art, we were inspired by the African artist Thandiwe Muriu, who creates art using bold, bright patterns and photo imagery. We designed our own using felt tips to colour repeating patterns and photographs to create a collage – don't they look effective? We have also learnt about society in Benin and performed African dance songs in music.
Spring Term 1 - Summary 26 January 2022
In English this term, we have already completed a unit on Idia, a Benin Princess, based on dreams and growing up. This linked well with our History topic, the Kingdom of Benin, which has been really interesting, learning about the past and the cultural differences. We have also been looking at African art, bold and bright designs which include lots of shapes. In maths, we have powered through a unit on multiplication and division, Times Table Rockstars practise is really key to developing these fundamental skills. Now, we have moved on to fractions including equivalent fractions and mixed numbers/improper fractions, both of which use our times tables knowledge again. We have done some very practical geography lessons, as you can see, creating the earth out of playdough to revise its layers and forming mountains using biscuits and shaving foam. We have linked this with computing as we have been independently researching and presenting information, it would be amazing if the children could continue this at home too! We have linked this learning with our reading lessons, to find out more about mountains and the people who climb them.
Autumn Term 2 Summary
It has been a very busy half-term for Year 5. WE have completed our study of the Ancient Islamic Empire, taking time to think about how we know what we know about the past, the use of sources and their reliability to inform us about the past and taking time to enjoy the beauty and wonder of ancient artefacts. We continued to link our study of history and geography, using our new geographical knowledge to appreciate and understand the significance of the city of Baghdad in early trade routes and the development and expansion of the Silk Road. We also continued our study of Islam in RE, looking at important rites of passage and comparing some of these with Christian celebrations.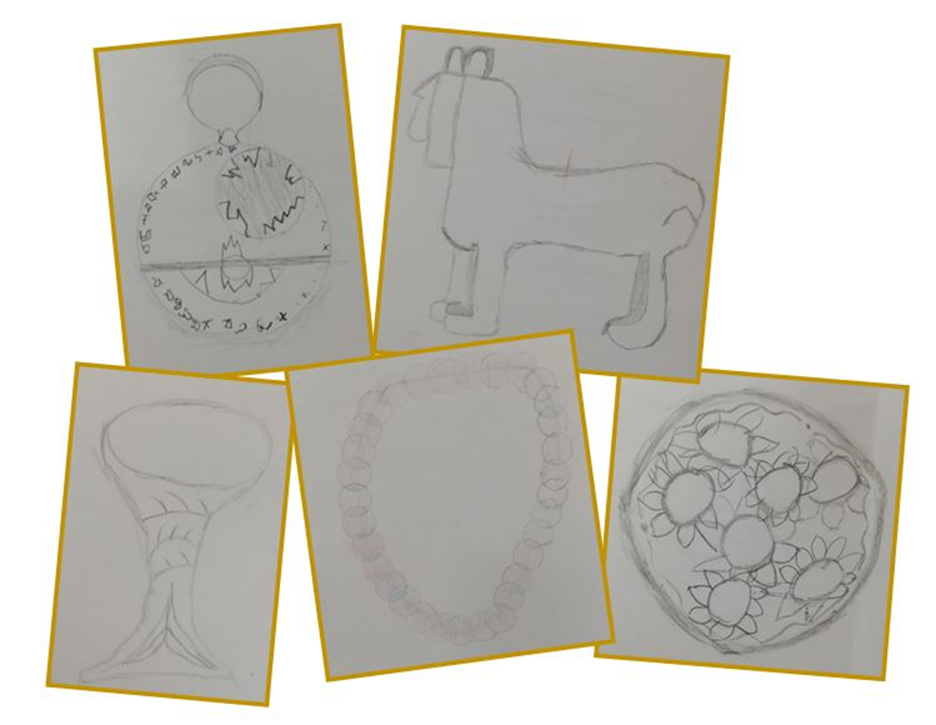 In PSHE, we have spent some time looking at money, considering types of bank accounts, how payments have changed and how to shop safely online. We also looked at attitudes to money and how to understand a bank statement and work out a simple budget. This led to looking at debt and how money can cause us stress and anxiety and ways to help deal with this. We then took a more global perspective, and linking with our English where we are reading the story Kick which explores child labour and exploitation in the Third World, we looked at Fair Trade. This resulted in some very animated discussions. Using this, we have written persuasive letters to a football kit company, encouraging them to only use Child Labour Free Zones and to broadcast this fact on their website.
This global perspective is at the root of our study this year, and in preparation for our exploration of the Kingdom of Benin next term, we had a wonderful African Dance workshop. It was certainly an energetic day! The children learned a little about the continent of Africa and heard music from several different countries, exploring movement, balance and storytelling through dance.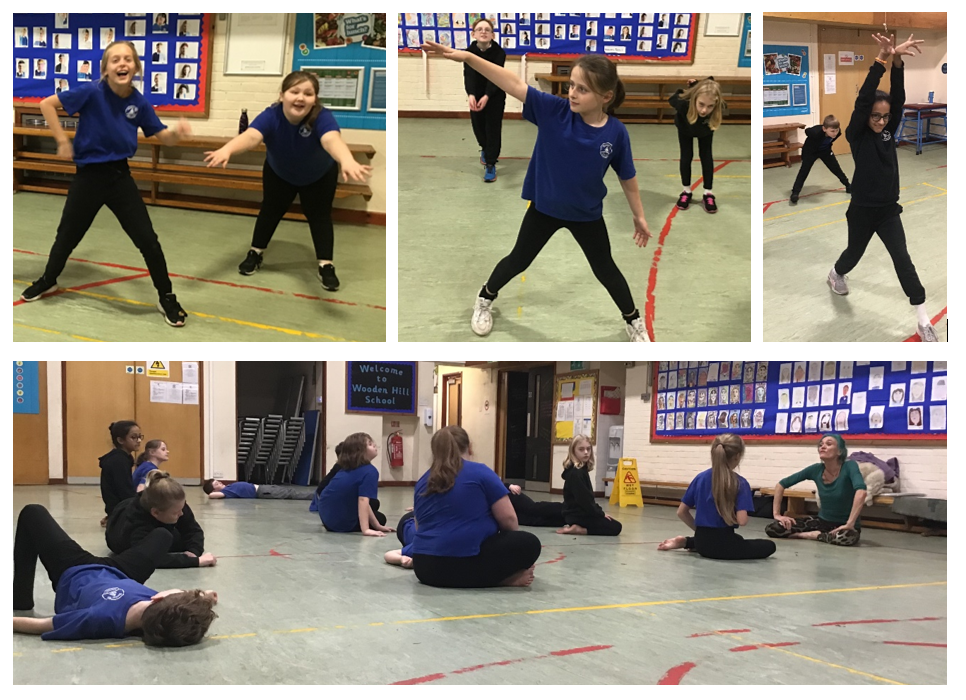 In art, we looked at the Pop Art movement, particularly focussing on Andy Warhol. We looked at his techniques and experimented with different types of print making and use of colour.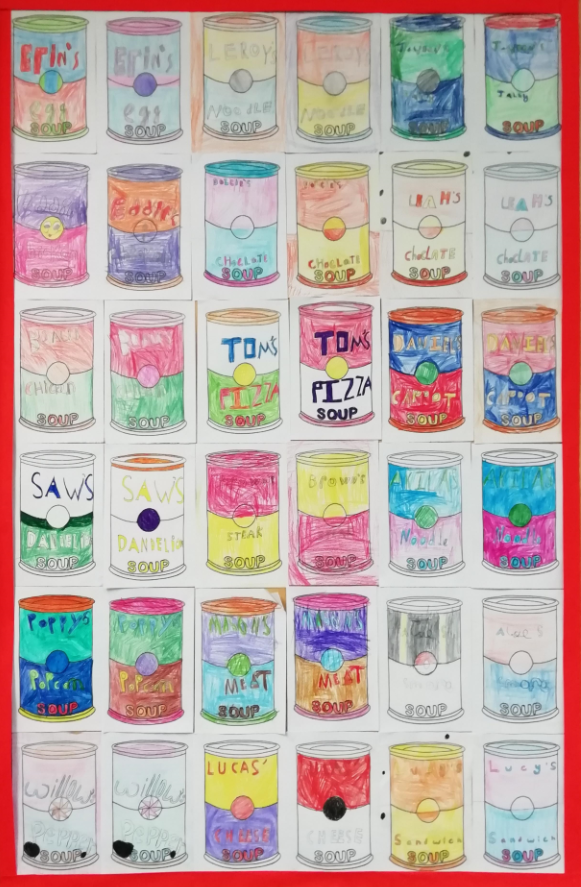 We then took some time to make felt purses in DT, thinking about the process of planning a project, the actual construction of the item and then evaluating the end product.

In Science, we explored different materials and their properties, with many opportunities for experiments and hands-on experiences. We even managed to make some crystals. This led to exploring the difference between reversible and irreversible processes and some wonderful posters explaining these.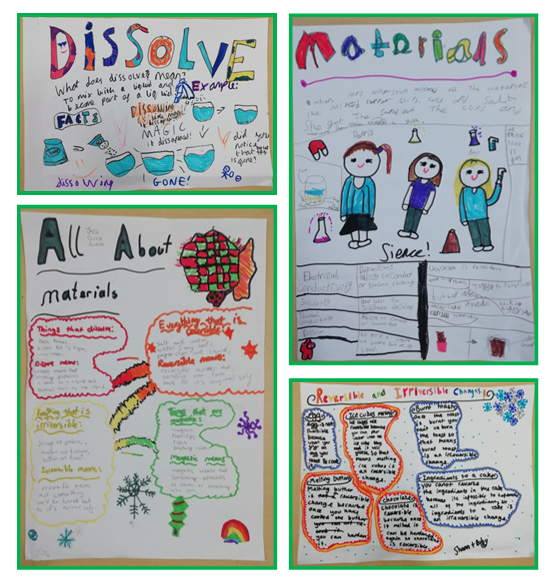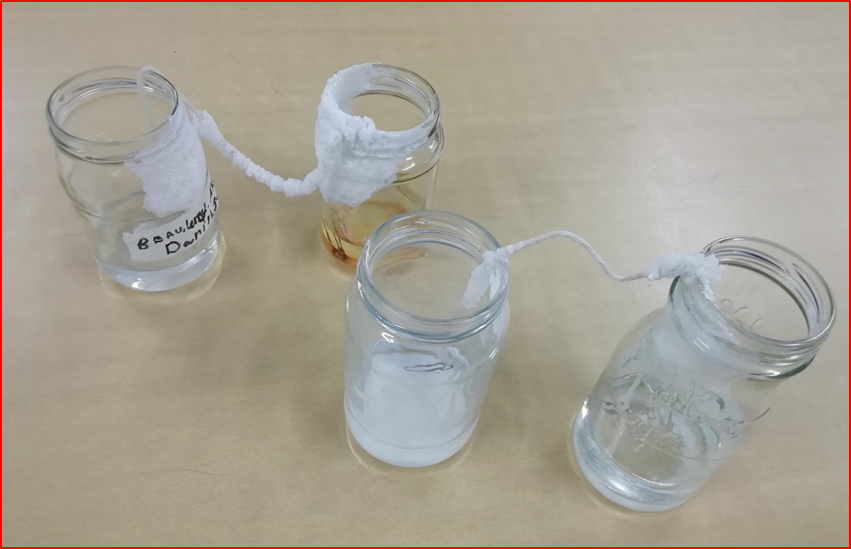 Autumn Term 2 - Week 4 - 25th November 2021
This term, we have been focusing on materials, what they are and where they come from. In English, we have linked this learning to factories and those that produce their materials using child labour, using the book "Kick" by Mitch Johnson. The story follows young Budi, who loves football but is forced to work in a boot factory. Using our research and the book, we have been writing persuasive letters to encourage companies to support Child Labour Free Zones. Do you know where your clothes come from? In maths, we have completed a statistics block, looking at data and different ways to share and present these, including tables, graphs and timetables.
Now, we have moved on to multiplication and division – it is so important that children are practising their times tables at home using TTRS to help them effectively access the tasks in lessons. In science, we have explored materials including reversible and irreversible changes – mixing substances and observing what happens. We have carried out investigations and discussed fair tests and variables each time. We have talked a lot about finding out results and measuring accurately, and presenting our data (which, again, links to maths!)
In art, we have been studying Andy Warhol, looking at his art and printing styles, again using a variety of materials including soup cans!
Autumn Term 2 - Week 1 - 1st November 2021
In English, we have started a new text. We are reading Kick by Mitch Johnson and using the contents to write a persuasive letter to a footballer, about child labour. We have discussed what child labour is and why it occurs, looking up statistics and researching the Rights of the Child. Our lessons this week have been mostly experienced based, please do discuss these ideas with your children so they stay fresh in their minds!
In maths, again, we have started a new statistics unit. We have been collecting, presenting and evaluating data using tally charts, pictograms, tables and bar charts. The children have practised asking and answering questions about the data presented to them.
In Art, we have been looking at the work of Andy Warhol and creating art inspired by him, the children invented some very interesting soup flavours! In Science, we started our materials topic with an impressively-timed Bonfire Night experiment, testing different materials as insulators for hot chocolates. In RE, we have been looking at rites of passage and in Geography we have continued with our Route to Mecca topic from last term. In PSHE, we have been discussing bank accounts, your child may be extra interested in money this week, especially with the Poppy merchandise that has been available.
Autumn Term - Week 7 - 18th October 2021
In English this week, Hannah and the gorilla went on an adventure, we have practised using our senses to describe effectively. The children then planned and wrote their own, independent versions of the story, changing the characters and going on adventures of their own. They were able to use their excellent imaginations to create stories full of description and excitement!
In maths, we completed our addition and subtraction topic with multi-step problems, then used our skills to reason and problem-solve in teams, working on our explaining and discussion skills throughout the week.
In RE, we designed prayer mats using our knowledge of symmetry from art and discussed their use. We have been developing our oracy skills with lots of discussions based learning, sharing our ideas and listening to each other to extend our own ideas. We also got to put our geography skills to the test with a trip to the pavilion, where we had to follow instructions to find clues to solve a puzzle, we had lots of fun.
We hope you all have a wonderfully restful half term holiday and look forward to welcoming you back to learn more about our new materials topic, with the big question "What is it made from?"
Autumn Term - Week 6 - 11th October 2021
In English, we have continued with Gorilla, exciting events happen with the arrival of Hannah's birthday. We used adjectives and dialogue to create suspense when something very unexpected happened!
In maths, we have practised using our knowledge to check our answers. We have used the inverse and rounding to estimate and approximate, with lots of discussion about the "why" behind these skills.
In RE this week, we looked at the interior design of mosques, including the art and architecture and using these ideas to create a design ourselves. In geography, we used more map skills and learnt how to use the scale on a map, including calculating the distance from London to Mecca - a huge 3750km!
Autumn Term - Week 5 - 4th October 2021
In English, we started a new text - Gorilla by Anthony Browne. We focused on building a negative picture this week, using repetition and inner thoughts to show that our character, Hannah, was bored, doing the same old things every day.
In maths, we have moved on to a new topic too, addition and subtraction. Diving straight in with using our place value knowledge to use the formal column method, we have calculated with numbers up for six digits, even using exchanging.
In geography this week, we introduced four-digit grid references and used these skills to plot different cities on a world map. We linked our learning with French as we are learning to talk about our holidays, including answering the question "Tu loges ou?" to share where we would stay, leading to some interesting discussions about holidays in general. In science, we planned our own pattern-seeking investigation after making levers and catapults using lollipop sticks, spoons and elastic bands (the elastic was very important!) We used comparative language and sentence stems to share our findings.
Autumn Term - Week 4 - 27th September 2021
In English, we have continued with the characters from The Explorer and the aftermath of the caiman sighting. We then used the events of the story to write our own independent versions, where new children suffered an accident in settings all over the world.
In maths, we have extended our knowledge of place value and number to explore negative numbers, Roman Numerals and solve code breakers. We have also been practising our skills with arithmetic tests each week.
In geography, we explored maps and atlases, identifying and labelling continents and using 8-point compasses to link to our big question, deciding where Mecca was in relation to Bracknell. In Science, we explored forces through investigating floating and sinking with Plasticine, it was more difficult that we anticipated making a Plasticine boat! We discussed fair tests and variables, using sentence stems to share our observations and make hypothesis' on which forces were at work.
Autumn Term 1 - Week 3 - 20th September 2021
In English this week we have continued with our book The Explorer, learning more about the characters as they bond and friendships grow while they are in the jungle, working together. We have been very intrigued by the clues they are finding, leaving us to believe that there has been another explorer there before them. Disaster strikes again though when Fred spots a caiman in the river while they are finally playing and feeling free.
In maths, we have done even more investigating with numbers up to 1,000,000 including partitioning, problem-solving and rounding. We have worked together as pairs and teams to answer questions and explain our thinking.
In Art, we have created our own zellige style tiles with mosaic counters and tessellated patterns using plastic shapes and are excited to use our skills to create using clay next week.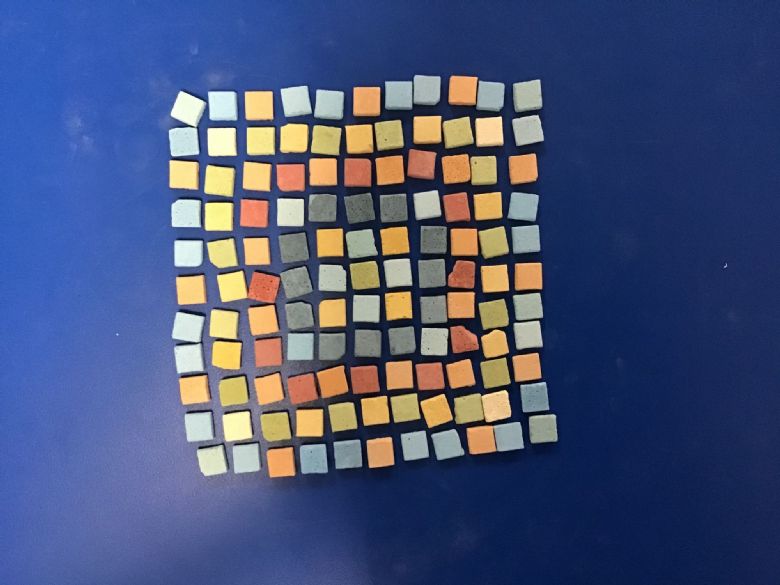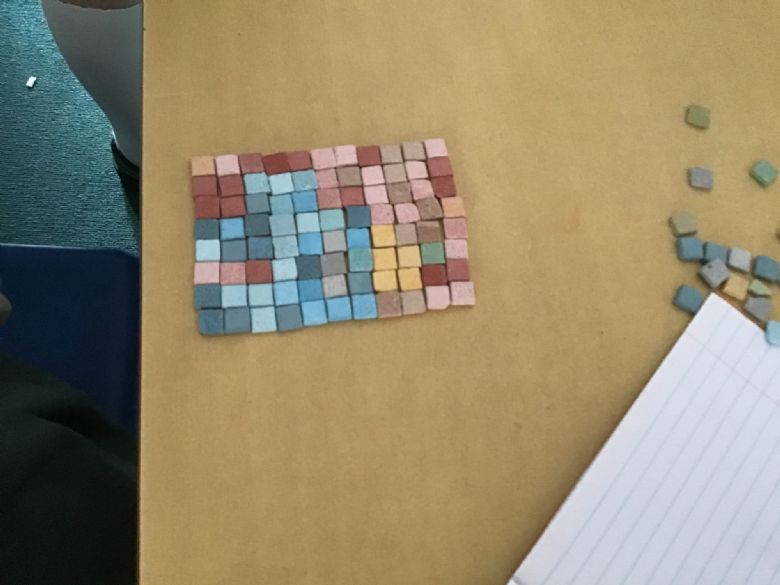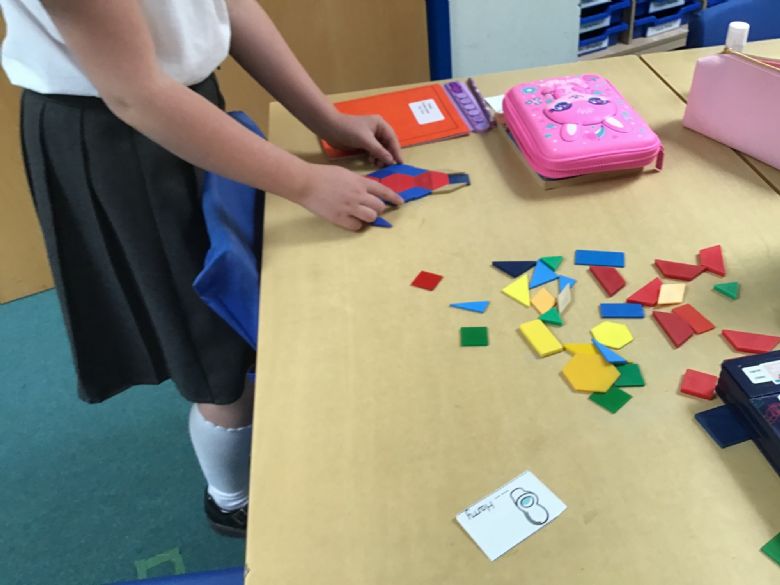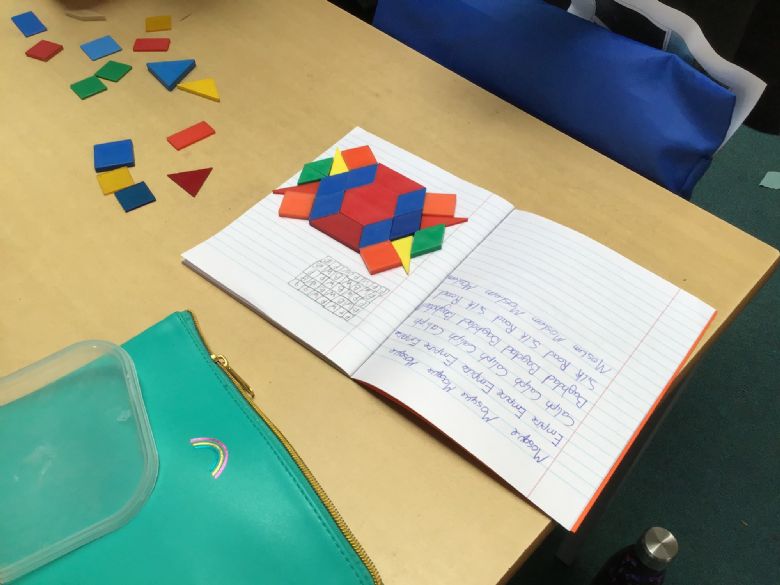 We have learnt more about forces in science including carrying out our own pattern seeking investigation using spinners to test whether the mass would affect the speed it fell. It did, so we practised using scientific target words to explain our thinking.
Autumn Term 1 - Week 2 - 13th September 2021
In English this week we wrote about catastrophic plane crashes after Fred's plane disaster in The Explorer, and the aftermath, focusing on dialogue. We looked at the survival tactics and ideas Fred had in detail, including his idea to build a raft which we had a go at ourselves using sticks and string.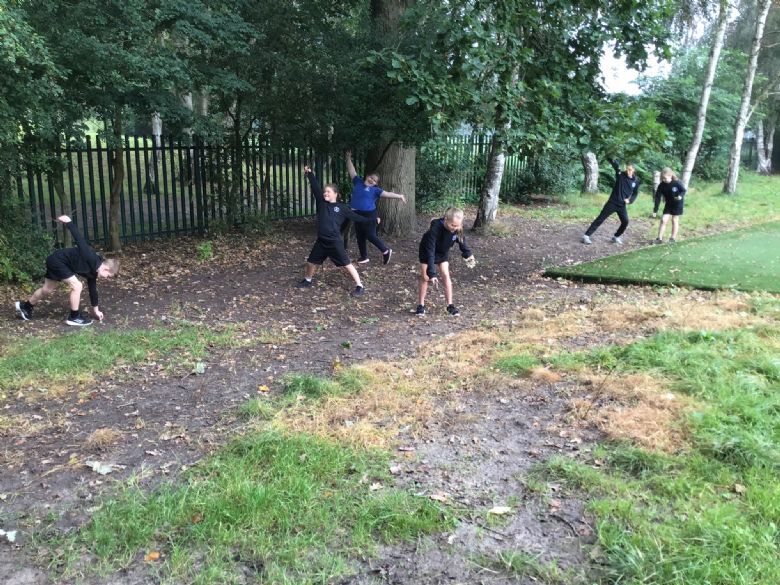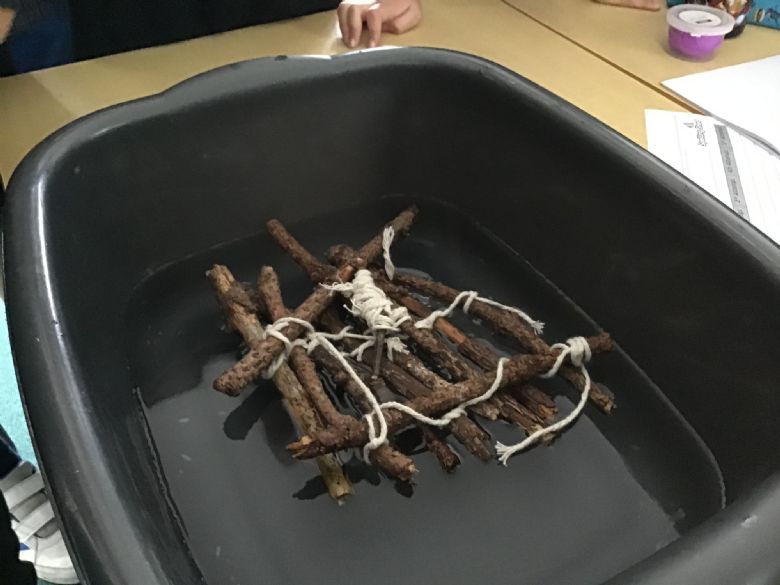 In reading this week, we read the whole story of Malala's Magic Pencil and had great discussions about her whole story too. We thought about comparisons between Malala's life and our own, even debating who was "lucky" to get to go to school - everyone!
In maths this week, we explored big numbers up to 1,000,000 - comparing and ordering using our place value knowledge. We used counters to represent these numbers with place value grids to develop our understanding.
In the afternoons, we have been busy doing our topic lessons. We completed our self portraits which are now on display in the hall.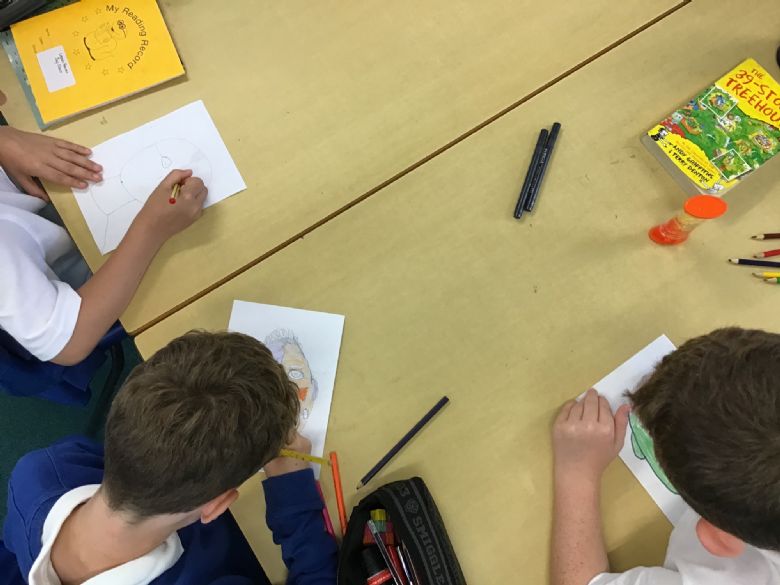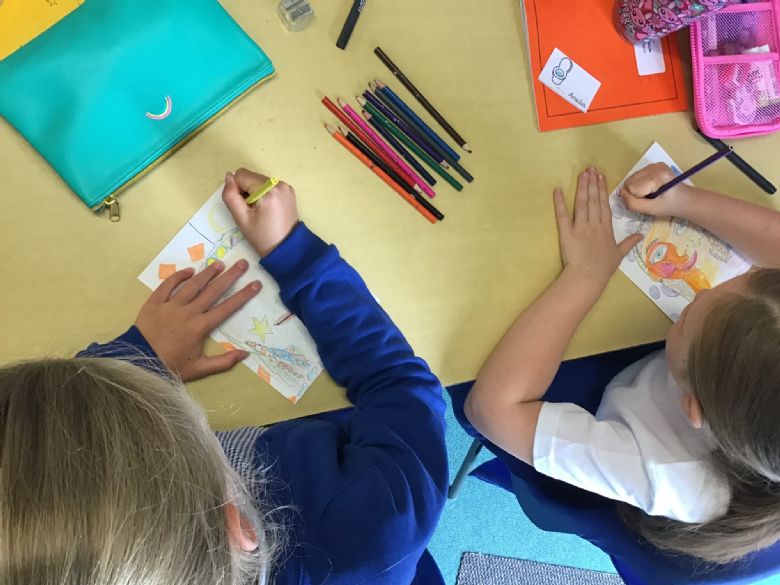 We also did lots of Islamic inspired art including thinking about colour choices and symmetry to create patterns using shapes and squared paper. In science, we explored air resistance by carrying out our own investigations using sheets of paper to see this force at work. We discovered that the greater the speed, the greater the air resistance and vice versa. We also learnt about the prophet Mohammed and why he was so important to Muslims in RE.
Autumn Term 1 - Week 1 - 6th September 2021
Welcome to another academic Year - 2021-2022! How time flies! It has been an absolute joy to have the children back this week, they have all been eager to learn and contribute in all areas of their learning which is absolutely fantastic! Everyone looks so happy and has seemed to settle quickly but please do contact your child's teacher if you have any concerns at all.
In English this week, we have started looking at the book The Explorer by Katherine Rundell (an excellent writer if you're looking for a recommendation) - this story follows a group of children after their plane crash lands in the Amazon, it's gripping with lots of great description and some interesting characters. We have used similes and metaphors to describe different characters, reminded ourselves about conjunctions and fronted adverbials and discussed different synonyms in context.
In reading, we are looking at the book Malala's Magic Pencil which fits in with our topic this half term. We are interested in reading more after the title and the blurb didn't quite match up.
In maths, we have recapped place value and rounding from last year and have been suitably impressed that so many children have remembered so much! We will continue to do arithmetic tests once a week and will try to use TTRS too, it would be fantastic if you could encourage this at home too.
Our overarching topic this half term is RE based, our big question is What is Islam? We will be looking at the history of Islam, Islamic art, basing our geography lessons on Islam and the Journey to Mecca and will be combining these ideas into our science lessons too, thinking about forces and travelling. If any of the above areas are of your expertise, we would love to have you come and share that with us and the children, please do get in touch via the year group email address Year5@office.woodenhill.bracknell-forest.sch.uk
We are very much looking forward to all the fun of Year 5 and working with you all!