Year 4 News
Summer Term 1 - Week 3 - 9th May 2022
In science this half term, we are recapping our knowledge on the topic of 'light'. Over the last week, we have looked at the difference between opaque, translucent and transparent and looked at the impact that materials with these characteristics have on shadows.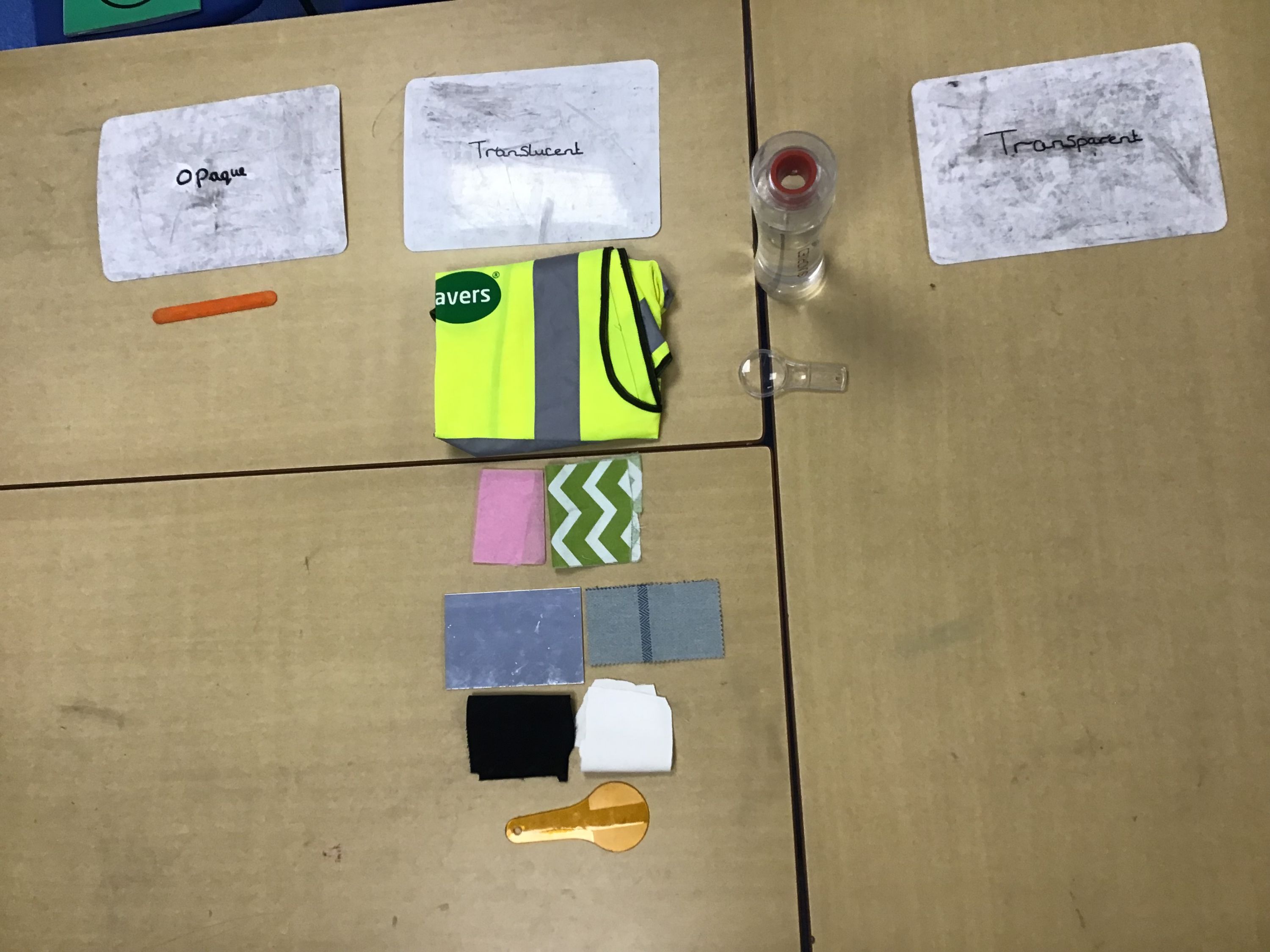 Just a few reminders:
Colour Run - Tuesday 17th May. On this day, children can wear something in our year group's chosen colour of green. We look forward to seeing many of our children participate in this.
Art Week - Week beginning 16th May. Our chosen artist will be Georgia O'Keeffe and we will be creating some Jubilee art inspired by her work.
Butser Farm Trip - Friday 27th May. By now, payments should have been made via the school gateway. If you haven't yet paid, please can we ask that you do so as soon as possible. This trip will be so much fun and a great learning experience for all the children.
Summer Term 1 - Week 1 - 25th April 2022
Welcome back, everyone. What a great start to the term it's been! This half term, we will be focussing on the following learning:
History - The Anglo-Saxons, Vikings and Norman Conquest
Science - Light
Maths - Money, Time and Statistics
English - The Iron Man by Ted Hughes
PE - Kwik Cricket, Rounders and Indoor Athletics
As well as reading, PSHE, French, Music and Computing.
We will no longer be setting home learning on Google Classroom but the children are still expected to be using ReadTheory, TTRS and Spelling Shed at least 3 times a week and reading at home each day.
See below some images from this past week (History - the Vikings, Science - Light and DT - making a bridge):
Spring Term 2 - Week 6 - 28th March 2022
What an incredible term we've had. We are, as always, so proud of the work the children have completed and how far they've come. This half-term, we looked at tectonic plates, earthquakes and volcanoes in our Geography lessons. These pictures show the outcome from one of our volcano art lessons, as well as the earthquake-resistant structures we built to reinforce our understanding of earthquakes.
We hope everyone has a safe and fun time over the Easter holidays and look forward to welcoming the children back on Thursday 21st April.
Spring Term 2 - Week 4 - 14th March 2022
This week was 'Science Week' at Wooden Hill School. The theme was to look at how science is used in everyday life and discuss some job roles that require skills of science. We were incredibly lucky to have Adam visit on Monday afternoon. He is a sound engineer. We had great fun learning about how sound is made and learning about the frequency of different sounds. After learning this, we made string telephones. When we spoke into the cup, our voices sent sound waves which vibrated the bottom of the cup. The vibrations were then transferred to the string which we had attached to the base of the cup. They then went along the string and into the base of the second cup. This is how the sound of our voice is transferred: through vibrations.
Spring Term 2 - Week 3 - 7th March 2022
We have had a great week with Ufton Court visiting us to hold a Roman Day! The children learnt about Roman life and 'trained' as legionaries in the Roman army.
Spring Term 2 - Week 2 - 28th February 2022
This week is Book Week. We are studying the book 'Escape from Pompeii' by Christina Balit. This has great links to our art topic for this half-term, as well as links to our history topic from last half-term, the Romans.
On Monday, we had our first session of 'Reading Buddies' with Year 1. Every Monday, we will journey down to Year 1 after lunch to read our stories to the smaller children and listen to them reading to us. The Year 4 children were amazing role models to the younger children and made us very proud. All the children enjoyed themselves thoroughly and are already looking forward to next week!
Spring Term 2 - Week 1 - 21st February 2022
The children have had a great first week back. They have been busy starting their new Art topic; Volcano Art and produced pieces of art in the style of pop art.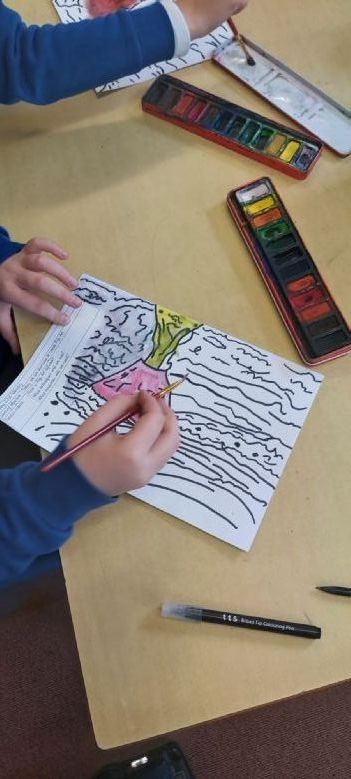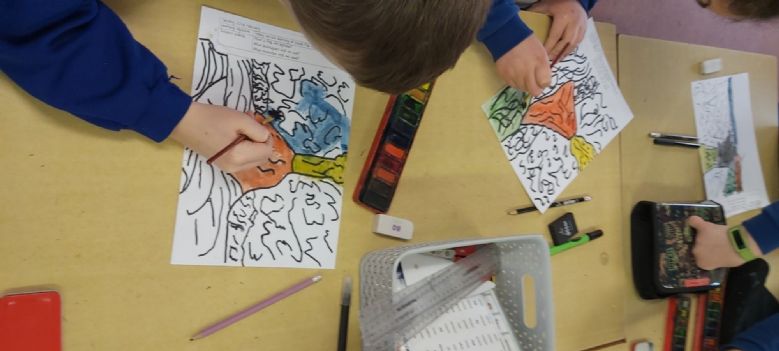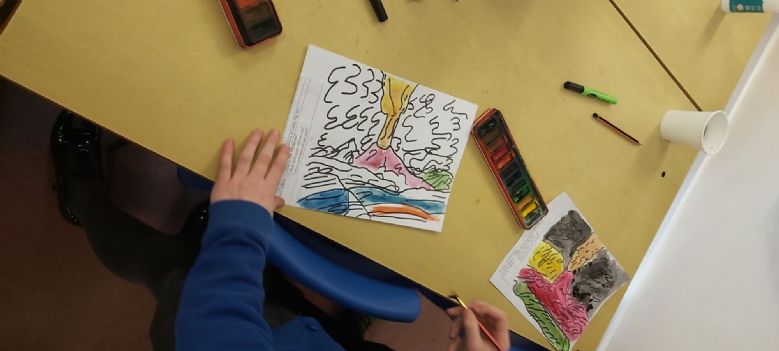 In Science, the children have started to think about states of matter. In PE, they are working on their football skills.
Spring Term 1 - Week 6 - 7th February 2022
As the half term draws to a close, we have been reflecting on how much the children have learnt and grown in this short 6 weeks. We are, as always, incredibly proud of their attitudes to learning and are already looking forward to the next part of the Spring Term.
This week, we went on a trip to Great Hollands Library. The children had a lovely time, learning all about the library services in Bracknell Forest and looking around at the huge selection of books on offer. If you're interested, please visit the Bracknell Forest Libraries website at bracknell-forest.gov.uk/libraries to find out how you can join the library. It is free to join and families are able to take out up to 20 books at a time (these must be returned within 3 weeks or you will be charged). See below some images of Linnet Class enjoying their time in the library: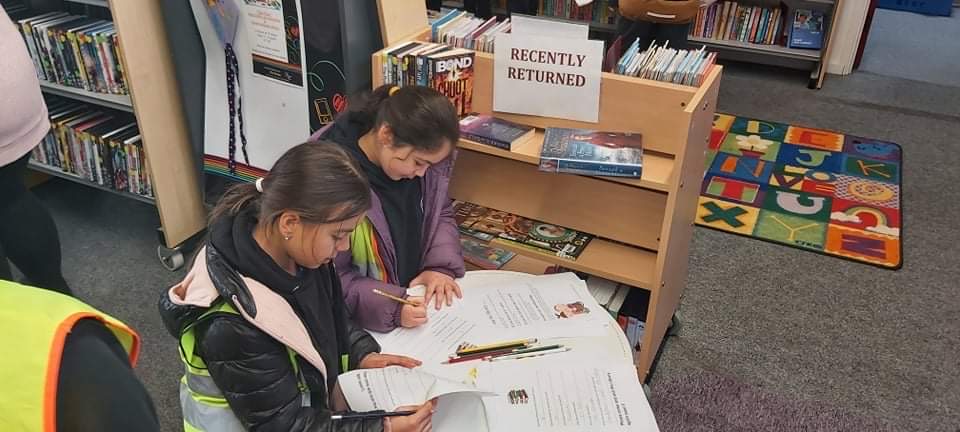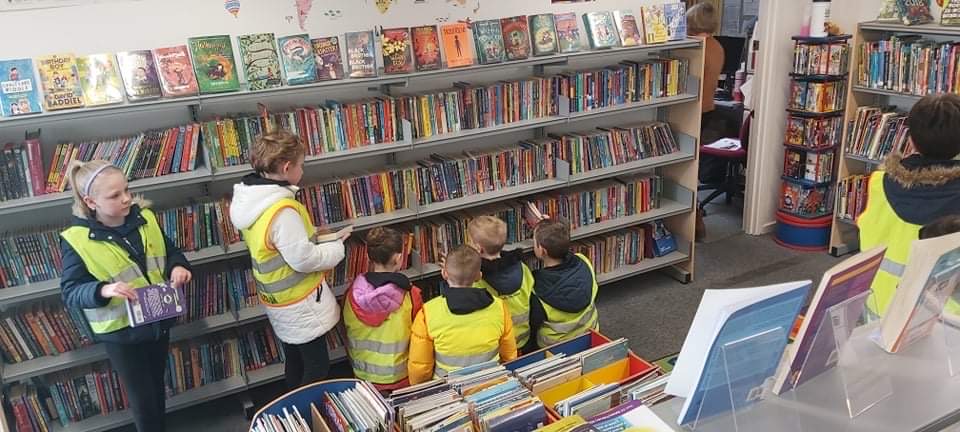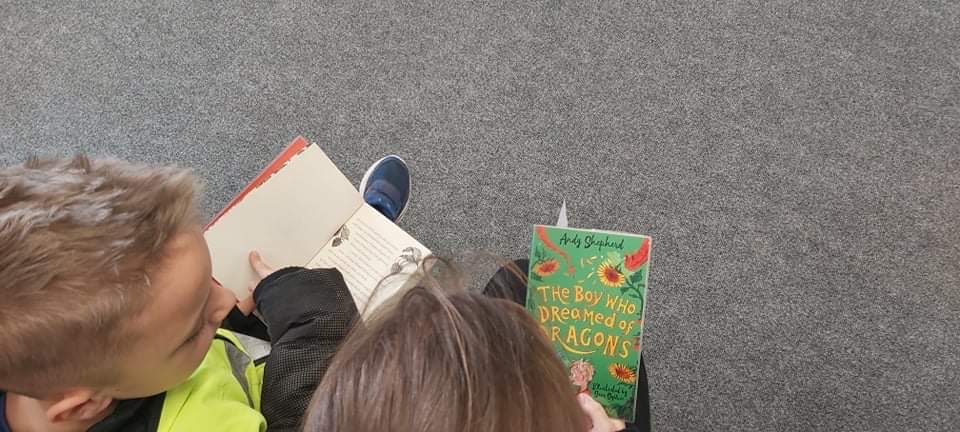 We hope you all have a safe and fun half term and we look forward to welcoming the children back on Tuesday 22nd February.
Spring Term 1 - Week 5 - 31st January 2022
This week, the children finished their writing topic on The Princess and the Pea by Lauren Childs. The children have worked really hard on developing their use of different writing tools. We look forward to seeing what they come up with in their independent write next week as a result! Year Four have also continued with their science topic on rocks and fossils. This week they were 'soil scientists', investigating different types of soil and testing their absorbency.
Spring Term 1 - Week 4 - 24th January 2022
Over half way through this half term and the children are doing great! COVID may be trying to spoil our fun but we will continue to strive to be the best. In science this week, we were thinking more about rocks and how fossils are made. Some children made salt dough and used this to begin making fossils. Next lesson, we will be drawing some bones to make it more realistic. The children showed great teamwork when making their dough and transferred this awesome teamwork into their PE where we had a fun game of bench ball.
Spring Term 1 - Week 2 - 17th January 2022
Year Four have been very busy this week writing their own adversity poems, learning about Hadrian's wall in our history topic on the Roman invasion of Britain, discovering more about how rocks are formed including fossils, and working on their communication skills through team games in PE. This time, blindfolded!
Term 1 - Week 2 - 10th January 2022
Wow! Can you believe it's the spring term? It has been lovely to see that the children have all come back after the holidays with a great mindset to their learning. Our main topics for this half-term are:
History - The Roman Empire
Science - Rocks
RE - Hinduism
Indoor PE - Teamwork
Outdoor PE - Hockey
To find out more about some of these, visit the 'Our Topic and Knowledge Organisers' tab under the Year 4 area.
We have a really exciting half-term ahead of us and we cannot wait to share some of our learning with you in this news section!
Autumn Term 2 - Week 7 - 13th December 2021
The final week of our first term in Year 4. As we begin to relax and enjoy the festivities, we wanted to take the opportunity to express just how proud we are of the children and the efforts which they have shown this term. They've adjusted really nicely to the expectations of Year 4 and are continuously wowing us with what they know and can achieve when they focus and give a task 100%. We hope everyone has a safe and fun Christmas break and we look forward to welcoming the children back in January.
Merry Christmas and a Happy New Year!
Miss Wright and Miss Leigh-Hunt
Autumn Term 2 - Week 6 - 6th December 2021
What an exciting week we had this week! We went on our class trip to Winchester Science Museum. It was a fantastic day, the children did us proud and thoroughly enjoyed exploring the interactive exhibits and attending a workshop on sound.
Autumn Term 2 - Week 5 - 29th November 2021
This week, we went on our first trip of the year. On Monday, we walked to St Michael's Church in Easthampstead to take part in their Christmas workshops. It was great fun to walk around the church and learn about the Christmas story: we even got to decorate a biscuit (yum yum!).
Did you know that despite the tales we are told, there is no mention of a donkey assisting Mary and Joseph on their way to Bethlehem?
In PE this week, we have continued to learn about Indoor Athletics. In the pictures below, you can see some children taking part in standing long jump, standing triple jump, speed bounce and javelin.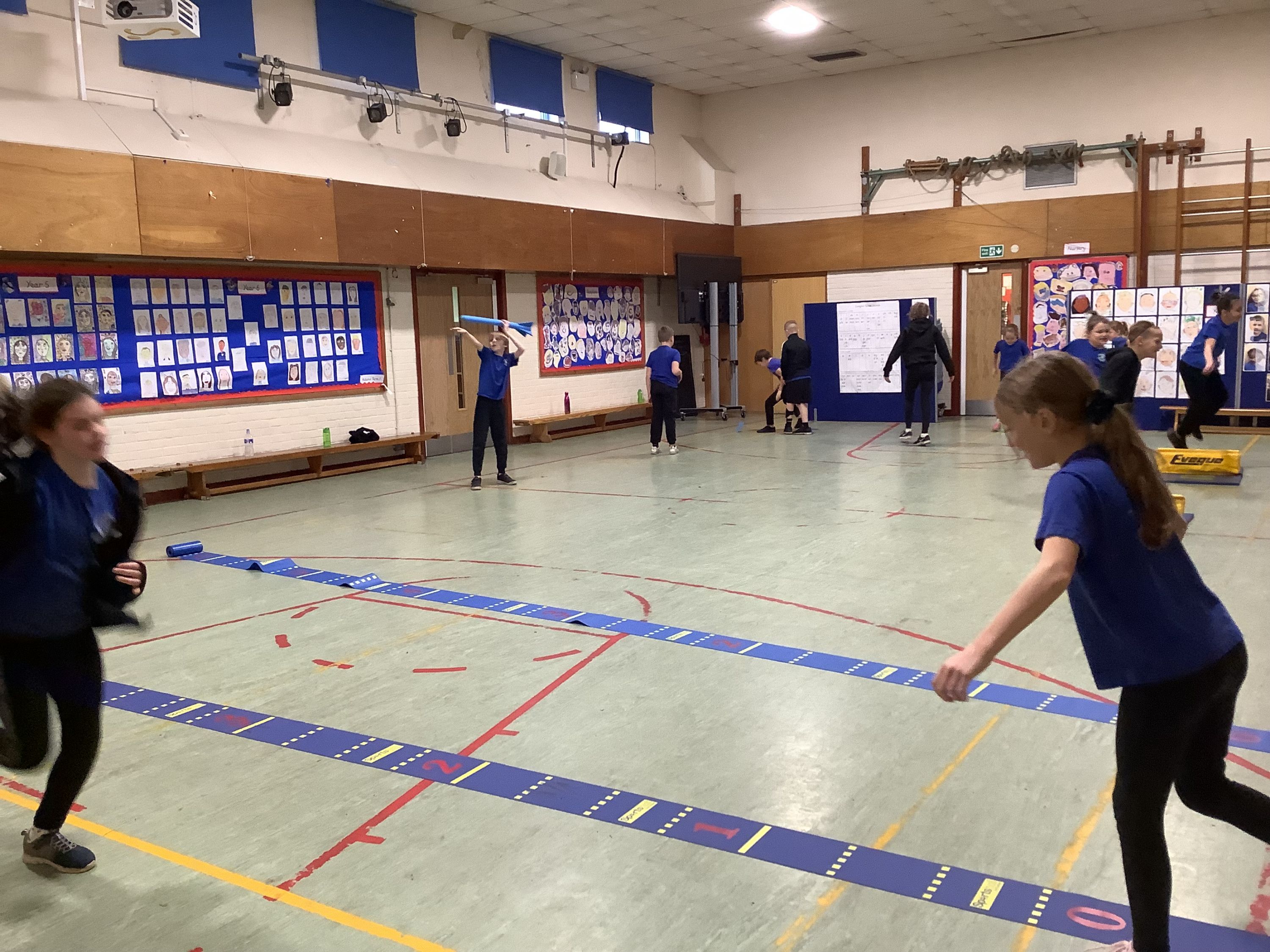 Autumn Term 2 - Week 4 - 22nd November 2021
Well, we have been busy in Year Four this week!
In our English, we are learning about diary writing by following Captain Scott's expedition to the South Pole. We acted out the timeline of events from their arrival in Antarctica through to the tragic end.
We have been learning about electricity in science, climate zones in Geography, and created storyboards for the Christmas story in RE.
Autumn Term 2 - Week 3 - 15th November 2021
What a great start to this half-term!
This week, the children were given the opportunity to stand for 'School Council'. So many children put themselves forward and, with so many persuasive arguments to vote for them, it was a really tough decision for the children. School Council meetings will begin shortly and we are really looking forward to hearing what the School Council get up to.
Did you know that it is Anti-Bullying Week this week? In PSHE, children will have the opportunity to explore this topic further and really learn what the term 'bullying' means and what to do if they feel that they are ever being bullied. The children are fantastic in their PSHE learning and are always so positive, giving their opinions and listening to others': we are sure it will be a very interesting discussion.
Autumn Term 2 - Week 1 - 1st November 2021
Welcome back, everyone! We hope you all had a lovely week off.
This half-term is shaping up to be very exciting. We have new topics and lots of festive things in store.
Geography - Climate and the Weather
Science - Electricity
Maths - Multiplication and Division and Measurement: Length and Perimeter
Writing - Inviting an Author and Scott of the Antarctic
RE - Christian Festivals
Plus much more, including PSHE, Music, French, Computing and DT.
Not only will we be having fun in our new topics, we also have two trips booked for this half-term. One linked to our RE topic and the other linked to our Science (information for this will be sent out shortly).
It's going to be a great half-term and we can't wait to get started!
Autumn Term 1 - Week 7 - 18th October 2021
The final week of our first half-term. It has been such an enjoyable half-term, getting to know each other and learning lots of new things. This week has been about finishing off our topics so that we are ready to begin our new ones after the break.
In art, we have been learning about Roy Lichtenstein and pop art. This week, we brought our knowledge of this style of art and merged it with our history learning of the Ancient Greeks to create Greek vases in the style of Roy Lichtenstein. Have a look at some results below: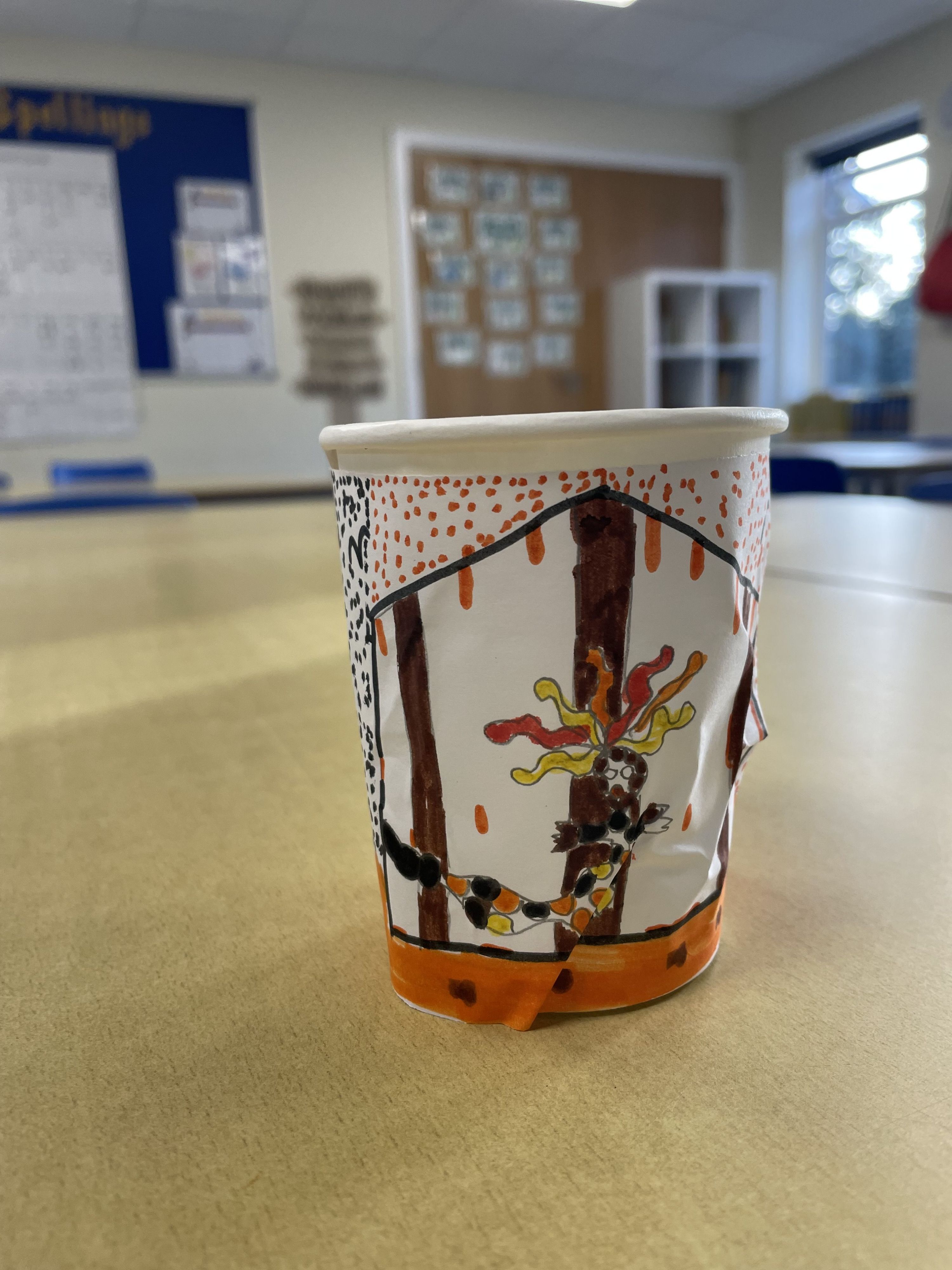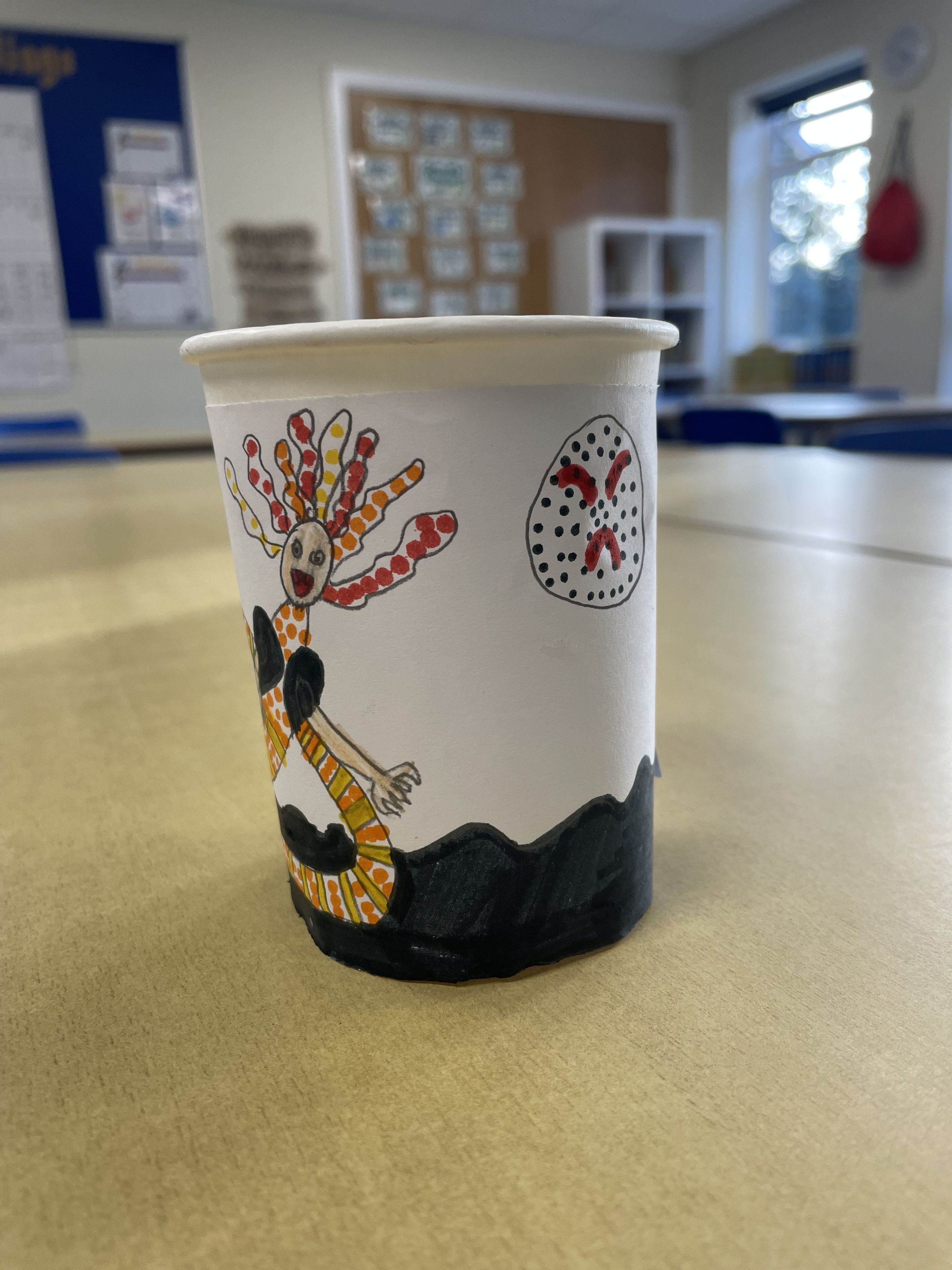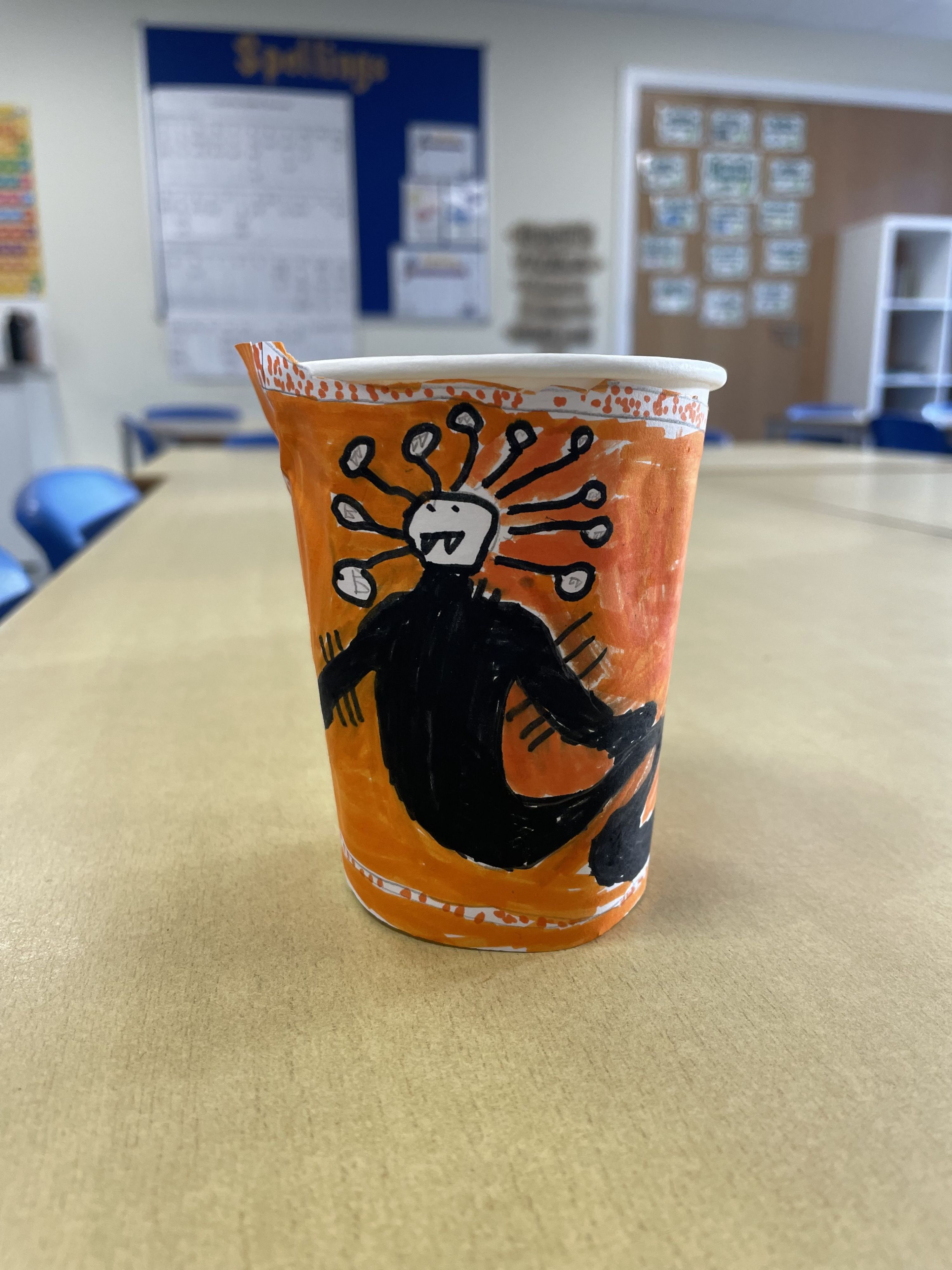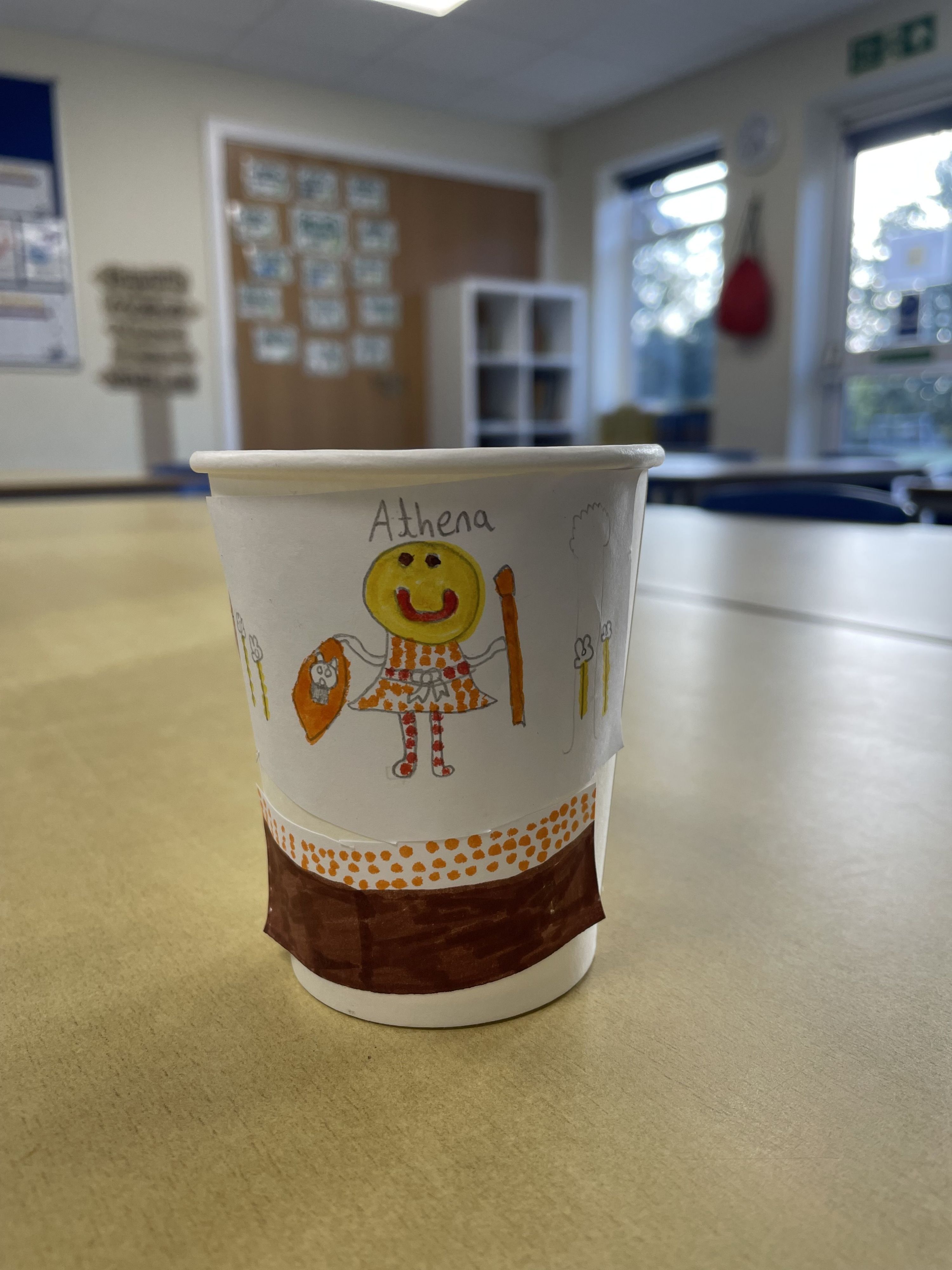 We've had a great start to Year 4 and we are already excited to welcome the children back after the holidays. We hope everyone has a lovely week and we're looking forward to hearing all about it.
Autumn Term 1 - Week 6 - 11th October 2021
We continued to learn about Ancient Greece in our history topic. The modern Olympics is based on the Olympics held by the Greeks over two and a half thousand years ago. We learned about the different events, and then had a go at acting the events out before creating freeze frames. Can you tell which events the Ancient Greeks had at the Olympics?
Autumn Term 1 - Week 5 - 4th October 2021
This week, we started our art topic about Roy Lichtenstein. The children learned who he was and why he is so well known. After looking at some of his work, the children attempted some of their own work in his style. Using felt tip pens (mainly in the colours of red, blue and yellow), children used block colouring and a dot technique called 'Ben-Day dots' to create some wonderful pieces of pop art.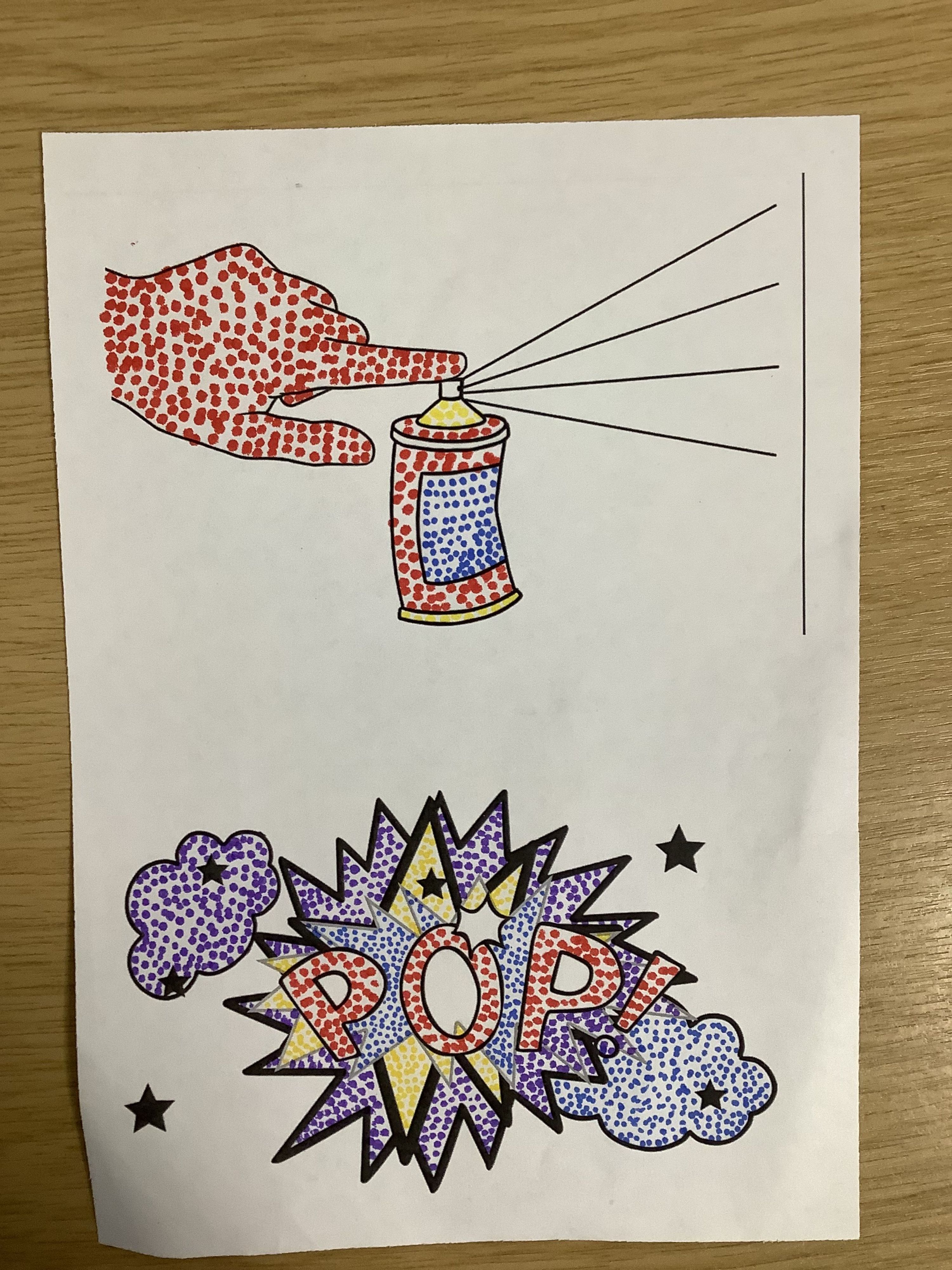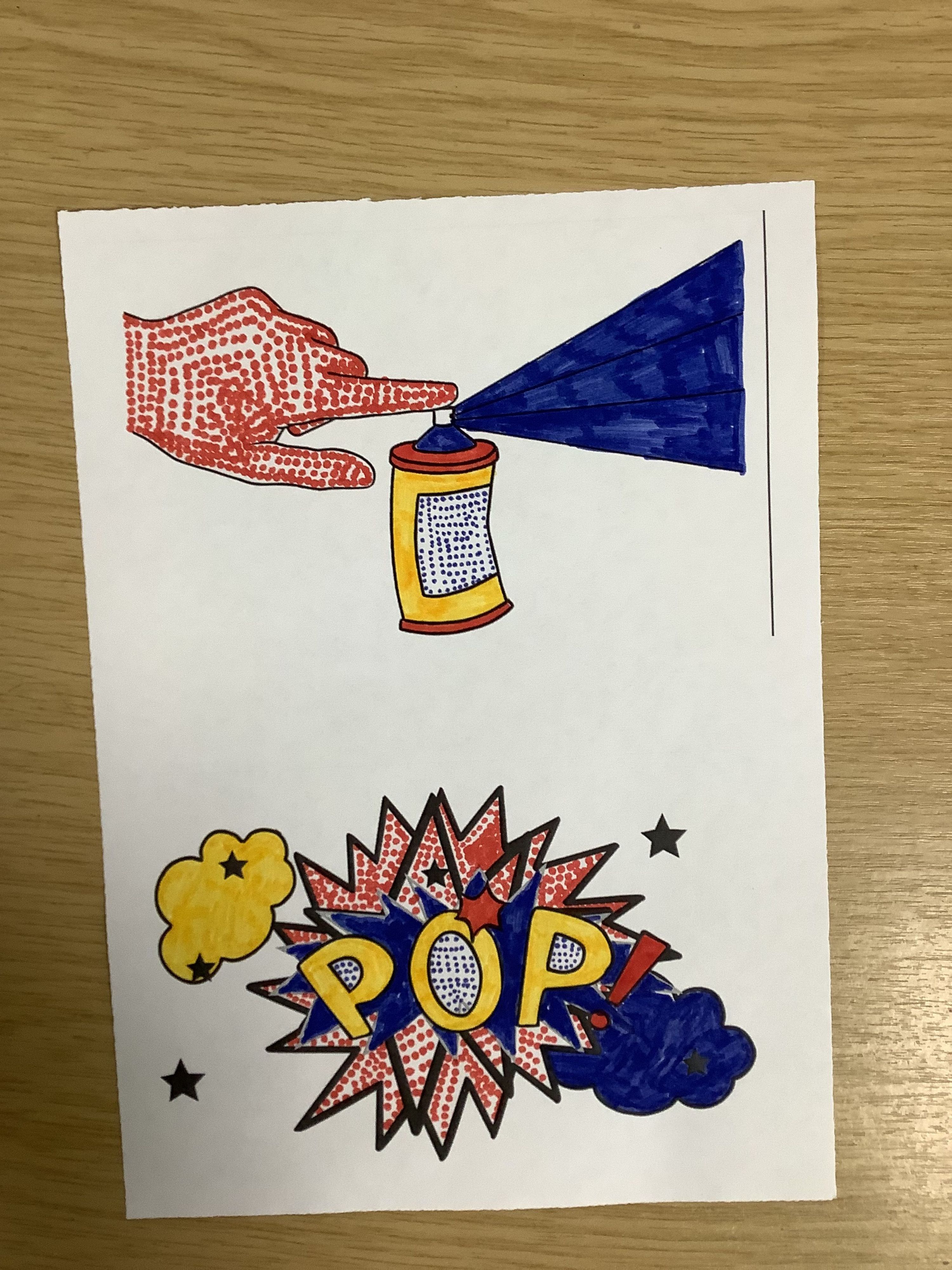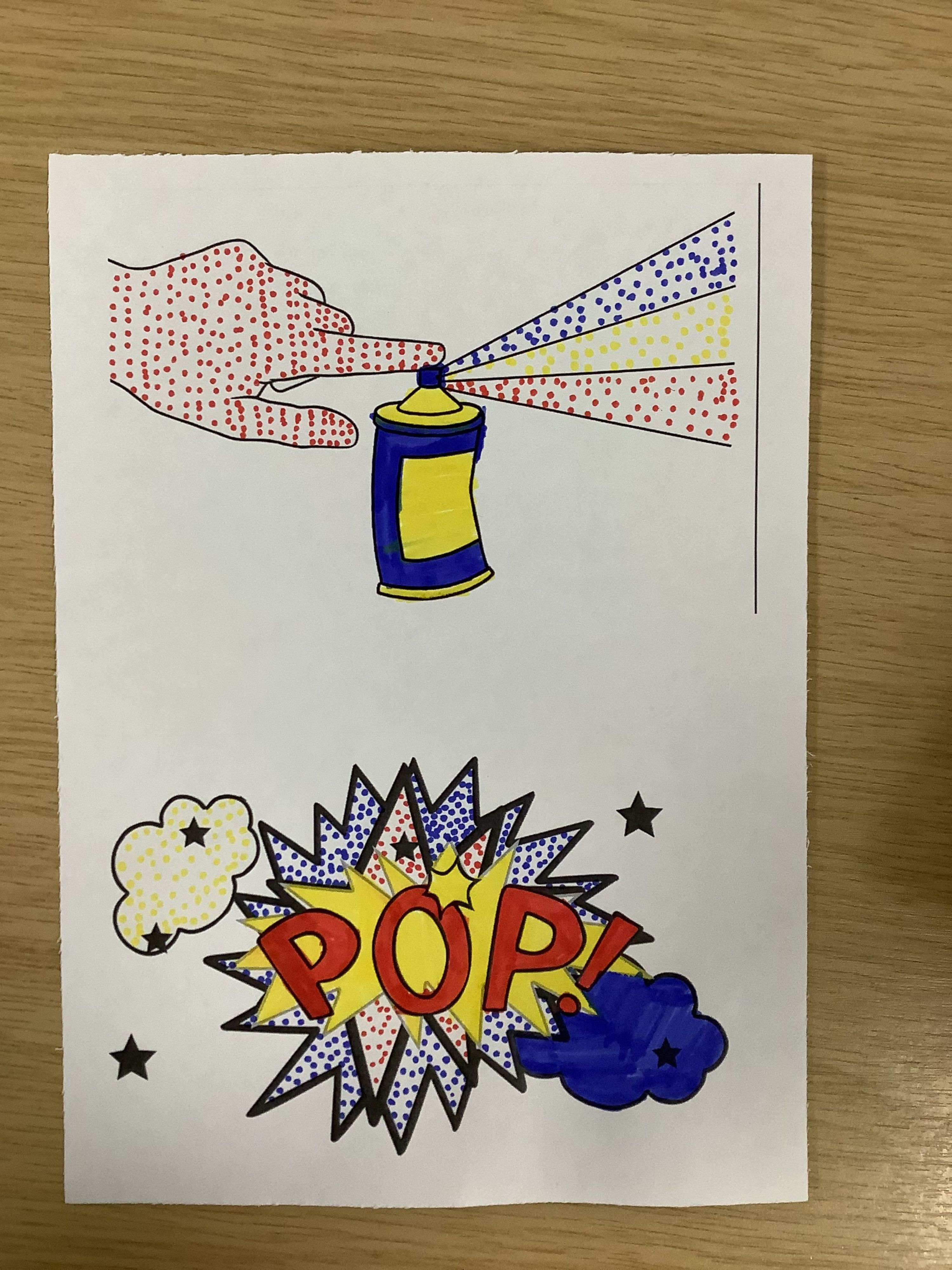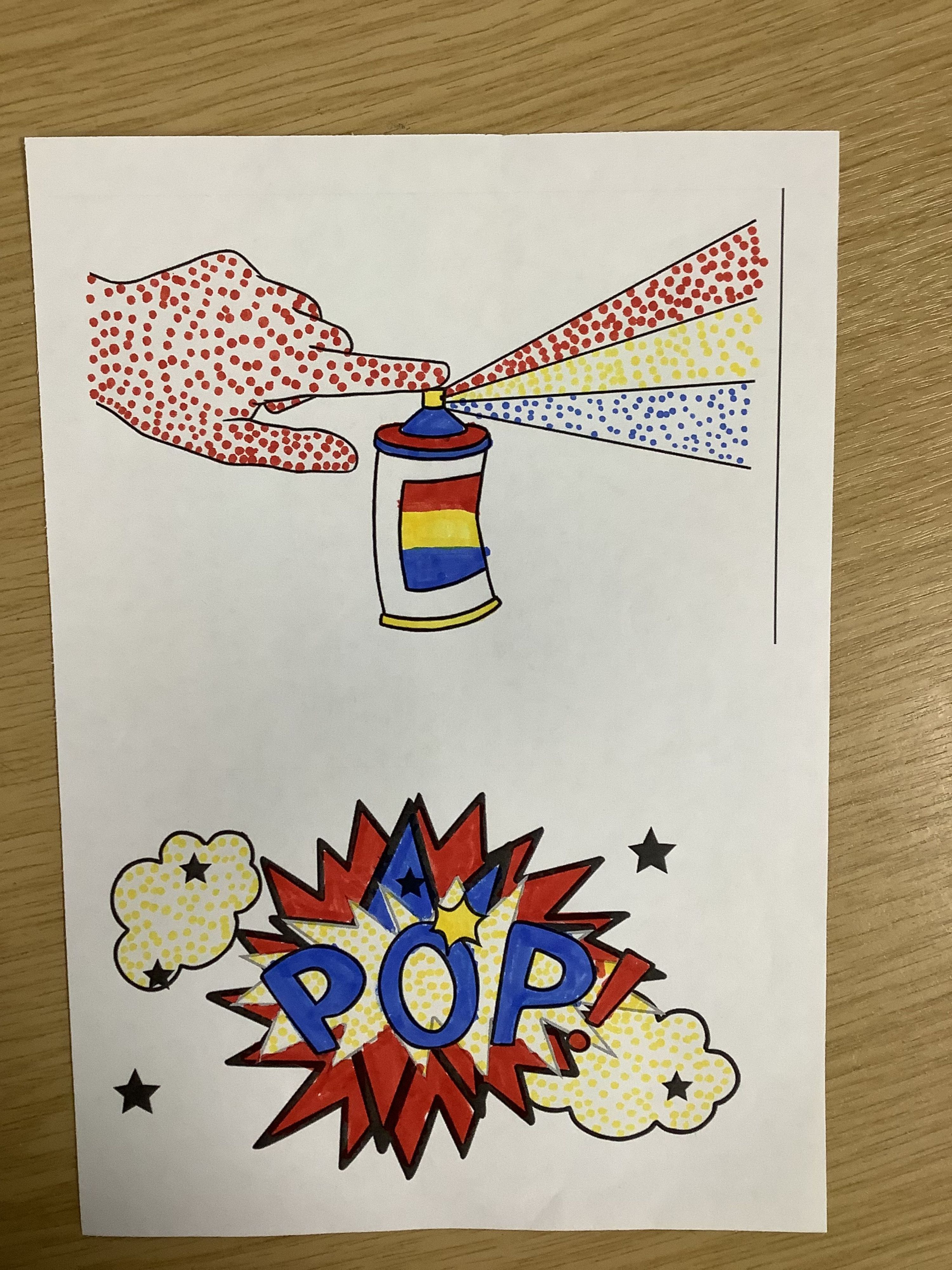 In our computing lessons, we are looking at digital devices. This week, we had to compare digital devices vs non-digital devices. In order to do this, children were given iPads and asked to create an image in the style of Roy Lichtenstein using an app/website. Afterwards, we discussed whether we preferred doing the work on paper, using pen, or using a tablet to create our work: we had mixed reviews.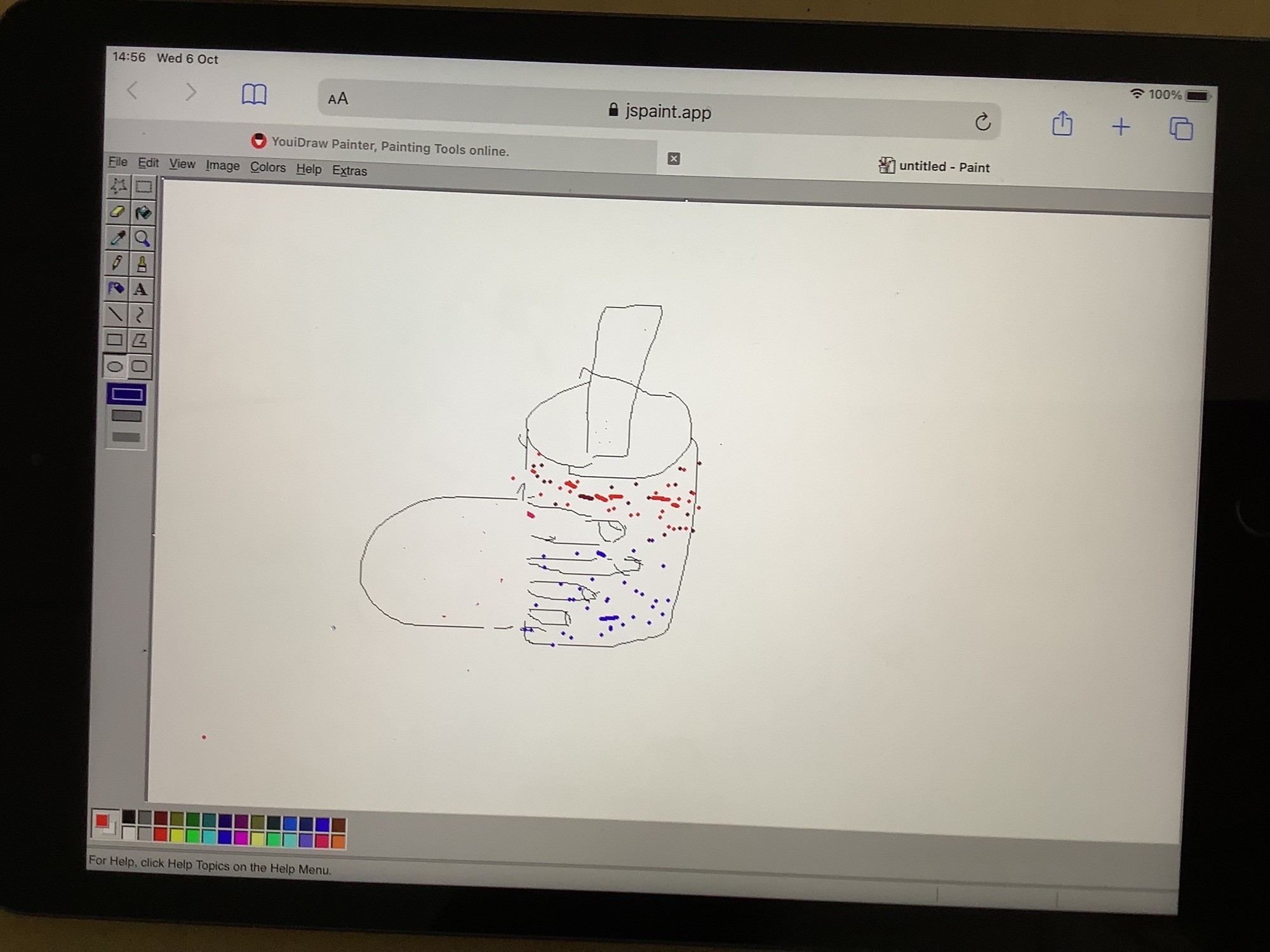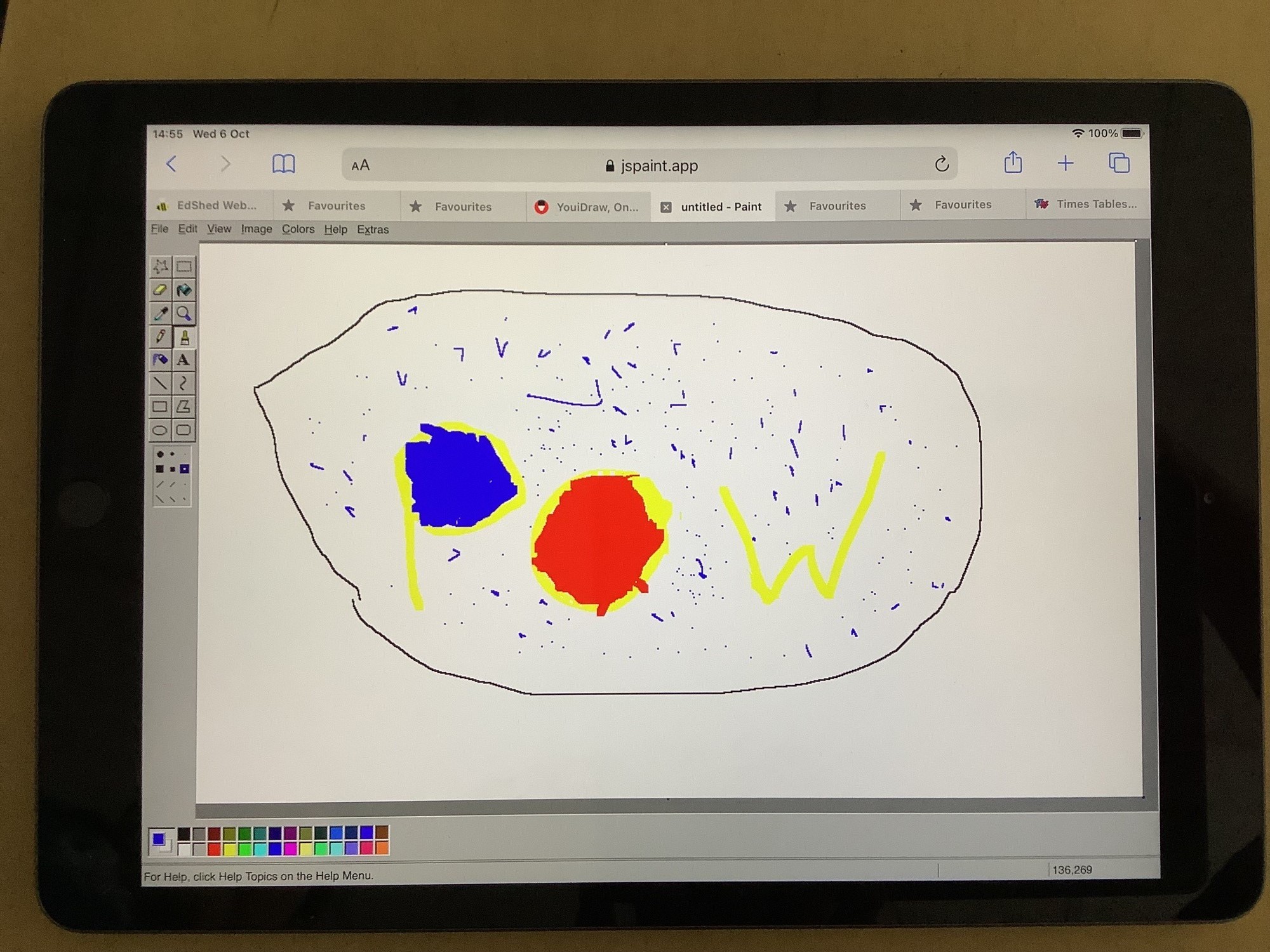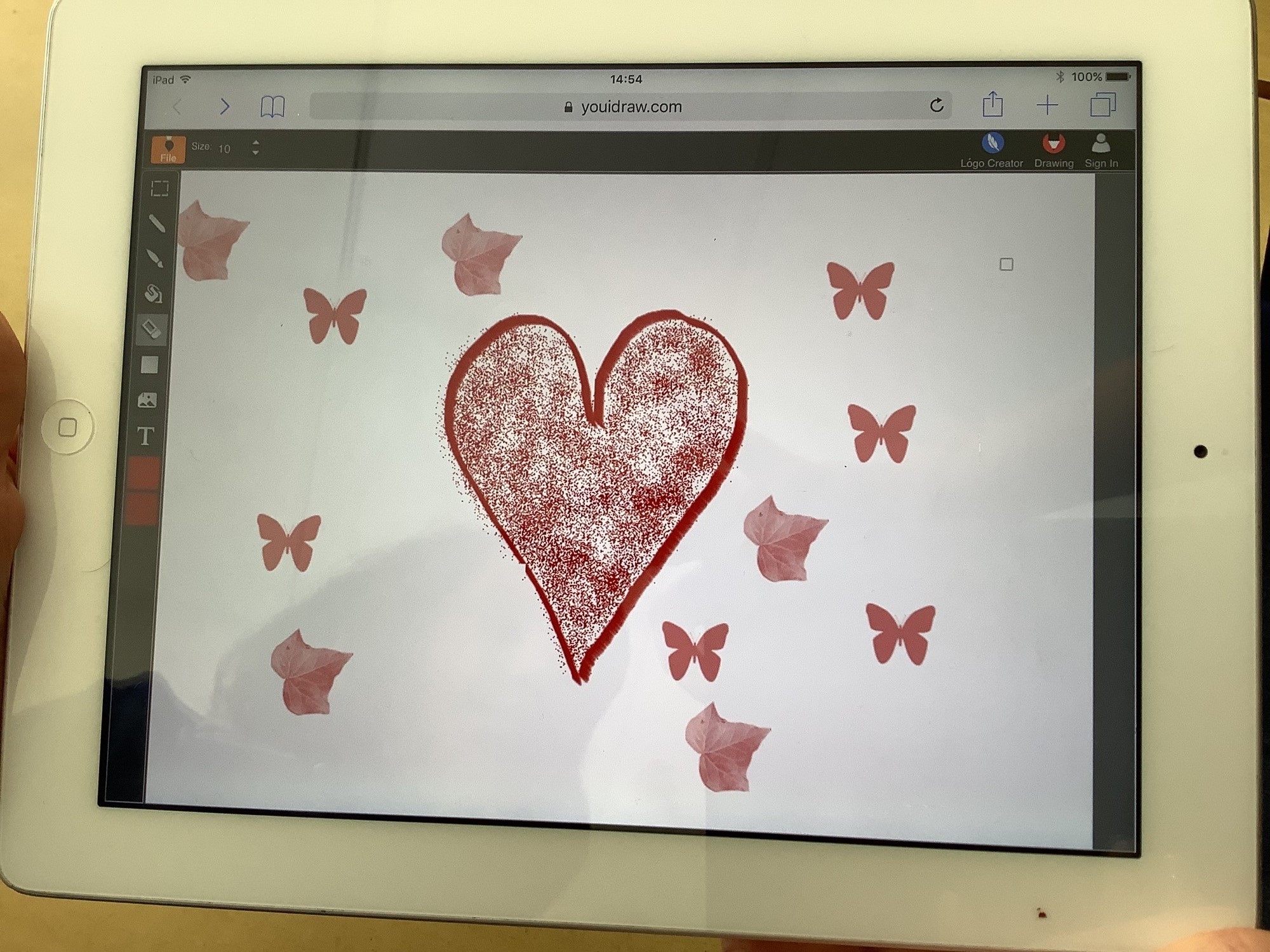 Autumn Term 1 - Week 4 - 27th September 2021
We have started a new topic in our writing this week. It is based on Charlie and the Chocolate Factory by Roald Dahl. The children have used some fantastic description in their writing, and practised using ellipses to build tension in their sentences.
In our RE topic, the children have continued to learn about Christianity and made Easter gardens to remind them about the week running up to Easter Sunday; called Holy Week.
In PSHE, we made special jars to hold qualities and attributes that we could take out to remind ourselves of who we are. That all of us have unique and special qualities and skills to share.
Autumn Term 1 - Week 3 - 20th September 2021
This week, we have been diving deeper into our topic 'Ancient Greece'. After learning that the Ancient Greeks were great actors and would often put on theatre productions, we decided to make our own tragedy or comedy masks. Have a look at the pictures below to see the making process.
We have been working hard on our writing too. Take a look at our sentence stacking - some fantastic description!
Autumn Term 1 - Week 2 - 13th September 2021
Year Four have been very active with their learning this week. In our English topic we are using the story of Theseus and the Minotaur as inspiration for writing Greek hero and monster stories. We 'entered' the Minotaur's labyrinth, imagining what it was like for Theseus as he unravelled the string and went further and further into the labyrinth, and then finding our way out...
In our science, we have been looking at the digestive system. Our teachers helped us understand what happens by demonstrating the process with different items to represent the body parts. Can you work out what each item represents? It was gross but brilliant!
In our RE topic we learnt about Shrove Tuesday, a Christian celebration. We tried different pancake fillings, and then rated them.
Autumn Term 1 - Week 1 - 6th September 2021
Welcome to Year 4!
It's been so lovely to get to know the children this week and begin our learning. We have just started our new history topic, 'Ancient Greece'. The children were fascinated to learn about how the ancient Greeks came to be and seem enthusiastic to learn more.
In our English, we are following our topic and, in writing, studying the myth 'Theseus and the Minotaur', whilst in reading we are focusing on a story called 'Leo and the Gorgon's Curse' by Joe Todd-Stanton.
We look forward to sharing some of our work very soon.