Year 2 News
Spring Term 1 - Week 3 - 19 January 2022
In Maths this week we have started a new unit on multiplication. We have been using objects such as counters to make equal groups and finding the total by adding the groups together. For example we know that three equal groups of six is eighteen so we can say "3 lots of 6 is 18". We have also been creating arrays to show multiplication, where the rows and columns represent the equal groups. Finally we have been exploring word problems and number stories to show multiplication, for example "There are 4 bags of sweets, with 10 sweets in each bag. How many sweets are there altogether?"
In English we have been planning and writing our own stories based on 'Stardust'. We have had to think carefully to apply some of the new skills we have learnt in our writing, such as alliteration, dialogue, contractions and commas in lists. Our teachers have been very impressed with our creative thinking and story writing!
In Geography, we have started a new topic looking at Uganda. We began by recapping the 7 continents and had lots of fun using playdough to represent the different shapes on a world map.
Spring Term 1 - Week 2 - 12 January 2022
This week's photographs have been taken by our very own budding photographers, the children! That is because in Computing, we have started a new unit on 'Digital Photography'. We have been learning how to take clear photographs using digital devices including IPads. We have learnt to take photographs in portrait and landscape formats and we have had a lot of fun practising; taking a range of photographs including close ups, distance shots, action shots and even selfies!
In English we have continued our learning based on the book 'Stardust' by Jeanne Willis. We have been learning to add the suffix 'ly' to adverbs such as 'unfortunately' and 'tragically' and then using these to write effective sentences for our story. One super sentence that we write about our character, Mabel was:
"Disappointingly she didn't win but her sister took the star prize".
In Maths we have been continuing to build our knowledge and understanding of money. We have explored different ways of making the same amount, compared different values and compared the totals by adding. We also practised using our subtraction skills to find the change from a total amount.
Spring Term 1 - Week 1 - 4 January 2022
Happy New year!
It is wonderful to be back in school and see all the children's smiling faces after the Christmas break. This week we have started our new topic in English studying the story 'Stardust'. Children have started writing their exciting sentences ready for when they continue the story at the end of the unit. This week we will be focussing on writing interesting sentences using alliteration, a range of punctuation including exclamation and apostrophes and expanded noun phrases. In maths this week, we will be continuing our money topic. Children will be adding together amounts of money, making amounts and solving problems exploring different totals. In our PE lessons we have started our new units- invasion games (where children will learn how to attack and defend working within their team) and gymnastics!
Autumn Term 2 - Week 7 - 15 December 2021
This week Year Two have been very busy performing our Christmas Nativity. They all did an amazing job remembering their lines and songs whilst performing to their audiences! In amongst the festivities the children have been busy writing their recount of a Christmas advert in English for their independent writing task this half term. Year Two have also celebrated Christmas with a class Christmas party, playing games and dancing!
Well done for all of your hard work over the last few weeks year 2, we hope you all have a wonderful Christmas!
Autumn Term 2 - Week 6 - 8 December 2021
This week Year Two have been busy learning about money in maths, recognising the values of coins and notes. The children have also been writing their wonderful sentences for our Christmas advert which we are working on during English lessons. Year Two have also been busy rehearsing for our nativity, where they have really been getting into their characters' roles! We cant wait to share this with you all, and hope you are looking forward to watching!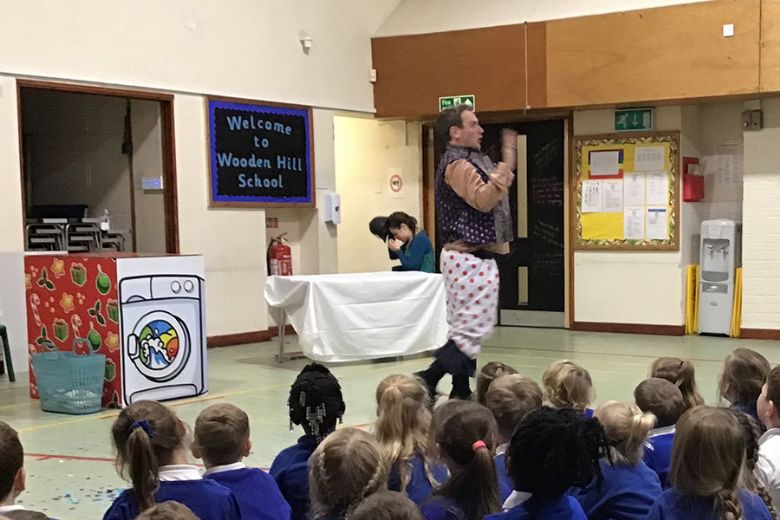 Autumn Term 2 - Week 5 - 1 December 2021
Christmas mode is in full swing in Year Two this week! We have been working really hard to practise our songs and learn the scenes for our nativity. We would like to say a huge thank you to parents for helping your children learn their lines at home, we really appreciate your support. The more confident the children feel with their speaking parts, the more they will be able to shine on the day. This week we have sent notes home requesting some simple outfits for children to bring in for the nativity. We have tried to keep this is basic as possible, such as a coloured t shirt and trousers and we will provide any accessories needed. Please do not go to the expense of buying anything new for this, if you do not have anything suitable do let us know. If your child has not brought home a note requesting an outfit, this means that they have been given the role of a traditional nativity character and we already have an appropriate costume in school for them.
Just a reminder about our Christmas colour hamper auction – our hampers will be placed in the foyer and photographed, with the auction opening on Tuesday 7th December 2021 and 12pm. The auction will close on Wednesday 15th December at 8pm. We would love to win a class treat for raising the most money!
Autumn Term 2 - Week 4 - 24 November 2021
On Wednesday, we enjoyed taking part in 'Snuggle up with a good book' day. We came to school in our pyjamas and spent the day reading and sharing our favourite books with each other. We had a session with each of the teachers in Key Stage One and enjoyed learning based around their favourite stories. The day was topped off with a hot chocolate and a biscuit!
Preparations are now well underway for our Christmas Nativity and we have been working hard to learn all the new songs. We would really appreciate parents supporting their children at home to practise their words, so that they are confident on the big day.
In Science we have been looking at different microhabitats in our school grounds including under rocks and stones, in short grass, inside rotting wood, under fallen leaves and in the soil. In small groups we created a tally chart of the various minibeasts we found in the different microhabitats.
Autumn Term 2 - Week 3 - 17 November 2021
In English we have continued to work on writing our set of instructions to make a bird feeder. We began the week by researching foods that are harmful to birds so that we could include these in our 'What not to use' section. We have looked at using brackets to explain a point further and we have also learnt to use precise adjectives when describing the ingredients to give the reader more detail e.g. uncooked rice, salty foods, whole nuts. Linked to our learning about instructions we had great fun following a recipe to make bread. We took turns to add the ingredients and knead the dough. When the rolls came out of the oven they smelt absolutely delicious and we enjoyed eating them!
In Maths this week we have been learning to use the column method for addition. We have spent a lot of time leading up to this securing our place value knowledge, so our teachers felt we were ready to start using a more formal method to record our calculations. We know that we need to add the ones first and then the tens next. We have learnt to exchange the ones for a ten if there are enough to do so. As always we have been using practical resources to help support our understanding of this.
Autumn Term 2 - Week 2 - 10 November 2021
In English this week, we have started a new non-fiction unit on instructions. We started by looking at a set of instructions on 'How to build your own den', identifying the key features such a heading, hook, question and steps. We gave each feature a different 'shape' or jigsaw piece so that we can see clearly the parts that fit together to make up a set of instructions. We have explored imperative verbs, a key feature of instructions, and had fun acting out and playing games like Simon Says with a range of bossy verbs (e.g. stir, boil, hammer, build, find). We then followed a set of instructions to make our own bird feeder using cooking fat, bird seed, cooked rice and pine cones.
In Maths, we have been developing our addition and subtraction skills using bar models, number lines and fact families. It is so important that we develop quick recall of our number bonds to 10 because this helps us move onto more tricky calculations quickly and efficiently. Please practice these at any opportunity you have at home or in the car; playing games and singing songs will really help improve number confidence within the classroom.
Autumn Term 2 - Week 1 - 5 November 2021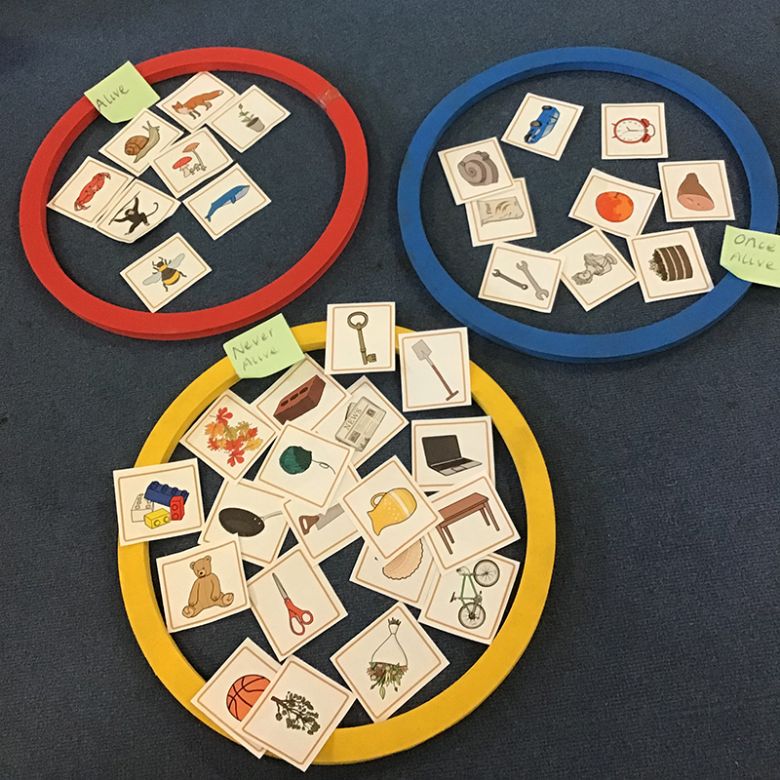 This week Year 2 have started their new science topic- living things and their habitats. They have had some interesting discussions sorting things into living, dead and never been alive! The children have started learning about Christian festivals and have enjoyed learning about Easter, Christmas and an introduction to Christian beliefs. The children have been working really hard on their spellings this week focussing on the Year One and Two common exception words. Look out for your child's new words to continue practising at home. We have enjoyed reading some children's independent work they have been doing at home this week- keep up the good work.
Autumn Term 1 Week 8 - 20 October 2021
In maths this week, the children have been putting their place value skills to the test. We have using our tens and ones to add and subtract, two, two digit numbers, for example 46 – 20 = and 63 + 20 =
When adding and subtracting, we have used concrete objects; a place value chart and our dienes. We started first with adding, we made each number using the dienes. The we counted the ones and the tens to find the answer, working with partners and on our own. We followed this on with subtraction, we made the first number on the place value chart using the dienes and removed the correct number of tens to solve the subtraction number sentences. The children have work very hard and have shown very good understanding of place value and addition and subtraction.
In English this week, the children have had the opportunity to 'show off' what they can do. The last 4 weeks have seen the children writing the story 'Little red reading hood'. We have used similes, questions, complex sentences, adverbs, dialogue, onomatopoeia and many more skills. The children then had the opportunity to show off what they had learnt, rewriting the story and making changes where they wanted. They have worked very hard with their writing. We have introduced the children to editing this term, which they enjoy as they can use purple pens. We have continued to work on this skill, and encouraged the children to read back their work and find spelling mistakes and missing punctuation. It is a challenge but one we are ready to learn.
Our topic 'Where does our food come from?' has come to an end this week, so we finally enjoyed using all our learning from science on plants to begin to grow our own vegetables. This week we have planted lettuce leaves, cauliflower and peas. We can't wait to take care of them and taste the fruits of our labour at the end. Our aim s to grow different fruits and vegetables throughout the year.
Have a wonderful half-term.
Autumn Term 1 Week 7 - 14 October 2021
The highlight of our week has undoubtedly been our trip to Odds Farm Park on Wednesday! We were buzzing with excitement as we boarded the coach in the morning. When we arrived at the farm, our first activity was the tractor-trailer ride. We enjoyed spotting the pigs, horses, sheep and goats in the field. We were especially amazed to see a litter of 6-day old piglets.
After that we visited the demonstration barn to watch a cow being milked. We then enjoyed our own lunch, before feeding the pigs. In the afternoon we had some free time to explore the farm, so we had fun playing in the park and exploring the sand and water zones.
We thoroughly enjoyed our day and returned to school thoroughly exhausted!
Autumn Term 1 Week 6 - 6 October 2021
This week in English, we have continued to practice writing effective sentences for our story 'Little Red Reading Hood'. We have drama techniques to act out the story which helped us to use dialogue in our writing for example, "That book is overdue. Take it back now!" said Mum. We have also looked at alliteration and used it to write some fantastic descriptive sentences about the woods, for example, "Red set off past beautiful bluebells, over the babbling brook and under the weeping willows".
Our Maths work this week has been based on addition and subtraction. We have been representing fact families using bar models and part-whole models, identifying addition and subtraction facts within the families. We have been exploring different calculations that give the same answer, using practical resources to help e.g:
5 + 3 = 8
10 – 2 = 8
In computing we have enjoyed getting the IPads out and practising logging on and off of Oxford Owl and Spelling Shed. We had fun working in partners, reading our eBooks aloud to each other.
In Geography we have been learning to use an atlas to locate the world's continents. We have linked this to our topic of 'Food and Farming' be exploring which countries and produce and export different products.
Autumn Term 1 Week 5 - 29 September 2021
This week in English we have started a new unit of learning based on the book 'Little Red Reading Hood' by Lucy Rowland. We began with an experience day to explore reading for enjoyment. We talked about our favourite places to read and created our own special reading dens within the nooks and crannies of the classroom. We used blankets, pillows and torches to make reading an enjoyable and magical experience.
In Maths we have been learning to count in steps of 2, 5 and 10. We need to practise this at home as much as possible to become fluent and confident, for example by grouping objects and also chanting the number patterns forwards and backwards.
In RE we have been learning how some Jewish festivals are celebrated. We enjoyed experiencing a Passover celebration by tasting a Seder Plate consisting of hard boiled eggs, flat bread, salt water and herbs.
Autumn Term 1 Week 4 - 22 September 2021
This week in English we have planned and written our own lyrical poems about feelings, based on last week's poem 'In my Heart'. We have explored a range of emotions including sad, hopeful, afraid, silly and shy; thinking of similes to describe what these feelings do to our bodies. We used our bank of ideas to write our own verses, independently.
In Maths we have been deepening our place value understanding using tens and ones. We used part-whole models and place value charts to represent numbers and then moved on to comparing and adding two-digit numbers. We have been practicing adding the tens and ones together to find a total, for example:
23 (2 tens and 3 ones) + 16 (1 ten and six ones) = 39 (3 tens and 9 ones)
In Science we have started our new topic on Plants. We have looked at the structure of seeds and bulbs and refreshed our learning from Year One about what plants need to grow. We have planted some seeds in different conditions and made predictions about what will happen to them.
In Geography we have been thinking about where our food comes from. We have looked at the stages of production and ordered the steps that are taken for food to travel 'from farm to fork'. We have been leaning to distinguish between meat-based and plant based-foods and explored how different cooking methods can change them.
Autumn Term 1 Week 3 - 15 September 2021
We have had a wonderful first few weeks in Year Two. The children came back after the Summer holiday full of enthusiasm, with big smiles on their faces and ready to learn! We began by talking about rules, routines and expectations. The children have helped to create a class charter; thinking about what we all need to do to make sure we have a safe and happy learning environment.
In Maths, we have been securing our place value knowledge of numbers up to 50. We have spent lots of time making sure we really understand what each number looks like, representing them with practical equipment. By understanding how many tens and ones are in numbers, we are able to compare, order and sequence them.
In English, we have been reading In My Heart: A Book of Feelings. We have been exploring a range of different feeling and emotions, describing what they might look and feel like.
In the afternoons, we have been looking at the work of artist Frida Kahlo. We have been building on a range of skills, such as observing and sketching facial features and experimenting with tones and tints for skin and hair. This led us to creating our very own self-portraits. We even had a go at creating our own portraits in nature, using materials and objects that we could find outside.