Year 2 News
Summer Term 2 - Week 3 - 23 June 2022
We have had a lot of fun conducting various Science investigations this week! We have been exploring everyday materials, discussing their properties and suitability for a variety of purposes. We began by finding out which materials would make the best boat, discussing which ones might be light, heavy, waterproof and able to float. We also carried out a 'rocket mice' investigation, where we designed our own paper mice and blasted them from milk containers, observing and discussing which one travelled the furthest. Finally we compared how things move on different surfaces, carrying out a fair test to investigate which type of surface would make a toy car move furthest. We learnt that smoother surfaces generally allow an object to move faster and rough surfaces usually make an object slow down. Through these investigations, we have learnt a range of new skills this week and practised thinking scientifically. We are now able to make a prediction, carry out a fair test, observe and describe what happens and give simple explanations.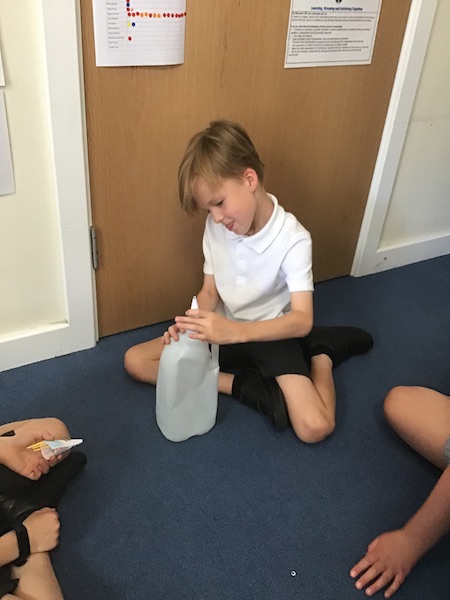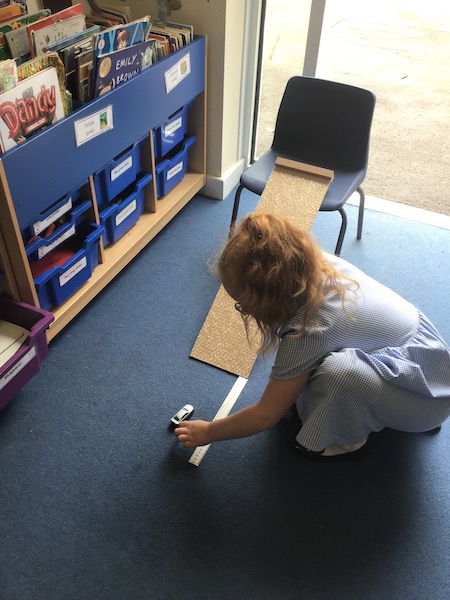 Summer Term 2 - Week 2 - 15 June 2022
Another great week in school, the children have been enjoying the sun and working hard.
In English this week we have been learning about Queen Elizabeth II. The children have been reading information about her and watching video's to learn about her life. We have found out lots of interesting facts about her, did you know she has had 30 corgi dogs in her time and her first was aged 7 named Dookie. She was gifted her own house at the age of 6, lucky girl! This research has helped us to write our own biography, where we have used headings and subheadings to organise our writing and written in the past tense. Why not ask your children about the interesting facts we have learnt.
In Maths this week, we have been learning to tell the time, looking at quarter past and quarter to. They children have been learning that the minute hand points to either the 3 or 9 and the hour hand towards the hour or past the hour. We have also looked at 5 minute intervals, learning to read times such as 3:10, 5:35 reminding the children of their 5 times tables. They have been reading clocks and writing times. Why not practise these at home.
In the afternoons we have been continuing our learning in Geography on plastic pollution and how we can help the planet. We want to make sure people throw their rubbish away carefully and stop littering, then try to stop using one use plastics. We have learnt about human and physical features and know what features are natural like cliffs and rivers and which are man made like house and towns.
Summer Term 2 - Week 1 - 9 June 2022
Year Two have had a very exciting week! They started the week with our whole school Platinum Jubilee celebrations where children got involved in helping with a high tea before enjoying their own picnic outside. We have also been on a trip to Mudeford Beach where children had a fun packed day of building sandcastles, paddling in the sea, riding on a ferry and crabbing! It's safe to say we had some very tired children on the journey back to school. During English lessons this week the children have continued writing their biography about Grace Darling. They have also written wonderful recounts of their trip to the beach! In maths we have continued our unit of time focussing on o'clock and half past using an analogue clock. In Geography we have started our unit on plastic pollution and have witnessed this in real life. Children have had a class discussion about the importance of keeping the Earth clean and safe and have given their opinions of plastic pollution.
Summer Term 1 - Week 6 - 26 May 2022
This week in maths Year Two have been busy learning about 3-D shapes. They have been sorting shapes by different criteria using a Venn diagram and have searched the school grounds for 3-D shapes. In English lessons children have started writing a biography text about Grace Darling and have acted out scenes from her interesting life. We have started a new topic in History looking at 'The History of Bracknell'. Children have enjoyed looking at a timeline and putting events that happened in Bracknell in order. They also enjoyed adding in the year they and also their teachers were born! We have also enjoyed a Year Two party this week to celebrate the hard work the children have put into their SATS tests. In PE the children performed their final pirate dance sequences.
Summer Term 1 - Week 5 - 18 May 2022
Year 2 have had another busy week completing their maths SATS tests. During maths lessons we have been continuing our topic on shape. The children have been exploring making 2-D shapes and identifying their properties. During English lessons they have also been busy writing their own stories using their imagination to create exciting plots and adventures. They have used exciting action verbs, prepositions and similes to add further detail and description to their stories.
We have started celebrating the Queen's Jubilee here at Wooden Hill with art week, where in Year 2 we have used the style of the artist Andy Warhol to create bright, bold portraits of the queen. The children have really enjoyed experimenting with different mediums and colours to create their desired finished piece which will be displayed in the hall. They have worked in small groups to design their own pieces of artwork collaborating on colours and designs.
Year 2 also participated and really enjoyed a very colourful day for our school's 'Colour Run'. Well done to all who took part and made it another successful, fun event!
Summer Term 1 - Week 4 - 12 May 2022
This week year 2 have been busy with their grammar and spelling tests. They have enjoyed making up silly sentences with their friends in order to practise word types focussing on nouns, adjectives, verbs and adverbs. We were lucky to have some of the children's parents come in and talk about their very interesting careers for our PSHE topic this week on jobs people do. The children loved hearing about the different roles, and enjoyed asking questions to find out more! They have also enjoyed PE lessons this week where they have added more to their pirate dance sequences, and practised more cricket skills.
Summer Term 1 - Week 3 - 5 May 2022
This week we have started our SATS reading assessments and we are so proud of how well the children have responded. We have made every effort to keep the atmosphere informal, relaxed and positive. In fact, your children may not even realise they have sat a test paper at all! The children have been supported in small groups if necessary and given plenty of time to work through the questions at their own pace. Next week we will carry out the Spelling and Grammar papers, followed by Maths the following week.
We have been breaking up the assessment papers with lots of fun, practical activities throughout the day. We have made the most of the lovely weather with outdoor scavenger hunts and hands on learning experiences. For example we have used natural resources to represent tens and ones, which has helped us to revise place value, addition and subtraction in Maths.
In PSHE this week we have been discussing our dream jobs. We have thought about why people need jobs and explored the different kinds of careers people have. The children will be bringing home an interview sheet this week and we would really appreciate your support in answering their questions. Please could these be returned by next Tuesday 10th May, when we will be having our 'careers afternoon'. We have already had some parents volunteer to come in and talk about their jobs and we know that the children will be very excited by this.
Summer Term - Week 2 - 27 April 2022
It has been a busy return to school after the Easter Holiday and our Summer Term learning is in full swing. We enjoyed sharing our holiday news with each other and wrote some lovely recounts of our Easter break. In English we have now moved on to a non-fiction unit of work on Neil Armstrong. We have learnt to re-enact and understand the key events of his life, recording these in the format of interview questions and answers.
In Maths, we have returned our focus to number and place value. We have been practising counting, recognising and ordering number to 100. We have been partitioning 2 digit numbers into tens and ones and representing them in lots of different ways using a range of practical equipment. Having a sound understanding of numbers will help us when adding, subtracting, multiplying and dividing. This place value knowledge will also come in useful when solving word problems and reasoning questions.
Spring Term 2 - Week 6 - 30 March 2022
This week the children have busy learning about shape, Neil Armstrong, taking part in yoga and exploring Florence Nightingale during our history day on Friday.
In English the children have been looking at a question and answer text, learning about how they are written and what types of questions have been asked. They have explored facts about who and what Neil Armstrong has accomplished in his life and why he is famous today. We have used videos and news reports to help or learning.
In Maths, we have started our new topic on shape. Learning to name 2D shapes, circle, triangle, square, rectangle, pentagon, hexagon and octagon. They have learnt to count the number of sides as well as learning that corners can be referred to as vertices. We have enjoyed using cubes to practically make symmetrical pictures understanding that the line of symmetry can be horizontal, vertical and diagonal, and that shapes can have more than one line of symmetry. We can sort shapes into different groups, for example those with 4 sides and those not, symmetrical and unsymmetrical, curved sides and straight sides. We then finished our learning looking at patterns, continuing our learning on name all the shapes and naming patterns with 2, 3 or more shapes.
This term the children have enjoyed learning yoga, they have learnt lots of poses and ended our topic as teachers, taking it in turns to teach a small group of children their own set of yoga poses. They have found this very enjoyable even if the poses have proven difficult. 😊
Finally after a busy term, we ended our Spring term with a fantastic history day. During the day the children have had the opportunity to hear about the life of Florence Nightingale and Mary Seacole during our virtual workshop from the National Army Museum. They were able to role play life in a hospital using teddy bears as patients, make their own medicines and make a Turkish lantern. The children also had the opportunity to taste food that would have been used during the time of Florence and Mary, tasting food such as crusty bread, watery porridge, watery orange juice and vegan beef stock. They ended the day writing letters to Florence using the stained letter paper.
The children will be provided with some non-compulsory homework, this is to help towards the important month of May and their SATs, keeping their brains active. We would love to see any work when completed as well as any fun activities you undertake during Easter. Please share on our Google Classroom
It has been a very busy term and the children have been amazing. We hope they have an enjoyable Easter and look forward to welcoming them back.
Spring Term 2 - Week 5 - 23 March 2022
This week, we have continued our work on fractions in Maths. We have explored halves, quarters and thirds by dividing a whole shape or whole amount into equal parts. We have used practical resources such as Numicon and pictorial representations such as pizza to visualise these fractions.
In English, we have planned and written a diary entry based on the story of George and the Dragon. It was a great chance for us to apply all the new skills we have been learning such as writing in the past tense and using the first person. We used a range of sentence structures and grammatical features to describe what the character could feel and what the scene was like. We are very proud of our independent writing!
Spring Term 2 - Week 4 - 16 March 2022
During science week, we enjoyed carrying out our own investigation. With the help from a parent helper, Mrs Mash, we made our own slime. It was lots of fun taking in turns to mix and play with the slime to get the right consistency. Once made we enjoyed finding out how far we could stretch the slime. After this we carried out an investigation to see who had made the stickest slime. We added rice to each groups slime and then after it was mixed in, tried to stretch it to see how far it could be stretched before the rice fell out. We recorded 3 measurements in a chart, found the average and made our own block graphs.
Spring Term 2 - Week 3 - 10 March 2022
In English we have been continuing to work on our story 'George and the Dragon'. We acted out the scene where the dragon was captured and then wrote a post card from George about what had happened, focussing on writing in the first person and using the past tense correctly.
In Maths, we finished our 'Statistics' unit by creating block graphs and pictograms, using sets of data such as tally charts. We are now focussing on fractions; exploring equal and unequal fractions and finding half of a shape number or amount.
This week we have launched our new topic 'Nurses in History'. We will be focusing on significant historical figures such as Florence Nightingale and Mary Seacole. We will be comparing and contrasting modern day nursing with nursing in the past. We are excited to be organising an immersive experience day. Look out for further details which will be sent home about this shortly!
Last week, we had a lot of fun celebrating World Book Day. The children all looked fantastic and thoroughly enjoyed sharing their favourite books and characters with their classmates.
Spring Term 2 - Week 2 - 2 March 2022
This week in English, we have started a new unit of learning based on the book 'George and the Dragon' by Christopher Wormell. We began by describing the setting of the story; the mountains. We used repetition in our sentences such as 'In a wide, wide valley, in an eerie, eerie cage lived a creature'. We also experimented with using different similes to describe the dragon by comparing him to something else. One good example was 'The dragon was red like angry fire flickering in the night'. We have used drama techniques to get into the role of dragon, imagining what he might see and hear and then using our ideas to write about his flight.
In Maths we are learning about statistics. We have used data to make tally charts and pictograms and practised interpreting graphs and answering questions about them.
In Science, we carried out an investigation which involved comparing hand spans. We drew around our hands, measured them using rulers and compared them to each other's. We then used them to answer the questions "Could the largest hands grab the most cubes"? "Dud the tallest have the biggest handspan?" and "Do older people always have larger handspans?"
Spring Term2 - DT Day - 11 February 2022
On the last day before half term, we were very excited to go off timetable for the day and focus on a Design and Technology project! We began the day by exploring freestanding structures using a range of construction sets. We tried to make our towers as tall as possible without them falling over and then we explored what could make them stronger, for example making the base wider or heavier or even adding buttresses.
We were then set our challenge for the day – to design and build a playground using freestanding structures. We worked together in small groups to think about what our playgrounds would need and which materials we could use. We experimented joining junk materials together using a range of techniques. We had a lot of fun and made a lot of mess using cardboard boxes, tubes, pipe cleaners, sticks, paper and paint.

At the end of the day we spent time evaluating our playgrounds, sharing what worked well and suggesting ways to improve them.
Spring Term 1 - Week 6 - 10 February 2022
Wow, what a term it has been! Everyone has worked so hard and we are very proud of each and every one of you.
We ended our English topic writing our own reports on lions. We enjoyed making lion masks and watching information videos - Andy's Adventures was very enjoyable and caused lots of giggles. We then used the information we had gathered to create fact files using headings, subheadings, labels and questions.
In Maths this week, we have learnt to identify odd and even numbers using the ones column. We have then used our skills of dividing and counting patterns to divide by 2, 5 and 10.
In the afternoon we have been using IPads and Chrome books to create our own digital art. The children have used a range of website to create their own art, using different shapes, lines, colours and patterns. The children have thoroughly enjoyed these lessons, we know many have used some at home, so we have provided the websites for the others we have used for them to have some fun with over half term.
The children have also created their own playgrounds using junk modelling. The have been able to plan, make and evaluate their models.
Well done again to all our Year 2 children. We hope you have an enjoyable half term break.
Spring Term 1 - Week 5 - 31st January 2022
Thank you to everyone for working so hard the last few weeks, I know Year 2 has been hard with staff and children suffering from COVID the last few weeks but as of Thursday, the majority of children and staff are now back and raring to go. Thank you for all your patience and support. It has been very much appreciated.
This week the children have been busy learning information about Cheetahs to create a non-fiction report, learning how to divide, enjoying PE lessons, exploring mental maths, handwriting and a whole lot more.
In English the children have enjoyed exploring the savannah, looking at its key features and understanding how it works for all animals. After exploring the savannah, the children then created their own using paint and black paper. This was very enjoyable for all and some much needed time to down time. We have written labels for a cheetah, captions and interesting facts as well as learning about how they hunt. The children have been fascinated by videos and have been sharing lots of information they have learnt. Why not carry on this excitement and explore lions ready for our independent report writing next week!
In Maths this week we have been sharing into equal groups, grouping and using the division symbols. We have been using lots of practical resources to aid with this. We started by selecting a number of counters (16 for example) we have then shared these amongst a group (2 for example). The children have then looked at sharing the counters one at a time into each group until all the counters have been shared. This has been new learning for the children and something we did not cover in Year 1 due to COVID. So any extra help at home would be amazing. We would love to see any number sentences or work you create at home.
In the afternoons we have been enjoying PE lessons and exploring how to jump, exploring the foam vault and tables this week. For some this was challenging and we were so pleased how confident they were to jump from different highs. Outside PE involved exploring attacking- dispersal and penetration, exploring dodging children and scoring points during a range of games. We have been using rekenreks to solve number bonds to 5 and 10 with speed. And lastly explored how to write postcards and leaflets exploring life in Uganda.

A very busy week as you can see.

Don't forget to collect some junk modelling for our DT lesson next week.
Spring Term 1 - Week 4 - 27 January 2022
It would be fair to say that Year 2 has been pretty hard hit by Covid this week! With large numbers of children and staff having to self-isolate at home and other children dealing with daily changes and uncertainties in school, it has most definitely not been a 'normal' week of learning! Despite these challenges, we are so incredibly proud of all the children for their resilience. The children in school have been warm and welcoming to new faces and have coped amazingly without their usual teachers and routines.
The children at home have been completing some fantastic home learning tasks. In particular, we have had some great research undertaken on 'big cats'. Abi worked really hard to create a presentation of the facts that she found on tigers. We have also had some brilliant Maths work on multiplication, making arrays and learning the 2, 5 and 10 times table.
Well done to everyone for all your hard work and fingers crossed we are a bit more back to normal by next week!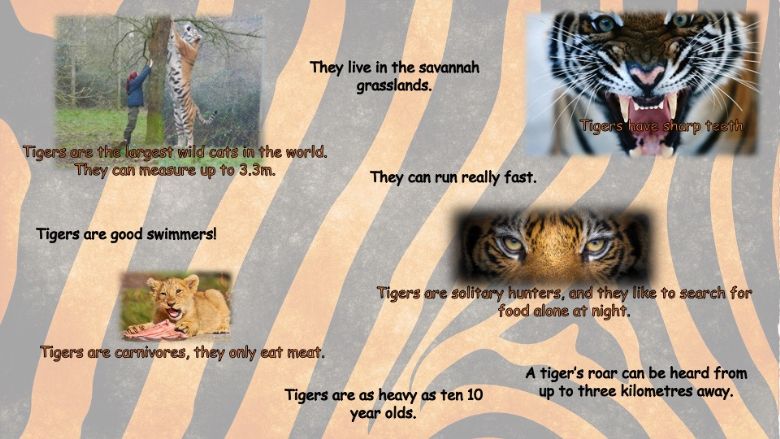 Spring Term 1 - Week 3 - 19 January 2022
In Maths this week we have started a new unit on multiplication. We have been using objects such as counters to make equal groups and finding the total by adding the groups together. For example we know that three equal groups of six is eighteen so we can say "3 lots of 6 is 18". We have also been creating arrays to show multiplication, where the rows and columns represent the equal groups. Finally we have been exploring word problems and number stories to show multiplication, for example "There are 4 bags of sweets, with 10 sweets in each bag. How many sweets are there altogether?"
In English we have been planning and writing our own stories based on 'Stardust'. We have had to think carefully to apply some of the new skills we have learnt in our writing, such as alliteration, dialogue, contractions and commas in lists. Our teachers have been very impressed with our creative thinking and story writing!
In Geography, we have started a new topic looking at Uganda. We began by recapping the 7 continents and had lots of fun using playdough to represent the different shapes on a world map.
Spring Term 1 - Week 2 - 12 January 2022
This week's photographs have been taken by our very own budding photographers, the children! That is because in Computing, we have started a new unit on 'Digital Photography'. We have been learning how to take clear photographs using digital devices including IPads. We have learnt to take photographs in portrait and landscape formats and we have had a lot of fun practising; taking a range of photographs including close ups, distance shots, action shots and even selfies!
In English we have continued our learning based on the book 'Stardust' by Jeanne Willis. We have been learning to add the suffix 'ly' to adverbs such as 'unfortunately' and 'tragically' and then using these to write effective sentences for our story. One super sentence that we write about our character, Mabel was:
"Disappointingly she didn't win but her sister took the star prize".
In Maths we have been continuing to build our knowledge and understanding of money. We have explored different ways of making the same amount, compared different values and compared the totals by adding. We also practised using our subtraction skills to find the change from a total amount.
Spring Term 1 - Week 1 - 4 January 2022
Happy New year!
It is wonderful to be back in school and see all the children's smiling faces after the Christmas break. This week we have started our new topic in English studying the story 'Stardust'. Children have started writing their exciting sentences ready for when they continue the story at the end of the unit. This week we will be focussing on writing interesting sentences using alliteration, a range of punctuation including exclamation and apostrophes and expanded noun phrases. In maths this week, we will be continuing our money topic. Children will be adding together amounts of money, making amounts and solving problems exploring different totals. In our PE lessons we have started our new units- invasion games (where children will learn how to attack and defend working within their team) and gymnastics!
Autumn Term 2 - Week 7 - 15 December 2021
This week Year Two have been very busy performing our Christmas Nativity. They all did an amazing job remembering their lines and songs whilst performing to their audiences! In amongst the festivities the children have been busy writing their recount of a Christmas advert in English for their independent writing task this half term. Year Two have also celebrated Christmas with a class Christmas party, playing games and dancing!
Well done for all of your hard work over the last few weeks year 2, we hope you all have a wonderful Christmas!
Autumn Term 2 - Week 6 - 8 December 2021
This week Year Two have been busy learning about money in maths, recognising the values of coins and notes. The children have also been writing their wonderful sentences for our Christmas advert which we are working on during English lessons. Year Two have also been busy rehearsing for our nativity, where they have really been getting into their characters' roles! We cant wait to share this with you all, and hope you are looking forward to watching!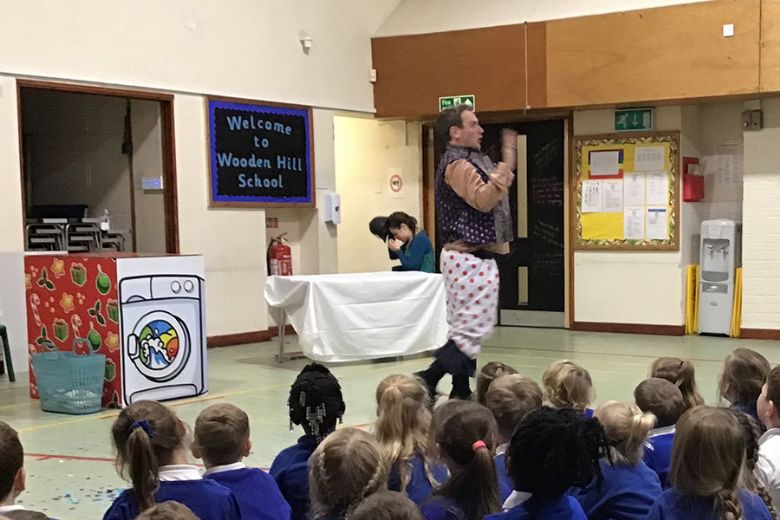 Autumn Term 2 - Week 5 - 1 December 2021
Christmas mode is in full swing in Year Two this week! We have been working really hard to practise our songs and learn the scenes for our nativity. We would like to say a huge thank you to parents for helping your children learn their lines at home, we really appreciate your support. The more confident the children feel with their speaking parts, the more they will be able to shine on the day. This week we have sent notes home requesting some simple outfits for children to bring in for the nativity. We have tried to keep this is basic as possible, such as a coloured t shirt and trousers and we will provide any accessories needed. Please do not go to the expense of buying anything new for this, if you do not have anything suitable do let us know. If your child has not brought home a note requesting an outfit, this means that they have been given the role of a traditional nativity character and we already have an appropriate costume in school for them.
Just a reminder about our Christmas colour hamper auction – our hampers will be placed in the foyer and photographed, with the auction opening on Tuesday 7th December 2021 and 12pm. The auction will close on Wednesday 15th December at 8pm. We would love to win a class treat for raising the most money!
Autumn Term 2 - Week 4 - 24 November 2021
On Wednesday, we enjoyed taking part in 'Snuggle up with a good book' day. We came to school in our pyjamas and spent the day reading and sharing our favourite books with each other. We had a session with each of the teachers in Key Stage One and enjoyed learning based around their favourite stories. The day was topped off with a hot chocolate and a biscuit!
Preparations are now well underway for our Christmas Nativity and we have been working hard to learn all the new songs. We would really appreciate parents supporting their children at home to practise their words, so that they are confident on the big day.
In Science we have been looking at different microhabitats in our school grounds including under rocks and stones, in short grass, inside rotting wood, under fallen leaves and in the soil. In small groups we created a tally chart of the various minibeasts we found in the different microhabitats.
Autumn Term 2 - Week 3 - 17 November 2021
In English we have continued to work on writing our set of instructions to make a bird feeder. We began the week by researching foods that are harmful to birds so that we could include these in our 'What not to use' section. We have looked at using brackets to explain a point further and we have also learnt to use precise adjectives when describing the ingredients to give the reader more detail e.g. uncooked rice, salty foods, whole nuts. Linked to our learning about instructions we had great fun following a recipe to make bread. We took turns to add the ingredients and knead the dough. When the rolls came out of the oven they smelt absolutely delicious and we enjoyed eating them!
In Maths this week we have been learning to use the column method for addition. We have spent a lot of time leading up to this securing our place value knowledge, so our teachers felt we were ready to start using a more formal method to record our calculations. We know that we need to add the ones first and then the tens next. We have learnt to exchange the ones for a ten if there are enough to do so. As always we have been using practical resources to help support our understanding of this.
Autumn Term 2 - Week 2 - 10 November 2021
In English this week, we have started a new non-fiction unit on instructions. We started by looking at a set of instructions on 'How to build your own den', identifying the key features such a heading, hook, question and steps. We gave each feature a different 'shape' or jigsaw piece so that we can see clearly the parts that fit together to make up a set of instructions. We have explored imperative verbs, a key feature of instructions, and had fun acting out and playing games like Simon Says with a range of bossy verbs (e.g. stir, boil, hammer, build, find). We then followed a set of instructions to make our own bird feeder using cooking fat, bird seed, cooked rice and pine cones.
In Maths, we have been developing our addition and subtraction skills using bar models, number lines and fact families. It is so important that we develop quick recall of our number bonds to 10 because this helps us move onto more tricky calculations quickly and efficiently. Please practice these at any opportunity you have at home or in the car; playing games and singing songs will really help improve number confidence within the classroom.
Autumn Term 2 - Week 1 - 5 November 2021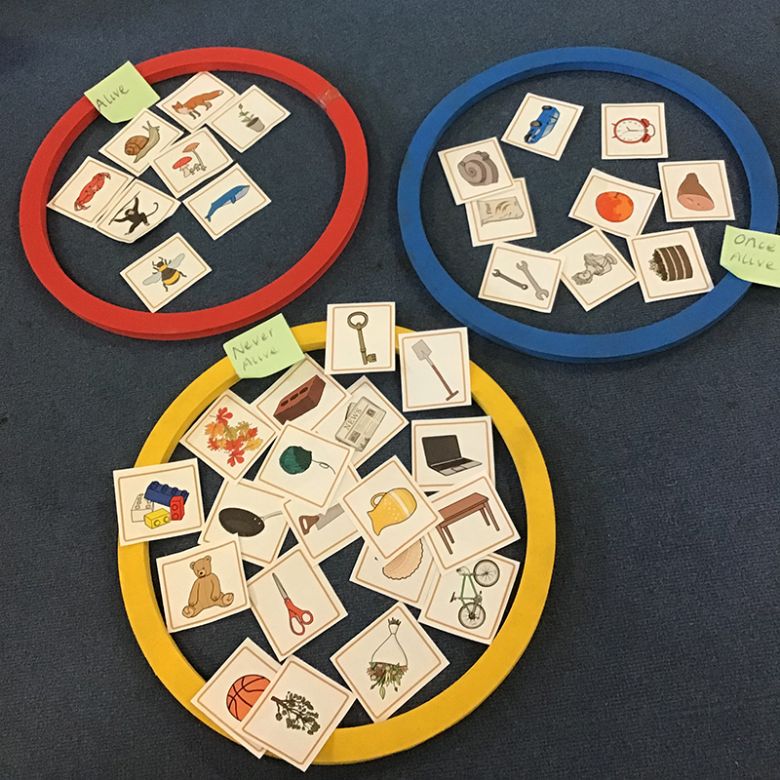 This week Year 2 have started their new science topic- living things and their habitats. They have had some interesting discussions sorting things into living, dead and never been alive! The children have started learning about Christian festivals and have enjoyed learning about Easter, Christmas and an introduction to Christian beliefs. The children have been working really hard on their spellings this week focussing on the Year One and Two common exception words. Look out for your child's new words to continue practising at home. We have enjoyed reading some children's independent work they have been doing at home this week- keep up the good work.
Autumn Term 1 Week 8 - 20 October 2021
In maths this week, the children have been putting their place value skills to the test. We have using our tens and ones to add and subtract, two, two digit numbers, for example 46 – 20 = and 63 + 20 =
When adding and subtracting, we have used concrete objects; a place value chart and our dienes. We started first with adding, we made each number using the dienes. The we counted the ones and the tens to find the answer, working with partners and on our own. We followed this on with subtraction, we made the first number on the place value chart using the dienes and removed the correct number of tens to solve the subtraction number sentences. The children have work very hard and have shown very good understanding of place value and addition and subtraction.
In English this week, the children have had the opportunity to 'show off' what they can do. The last 4 weeks have seen the children writing the story 'Little red reading hood'. We have used similes, questions, complex sentences, adverbs, dialogue, onomatopoeia and many more skills. The children then had the opportunity to show off what they had learnt, rewriting the story and making changes where they wanted. They have worked very hard with their writing. We have introduced the children to editing this term, which they enjoy as they can use purple pens. We have continued to work on this skill, and encouraged the children to read back their work and find spelling mistakes and missing punctuation. It is a challenge but one we are ready to learn.
Our topic 'Where does our food come from?' has come to an end this week, so we finally enjoyed using all our learning from science on plants to begin to grow our own vegetables. This week we have planted lettuce leaves, cauliflower and peas. We can't wait to take care of them and taste the fruits of our labour at the end. Our aim s to grow different fruits and vegetables throughout the year.
Have a wonderful half-term.
Autumn Term 1 Week 7 - 14 October 2021
The highlight of our week has undoubtedly been our trip to Odds Farm Park on Wednesday! We were buzzing with excitement as we boarded the coach in the morning. When we arrived at the farm, our first activity was the tractor-trailer ride. We enjoyed spotting the pigs, horses, sheep and goats in the field. We were especially amazed to see a litter of 6-day old piglets.
After that we visited the demonstration barn to watch a cow being milked. We then enjoyed our own lunch, before feeding the pigs. In the afternoon we had some free time to explore the farm, so we had fun playing in the park and exploring the sand and water zones.
We thoroughly enjoyed our day and returned to school thoroughly exhausted!
Autumn Term 1 Week 6 - 6 October 2021
This week in English, we have continued to practice writing effective sentences for our story 'Little Red Reading Hood'. We have drama techniques to act out the story which helped us to use dialogue in our writing for example, "That book is overdue. Take it back now!" said Mum. We have also looked at alliteration and used it to write some fantastic descriptive sentences about the woods, for example, "Red set off past beautiful bluebells, over the babbling brook and under the weeping willows".
Our Maths work this week has been based on addition and subtraction. We have been representing fact families using bar models and part-whole models, identifying addition and subtraction facts within the families. We have been exploring different calculations that give the same answer, using practical resources to help e.g:
5 + 3 = 8
10 – 2 = 8
In computing we have enjoyed getting the IPads out and practising logging on and off of Oxford Owl and Spelling Shed. We had fun working in partners, reading our eBooks aloud to each other.
In Geography we have been learning to use an atlas to locate the world's continents. We have linked this to our topic of 'Food and Farming' be exploring which countries and produce and export different products.
Autumn Term 1 Week 5 - 29 September 2021
This week in English we have started a new unit of learning based on the book 'Little Red Reading Hood' by Lucy Rowland. We began with an experience day to explore reading for enjoyment. We talked about our favourite places to read and created our own special reading dens within the nooks and crannies of the classroom. We used blankets, pillows and torches to make reading an enjoyable and magical experience.
In Maths we have been learning to count in steps of 2, 5 and 10. We need to practise this at home as much as possible to become fluent and confident, for example by grouping objects and also chanting the number patterns forwards and backwards.
In RE we have been learning how some Jewish festivals are celebrated. We enjoyed experiencing a Passover celebration by tasting a Seder Plate consisting of hard boiled eggs, flat bread, salt water and herbs.
Autumn Term 1 Week 4 - 22 September 2021
This week in English we have planned and written our own lyrical poems about feelings, based on last week's poem 'In my Heart'. We have explored a range of emotions including sad, hopeful, afraid, silly and shy; thinking of similes to describe what these feelings do to our bodies. We used our bank of ideas to write our own verses, independently.
In Maths we have been deepening our place value understanding using tens and ones. We used part-whole models and place value charts to represent numbers and then moved on to comparing and adding two-digit numbers. We have been practicing adding the tens and ones together to find a total, for example:
23 (2 tens and 3 ones) + 16 (1 ten and six ones) = 39 (3 tens and 9 ones)
In Science we have started our new topic on Plants. We have looked at the structure of seeds and bulbs and refreshed our learning from Year One about what plants need to grow. We have planted some seeds in different conditions and made predictions about what will happen to them.
In Geography we have been thinking about where our food comes from. We have looked at the stages of production and ordered the steps that are taken for food to travel 'from farm to fork'. We have been leaning to distinguish between meat-based and plant based-foods and explored how different cooking methods can change them.
Autumn Term 1 Week 3 - 15 September 2021
We have had a wonderful first few weeks in Year Two. The children came back after the Summer holiday full of enthusiasm, with big smiles on their faces and ready to learn! We began by talking about rules, routines and expectations. The children have helped to create a class charter; thinking about what we all need to do to make sure we have a safe and happy learning environment.
In Maths, we have been securing our place value knowledge of numbers up to 50. We have spent lots of time making sure we really understand what each number looks like, representing them with practical equipment. By understanding how many tens and ones are in numbers, we are able to compare, order and sequence them.
In English, we have been reading In My Heart: A Book of Feelings. We have been exploring a range of different feeling and emotions, describing what they might look and feel like.
In the afternoons, we have been looking at the work of artist Frida Kahlo. We have been building on a range of skills, such as observing and sketching facial features and experimenting with tones and tints for skin and hair. This led us to creating our very own self-portraits. We even had a go at creating our own portraits in nature, using materials and objects that we could find outside.