Year 2 News
Summer Term - Week 8 - 15th June 2020
As always, the Year Two team cannot get over how lucky we are to have a such a fantastic group of children! We have been learning about a range of things this week, and here are just a few of them: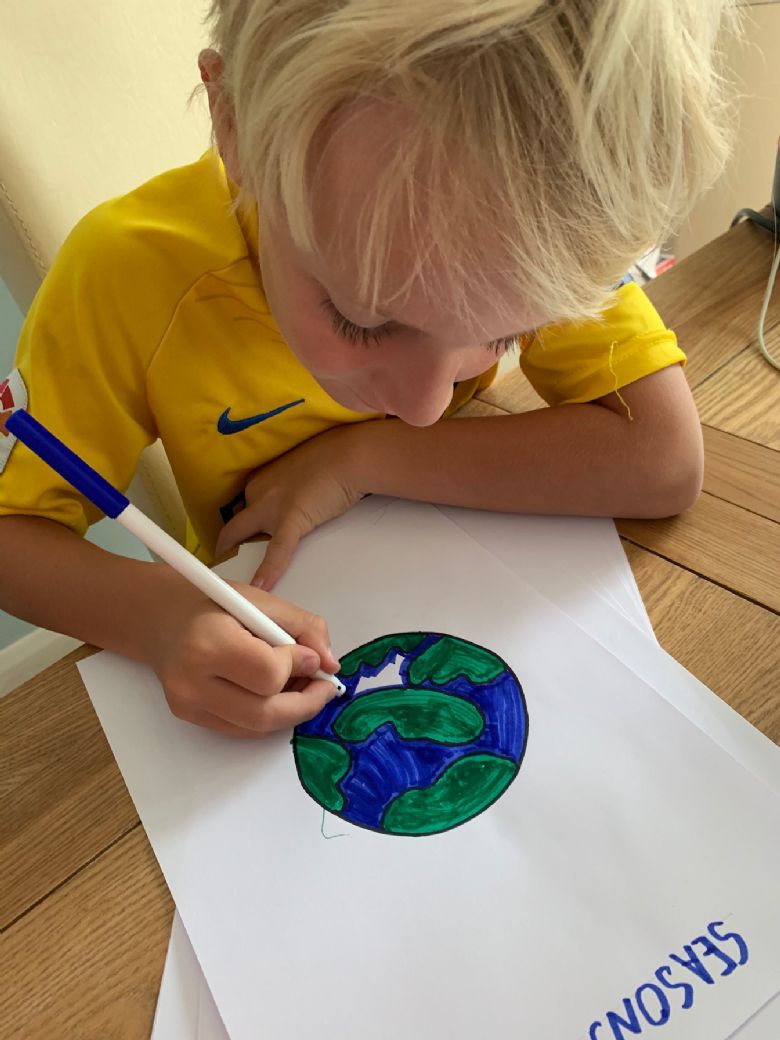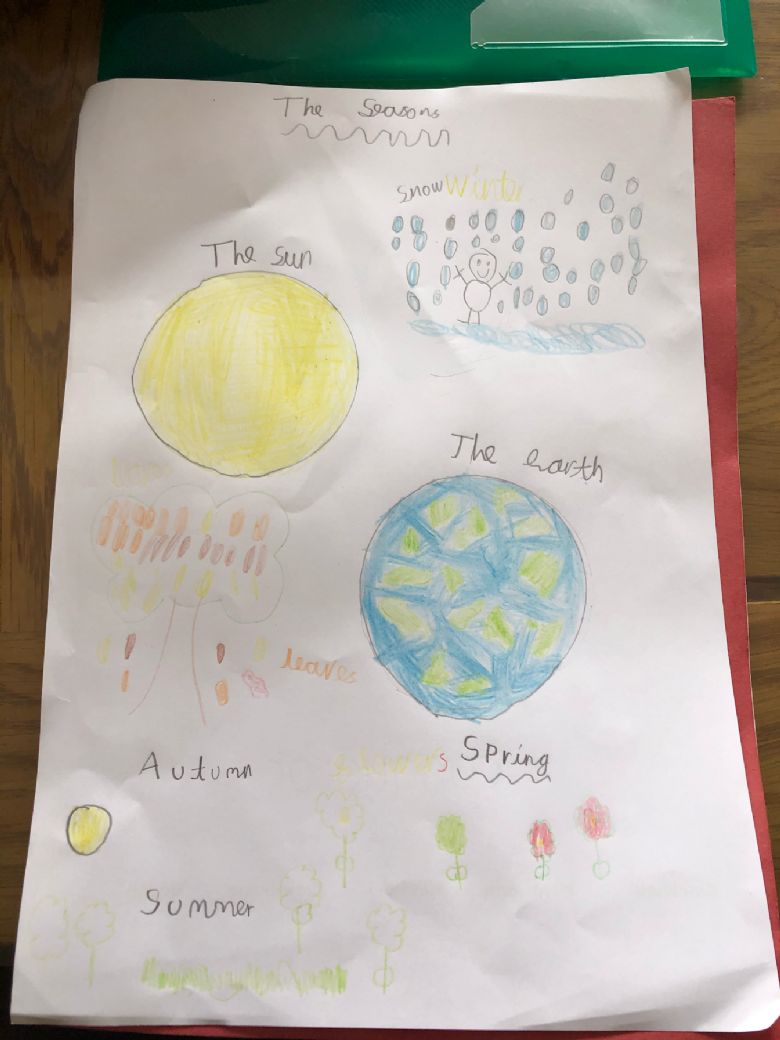 Oscar and Charlie have been getting very creative, learning about the seasons to make an informative poster. This was a cross-curricular activity as most of our learning was made through the reading lessons!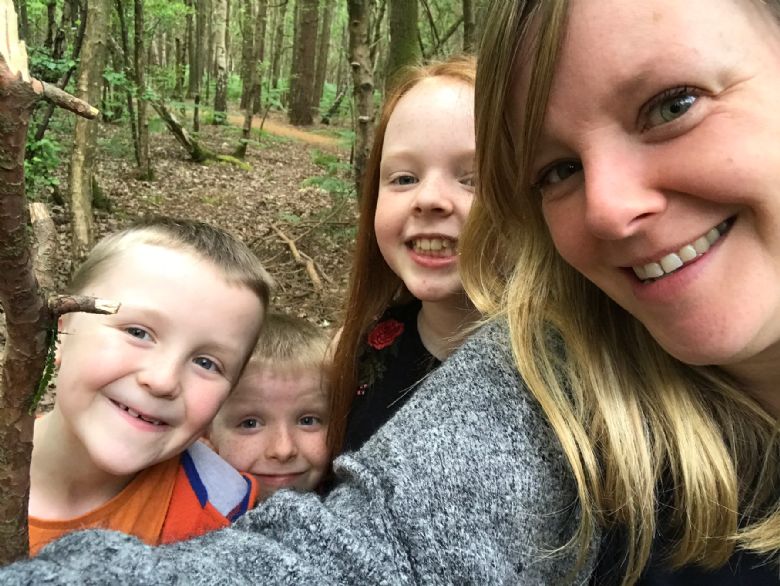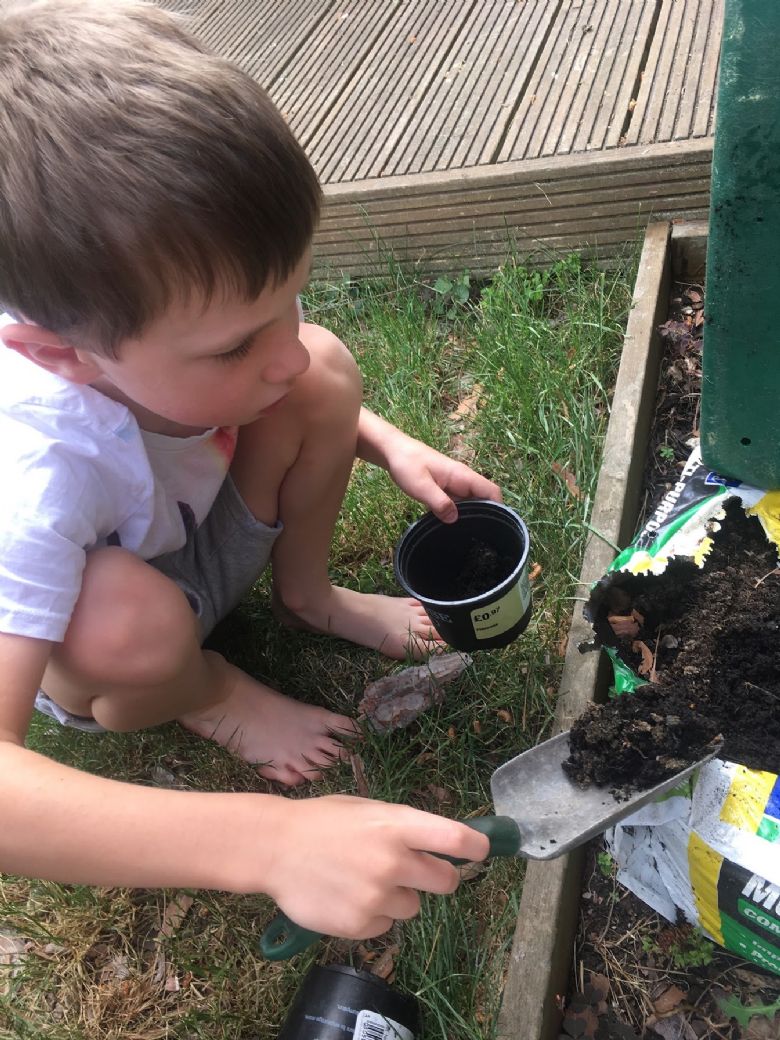 The Malyon's and the Moyle's have been enjoying some outdoor time. Exploring the lovely local area and James has been prepping his science experiment for this week's home learning too!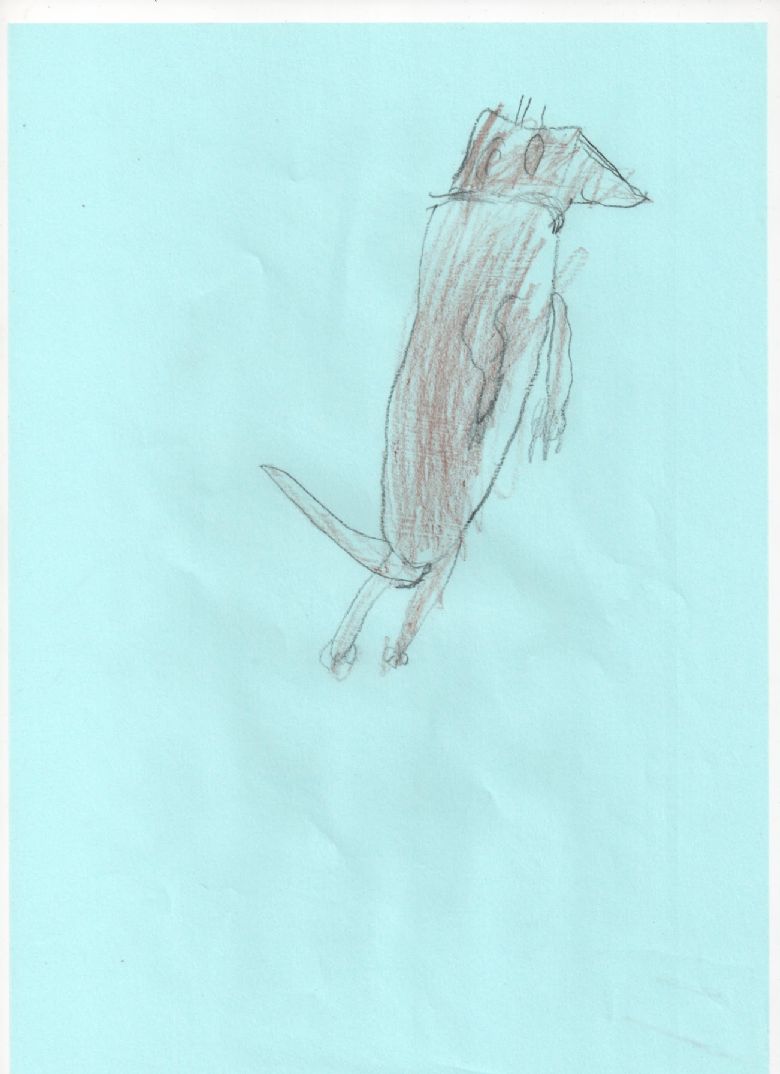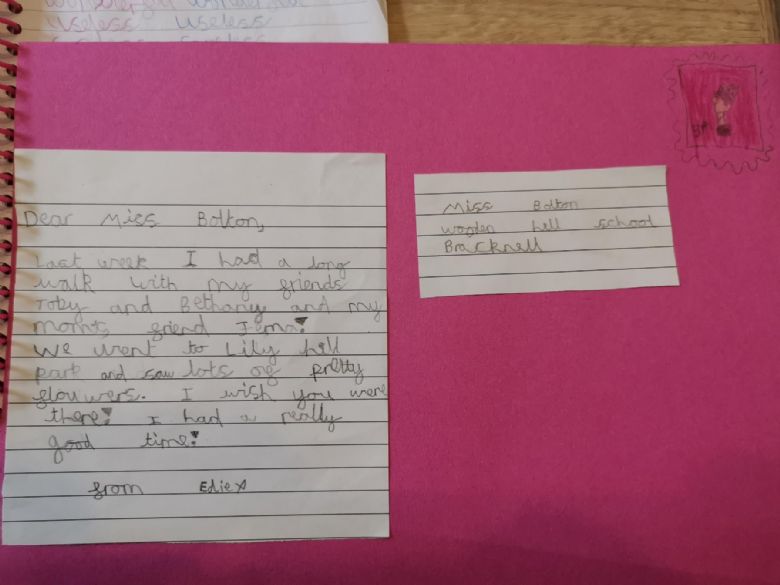 Everyone has absolutely loved reading Meerkat Mail too. Here is JJ's amazing meerkat drawing and Edie's wonderful postcard using inspiration from the postcards in Meerkat Mail!
Keep up the amazing learning you've been doing Year 2 - we are so so proud of you and missing you an awful lot too! Remember to keep sending us photographs of your amazing work team!
Summer Term - Week 7 - 8th June 2020
Wow. The Year Two team are incredibly impressed by the resilience, focus and determination of the Year Two children. They have been superstars! We are so proud of them for carrying on with home-learning productively and enjoying extra-curricular activities too!
Here is a small selection of what the children have been getting up to. Please continue sending photos and messages- we love to hear from you!
Mohammed and James have been enjoying the great outdoors! Here, James is riding his new bike and Mohammed is visiting a farm. It looks like you made the most of the weather, boys!
Here are our Year Two girls (below left & centre) showing us how great they are with technology. Learning about suffixes using BBC Bitesize, and listening to our key text 'Meerkat Mail'. Lovely work, girls!
Here is George (above right) being super creative with tie-dye. What a wonderful T-shirt George. Miss Smart loves the colours!
We are so proud of our lovely Year Two children and we miss them more than you could imagine. Please remember we are here for support and we truly love seeing pictures of what the children have been getting up to. Thank you for your huge support with their home-learning. We are so impressed. Keep up the great work Year Two!
Summer Term - Week 5 - 18 May 2020
Flat Teacher Challenge!
Over the past week, Year Two have been taking part in a very special challenge - the Flat Teacher Challenge! Teachers around the globe have been missing their classes, so created a lovely challenge based on 'Flat Stanley' which Miss Smart and Miss Bolton just knew they had to re-create for Year Twos at Wooden Hill!
The children were reminded that even though they haven't been able to physically see their teachers, that their teachers are always with them and are there to support them. So, we created flat versions of ourselves, and sent them to the children to use to make memories with us! The children now have flat teachers to support them with any challenges, with reading, home learning and to make fun memories with! Here are some pictures from our Flat Teacher Challenge. We are going to keep it going throughout the summer term, and we can't wait to see lots of photos!
Arthur and his sister, Amelia, enjoyed a well earned study break with Miss Smart and Miss Bolton- and lots of ice-cream! The Year Two teachers were also thrilled to be helping George with his grammar work. You know how much we love expanded noun phrases. As well as this, we loved watching Drew be a whiz on Spelling Shed! Well done for working so hard Drew.
Isla and Ruby loved their stick versions of Miss Smart! Ruby said she couldn't wait to have lots of hugs with it. Stick Miss Smart enjoyed watching them complete their maths work!
Miss Smart and Miss Bolton are so pleased this challenge has been loved by children and parents alike. We hope it has helped your child realise that we are always there to support them, cheer them on and provide encouragement. Please keep making memories with your stick teachers! We love to see what you have been up to.
Summer Term - Week 4 - 15 May 2020
What fantastic children we have in Year Two!
Once again, Miss Bolton and Miss Smart cannot believe how hard working you have all been over the course of this home learning. The highlight of our week is seeing your smiley faces in your pictures and your hard work being uploaded. We have been doing lots of things this week in Year Two, here are some of the examples...
We have been discovering our favourite 'comfy reading spot' in our houses, which is where Charlie B and his rabbit read together in their house.
Emmy and Poppy have been baking some very tasty treats for their elderly neighbour, turns out that cake mixture is just as good as the actual cake!
Zakariya has been raising money for the NHS by baking and selling cupcakes. They raised £310 - well done!
George has also been baking this week too, and just like Emmy, he seems to prefer the cake mixture too.
Keep up your fantastic learning! We are so, so proud of all of you!
Summer Term - Week 3
Another fabulous week for the Year Two children!
As usual, this week the Year Two children have amazed us with their resilience. We have been so impressed by the hard work that is being posted to Google Classroom daily. Remember, we love to see your amazing work. Your teachers especially enjoying seeing pictures of your happy, smiley faces as it brightens our days! Keep up the amazing work. Here is a selection of things the Year Two children have been up to this week...
Here is a question from Mohammed's quiz on endangered animals! Who can guess the answer?
Isla and her little brother Beau enjoyed baking a delicious cake this week. It looks lovely! Miss Smart and Miss Bolton are very envious. Well done Isla.
Duncan and his sister, Emily, enjoyed being scientists this week and carrying out Duncan's science challenge. Who else enjoyed the ice experiment? It made us feel very chilly!
Emily also completed this experiment, and sent the teachers videos to show her predictions and how she carried it out. The teachers loved hearing Emily talk so passionately about science- a scientist in the making!
And finally, Miss Smart and Miss Bolton want to say a huge 'well done' and 'thank you' to our lovely Year Two children and their parents and carers. It has been a very strange time, and we miss you all, but thank you for being so positive and working as hard as you can. We are so proud of the lovely Year Two children, and so thankful to their adults at home for supporting them with their learning. THANK YOU! :)
Summer Term - Week 2
Year Two are amazing, brave and kind!
Wow. Miss Smart and Miss Bolton are incredibly proud teachers this week, as usual. It has been so lovely to speak to you and hear about the amazing things you have been getting up to. We have heard facts about baboons from Vinnie, Archer's amazing work on fractions and that Isla has learnt to ride her bike without stabilisers! We are amazed at the incredible, creative things you have been getting up to alongside your home learning. You have certainly been very busy indeed. This week, as well as being hard at work, Miss Smart has been baking brownies and doing laps around her local lake (she even saw terrapins!) and Miss Bolton has been practising yoga and reading lots of books! Please keep posting photos and updating our Google Classroom. We miss you so much!
Some of Year Two have been enjoying making yummy treats! How delicious!
George has lost teeth during this time off school! Has anyone else?!
Whilst in school this week, Maddie loved working as a team and completing a puzzle! Has anyone else managed to complete any?
Wonderful Home Learning!
Miss Bolton and Miss Smart have been blown away by the learning you're doing at home. Not only are you working on our assigned work, you're also doing EXTRA learning and experiments at home. Some of you have been on nature walks, been baking, crafting and creating and much more. What brilliant children you are! Keep up the fantastic work Year 2, and send us all of your pictures onto Google Classroom so we can see.
British Science Week - 11th March 2020
Today, we have been investigating our local habitat at Wooden Hill school. We discussed the types of habitats all over the world, and the habitats we're likely to see in Bracknell (rural, pond and woodland).
We learned about the conditions animals need to live in and why their habitat is best suited to them.
British Science Week - 10th March 2020
This week, we are celebrating British Science Week! Every afternoon, we are working scientifically and carrying out many experiments. The children are loving it so far.
Today, we looked at the question 'Is everyone's body the same?'.
We discussed parts of the human body, and compared differences between each other. We drew around our bodies and created a gallery so we could visually see how unique we are.
Here are some pictures of British Science Week so far...
Week 23 - 6 March 2020
Hand-washing experiments!
This week, we have decided to seize an opportunity and re-teach the children about good hand-washing. Whilst this is something taught in every year at Wooden Hill, and constantly ensured, we thought it would be fun to do some experiments with the children to really highlight the importance of good hygiene.
Today, we started an experiment using pieces of bread to explore this. We had four different pieces of bread, one untouched, one touched by all the children after playing outside, one touched after washing with hand sanitiser and one after washing hands properly with soap and water for the correct amount of time.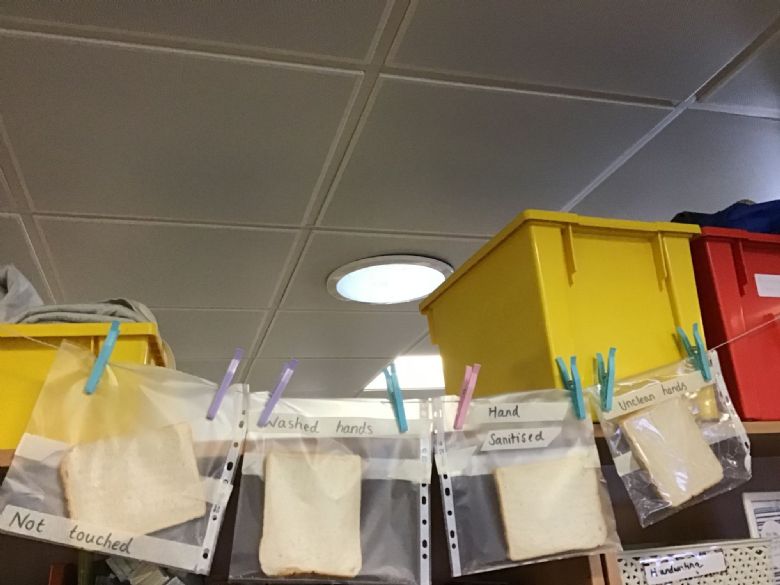 As well as this, we used glitter to replicate 'germs' to teach the children about this. Mrs Nunn covered her hands with 'germs' (glitter) and spread the 'germs' around the classroom during the afternoon. The children had no idea!
We took the children outside for a quick run around to see how the 'germs' spread.
After a few minuites, the 'germs' had spread to every child in Year Two. They were all covered in glitter! We used this to discuss why handwashing is important, and how germs are invisible but can spread.
We are sorry for the glittery uniform coming home, but we know it has provided the children with a really great visual aid for why handwashing is important! The children loved the afternoon, and enjoyed being scientists.
Week 21 - 17th February 2019
Happy Half-Term!
Miss Smart and Miss Bolton just wanted to say a huge well-done to the children for their hard work this half term. We hope they have a really relaxing break, and enjoy the time spent with loved ones.
We have had an extremely busy term. The children have absolutely loved learning about space, and we have admired their curiosity to research more facts out side of school. We have had many pictures of planets, and fact files about Tim Peake! The start of the term begun with our exploration of the book 'Beegu' which we are sure will remain in the children's memories for years to come. Who could forget an alien crash landing in to the classroom!
We have sent some half term homework, that we would love the children to complete including some maths practise for what we have been learning, and a diary entry for a day in half term.
We hope you all have a relaxing time off, and we really look forward to seeing you again in a week's time!
Week 20 - 3 February 2020
On Friday 7th February, the children enjoyed a "Rocket Launching Day" where they designed, decorated and made rockets.
The children are loving learning about Space, and Tim Peake now has 50 new fans, with most children calling him "best friend"!
Building the rockets today allowed the children's learning to come alive as they carefully built a rocket from cardboard tubes, card and tissue paper. Miss Smart and Miss Bolton were incredibly impressed with the detail of the children's rockets. Each child's rocket was incredibly unique.
More pictures to come of the finished products...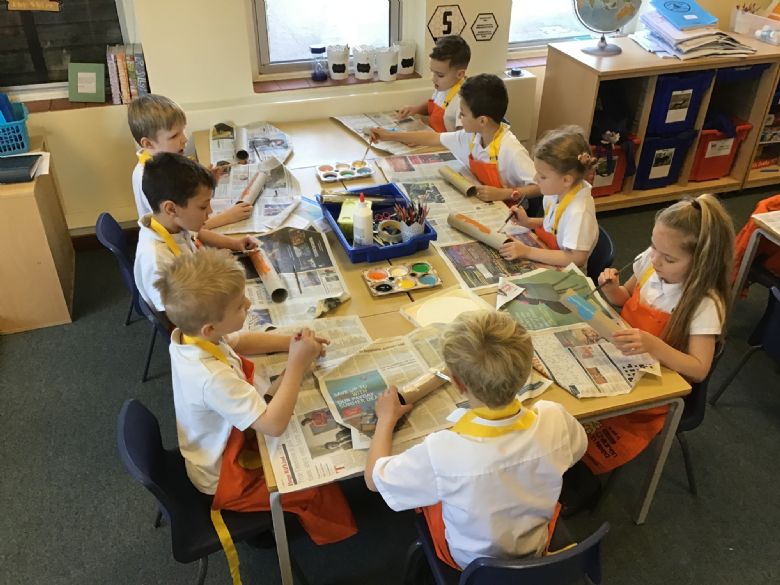 On Monday 3rd February, Miss Wright and Miss Bolton held a meeting for the Year 2 and Year 6 parents to inform them about the upcoming SAT's. We discussed the logistics of how it will be conducted for both year groups and what you can do at home to help support your child. Please find the PowerPoint below from the meeting for further information and support.
Week 19 - 27 January 2020
On Tuesday, the Year Two children took a trip to Space! Miss Smart had a rocket ship in her classroom much to the children's excitement. The children enjoyed flying in a bumpy rocket, watching out for asteroids!
The views from space were absolutely beautiful. Tomorrow we going to be using our experience to write postcards home from Space.
" I was wowed. I loved going to space. The pressure shaked me and scared me but I love to see the world"- Drew
"It was amazing. The best bit was when we went over Earth and going through the asteroids"- Freya
" It was so fun. The learning was amazing but it was so bumpy. I got to see the Earth and lots of planets"- Oscar B
Reading at Home Session
On Tuesday, Year 2 invited their parents in to have a chat with Miss Bolton about the importance of Reading. We discussed techniques to use at home, as well as the statistics behind the importance of Reading. Afterwards, we went into the classroom to see what we can do at home. We had four activities;
Working on comprehension
Dictionary work, children to use them to find unfamiliar words in the texts on their tables (develop vocabulary work)
Read a short story, putting them into story maps (to understand the sequencing of events through a text)
Echo Reading – adult reads sentence and child repeats the same and try to use the same tone when reading (develop understanding of using tones and how to pronounce words correctly)
Why do we need to keep healthy?
As part of our Science and PSHE unit this half term, we have been looking at the importance of keeping healthy. We are looking into the importance of; eating well, being positive, getting enough sleep, keeping clean and exercise. To support us with this, we had some fun with 'The Body Coach - 8 Minute Work Out'. The kids absolutely loved it and felt very energised afterwards.
"I have so much more energy - I feel like I can learn properly now!"
Week 16 - 6 January 2020
Well done Rabbit Class!
As of today (10.01.20) Rabbit Class are currently 64th class in the whole world on the Spelling Shed leader board. Well done Rabbit Class! We are so proud of you for practising your spellings at home.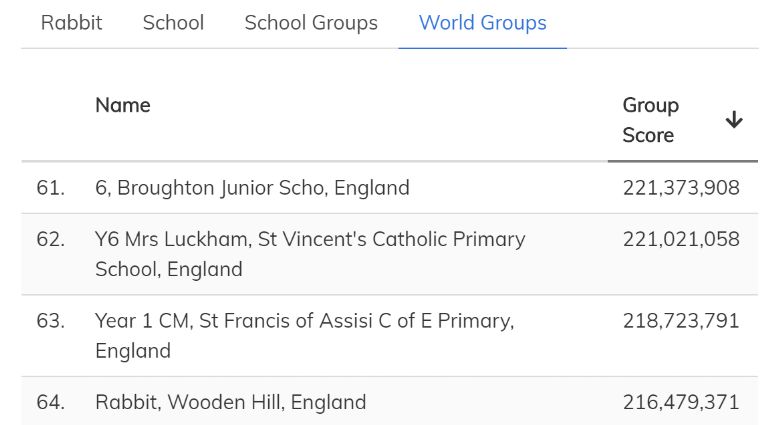 An strange visit to Year Two!
Over the Christmas holidays, something strange has happened!
When Miss Smart and Miss Bolton came in to their classrooms there was a huge mess! There was caution tape all across the windows and doors and huge, glittery footprints on the tables.
Over the next few weeks, the children will be learning about space and reading our key text 'Beegu'. We can't wait to see the amazing writing the children will produce!
Week 15 - 16 December 2019
Practical Maths!
On Wednesday 18th December, Year 2 came together to consolidate their learning from the last few weeks in maths. We have been developing our understanding of money by adding, comparing and finding given amounts. We had a carousel of activities to complete, including a shop to calculate the given amounts, counting money from a pot, comparing random amounts in a game and money dominos. The children had a wonderful morning!
"I liked the first activity when I had to explain what was wrong" - Tommy
"We like this learning because it's lots of fun, we can work with different people and we're still learning!" - Arthur
Week 14 - 9 December 2019
Snuggle with a Good Book
On Monday 9th December, both Year 1 and Year 2 opened up their classrooms to the parents and carers to come in and 'snuggle up with a good book'. The children completed an activity with each teacher in Willow Team that focussed on book talk. This day truly promoted the love of reading amongst all children, and it was a fantastic day for both staff and the children!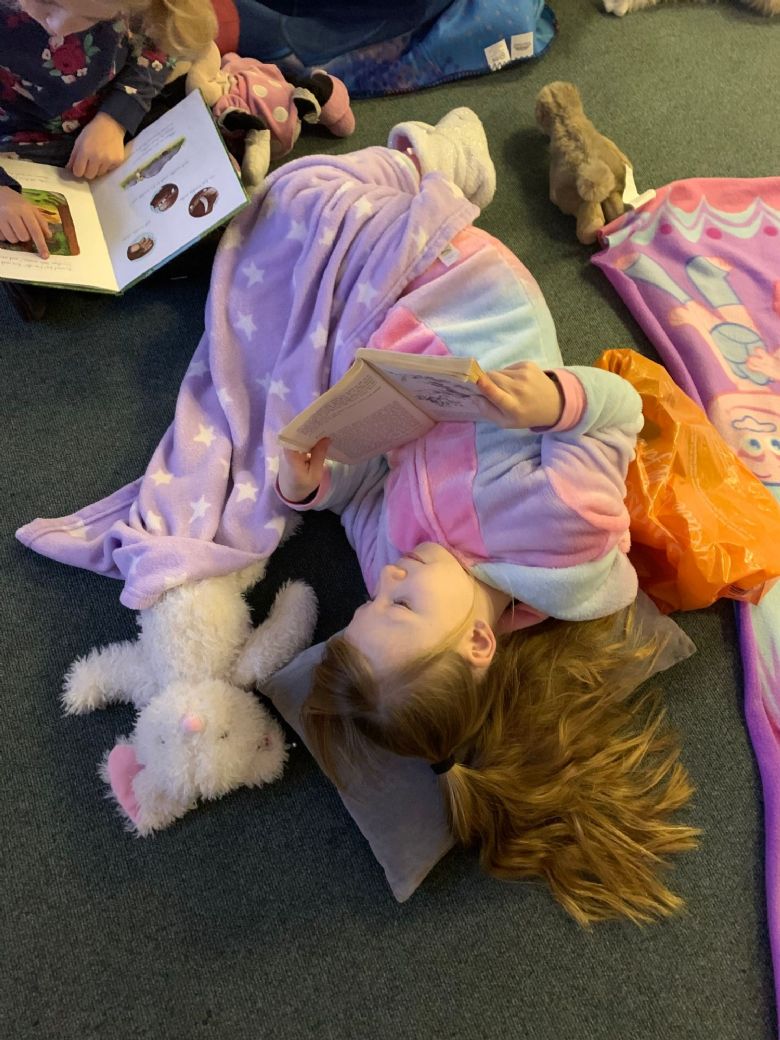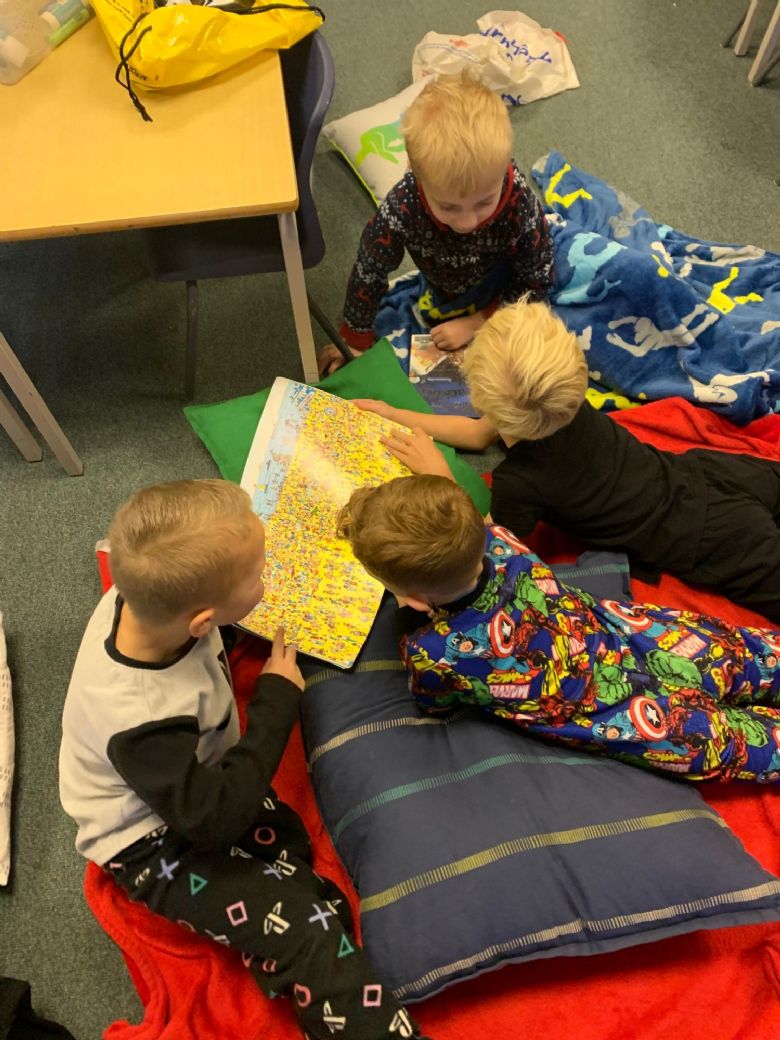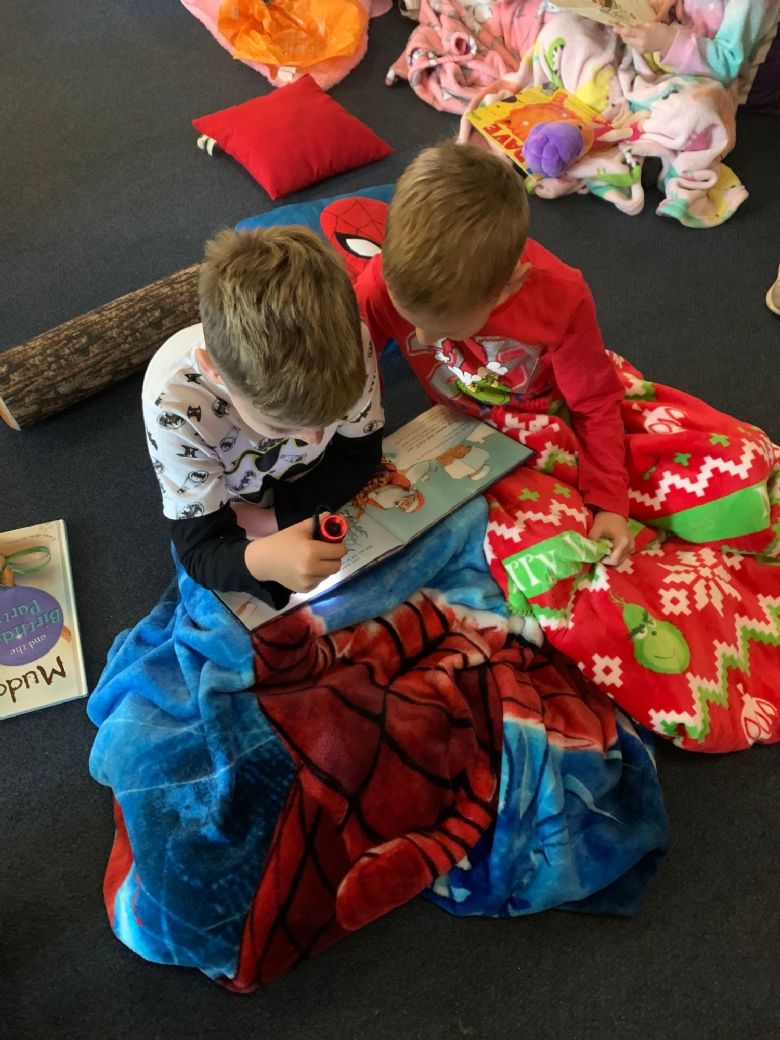 Week 13 - 2 December 2019
Working like Elves!
This week, the Year 2 children have been working tirelessly to create their Christmas crafts for our Christmas Fundraiser! We can't wait to show you what we've created tomorrow!
Week 10 - 14 November 2019
We have Reading Buddies!
Today, Year 2 and Year 5 have linked up to have new reading buddies. We are doing this to help develop their reading fluency and confidence when reading to others. Reading is such an important skill to develop, especially in Year 2 as it sets them up for their Key Stage 2 futures!
Week 7 - 14 October 2019
DT Day!
On Thursday, Year Two had a fabulous day to finish off their Toys topic! We made Victorian style peg dolls out of a range of materials. Over this half term, we have been learning about Victorian toys in our History lessons, learning about different materials and their suitability in Science and designing our peg doll in DT. The children have thoroughly enjoyed being able to design, make and evaluate their peg dolls and have been very successful in the making process too!
On Wednesday, Year Two had an exciting visitor!
On Wednesday, Year Two had an exciting Visitor! Ed from Reading Football Club came to Wooden Hill to help the children work on their movement skills.
Ed will be joining Rabbit Class every Wednesday afternoon for the next 9 weeks!
He will also be taking groups of Year Two children and spending time with them working on teamwork and communication.
This is in addition to their PE lessons with their class teachers, and sports specialist teacher Miss McGowan.
The children are very lucky to be working with such an experienced sports coach. They absolutely loved the lesson and are excited to see Ed next week. Please ask your child what they enjoyed about the session- we are sure they would love to tell you!
Week 3 - 16 September 2019
Miss Smart and Miss Bolton were incredibly impressed by the effort the children have gone to with their home learning task this half term.
We asked for the children to research what kinds of toys their grandparents played with when they were younger and for them to bring this information into school to discuss with the rest of the class.
We had lots of amazing posters, and it was clear the children had really enjoyed learning about their grandparents!
The children were all given an opportunity to discuss their work with the class, and their posters are now proudly displayed in the classroom for all to see!
Here are some photos of the brilliant posters we received.