Year 2 News
Autumn Term - Week 6 - 5th October 2020
The children have really been enjoying our English text. We have been retelling the story together and in the final week the children will using what they have learnt to write their own stories. Here are our 'sentence stacking' displays which are made up of the childrens' fantastic work.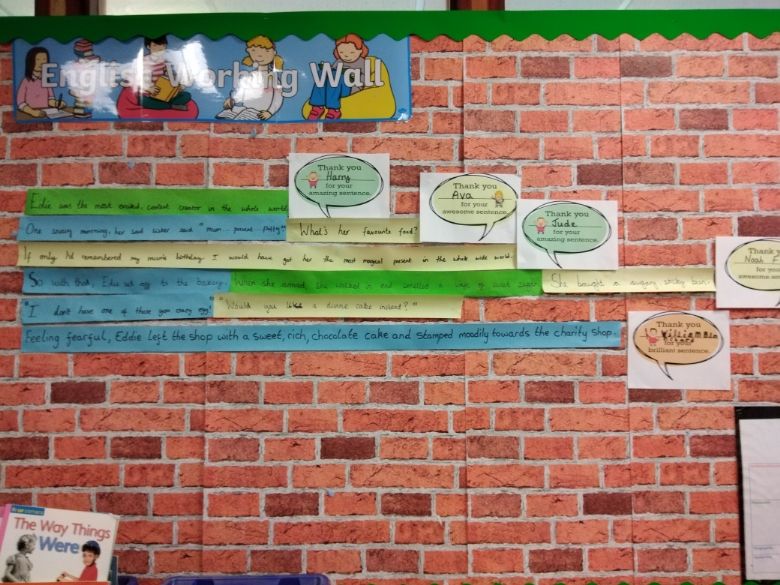 In RE this week the children have been learning about the religion Judaism and found out about the story of passover. They explained why Passover is important to Jewish people.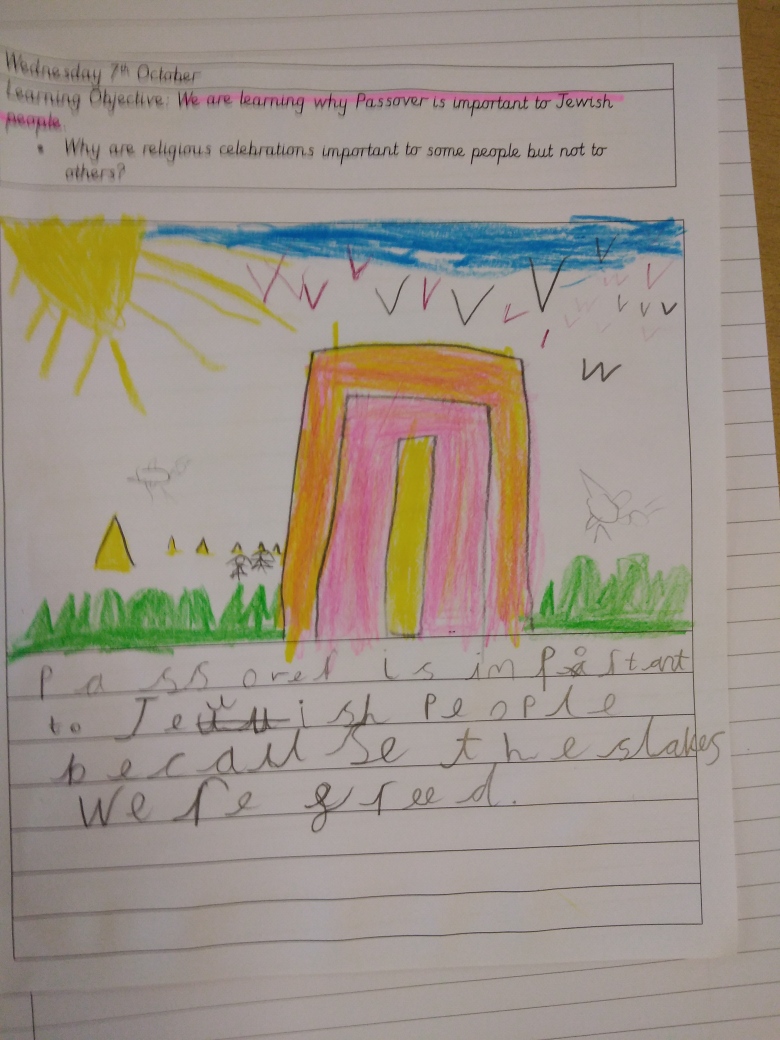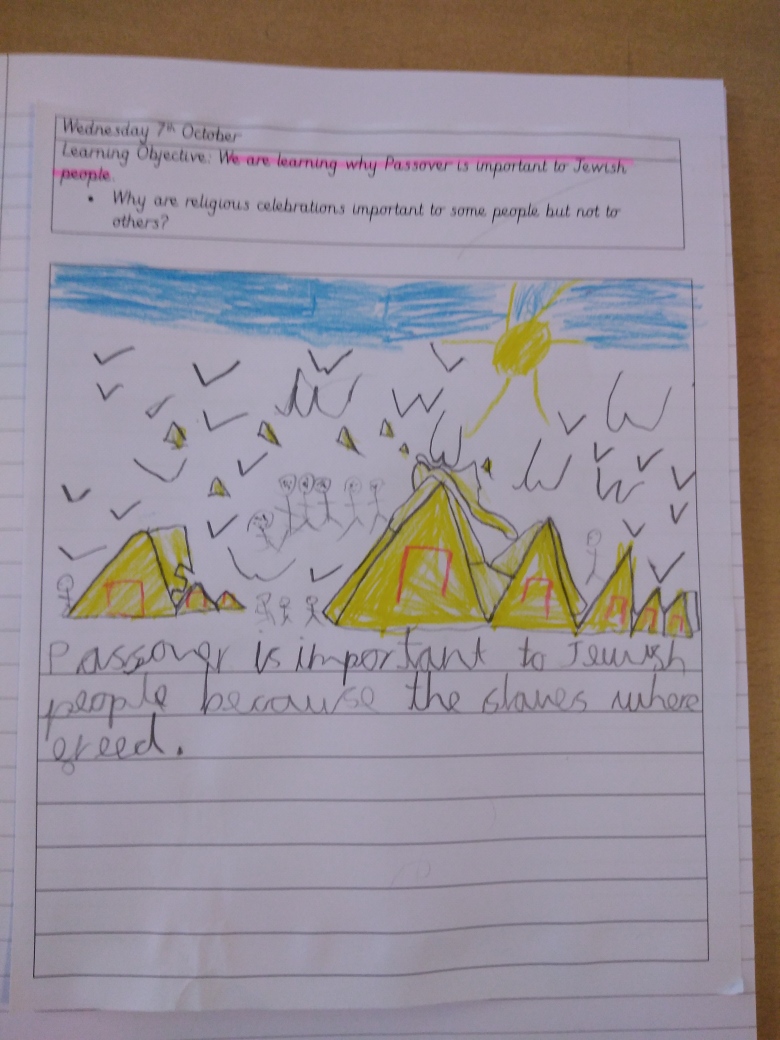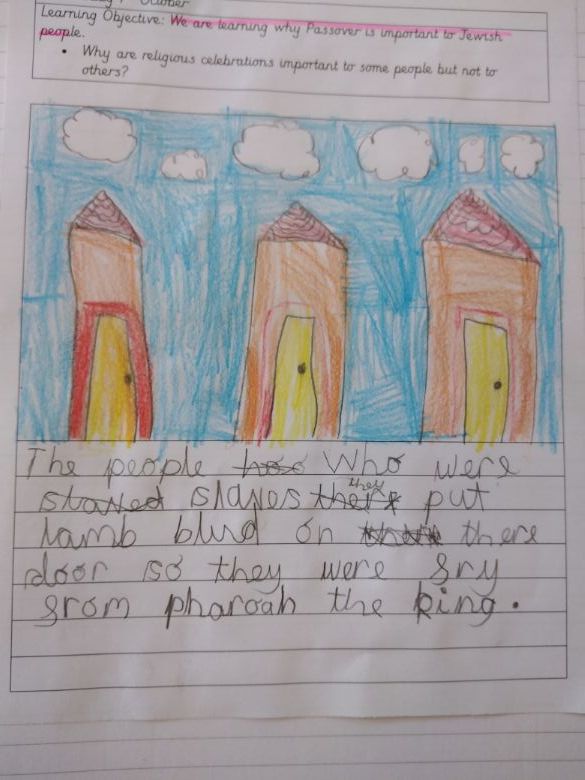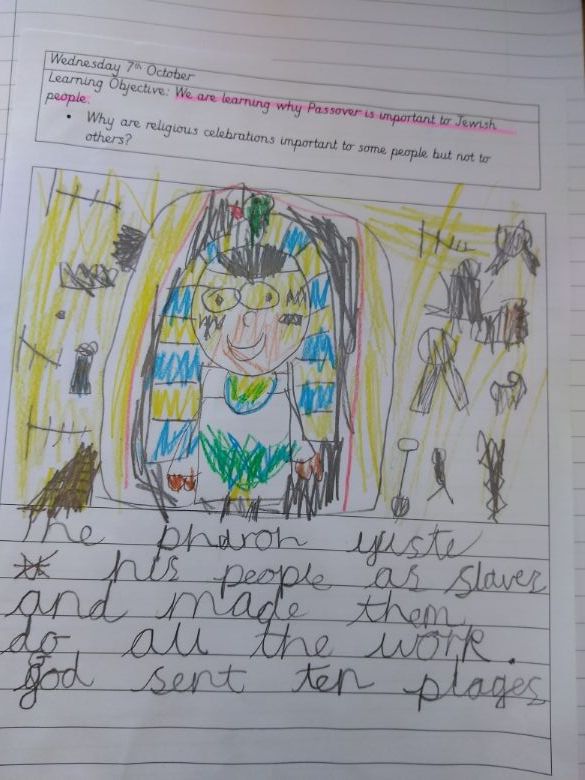 Autumn Term - Week 5 - 28th September 2020
This week, the children have loved continuing our key text in English. On Tuesday, the children enjoyed an experience lesson, thinking of amazing vocabulary surrounding delicious cakes. The children explored their senses to generate impressive words to use in their writing. Here are some pictures of the lesson!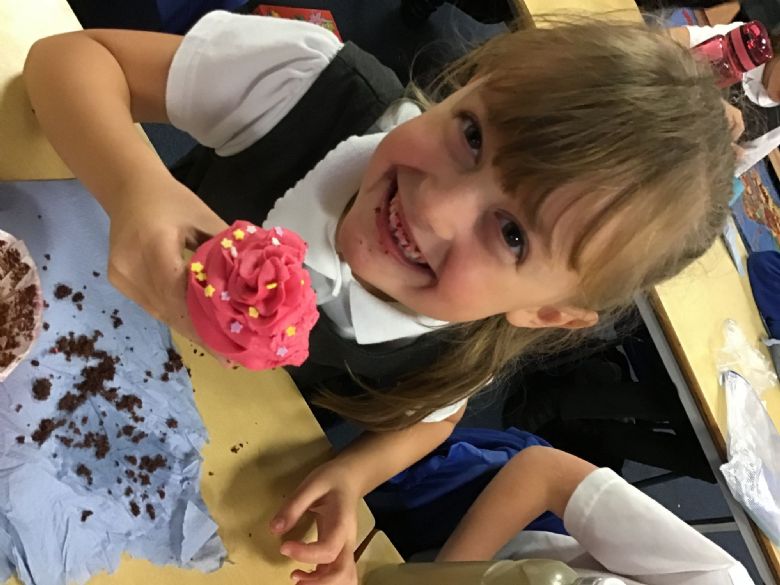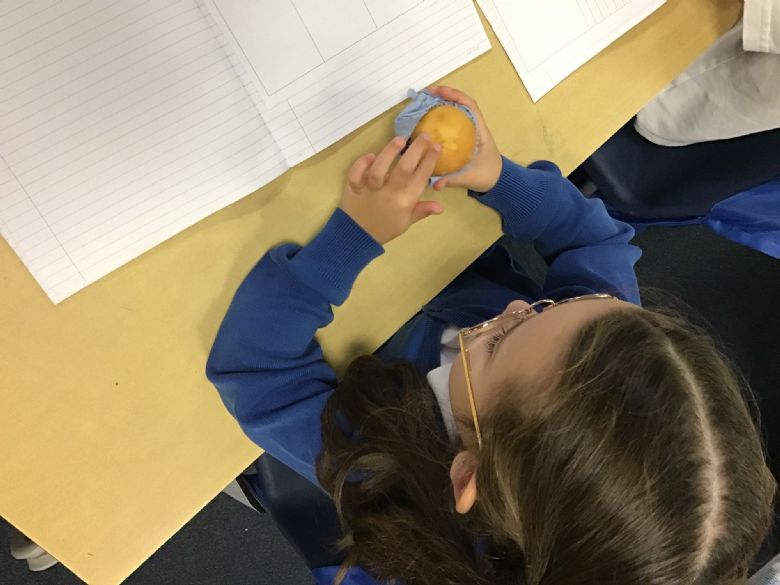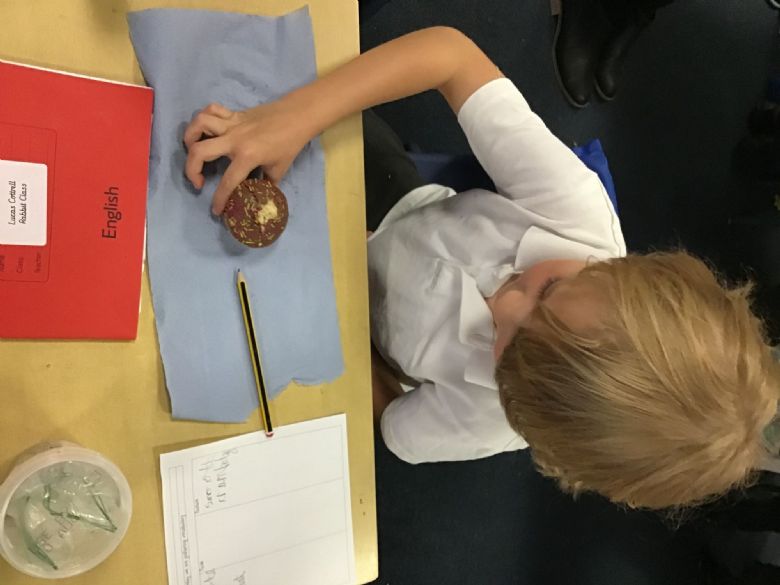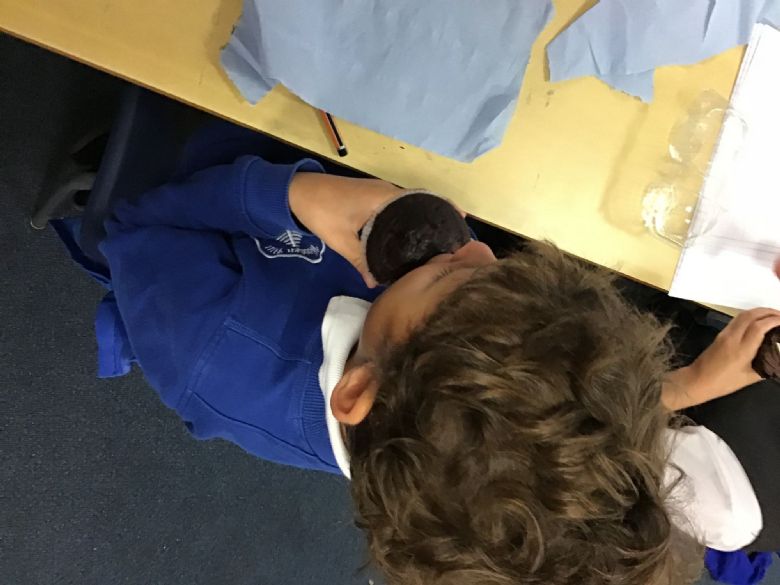 Autumn Term - Week 4 - 21st September 2020
Over the last week in topic, the children have started to learn about the Victorians. In History they will be comparing new and old toys. To start the topic children were 'fact detectives' and used different sources to find out about Queen Victoria. Look at this amazing writing!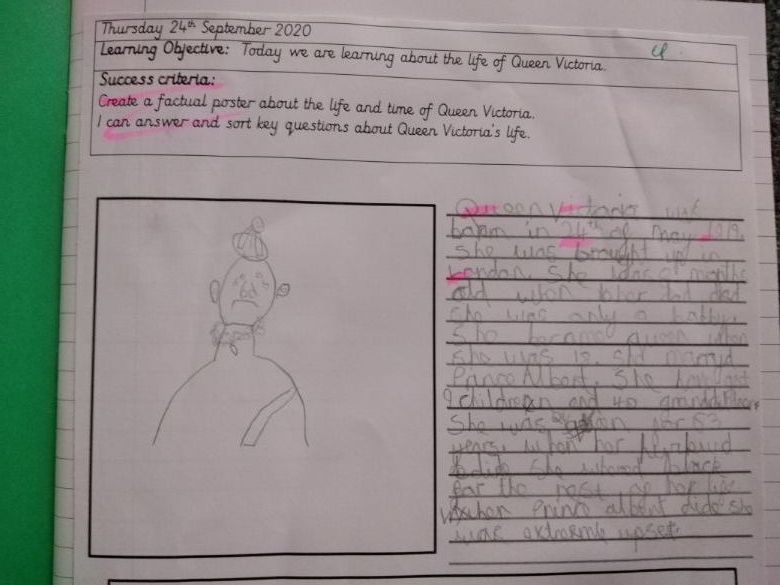 In English we are creating our own story based on 'The The Marvellous Fluffy Squishy Itty Bitty' Each day a different child's sentence is chosen until we have built up the whole story. By the end, each child will have their work on the wall. Here is the start!

In Maths the children have been working hard, recapping counting forwards and backwards in 2s, 5s and 10s.
Autumn Term - Week 3 - 14th September 2020
This week, we have introduced our new key text 'The Marvellous Fluffy Squishy Itty Bitty' by Beatrice Alemagna. The book is based on giving as the main character Eddie searches for a Fluffy Squishy Itty Bitty for her mother's birthday!
To start the week, we focused on giving and how giving and receiving feels. The children made lovely, handmade bookmarks as part of an experience lesson. The children thought carefully about the recipient of their gift and selected colours that they would like best. It was lovely to see the children being incredibly thoughtful. We are so proud of them.
The children thought of lots of exciting vocabulary to describe their gifts which will be used in their writing.
Autumn Term - Week 2 - 7th September 2020
Worry Dolls
As part of our recovery curriculum, the children were read 'Silly Billy'.
Billy worried about lots of things including hats, shoes and giant birds! His grandmother gives him worry dolls to help with these worries.
Inspired by this story the children have learnt all about worry dolls, their history and where they come from. They have also been doing work on emotions. Here are some pictures of their amazing creations!
Autumn Term - Week 1 - 1st September 2020
What amazing learning!
Wow. It has been a very exciting term so far. It has been lovely to welcome the children back and introduce them to 'the new normal'. The children are loving being back in school and we are so pleased that they are loving being in Year Two.
Over the past few weeks, we have enjoyed starting our 'recovery curriculum' where we have eased the children back in to school life through the use of key texts. The children have loved the books we selected, which focus on PSHE and mindfulness. So far, we have explored 'Silly Billy' by Anthony Browne and 'Three by the Sea' by Mini Grey.
We have also been amazed by the amount of children that have completed our weekly phonics challenge (and to a brilliant standard)! Please see below some of the fantastic examples that have been sent in through Google Classroom. Please do ensure that your child completes our phonics challenge, it will really support their in-class learning.
Welcome back Year Two!
We have been so impressed by the new Year Two children. They have settled incredibly well; showing great resilience and kindness. We are such lucky teachers. We are thrilled that your children are enjoying being in school.
Below, is some of the English learning we have been doing this week. We have enjoyed looking at the book 'Silly Billy' by Anthony Browne. The book is based on managing anxieties and different ways that we can self-soothe (including by making worry dolls)!
Here is a 'Shade-o'Meter' which helped us to understand synonyms and how different words can be positive or negative, strong or weak. The children loved exploring new words and thinking of impressive vocabulary. We then though of adjectives to describe 'Silly Billy' and thought if the words we were selecting were physical adjectives or emotional adjectives. What impressive work!
Well done Year Two, you are all superstars!