Year 2 News
Summer Term 2 - Week 6 - 12th July 2021
This week we have been very busy doing some DT. The Children have designed and made their clay pots, thinking carefully about shape and using tools to add patterns.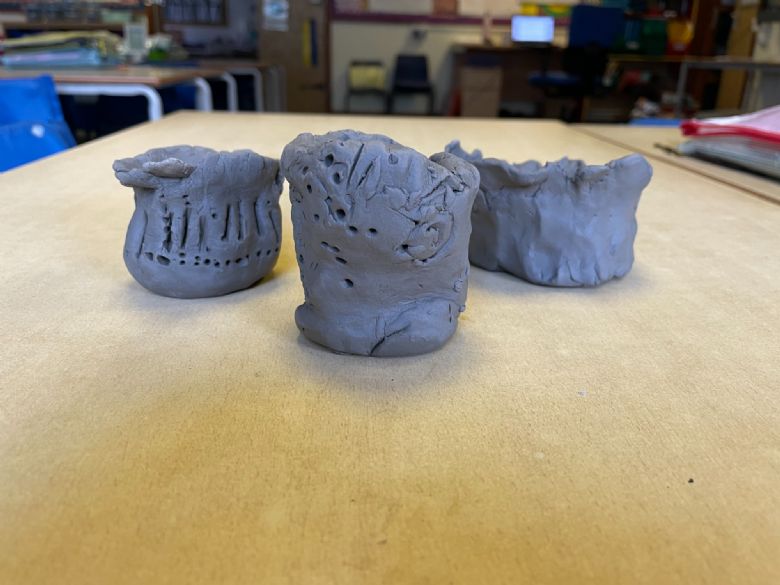 Summer Term 2 - Week 5 - 5th July 2021
We have had such a busy week! This week, we have had Sports Day, a Kenyan Experience Day and also Art Week. Wow! The children have shown such creativity this week as we have explored a range of curriculum areas.
Summer Term 2- Week 3- 28th June 2021
Over the past few weeks the children have been doing lots of research on African animals ready to write their own non-fictions texts. This week they planned and wrote their reports. Here are some photos of them working in pairs to group all the facts that they have learnt.
Summer Term 2 - Week 3 - 21st June 2021
This week the children really enjoyed looking at some East African Artefacts.
They asked questions, drew and found out facts about them. The showed such interest in the culture of Kenya and the neighbouring countries.
Daisy even brought in a special 'Show and Tell', some objects from Africa.
Summer Term 2 - Week 2 - 14th June 2021
In their topic lessons, Year 2 have been busy finding out about Kenya. They have looked at books, made notes on video clips and used Atlases to find out about the landscapes of Kenya and the capital, Nairobi. This has linked to their English lessons in which they have been working on a non-fiction text on Tigers. To help them create their own non-fiction text they have been finding out about safaris and created these amazing sunset safari pictures. We are sure you will agree that they are real works of art!
The children will also be finding out about life and culture in Kenya. To help them understand what culture is, the children were invited to bring in an object or picture to show their interests, family or background. It really was such an interesting afternoon and we were truly impressed by what children brought in, how clearly they spoke and how carefully they listened.
Summer Term 1- Week 5 - 17th May 2021
This week the children completed their work on 'The Owl Who was afraid of the Dark.' The photos below show our writing process - from sentence stacking lessons, to planning, to writing. We are very proud of how hard they worked on their outstanding and imaginative stories!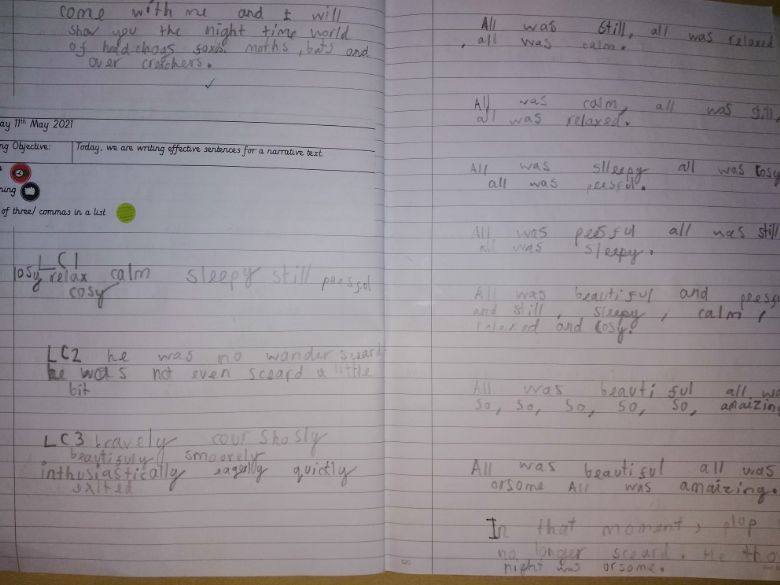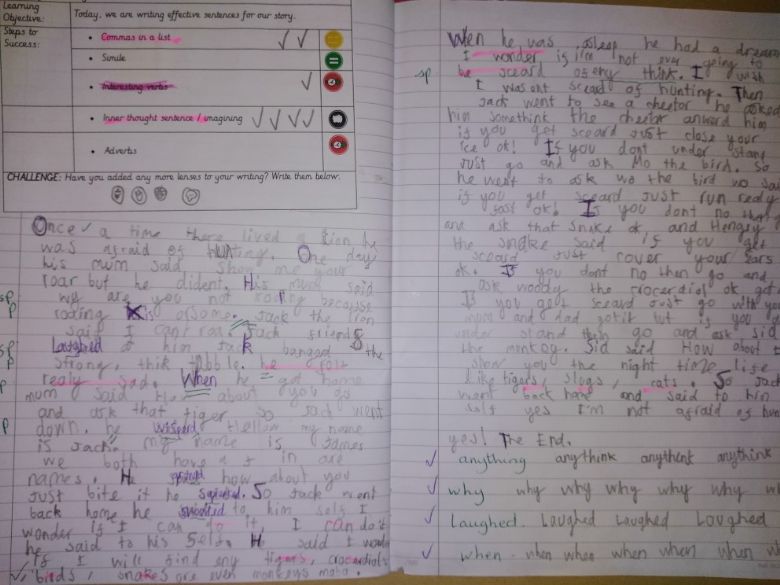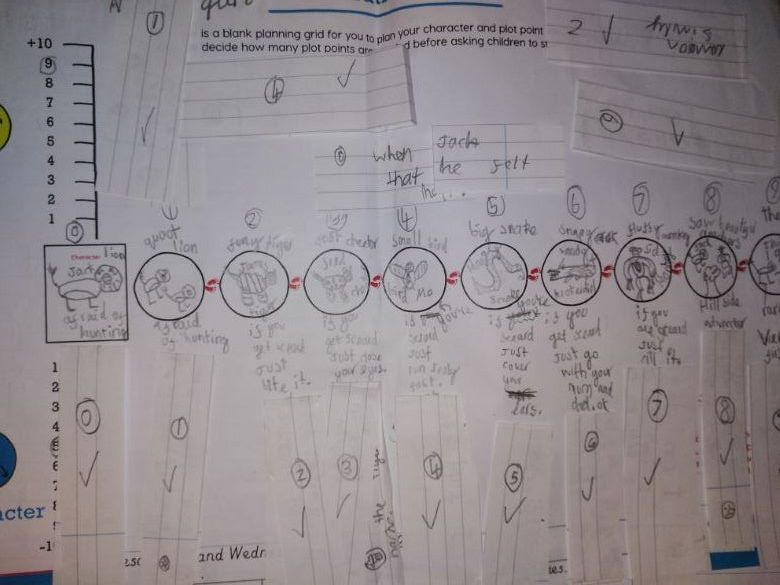 The children have also been thinking about respect and speaking and acting kindly and created these flowers.
Summer Term 1 - Week 4 - 10th May 2021
We have had another full on week of learning in Year 2!
In English, the children have continued their sentence stacking and began to think about the stories they will write, these will be based on 'The Owl Who Was Afraid of the Dark'
In Topic, we have had some very exciting Geography lessons, including learning all about the equator and climates and making plasticine models of Earth to show the hot and cold parts of the planet.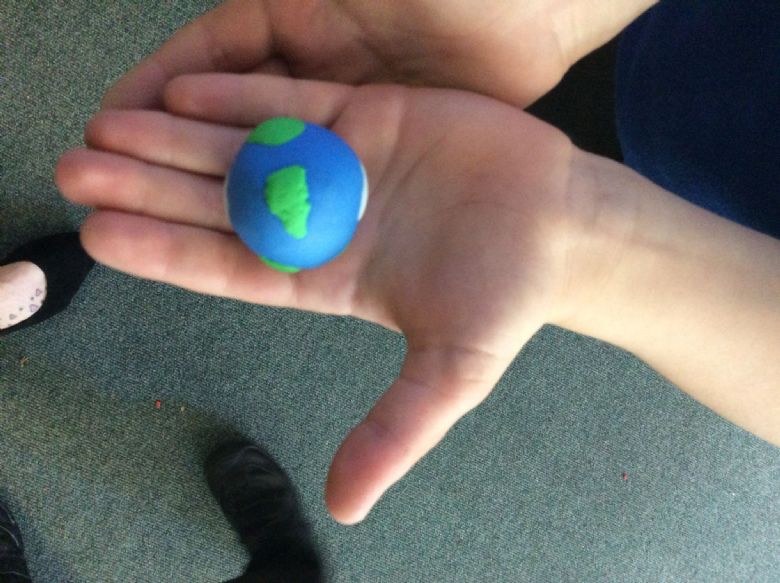 Summer Term 1- Week 3 - 3rd May 2021
In maths this week we have been busy recapping multiplication and division using practical resources.
Summer Term 1 - Week 2 - 26th April 2021
This week we have continues are learning about the animals, environments and how we can care for our planet. The children have been busy gardeners and planted lots of flowers and vegetables. We think you will agree that our new planters, made by Olivia and her dad over the Easter holiday, look brilliant in the playground. The children have found out about how growing plants helps our planet and have been responsible for looking after them.
Summer Term 1 - Week 1 - 19th April 2021
This week, the children have returned to school after the Easter Holidays. As usual, we have been incredibly impressed by how quickly the children have settled. They were so excited to get back to their learning!
This term, we are learning all about endangered animals and learning to care for our environment. On World Earth Day, we were very lucky that a kind family sent some butterflies in for us to release. The butterflies were beautiful colours and so friendly. Many of the children had the opportunity to hold a butterfly. Take a look below at the photos!
Spring Term 2 – Week 6 – 29th March 2021
The children have been very busy doing Easter arts and crafts and getting our classrooms ready for our 'Animals' topic after Easter. Here is a sneak peek - I'm sure you will all agree that Deer and Rabbit classroom are looking wonderful. The children have been talking lots about the animal and explorer day that we have planned for Monday 19th April!
Our PSHE theme of the week has been friendship. After reading 'The Rainbow Fish' and discussing the qualities of their friends, Year Two created these friendship rainbows.
Spring Term 2 – Week 4 – 15th March 2021
In English this week, we have been continuing our work on 'In My Heart: A Book of Feelings'. The children have been writing some amazing sentences using metaphors and similes. Here are some examples:
When I am furious, my heart feels like King Henry VIII ready to chop off heads – Olivia N
Keep going! Never give up! This is when my heart is brave – Alfie
I move slowly, I relax my body and I feel calm like the trees swaying in the gentle breeze – James
Linked to this book, children created their own heart pictures to express feelings and emotions. We have been so impressed with how they have shown such resilience returning to Deer and Rabbit classes.
Spring Term 2 - Week 3 - 8th March 2021
Wow! What an amazing week. It has been so lovely to welcome back all the brilliant Year Two children. You are all superstars! We have been so impressed by how the children have hit the ground running, it seems like they have never been away! We have been so proud of the children for showing such kindness and empathy towards their friends as they made the transition back to the classroom.
This week, we started with a mediaeval banquet! This day was a huge success and many children declared it "the best day ever"- music to our ears. The children dressed in formal attire, feasted and we even had a Tudor dance!
Here are some photos below of our fantastic day.
We love having you back Y2!
Spring Term 2 - Week 1 - 22nd February 2021
The children have been very excited about their new topic, castles, this week! Mrs Nunn and Mrs Evans were very busy over half term and our classrooms have been transformed into castles! They look amazing and we are really looking forward to welcoming all of the children back on the 8th March.
In school and at home, the children have been reading and writing about 'George and the Dragon' in English, and learning about 2D and 3D shape in maths. As always, we are so impressed with how hard they have been working.
In topic the children have been learning all about castles. Miss Smart arranged an amazing virtual school trip to Windsor Castle, the children both at home and school both participated amazingly!
Here are some of the castle pictures the children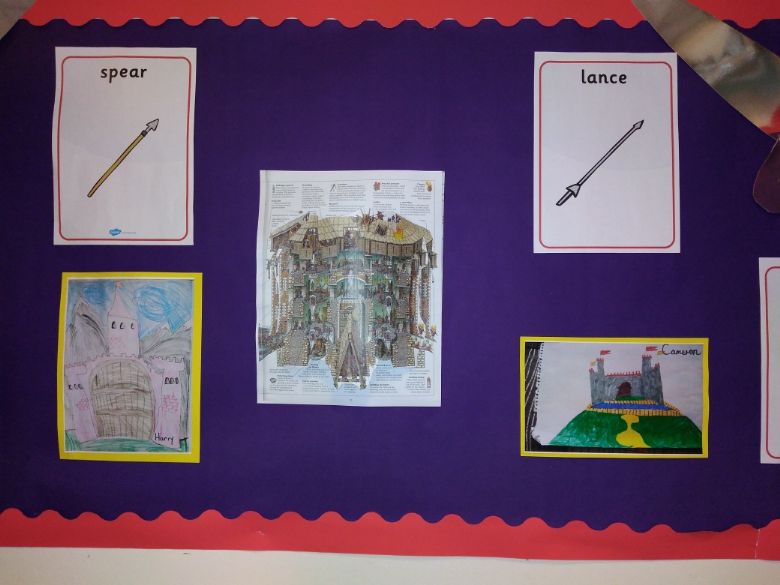 drew.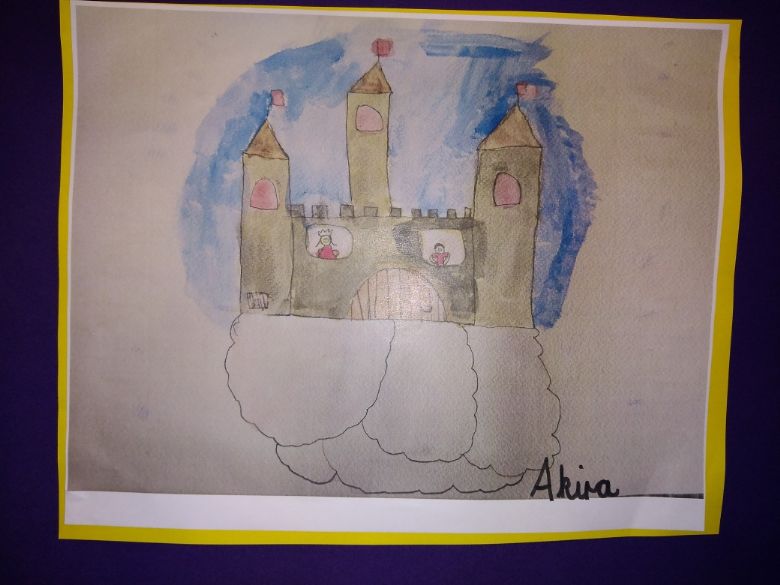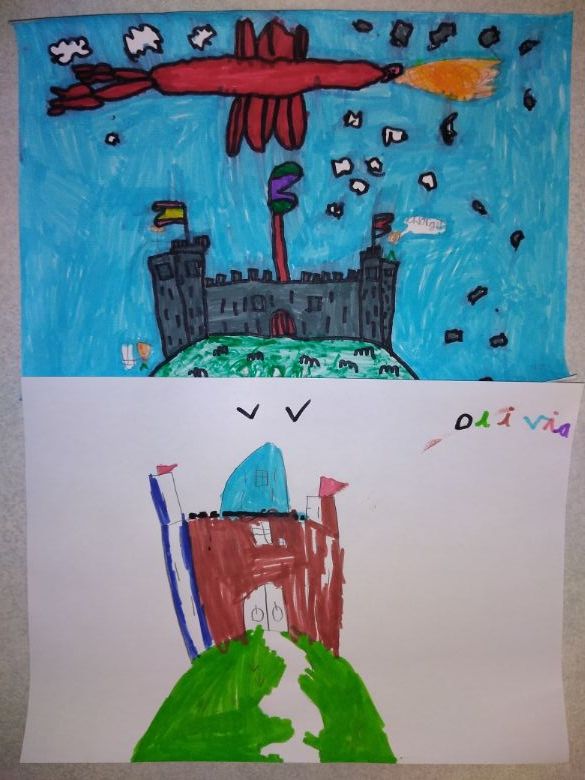 Spring Term 1 - Week 5 - 1st February 2021
The children have had another wonderful week learning at school and at home!

Last week they wrote some absolutely incredible stories inspired by 'Stardust'. On Monday afternoon we had a story recital and the children at home and at school read their wonderful stories.

The children at school loved seeing what the children working remotely had been doing, and vice versa. Look at this outstanding writing!
We also made time for our wellbeing this week. The children completed well being activities, considering their strengths and how they could express themselves.They were also encouraged to have an afternoon to look after their wellbeing in their own way.
On Friday, children had lots of fun dressing up and talking about why they had chosen their outfits during show and tell.
Spring Term 1 - Week 4 - 25th January 2021
What a busy week! We continue to be amazed by how well the children are all engaging with Google Classroom, uploading your work and joining the live streams.
A highlight of this week was a zoom call from Captain Alice the Cartographer. She told the children all about her job drawing maps and they were all so enthusiastic and interested.
Here are just some of the questions they thought of to ask her:
How do you become a cartographer? How long does it take?
What is the oldest map ever created. And what is the map of?
What do you do in a normal day?
Can you explain your job. Is it fun?
How many maps have you made?
What is the funniest map you have made?
In Geography lessons children have been busy finding out about your local area and sketching maps, using the vocabulary globe, compass, atlas, settlement, grid. Here are some of the maps that the children have sketched.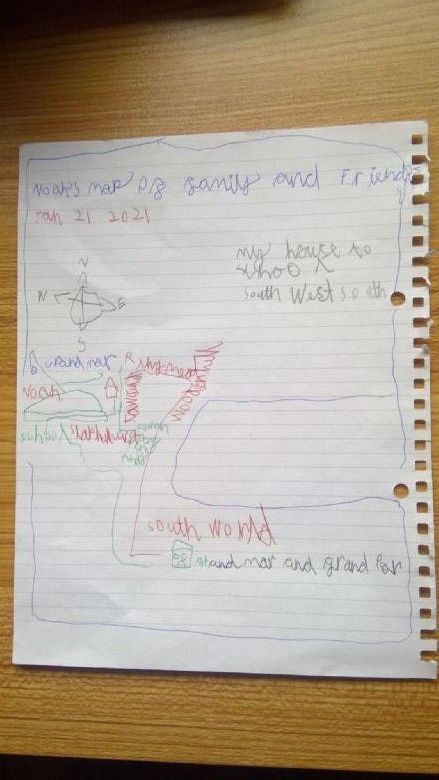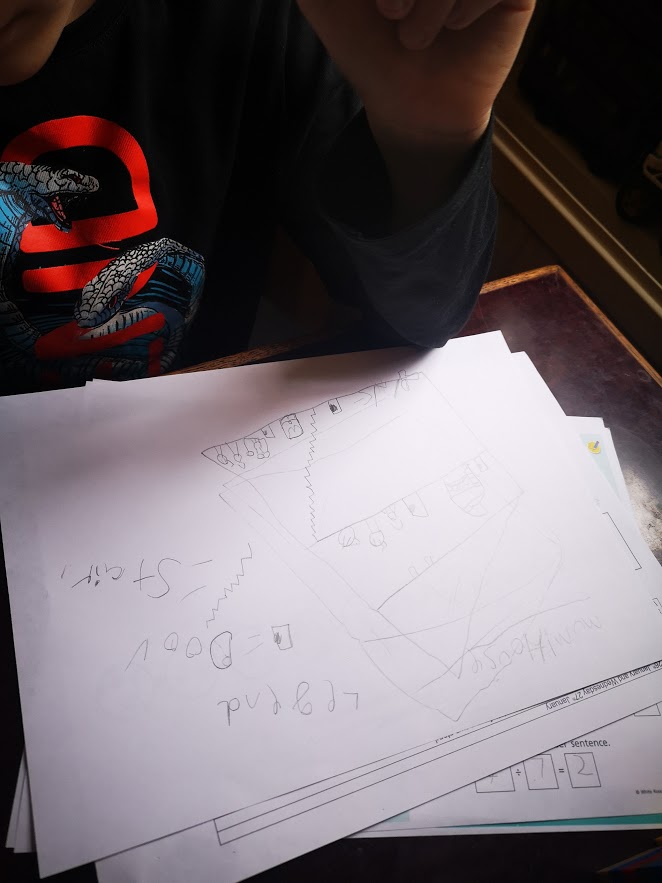 Children have also been super busy in Maths, working on dividing and are all really getting the hang of it! In English they have been working very hard on writing their own stories inspired by Stardust.
We are feeling very proud.
Spring Term 1 - Week 3 - 18th January 2021
Wow. Another very busy week. We have been so impressed by how many of you are joining our livestreams, submitting work and posting your news.
We are so glad that you are enjoying learning at home, seeing you all smiling makes us incredibly happy. Please remember, we are here to help and we miss you very much.
Here is just a snippet of what you have been up to this week!
Here is Daisy who created a theatre and puppets! We wish we could see your show Daisy
.
Here is Elliot, who has been enjoying playing snooker with Matt, he is getting very good!
Year Two very much enjoyed making positivity cubes this week. Have a look at Harry's brilliant example.
Tamika loves gymnastics. This week she learned a new move! How impressive!
Well done for such a great week Year Two. Not only have you completed a huge amount of great quality work, you have enjoyed many extra-curricular activities too!
Spring Term 1 - Week 2 - 11th January 2020
Wow Year Two. We are such proud teachers. You have engaged so well with your home learning. You really have hit the ground running. Please say a huge thank you to your adults at home for supporting you with your learning. We have received many lovely messages of support and we feel very lucky teachers.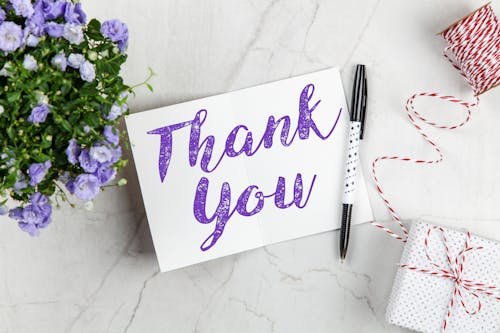 Autumn Term 2 - Week 14 - 10 December 2020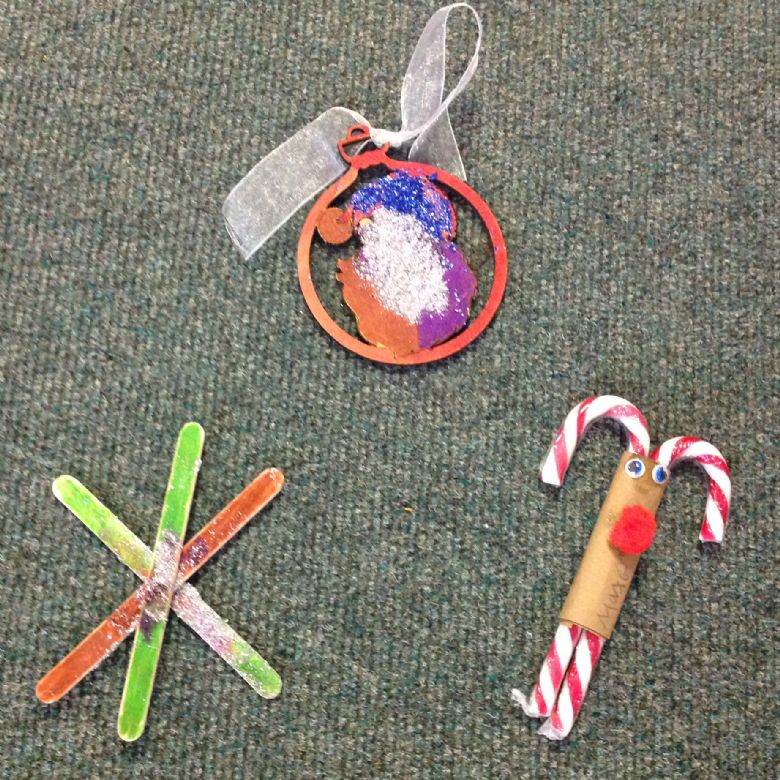 The children have continued to learn about writing instructions in their English lessons. Next week, they will be writing instructions on how to make Christmas decorations.
We have had lots of fun making Christmas decorations in preparation for this. Another key experience in Wooden Hill's Year 2 Curriculum is to raise money for a Charity. The children learnt all about the work that local charity 'First Days' do and we have raised over £60 from our Christmas Decoration Morning.
Well Done Year 2!
Autumn Term 2 - Week 13 - 3 December 2020
This week, the Year Two children have started exploring instruction texts.
To engage them in their learning, we followed some model instructions on how to build dens.
The children loved this activity and enjoyed following instructions closely and using motor skills to build their dens.
Both classes showed great team work and the end results were fantastic- some dens even had two levels!
Autumn Term 2 - Week 12 - 26 November 2020
We have had a very busy week in Year 2!
In English the children have been starting to plan their own story based on 'Little Red Reading Hood'. As a class we look at the plot points of the story over the unit of work, then children create their own story maps. This time they are going to be writing a traditional tale with a twist. Here are some photos to show the start of the planning process.
In the afternoons we are working hard getting ready for our nativity, the children have already really impressed us with how well they are speaking and singing. As well as this the children have started to learning about Frieda Kahlo in their art lessons. Here are some photos of their self portraits with a border which is significant to them.
Autumn Term 2 - Week 11 - 19 November 2020
This week, it has been anti-bullying week.
Alongside our weekly PSHE lessons, this week we focused on awareness around bullying and how to be a kind friend.
The children felt very lucky to have had no experience of bullying and commented how lovely the children are at Wooden Hill.
We discussed how important it is to stand up to bullying and tell an adult if they witness any issues.
During the lesson the children created jigsaw pieces, as we all have a part to play in the fight against bullying.
On their jigsaw piece they wrote an 'I choose' statement to describe how they are going to individually ensure bullying doesn't happen at Wooden Hill.
Some statements included 'I choose to be kind', 'I choose to stand up for other children' and even 'I choose love. I want to celebrate everyone's differences'.
The children also decorated their own jigsaw piece to represent their interests. We love to celebrate everyone's differences!
We are so proud of our lovely year two children.
Here are some photos of the jigsaw pieces in progress
Autumn Term 2 - Week 10 - 12 November 2020
This week, the children have loved learning about two inspirational nurses- Mary Seacole and Florence Nightingale.
This has particularly inspired the children, who show a huge appreciation for the NHS.
They have been shocked to discover that over 200 years ago hospitals were not as clean and modern as they are today.
On Wednesday afternoon, the children loved reading a historical comic comparing the lives of the two nurses.
Next week, the children will have the opportunity to 'zoom' Miss Smart's mum who is a nurse in a hospital in Bristol.
They will be able to ask questions about modern-day nursing which will allow them to draw further comparisons.
Here are some pictures of the children enjoying their fact-finding!
Autumn Term 2 - Week 9 - 5 November 2020
What a lovely first day back we had on Monday!

The children all came into school wearing their pyjamas for our reading experience day. They read and listened to lots of stories and poems, wrote book reviews, designed front covers for their favourite stories and even enjoyed some delicious hot chocolate. The children are so enthusiastic about reading, just like the main character in our new English text, "Little Red Reading Hood."
Autumn Term - Week 8 - 19 October 2020
On Thursday, the Year Two children enjoyed 'Science Day'. They explored the properties of materials and sorted materials into different categories; shape, colour, size, texture and if it were natural or man-made. Rabbit Class enjoyed a nature walk to find natural materials.
To fit in with our toys topic, the children had to design and create a toy being careful to choose materials using their expert knowledge.
The children also enjoyed designing a test to see how strong the different materials were.
What a fun day!
Autumn Term - Week 7 - 12 October 2020
In English this week we are coming to the end of our class story. The children have been using adjectives, commas in a list and onomatopoeia! On Wednesday the children brought in their collections for show and tell. We were so proud of the way they spoke clearly and listened to their peers.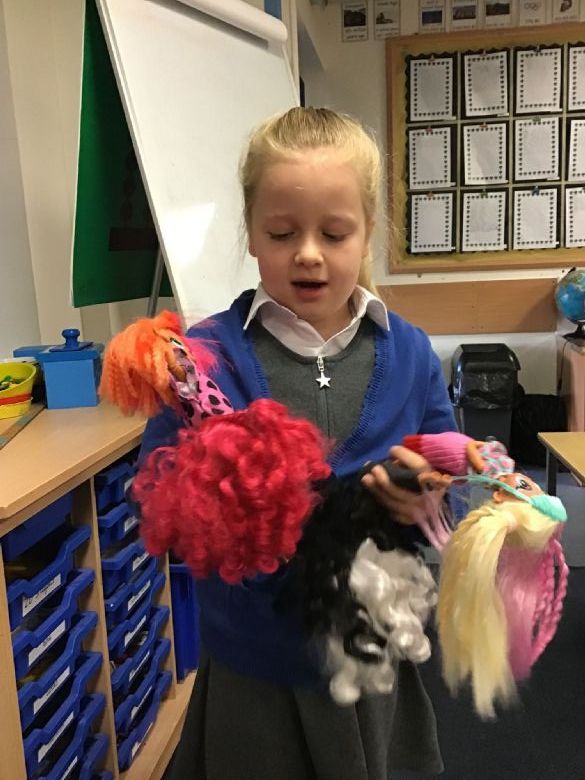 In maths we have been using dienes for addition and subtraction before we move on to more formal methods.
In topic the children have continued to learn about Victorian toys in History and they found out about the different continents in Geography.
Autumn Term - Week 6 - 5 October 2020
The children have really been enjoying our English text. We have been retelling the story together and in the final week the children will using what they have learnt to write their own stories. Here are our 'sentence stacking' displays which are made up of the childrens' fantastic work.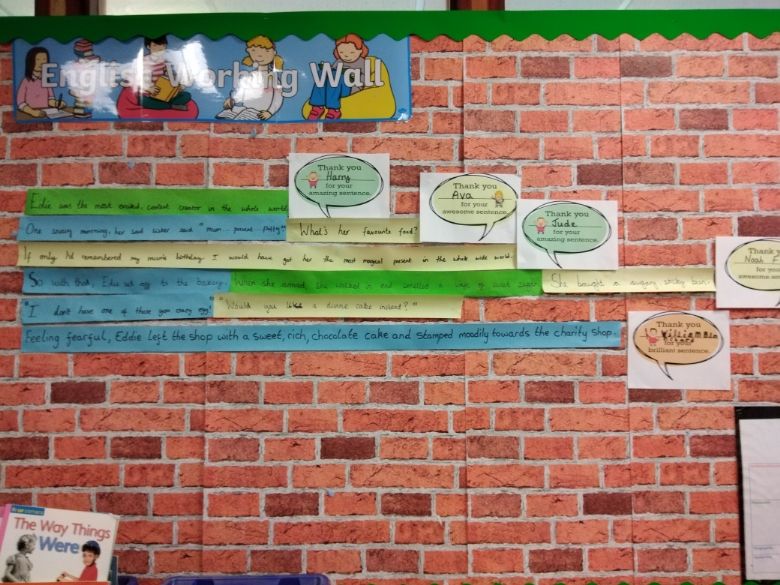 In RE this week the children have been learning about the religion Judaism and found out about the story of passover. They explained why Passover is important to Jewish people.
Autumn Term - Week 5 - 28 September 2020
This week, the children have loved continuing our key text in English. On Tuesday, the children enjoyed an experience lesson, thinking of amazing vocabulary surrounding delicious cakes. The children explored their senses to generate impressive words to use in their writing. Here are some pictures of the lesson!
Autumn Term - Week 4 - 21 September 2020
Over the last week in topic, the children have started to learn about the Victorians. In History they will be comparing new and old toys. To start the topic children were 'fact detectives' and used different sources to find out about Queen Victoria. Look at this amazing writing!
In English we are creating our own story based on 'The The Marvellous Fluffy Squishy Itty Bitty' Each day a different child's sentence is chosen until we have built up the whole story. By the end, each child will have their work on the wall. Here is the start!

In Maths the children have been working hard, recapping counting forwards and backwards in 2s, 5s and 10s.
Autumn Term - Week 3 - 14 September 2020
This week, we have introduced our new key text 'The Marvellous Fluffy Squishy Itty Bitty' by Beatrice Alemagna. The book is based on giving as the main character Eddie searches for a Fluffy Squishy Itty Bitty for her mother's birthday!
To start the week, we focused on giving and how giving and receiving feels. The children made lovely, handmade bookmarks as part of an experience lesson. The children thought carefully about the recipient of their gift and selected colours that they would like best. It was lovely to see the children being incredibly thoughtful. We are so proud of them.
The children thought of lots of exciting vocabulary to describe their gifts which will be used in their writing.
Autumn Term - Week 2 - 7 September 2020
Worry Dolls
As part of our recovery curriculum, the children were read 'Silly Billy'.
Billy worried about lots of things including hats, shoes and giant birds! His grandmother gives him worry dolls to help with these worries.
Inspired by this story the children have learnt all about worry dolls, their history and where they come from. They have also been doing work on emotions. Here are some pictures of their amazing creations!
Autumn Term - Week 1 - 1 September 2020
What amazing learning!
Wow. It has been a very exciting term so far. It has been lovely to welcome the children back and introduce them to 'the new normal'. The children are loving being back in school and we are so pleased that they are loving being in Year Two.
Over the past few weeks, we have enjoyed starting our 'recovery curriculum' where we have eased the children back in to school life through the use of key texts. The children have loved the books we selected, which focus on PSHE and mindfulness. So far, we have explored 'Silly Billy' by Anthony Browne and 'Three by the Sea' by Mini Grey.
We have also been amazed by the amount of children that have completed our weekly phonics challenge (and to a brilliant standard)! Please see below some of the fantastic examples that have been sent in through Google Classroom. Please do ensure that your child completes our phonics challenge, it will really support their in-class learning.
Welcome back Year Two!
We have been so impressed by the new Year Two children. They have settled incredibly well; showing great resilience and kindness. We are such lucky teachers. We are thrilled that your children are enjoying being in school.
Below, is some of the English learning we have been doing this week. We have enjoyed looking at the book 'Silly Billy' by Anthony Browne. The book is based on managing anxieties and different ways that we can self-soothe (including by making worry dolls)!
Here is a 'Shade-o'Meter' which helped us to understand synonyms and how different words can be positive or negative, strong or weak. The children loved exploring new words and thinking of impressive vocabulary. We then though of adjectives to describe 'Silly Billy' and thought if the words we were selecting were physical adjectives or emotional adjectives. What impressive work!
Well done Year Two, you are all superstars!