Reception News
Summer Term - Week 8 - 17 June 2021
Its been another fun week in Reception. The weather has been very hot, but the children have coped very well, staying in the shady areas under the trees and sensibly wearing sun hats and drinking lots of water.
This week we have continued with our story 'What the Ladybird Heard'. We have been thinking about farms and what happens on them, and have been looking at animals and what their babies are called.
We have been making ladybirds independently in continuous provision, and have been playing with the farm animals. We have been searching for bugs and found ants in the sandpit! We have been practising our phonics using the interactive whiteboard! It's been very busy.
In maths we have been focusing on shapes and have looked around or learning areas inside and outside to see what shapes we can find in our natural world. This is a fun game to play as you come and go from school.
We got the opportunity to visit our Year One classroom and meet our Teachers for a story.
A special day for Daddy's is approaching on Sunday….that is all we are going to share, but there may be surprises!
Please remember the summer is here, so make sure you have your water bottles and sun hats, and that sun cream is applied before you come to school.
Best wishes The Reception Team.
Summer Term - Week 7 - 9 June 2021
The children have returned to school full of fun and enthusiasm following a glorious half term break.
This week our focus book has been 'What the Ladybird heard' by Julia Donaldson. It links to our half term focus of 'What can you find on a Farm?'.
The children have been exploring rhyme, and have been making their own rhyming strings. They have also listened to music, recognising the rhymes to the tunes. Lots pf ladybirds have been painted and drawn, and a lot of minibeast hunting has been taking place in the Reception Outdoor Learning garden!
In maths the children have been focusing on subtraction, thinking about the different processes involved to solve a problem. We have been using the language 'First, Then and Now' to develop their answers and problem solving. Ask your child to share their learning with you at home.
Please continue to hear your child read at home, the children are making progress following lockdown, but any support from home is equally valued.
Enjoy the sunshine, The Reception Team.
Summer Term - Week 6 - 27 May 2021
The children have had a great week this week, with our focus continuing with the book 'Jack in the Beanstalk.'
The children all arrived in school on Monday to be greeted by upturned tables and giant foot prints, alongside a letter left by the giant looking for Jack who had taken his chicken and golden harp. The children loved looking for clues and evidence of where Jack may have gone. This all linked well to PSHE, with discussions of whether the Giant was mean or sad, or if Jack had made good or bad choices etc. The children also used their writing skills to make 'Wanted posters' and write independent sentences to describe the Giant. Through Art they drew beanstalks and cut and collaged castles, continuing their creativity in the role play, where they acted out the story, with Jack giving his mum magic beans that she threw out of the window! We have also continued to look at our beans that we planted last week and they are now starting to show shoots and roots.
It really has been an exciting week enjoyed by all!
The Reception Team
Summer Term - Week 5 - 20 May 2021
Reception this week have been busy completing experiments and learning about planting, linked to the area of learning, Understanding of the World. They have been learning through the focus book, 'Jack and the Beanstalk.'
On Monday the children all planted a bean and they all hope to grow their own beanstalk. They all attempted to write instructions of how to plant beans, because Mrs Rutter was not in class when the activity took place and she did not know how to do it!
The children also completed an experiment called 'dancing milk'. They poured different food colourings into a tray of milk, and the way the colours moved away from the stick that had washing up liquid on, made the milk look like it was dancing!
In creative activities the children have been making their own beanstalks, and in the fine motor skills area they have been picking up bean seeds with tweezers to build their hand muscles. In maths they have been estimating the length of bean leaves and then checking their answers by measuring with cubes.
It's been another busy week, especially darting the rain storms, but as usual it has been great fun!
The Reception Team.
Summer Term - Week 4 - 13 May 2021
Reception have had a busy week this week, and we have continued with our story 'Goldilocks and the Three bears'.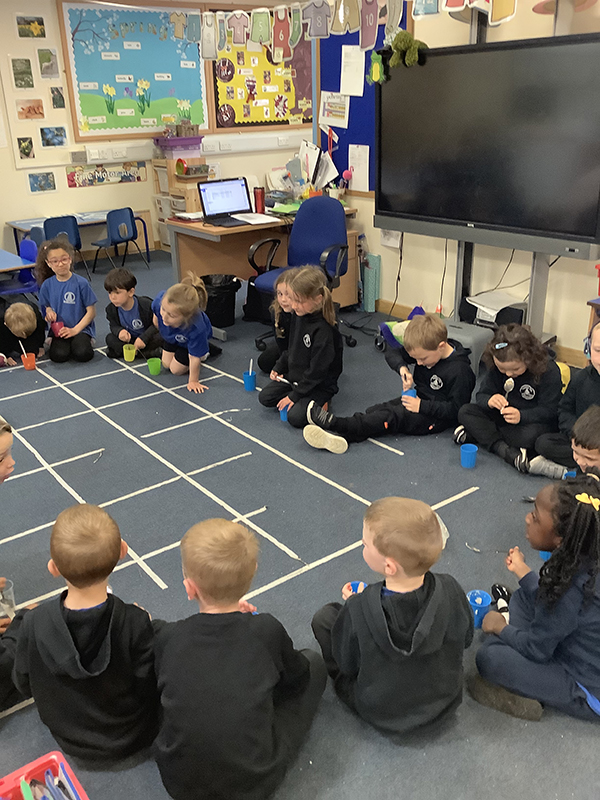 We have been making and tasting porridge. The school Cook made porridge on Monday and the children had a taste of four different flavours, honey, salt, fruit and plain….the honey was a firm favourite but no one liked the salt! We talked about which porridge baby bear must have had, and all the children thought it would have been honey!
We also followed a Jamie Oliver porridge making video, and made our own porridge. We looked at the changes that happen to oats when a liquid is added, and is then warmed up. The children mixed the porridge and shared words to describe what the oats felt like when they were dry, when water was added, and then what it looked like when it was hot.
The children have also been pretending to be Goldilocks, and have written sorry letters to the Three Bears for going into their house and eating their porridge.
In maths we have been focusing on numbers to 20, estimating and checking by counting.
There has been lots of role play going on in the role play area and the mud kitchen, where the children have been the Three bears making their porridge.
It's been very busy but lots of fun!
The Reception Team.
Summer Term - Week 3 - 6 May 2021
Reception have continued their topic of 'Can we help the baddies in fairy tale land make good choices', by looking at the book Goldilocks and the Three bears. We have had great fun completing role play activities, drawing and labelling story maps to help us have a good understanding of the story and the sequence of the book. We have some great actors in our Reception classes. In our Continuous provision we have also considered what the three bear's have said and the children have come up with some lovely ideas.
We have also been learning the song ' When Goldilocks went into the woods' ask your child to sing it to you.
Through maths we have been focusing on one more and one less as well as doubling numbers. We have been using number tracks, finding different numbers, as well as in continuous provision looking at capacity of what different sized bowls and cups will hold, guessing who will have the most and least to drink.
The children have been making Goldilocks and the three bear puppets in the creative area, as well as cutting and sticking different sized belongs to the correct bear.
It's been a great week, The Reception Team.
Summer Term - Week 2 - 29 April 2021
This week we have continued our focus on the story of the Three Little Pigs and have linked it through our Literacy and maths learning. In maths the children practised their recording by drawing the 3 Little pigs. They had to count how many legs they had and show their answer. It was a good way to practise number recognition, addition and recording their understanding. It is something that you could do at home with them, using fruit or toys. In Literacy they used their oral knowledge of the story learnt last week through the story maps and role play to support sentence writing.
The children have also been completing Science experiments to celebrate Science Week. Their wrote their names onto a banana and they changed colour to brown. They also investigated putting boiled eggs in food colouring, as well as vinegar. Ask your child what they found out!
The children have enjoyed building houses for the Three Little Pigs in the Construction area, as well as performing the story on the stage, wearing masks.
It's been a very busy week, but we have had lots of fun!
Thank you for bringing their reading books in on the correct day,
Best wishes The Reception Team.
Summer Term - Week 1 - 24 April 2021
Reception have returned to the summer term with lots of enthusiasm and excitement. They have all enjoyed catching up with their friends following the Easter break.
We have been blessed with the sunshine and the children have really enjoyed exploring time out in the Reception garden. We have been focusing on developing both gross and fine motor skills with lots of skipping and hopping in the physical area. In the Expressive Arts area we have been dancing and singing, using streamers, pom poms and scarves to enhance our movements. In the tuff trays we have been building 'The Three Little Pigs homes'.
Our focus this half term is 'Can we help the baddies in fairy tale land make good choices? Our focus book for the next two weeks is the 'Three Little Pigs'. This week we have orally been learning the story and have recorded our ideas into a story map. Ask your child to retell the story to you, we think you will have a nice surprise.
The children have been making pigs using playdough, and singing songs about the three little pigs. In the role play area they have been acting the story out.
The children have all settled into school very well, its great to have them all back! Remember next week the children will be bringing their reading books in today according to their phonics group. You all had a letter, but if you are unsure just ask one of the adults.
The Reception Team.
Spring Term - Week 10 - 31 March 2021
We have had a lovely week in Reception looking for signs of Spring and learning about the meaning of 'new life.'
We made Chocolate nests and decorated them with chicks and eggs, as well as Easter Bunny's, cards and pictures.
On the last day Mrs MacDonald-Gunner brought her rabbits Willow and Winter to school, the children had a lovely time stroking and getting to know them, learning about the food they eat and the care they need. Some children adapted their continuous provision to make 'lego' food for the rabbits!
We have had a wonderful few days playing in the beautiful sunshine, it really puts smiles on faces!
Happy Easter to you all, keep safe and have fun.
Best wishes The Reception Team.
Spring Term - Week 10 - 25 March 2021
It's been another busy week in Reception. We've been making up our own version of the Very Hungry Caterpillar by changing the food he eats. We've listened to lots of stories and done more noticing of the patterns and numbers of objects that are all around us.
We've done lots of exploring – using the new exploring bags from our Understanding the World shed. They mean we can take magnifying glasses, phones, magnets and other resources outside to see what we can discover.
We've enjoyed playing with our friends, moving in different ways around the outside area and generally remembering how get along with lots of different people. We're really enjoying the warmer weather and being able to spend lots of time outside.
The Reception Team
Spring Term - Week 9 - 18 March 2021
We've had a wonderful first full week back with the Reception children. They have loved being able to play with other children, share ideas and talk to their friends. Our focus this week has been on re-establishing the classroom and school rules, reminding them of expectations and supporting them in their play. Now we're all back, the children are remembering the power of learning and resolving problems independently. They are so proud when they can do something by themselves.
Our focus book this week is The Very Hungry Caterpillar, which lots of the children know really well. They've drawn super story maps and helped the grown-ups to tell the story. We've had some terrific surprises when children have been able to write words, recognise their name or draw with confidence after the lockdown. Well done!
In Maths we've been consolidating the learning from the Spring term so we're back looking at different ways of making numbers up to 10 by playing games. We've played snap, ten frame fill, throwing beanbags into the hoops and recorded our results so we can see who won.
Phonics has been a great opportunity to see what the children have learnt during lockdown, so we can move them forward in their application of phonic knowledge. There's been lots of chances to practice handwriting and forming letters correctly to help build their confidence to write independently.
Sadly, Mrs Rutter and Mrs MacDonald-Gunner were not well enough to return to normal this week. The children all did their best name writing in the cards we made for them and I know this will mean a lot to them. We wish them a speedy recovery.
Thank you for your continuing support and lending us your gorgeous children.
The Reception Team
Spring Term - Week 8 - 11 March 2021
Reception have been delighted to welcome some of the children back after a period of self-isolation. We've busied ourselves with preparations to welcome the rest of our classmates back on Thursday and Friday.
After all the amazing support carers have given the children over the lockdown period, we've been especially keen to recognise Mother's Day so have been working hard on our card designs and writing.
In school, we've continued to mirror the work that's being done at home, following White Rose Maths and learning about the Enormous Turnip, so we all come back to school in the same place in our learning.
We're so looking forward to seeing the rest of the children and their families again as we hope to return to some sort of normality.
Thank you for all your best wishes and support over the last week.
The Reception Team
Spring Term - Week 7 - 25 February 2021
Reception have returned after a relaxing half term break with some extra members, so it's been exciting in class this week welcoming some old faces back.
The children were also all very excited following Boris Johnson's announcement that schools will all be back on the 8th March. It will be lovely to all be back as a Reception family once again.
This week the children have been enjoying the warmer Spring weather and had a lot of time investigating both inside and outside. They have been looking for signs of nature and have had fun climbing and making nests.
The children at home have also been having fun, going to the park and looking out for Spring flowers, warmer weather really does lift the spirits of everyone.
In math's the children have all been learning about the numbers 9 and 10. Through their learning they have explored their environments looking for numbers, objects to make values for the number, sorting and ordering.
The focus story this week has been The Little Red Hen, and the children have been dancing to the song, completing yoga sessions, compiling story maps and role playing the story.
Much fun has been had both at home and school.
Thank you all for a great week both at home and school, The Reception Team.
Spring Term - Week 6 - 11 February 2021
This week we have continued with our Space theme, linking in Aliens! We have made Aliens, looked at planets, discussed life on a planet and our favourite planet. We had coloured balloons and pretended they were the planets out aliens were going to visit. We also made our own solar system in class, and children at home made some amazing creations too.
In maths we have been comparing and looking at length and height, using words like longest and shortest. The children at home and school have found creative ways of measuring, using socks, toys, cubes, counting bears to measure objects and compare their sizes.
On Friday it was our 'We love Wooden Hill and Community Love Day', where the children from home and school came together to make hearts and decorate their homes and classrooms, ready for the heart trail in the half term holiday. Children iced biscuits, sang songs, played games and had fun. Love was definitely in the air!
After school there was a Wooden Hill party where all the children joined Mrs Rutter and Mrs Atkinson on zoom to celebrate the love we all have for each other. We played party games and had a good giggle together!
The Reception team would like to thank each and everyone of you for your support, enthusiasm and dedication over the past few weeks, be it through remote learning or in school.
We wish you all a safe and happy half term.
Spring Term - Week 5 - 4 February 2021
This week we have been learning both at home and school, about space and the planets, continuing our 'How will we get there' topic.
We used the story 'Whatever next' to get our imaginations going.
We then started to think about what we would find in space, and discovered that the Sun is a star and there are 8 planets in our solar system.
The children have been completing speaking and listening activities learning space facts, and have been very creative by drawing and making their own solar systems, and rockets, as well as writing their facts.
In maths we have been learning about pairs and went outside to find different things that could be made in pairs. We found stones, hoops, sticks, toy cars, even a pair of birds!
All of the children have been continuing to learn their phonics, and now that parents are using Tapestry from home to upload the work, we have seen some wonderful video examples of blending, reading and writing going on.
We have continued to have fun with our live chats in the morning and afternoon. It is lovely when the children can all interact with each other through the classroom chat at the end of the day.
It really has been a great week, and a great big WELL DONE to all the children both at home and in school for great learning together so well.
Best wishes The Reception Team.
Spring Term - Week 4 - 27 January 2021
In Reception this week, continue in line with our topic focus 'How will we get there', we have been looking at people who help and the vehicles that they drive.
We had a live stream for the children at home and school, from a Fire Station in London. Fire Fighter Joe showed us the inside of a Fire Station, talked about the role of a Firefighter and showed us all the equipment they use, it was very exciting and interesting. He even showed us where the water is stored on a fire engine and used the hose!
We have been learning about pairing in maths, as well as making numbers 6,7 and 8. We have made ladybirds with dots that add up to 8, and had a toy hunt to make 6. We have also made memory games. The children at home had as much fun as those in school.
We are all continuing our phonics, and we are trying hard to read and record. We are looking for special friends in our words and count how many sounds we can hear before we read and write them.
Every morning we continue to do our exercise, either stretching to Joe Wicks or practising cosmic yoga!
We continue to have our live chats so that the children at home and school can connect and that the Reception Team get to say hello to everyone.
It's been a fun week of learning, please continue to keep safe and look after each other,
The Reception Team.
Spring Term - Week 3 - 20 January 2021
We have had a great week of both school and remote learning. We are settling into the new routines, and are enjoying the live streams and daily work that is being shared remotely, alongside the class learning in the same way at school.
The focus this week as part of our 'How will we get there' topic, has been vehicles that travel on water. We have investigated different vehicles such as ships, boats, submarines, jet skis etc. We have also been experimenting with things that float and sink. The children at home have shared their ideas with the children at school, through our live streams.
Phonics has developed further this week with recorded phonics lessons by the Teachers, which the children have enjoyed completing at home. Math's has been taught through White Rose Math's, and all the children enjoyed the activity of how many items can fit into a match box! They have also enjoyed the capacity investigations.
We have had some amazing boat designs created through junk modelling and it has been fun to see how children at home have completed their experiments compared to those in school.
We would like to say a great big well done to each and everyone of you in the way you have adapted to this new style of learning. Thank you parents for your continued support, and keep coming on to the live streams and uploading your math's and phonics everyday, so that we can see what great things you are completing at home.
Kind regards
The Reception Team.
Autumn Term - Week 15 - 17 December 2020
It's been a very busy week in Reception this week in our run up to the Christmas holidays! We filmed our Christmas songs on Monday, we do hope you enjoyed them as much as the children enjoyed singing them!
We have had a Christmas focus with our numbers this week, sorting baubles into order and completing some online math's games in our exploring time, as well as Christmas counting with Jack Hartman on You Tube.
We continued to do phonics, focusing on recording the sounds we could hear in a word. We did this through a game called space race, and wrote our answers on individual white boards. If we got 10 words correct we were able to fly off in a rocket! The children loved this game and it really encouraged them to write for a purpose. (It can be found on a program called phonics play)
We continued to be busy making Christmas gifts, reindeer food, tree decorations and cards!
It was also Christmas lunch and party day, everyone looked wonderful in their Christmas outfits and the lunch was delicious! We even had a surprise visit from Father Christmas who left everyone a gift. Don't worry if you were self-isolating, Father Christmas has left a gift for you too.
On behalf of the Reception Team we want to wish you all a safe and Happy Christmas, see you all next year.
Autumn Term - Week 14 - 10 December 2020
It's been another busy week in Reception class this week! Christmas has officially begun, the sparkle has arrived in the classroom with tinsel and lights, Father Christmas costumes in the role play area and Christmas gift making underway!
Learning has continued, with activities linked to Christmas themes. In our writing focus this week we have been independently writing Christmas letters to Father Christmas, in the hope that he puts us on the good list and makes all our dreams come true!
In maths we have been looking at sizes and have been cutting and ordering different Christmas items, such a baubles, Christmas stockings or crackers and placing them in order of size from largest to smallest. We have been looking at similarities and differences, developing our maths language skills.
We have been practising our Christmas songs, and have been making some lovely things to help our performance….it's a secret so you will find out next week!
We have been cutting out pictures to put into Father Christmas' sack, as well as acting out Christmas stories with Reindeer and Father Christmas masks.
We have also been getting creative making some surprises to take home next week.
Counting down the sleeps now until the big day arrives! Please continue to support your child in reading and phonics, it really does help them.
Autumn Term - Week 13 - 3 December 2020
This week Reception have been busy learning about 'nocturnal animals'. We have focused upon owls, hedgehogs and badgers, foxes and bats. We have discussed their habitats, why they are nocturnal and the children have shared their own experiences of seeing these creatures.
This has led to sorting activities, looking at animals that come out in the day and the night, as well as considering humans. Through this focus children have completed labelling and sentence building activities to develop their writing skills, and collage, painting, colouring and cutting activities to extend their expressive arts.
In maths the focus has continued to be looking at numbers that are more or less than a given number. The children have been selecting their own resources to record and show their findings.
Reading has been a big focus this week, with the children reading from books, blending and segmenting their green words and matching pictures to cvc words. Your support from home is so important to ensure progress for your child. Please continue to practise sounds and blending, have fun making sound treasure hunts, cut up letters to make words etc. We have a lot of handy hints on google classroom to give you ideas in supporting at home.
Thank you for your continued support and to remind you that practical party clothes may be worn on the last Thursday of term, when it is party day, and Festive jumpers may be worn on the Friday. Please make sure your child wears practical shoes and clothes, as well as a coat, as they will continue to explore in their learning, both inside and outside.
Many thanks The Reception Team.
Autumn Term - Week 12 - 26 November 2020
This week we have been busy learning about the number 5. We have been using numicon to support this and have been thinking of different ways to make 5, it may be 1+1+1+1+1 or 3+2 etc. By exploring different ways, it teaches your child to understand that 5 is made up in many different ways. We have also been setting the children challenges in exploring time to see if they can independently record their answers….they are really becoming confident which is a joy to see. You could challenge your child at home to make 5 too!
The children all came home with reading records this week, please make sure when you practise their sounds and words for blending, or hear them read their reading books, and then write a comment or signature. On a Monday we count up how many times your child has read and they get stickers to go on their sticker chart. Once the sticker chart is full up they go to Mrs Lagares who has well done gift for them!
The children have been making owl baby collages, using different media, as well as cutting out owls and matching different shapes to them. They have been making owl baby story maps, as well as independently writing 'I want my mummy' in speech bubbles. It really has been a very busy week!
Thank you for your continued support with home learning, it really does benefit your child in the classroom with their confidence.
Best wishes The Reception Team.
Autumn Term - Week 11 - 19 November 2020
This week in Reception we have been very busy. To start the week we learnt about Diwali, the Hindu and Sikh celebration of the Festival of light. We decorated hand prints, made diva lamps, listened to the story of Rama Sita and made Diwali masks.
This week has also been National Anti-bullying week. As a whole school we have been learning about how to make the right choices, as part of PSHE. In Reception we have completed role play activities and have thought about different ways to be manage problems should they arise. We all know the importance of kindness and the need to tell a Teacher if we find a situation difficult to manage.
In Literacy our focus book has been 'Owl babies' and we have been learning about the different parts to a story, the beginning, middle and end, and have been sequencing pictures and explaining the story to each other.
In maths it has been all about the number 4. We have looked at numbers bigger and smaller, added numbers together, looked for the number 4 around the classroom. Its been great fun.
We've continued to explore and enhance or learning by extending what the Teachers have taught us, as well as making and creating lovely owl collages. We have such fun in Reception!
Autumn Term - Week 10 - 12 November 2020
In Reception this week we have been learning about the importance of 'Remembrance.' Through our focus of 'Understanding of the world,' we have thought about special people, what they do for us and why we remember them. We have made poppies in different ways, using playdough, colouring and cutting, as well as finger painting poppy fields.
Many of the children made their own poppies to wear as well as some for the Teachers. We marked Remembrance day with a 2 minute silence at 11.00am. The children were very sensible and sat and thought, and then we played the Last post. The children had the opportunity to share their own thoughts and feelings with us.
In maths we have been exploring 'more or less' with our numbers and numbers that are 'bigger or smaller' than each other. The children have also been putting numbers into order. In exploring time some children used shapes to make towers and used coloured numicon to make the number blocks characters.
We have continued to practise our phonics and handwriting, as well as used IWB games to consolidate our learning.
In the outside area we have been digging for wiggly worms. In role play we created a McDonalds drive through, where children took orders, and even made a train to go to Legoland!
It's been an exciting week in Reception with lots of happy children. Over the coming weeks children when ready, will start to have a reading book. Please do not be alarmed if your child does not have a book straight away, this will be due our judgements that they require more time to establish their phonic recognition and blending. This you can really support with at home, as more practise will mean more confidence, which will then support them with the next step of reading.
Thank you for your continued support The Reception Team.
Autumn Term - Week 9 - 5 November 2020
Reception have been busy this week learning about Bonfire night, which relates to Understanding the World, a specific area of learning in our EYFS Curriculum.
We have learnt about Guy Fawkes, have made super rockets, drawn some wonderful pictures and have used our phonics to write firework words. e.g pop, wizz, bang.
In our exploring time we used playdough to make spiders, experimented with colour mixing as well as making different vehicles from lego. We used bricks to make rockets and pegs to make patterns, as well as listening to firework music and making up fire work dances. The children have had great fun using their imagination.
We have been focusing on handwriting, which supports your child's phonic learning. At home please will you continue to work on your child's letter formation as well as teaching them to say and recognise their sounds. These skills will develop your child's ability and confidence to use their sounds in their writing. The children are so proud with their letter formations, get them to share this at home too. Please also focus on a good pencil grip, hold the pencil near the tip, this makes formation easier for your child.
In maths our focus number has been three. The children have been looking at more and less, as well as learning how to record different objects to show the value of three. Encourage to use this maths language at home too.
Now that we have entered our second lockdown it is really important that you are all signed into google classroom, just in case your family is forced to self-isolate. It is here that you will find all the work to support your child. If you have not managed to log in, please go to the School office where they will give you another copy of the signing up letter.

May we also ask that you continue to socially distance and wear a face mask, it is so important to look after each other.

Keep safe, best wishes The Reception Team.
Autumn Term - Week 8 - 19 October 2020
We have continued to explore books by Julia Donaldson this week in Reception. We read Room on the Broom and Spinderella and made spidery monsters in the playdough. The change in the weather and the very autumnal outside area inspired us to paint with conkers and make hedgehog collages with leaves. We've also looked at the changes that Autumn brings and learnt some spider facts.
In phonics we've learnt new sounds v, w, y and sh and the children continue to astonish us with their blending and Fred-talking. After half term we will be introducing a greater focus on the writing element and practicing handwriting daily. They drew Gruffalo-inspired terrifying creatures and wrote simple descriptive words about them. These are now on display in the classroom to inspire more fabulous writing.
Our focus in Maths has moved on to 2. We've talked about different ways to represent it and the children have become brilliant problem-solvers, explaining their thinking. For example, we agreed a person could represent one because they were unique, only had one mouth, head and nose or two because they had two eyes, ears, hands, legs and elbows!
Please continue to support your child's learning by completing their phonics home learning and going on the "Teach my Monster to Read" website, but most importantly let them have a good rest. It's been an exhausting half term for them with a new classroom, new teachers, new routines, new friends, new rules and perhaps even a completely new school. And that doesn't even count the non-stop learning, socialising and discovering they've been doing.
We look forward to welcoming them back, refreshed and eager on Monday 2nd November.
Best wishes for a happy half term.
Reception Team
Autumn Term - Week 7 - 12 October 2020
Reception has had a super busy week. We've focused on 'The Gruffalo's Child' this week, making Gruffalo faces out of paper plates, collaging and making puppets too. Our cutting and painting skills are coming on really well. In writing we've been thinking about adjectives (describing words) which we could use to describe the details on the Gruffalo or our own monsters.
In phonics, we've been learning the new sounds l, h, r, and j. We are so impressed with how quickly the children are picking up their sounds and using them. Quite a few children are now able to Fred talk simple words and blend them independently to read. Thank you for all the word building home learning you are doing with them at home.
In Maths we've been exploring the number 1. We've looked at all the different every day places we can find 1 and different ways of representing 1. We've also practiced spotting when a collection of objects is "not 1" and done some sorting with the sorting hoops. We getting really good at finding circles around us too – our shape of the week because it only have 1 side.
We developed our green fingers too, filling planters with soil and planting lots of tiny plants. There were cabbages, lettuces and lots of other edible plants too. Fingers crossed we get a good crop to taste. The children have also been helping to keep the Reception garden looking good, sweeping up millions of acorns and leaves using brooms, dustpans and brushes and their hands!
We welcomed a photographer on Thursday who filmed us for a DVD promoting Wooden Hill School. We showed her how we play nicely, share well, are adventurous and love to climb and also how independent we've become at getting milk during outside exploring time and at getting our lunch. All the grown-ups were really proud of us!
Thank you for your continued support. Reception Team.
Autumn Term - Week 6 - 7 October 2020
This week in Reception we have continued with our Gruffalo theme. The children have had a lovely time acting out the story, using masks to show the characters, and they have even been adapting and making up their own Gruffalo versions!
In their writing they have been writing in speech bubbles what the different characters said when they saw the Gruffalo. In the Creative area we made our own Gruffalo's out of playdough.
In maths we have been learning about patterns and using different objects to make patterns with. It may be a car, lorry, car lorry or red circle, blue circle etc. At home you could have fun making your own pattern ideas.
We have been doing a lot of singing outside, using musical instruments to support our tunes. Again we have been busy cooking in our mud kitchen and building and digging in our construction site.
The children have been working hard in their phonics lessons, please keep practising the sounds at home too.
Thank you for all your support, The Reception Team.
Autumn Term - Week 5 - 30 September 2020
The children have settled very well in to their Vole and Mole classes, and are quickly learning the routines and expectations of life as a Reception child.
Our focus book for learning is 'The Gruffalo' written by Julia Donaldson. Through the book we have been exploring the language and vocabulary, linking it to Autumn and Ourselves.
The children enjoyed going on a Nature walk exploring the school grounds looking for signs of nature. They collected acorns and conkers, as well as twigs and sticks and fir cones, which they used to sort as part of mathematical learning.
They have also used these resources to develop their language skills by describing the objects, being 'smooth' or 'spiky', 'long' or 'short' etc. They have also been looking for the mouse and have had discussions of whether the mouse would eat conkers or acorns as opposed to the nut!
Through being imaginative the children have made play dough Gruffalo's, as well as masks of their favourite characters, and some have used the stage to act out the story.
In Literacy the children have started to think about what the Gruffalo, snake or mouse may have thought when they met the mouse, and have recorded their ideas in thought bubbles.
The characters within the book have also given some great opportunities for PSED, looking at the relationships between the mouse and the Gruffalo, as well as feelings and emotions.
The children have had great fun exploring the outside area, particularly in the digging area and mud kitchen, as well as in the big tyres and climbing frame, alongside making wonderful tunes on the music wall.
The children have enjoyed participating in PE activities, and are developing their listening skills through games such as the 'bean game' and parachute games. Ask your child to show you what a 'jumping bean' or 'french bean' does!
Life in Reception is great fun and never dull! Each day brings a new experience which is what makes it such a great place to be part of!
Thank you for your continued support, it is very much appreciated.