Nursery News
Autumn Term 2 – Week 4 – 22nd November 2021
This week the children have listened to different versions of the traditional tale 'Jack and the Beanstalk' and linked this to the story of 'The Jolly Postman'. They also listened to an alternate version 'Jim and the Beanstalk', as well as planting beans and predicting what will happen.
They collected autumnal resources and were very excited to go into the big playground for this! They then had the opportunity to be creative and use natural autumn resources to make a textured collage and also make their own beanstalk pictures.
During key group times, the children have played turn taking games and compared quantities of objects using the language more and fewer.
Autumn 2 – Week 3 – 15th November 2021
Over the past week, the children continued their learning from last week on 'Goldilocks and the Three Bears' by sequencing pictures from the story. They have also continued to listen to the story of 'The Jolly Postman' and and other children's stories including 'Meg and Mog', 'Hansel and Gretel' and 'Room on the Broom'.
This week was 'Anti-bullying week' so the children listened to stories about friendship and spoke about what makes a good friend. On Friday, for Children in Need, they learnt about the meaning of the event, why they weren't wearing school uniforms and decorated 'Pudsey Bear' pictures.
During key groups, children learnt to count actions such a claps and jumps, subitise up to 3 and follow simple instructions.
Autumn Term 2 Week 2 – 8th November 2021
This week in Nursery, the children have been listening to the story of Goldilocks and the Three Bears. They have been listening to different versions of the story and using bears, dolls and the doll's house to retell the story. During key group time, they have used positional language with the bear figures and the doll's house and counted bears.
We have also been talking lots about the season of Autumn. We started the week by talking about changes and observing changes in our playground, looking carefully at the leaves on the ground and talking about the weather. The children also created autumn leaf print pictures using autumnal colours.
Autumn Term 2 Week 1 – 1st November 2021
The children started the week by sharing their half-term news, they were very excited to tell their teachers what they had been up to during their week and all about Halloween. The children also watched some clips of people celebrating Diwali and enjoyed lots of Diwali themed activities which included lots of colour and sound.
Over the next few weeks, the children's learning will be focussed on the story 'The Jolly Postman.' This week they were introduced to the story and enjoyed listening to it during key group times, finding out about and discussing the characters.
Autumn Term 1 Week 8 – 20th October 2021
It has been a brilliant term in Nursery, and the children have all achieved so much. In our final week of term, we continued to find out about dinosaurs.
The children listened to lots of dinosaur stories, sang songs and did arts and crafts. They also played with dinosaur themed slime which was very sticky and slimy!
The children also completed 'Proud clouds' with their key workers and spoke about what they like most about Nursery. They said they enjoy riding on the bikes outside, playing in the water tray, and colouring dinosaurs!
This week we also listened to some stories and did some crafts to celebrate 'Black History Month'.
The children particularly enjoyed the story "The Mega Magic Hair Swap" by Rochelle Humes and this sparked some great discussion about similarities between them and their friends.
Autumn Term 1 Week 7 – 13th October 2021
This week in Nursery the children have been learning all about dinosaurs. We have been so impressed with the children's knowledge! We started off the week by looking at toy dinosaurs and non-fiction books during key group time. Ralph told us all about the moving T-rex he saw at a museum and Scarlett explained how "a big, massive rock fell out of the sky and it landed on the Earth and killed all the dinosaurs."
The children have been making model dinosaurs from junk, trying hard to join boxes together and thinking carefully about which pieces to use for different body parts such as heads and tails. They have also been playing with the dinosaurs in the role play area and got messy with the dinosaurs in slime! We have sung lots of dinosaur songs including "10 little dinosaurs".
We have also introduced the character 'Tough Tortoise', he always keeps trying and never gives up. Firstly, the children watched the story 'The Hare and the Tortoise', then we tried some activities in which the children needed to be tough tortoises, such as throwing beanbags in pots. During group times, the children have thought about times when they were 'Tough tortoises'. Here are their ideas: Doing up buttons by themselves, trying hard to open straws at snack time, finding trays by themselves and batting balls.
Autumn Term 1 Week 6 – 5th October 2021
The children in Nursery have been continuing to learn about themselves – linked to their senses. Over the past week, the theme has been 'looking'.
During group times, the children have been making careful observations – playing eye spy, Kim's game and making simple repeating patterns using colour. The children have been looking very carefully at colour, exploring how colour changes when it is mixed. To do this, they have painted in the Nursery garden, made handprints, and symmetrical pictures using paint. They have also been using the magnifying glasses to look at natural resources such as pinecones up close.
Autumn Term 1 Week 5 – 27th September 2021
This week in Nursery, the children have continued to learn about their senses, focussing on the sense 'touch'
The children have been busy making collages using different materials and talking about texture. During groups times, we have been looking at the 'That's not my…' books and feeling the different pictures inside them – using words such as rough, soft, fluffy and prickly to describe texture. They also experimented with counting objects and tried to see how many they could pick up using one hand. The children have also used paint to make handprints and we have spoken about the importance of washing hands. During their child initiated learning, children have been exploring different textures.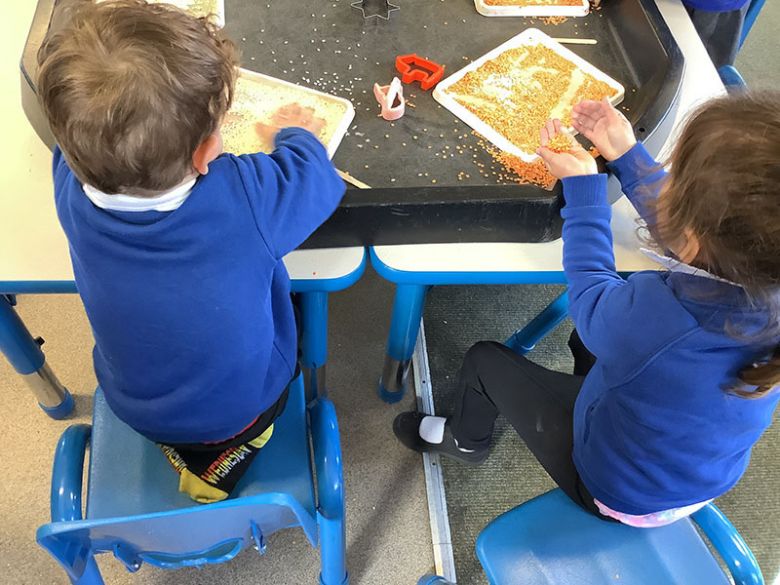 Autumn Term 1 Week 4 – 20th September 2021
It has been another very busy week in Nursery and the children have been working on 'listening.'
They have been trying very hard to use 'listening ears' and 'looking eyes'. This has involved singing lots of songs and playing musical statues, going on a sound walk and copying sounds such as clapping, tapping, knocking and stamping. They also had the opportunity to make shakers and explore the sounds that they made. We have been using the vocabulary loud, quiet, fast, slow and gentle.
Here are some photos of the children enjoying their child initiated learning.
Autumn Term 1 Week 3 – 13th September 2021
We have had a very busy and exciting week this week as all of the children have been in Nursery. The older children have been wonderful helpers, showing the younger children how to do things such as play with the resources and tidy them away. The younger children are all settling in well and have been enjoying exploring the setting.
Our theme of the week has been 'Families', the children have been listening to stories and telling us about their own families. We have really enjoyed looking at their photos and hearing about their family members. As our Nursery class is called 'squirrels' they have also been busy making squirrels in our creative area.
Next week, our theme will be 'Listening'.
Autumn Term 1 Week 2 - 5th September 2021
We would like to say Welcome back or Welcome to all of the Nursery children and their families.
We have had lots of new children visiting during this week and we look forward to them starting properly from Monday. We have been very proud of how helpful and friendly the older children have been in helping them to settle in.
It has been lovely to see the children and we are enjoying hearing their holiday news. They are all very pleased to be back at school.
Throughout the week, the children have been creating some beautiful self-portraits. They have been looking in mirrors to check the colour of their eyes and hair and they have looked carefully at their features. Their paintings will be displayed in the School hall and in the Nursery classroom.
Our theme this half term is Ourselves. Next week, we are going to be talking about our families.