English and Maths
Below is information about what we are learning in English and maths this half term.
Summer 2:
Maths- Capacity
This week, the children have been learning all about capacity! They have enjoyed measuring different containers, and seeing the capacity of them. They have enjoyed estimating using non-standard measures, for example the children tried to find how many milk lids full of water it would take to fill a beaker! They also became more familiar with key vocabulary such as 'full' 'empty' 'nearly full' 'nearly empty' and 'half full'. Here are some photos of the children enjoying their activity!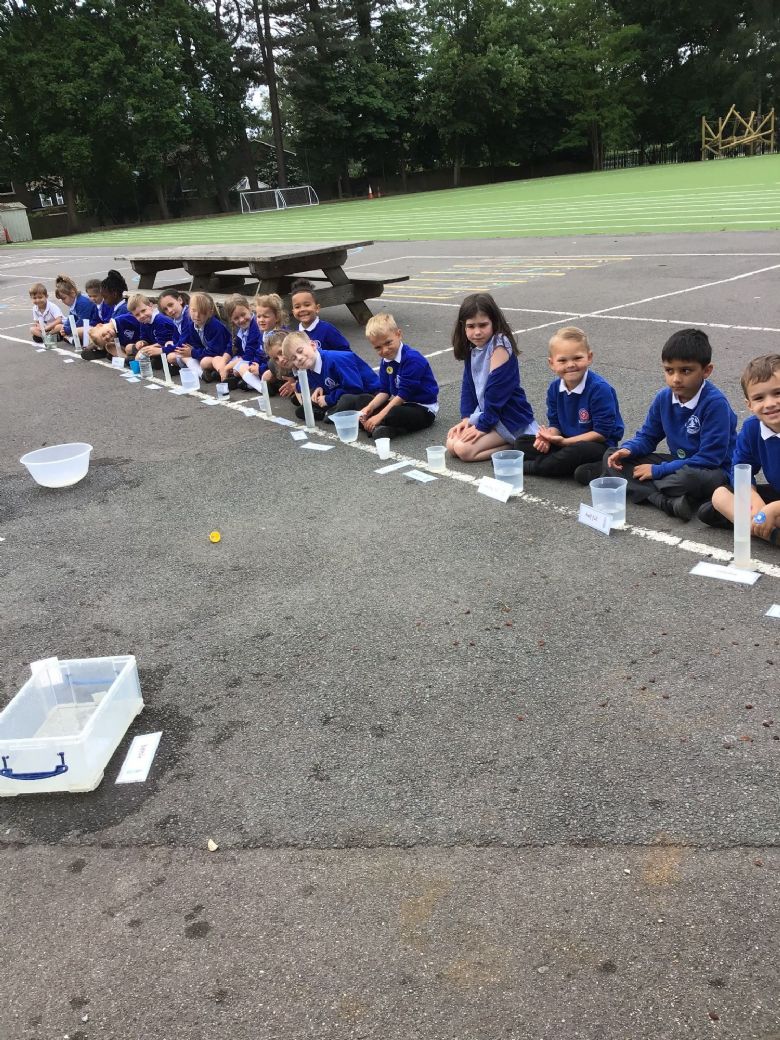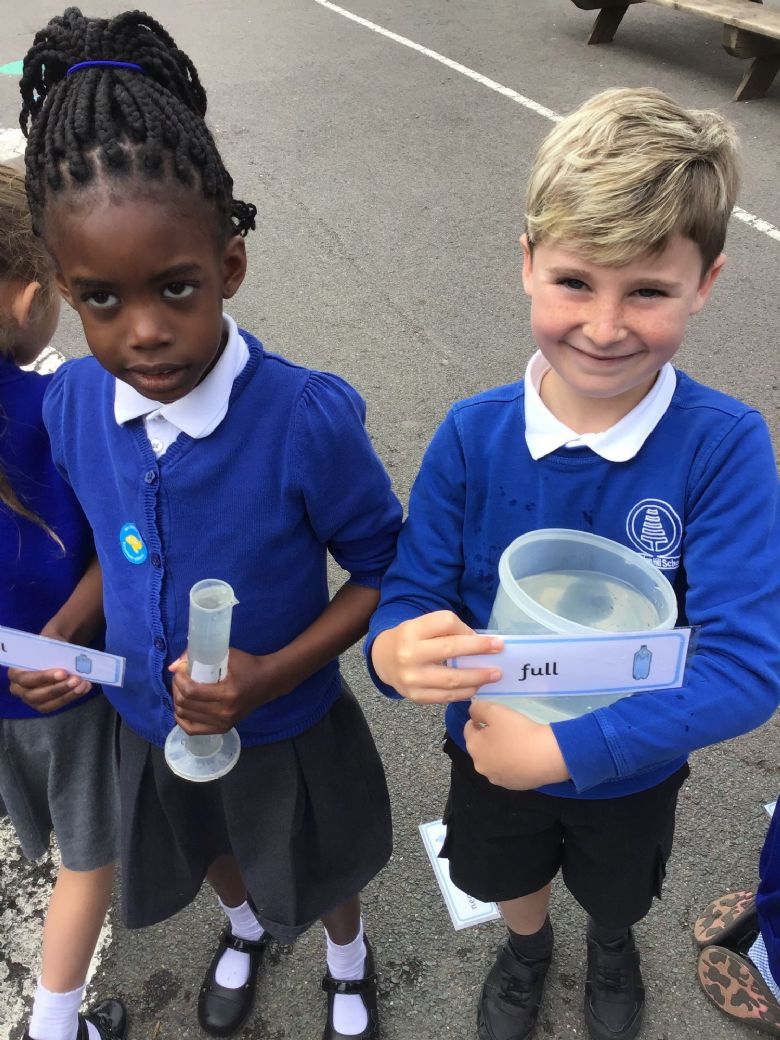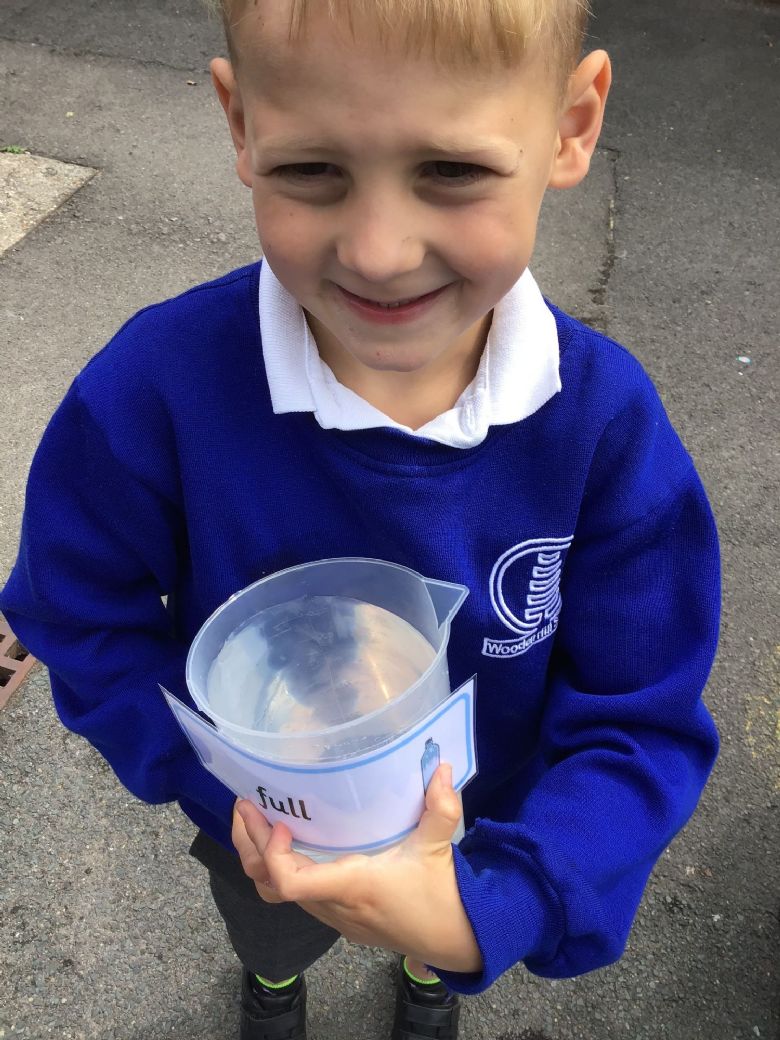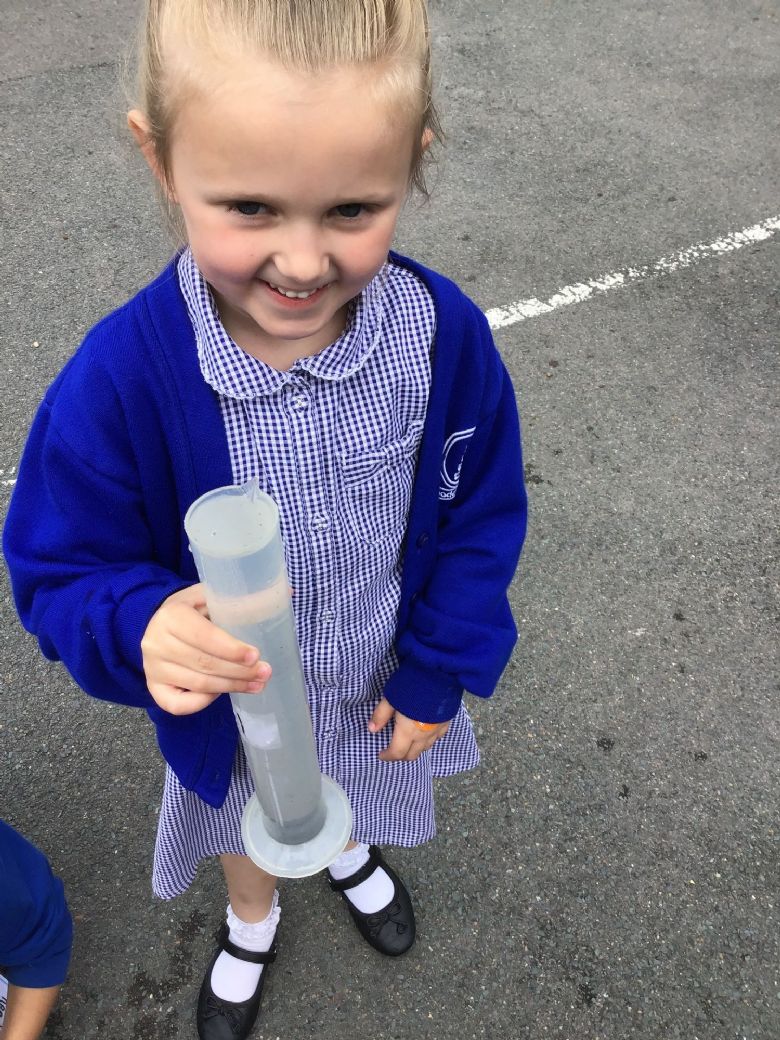 Summer 1:
Maths
In Maths so far this term we have been working on counting in 2s and 5s. This is why we asked for some donations of egg boxes, and gloves.
The children have been working on doing this practically, using objects but also by sequencing numbers in the two and five times tables.
They have also started to solve some word problems based on the two and five times tables.
Here is a photo of us using a counting stick to count in 5s. The children ordered the numbers themselves.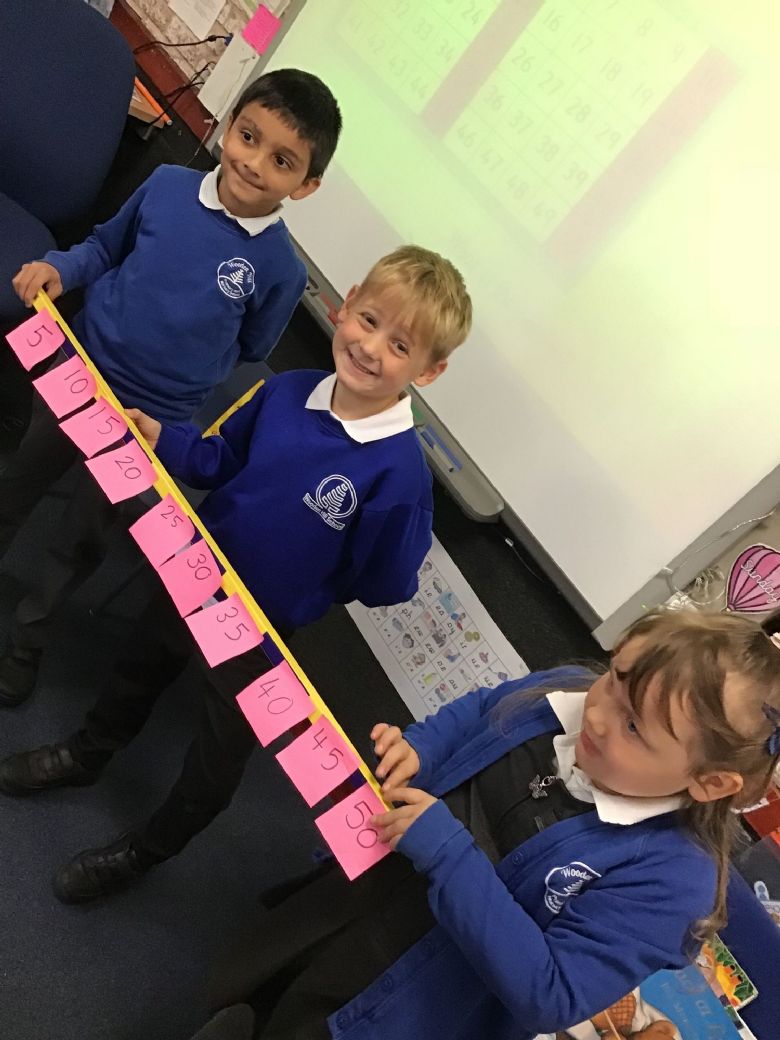 Spring 1:
Maths
This half term in Maths we began by focusing on shape and patterns and have now moved on to looking at tens and ones. The children have loved using diennes to create numbers, and then pictorially representing them in their books. They have then been challenged to use greater than, and less than symbols, and we have also been looking at finding one more and one less than a number.
English
In English this half term, we have been focusing on our topic of Dinosaurs. The children have been learning all about non-fiction, and have created their own fact files on Dinosaurs. Then, we moved on to poetry, and they have been writing their own poems using verbs in the past tense, adjectives and even commas.
Our topic on Dinosaurs has been much loved by the children (and the teachers!) and it has inspired some very impressive writing.
Maths and English 17/12/18
This week in English we wrote up instructions for making snowflake Christmas decorations. We made sure that we used time connectives, and bossy verbs and started each instruction on a new line. This was as well as using finger spaces, full stops and capital letters! The teachers were very impressed by our hard work.
In Maths we have continued to look at 3D shapes, but have been thinking about their properties. We have discussed faces, vertices and edges. We ended the week by creating shape booklets, and having discussions with partners about properties. We then tried to guess our partners shape using clues based on their properties.
Maths 10/12/18
This week in maths we have been looking at 3D shapes and their properties. We have been learning to recognise them, and recall their names.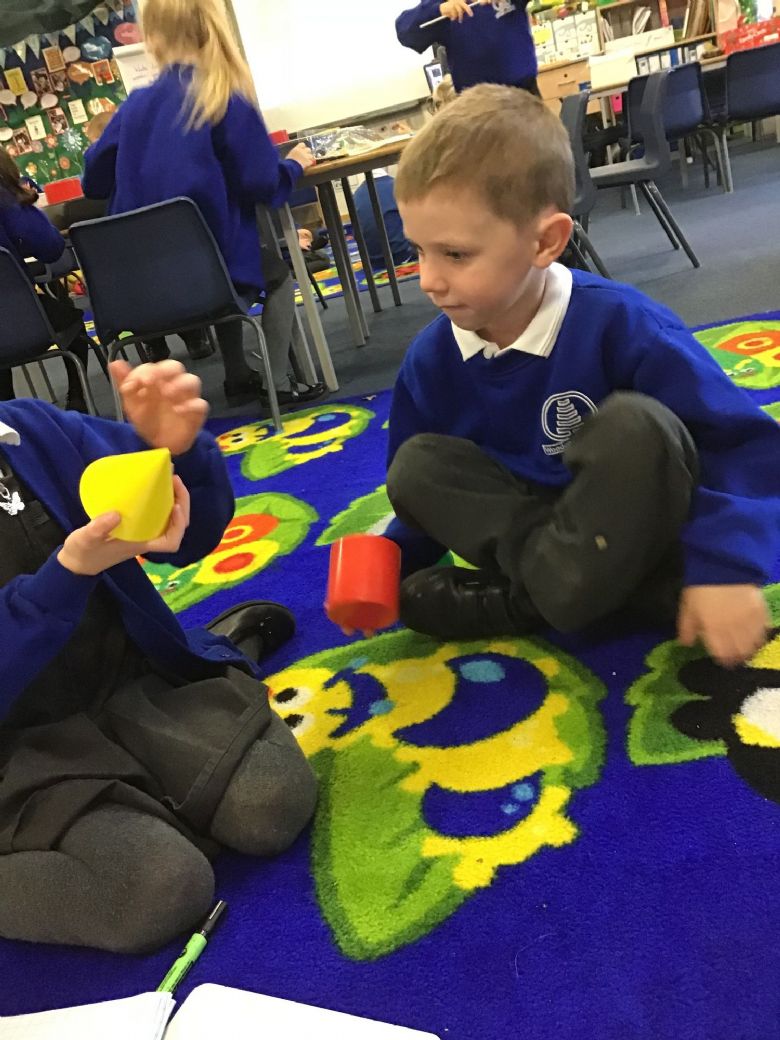 English 10/12/18
In English this week, we have been thinking about instructions. On Monday, we made snowflake Christmas decorations in preparation for writing instructions next week. We will be writing instructions on how to make the snowflakes, so when parents are invited in (Tuesday 2.15-2.45) we can show off our instructions and make the decorations together. We have also been writing instructions in small groups for getting ready for bed, making squash and doing activities based on bossy verbs and time connectives.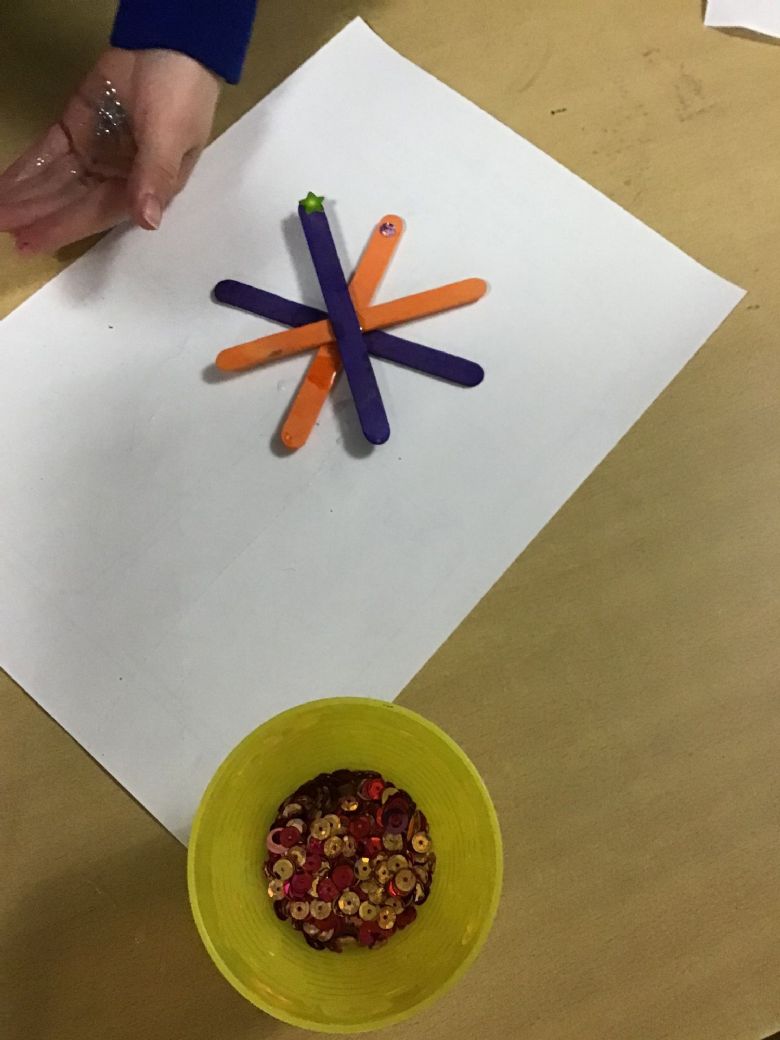 Maths 03/12/18
This week in Maths we have been using a number line to complete subtraction number sentences.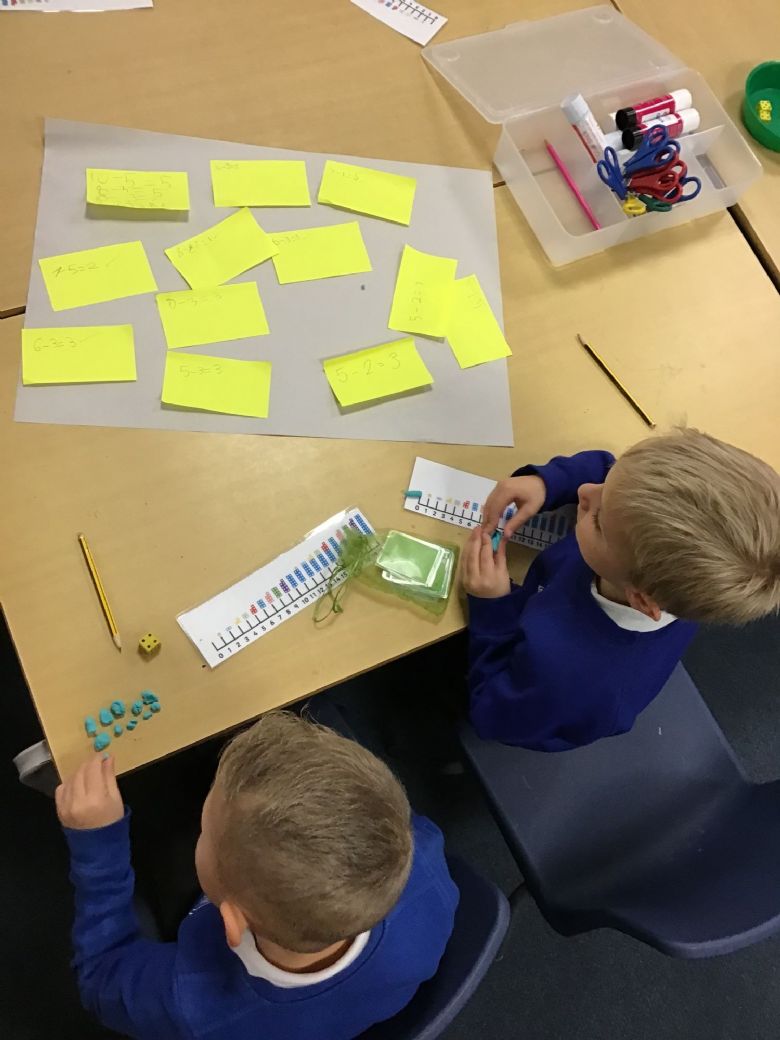 English 03/12/18
In English this week, we have started our topic on instructional writing. We started the week by writing instructions on how to get ready for school. We gave Miss Smart and Mrs Kelly instructions for how to make squash. We now know that we need to remember to make sure our instructions are very clear. We told Miss Smart to "pour water into the cup" and she filled the whole cup- it overflowed! There was no room for the squash! We decided that we should have asked her to "pour water into the cup three quarters of the way full". We will also be working this week on time connectives and bossy verbs!
Maths 26/11/18
This week in Maths we have started subtraction! We have been thinking about frogs to help us practically see what subtraction means. We started with a number of frogs on our lily pads on the carpet. Unfortunately some frogs jumped off the lily pad. Then, we counted how many frogs we had left! We then wrote down the number sentence for what had happened.
For example:
I started with 7 frogs on my lily pad.
Then, 2 frogs jumped off!
I was left with 5 frogs.
7 - 2 = 5.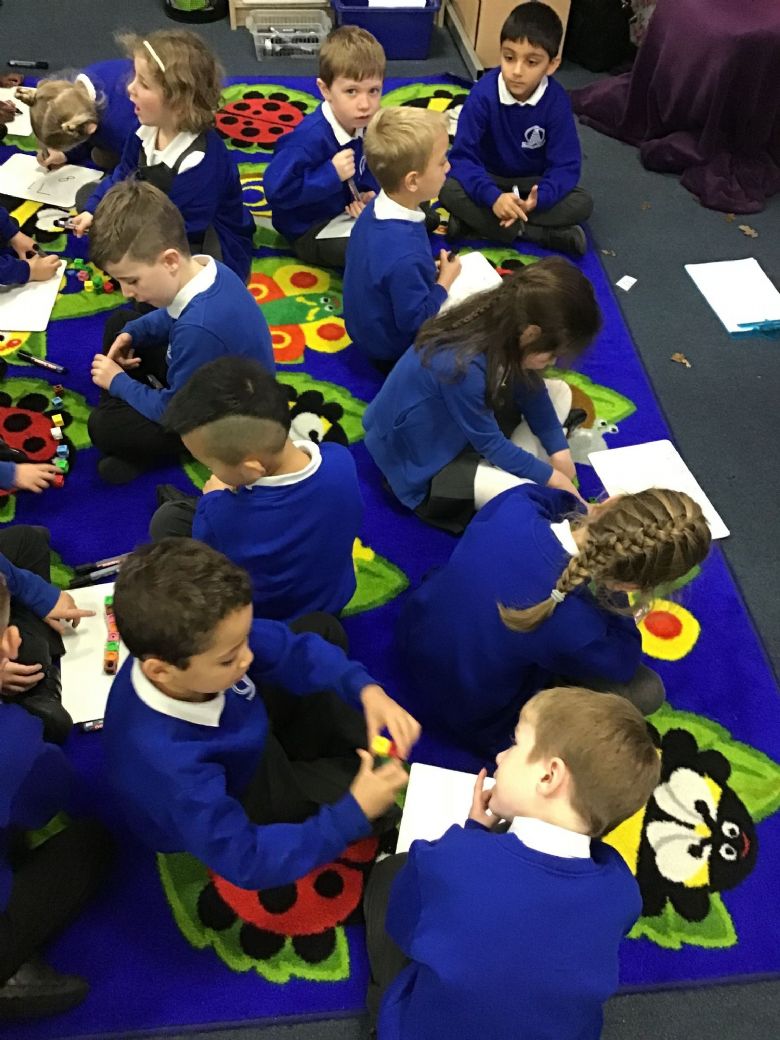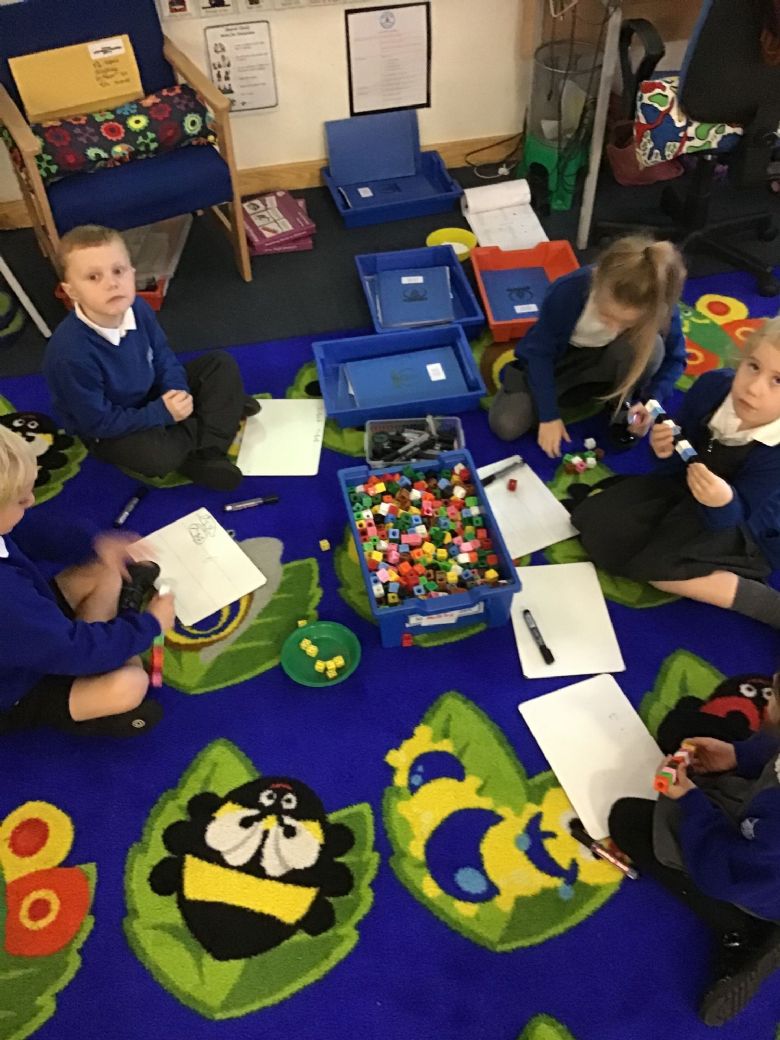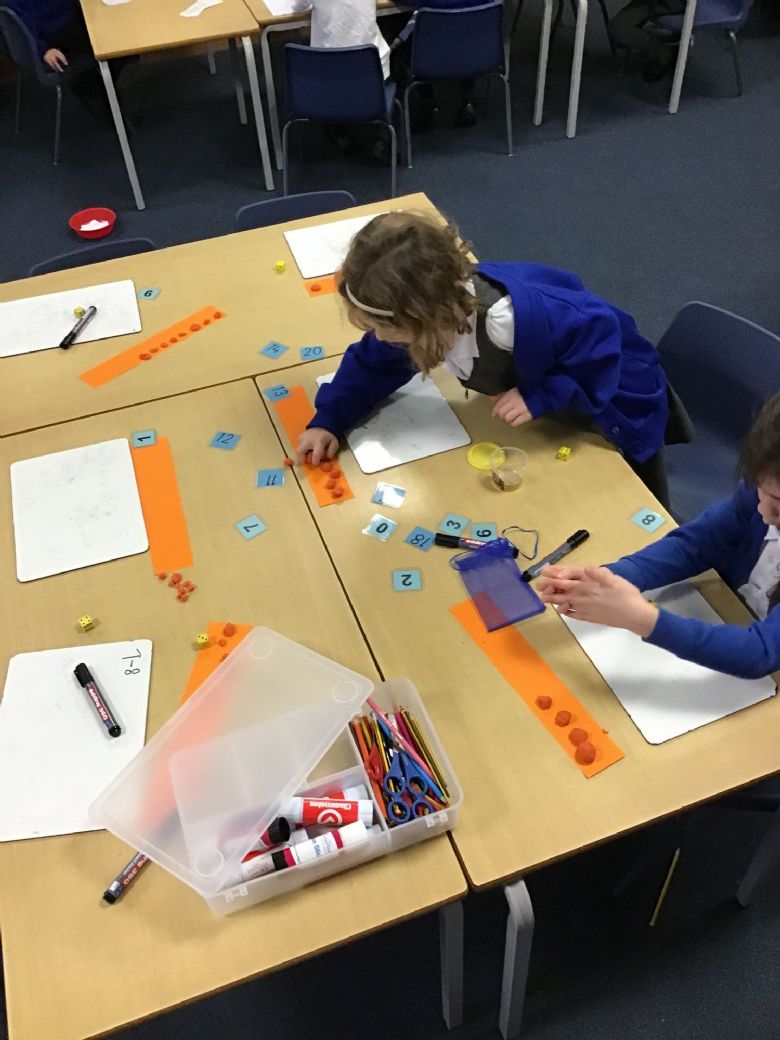 English 26/11/18
This week in English we have been writing our innovated versions of 'Brown Bear, Brown Bear'. We picked new animals to use, and decided on verbs and adjectives to describe them.
At the start of the week, we wrote our ideas into a story map which we used to help us write our stories. We also spent some time creating actions to go alongside our stories, to help us remember the order.
Please ask us to show you our actions! We would love to show you.
Maths 19/11/18
This week in Maths we have continued working on number bonds to 10. We have done this very practically using numicon, counters and different objects like teddies. To do this, we have been working systematically. When we work systematically with number bonds, we start with the lowest number and find out what we need to add to make 10. We have discussed the pattern the sums make, and know that working in this way helps us to make sure we have included all the number bonds possible.
English 19/11/18
This week we have been writing up the story of "Brown Bear, Brown Bear". We included the first six animals, and made sure we wrote about them in the correct order. We included full stops, capital letters, finger spaces and question marks in our writing. Our challenge was to include commas! The children all produced amazing writing- the teachers were very proud!
English W/C 12/11/18
In English at the moment we are looking at the story "Brown Bear, Brown Bear, What Do You See?" by Bill Martin Jr. So far we have been acting out the story, sequencing the story and also thinking of exciting adjectives and verbs to include. As well as this, we have noticed the story has lots of questions in it!
Next week, we will be writing the story, making sure we are using our capital letters, full stops, finger spaces and question marks. The children know the story very well now, and we can't wait to see the amazing work they produce.
Maths W/C 12/11/18
In Maths this week we are learning to partition a number into two parts! First we need to accurately count a given number of objects, then we split them into two groups.
Here are some photos of our work. We are using the part-whole model to partition. Below are some examples of how we use the part-whole model.