English and Maths
Fraction Fun!
Over the next few weeks, we will be learning all about fractions. We have been learning specific mathematical vocabulary such as; numerator (top of the fraction) and denominator (bottom of the fraction)! To begin with, we are learning how to recognise and find certain fractions of shapes (halves, quarters, thirds). Two of the most important questions we ask ourselves are: 'is it equal?' 'is it fair?' to make sure the parts of the fraction are correct.
We will soon be moving onto fractions of amounts, such as 1/2 of 8 = 4. We have learned that to find fractions, you need to divide the number by the denominator. We will also be learning how to recognise equivalent fractions, such as 1/2 is the same as 2/4.
Miss Bolton and Miss Smart would love to see you all practise this at home, to become experts in fractions. If you do, please share your wonderful learning with us!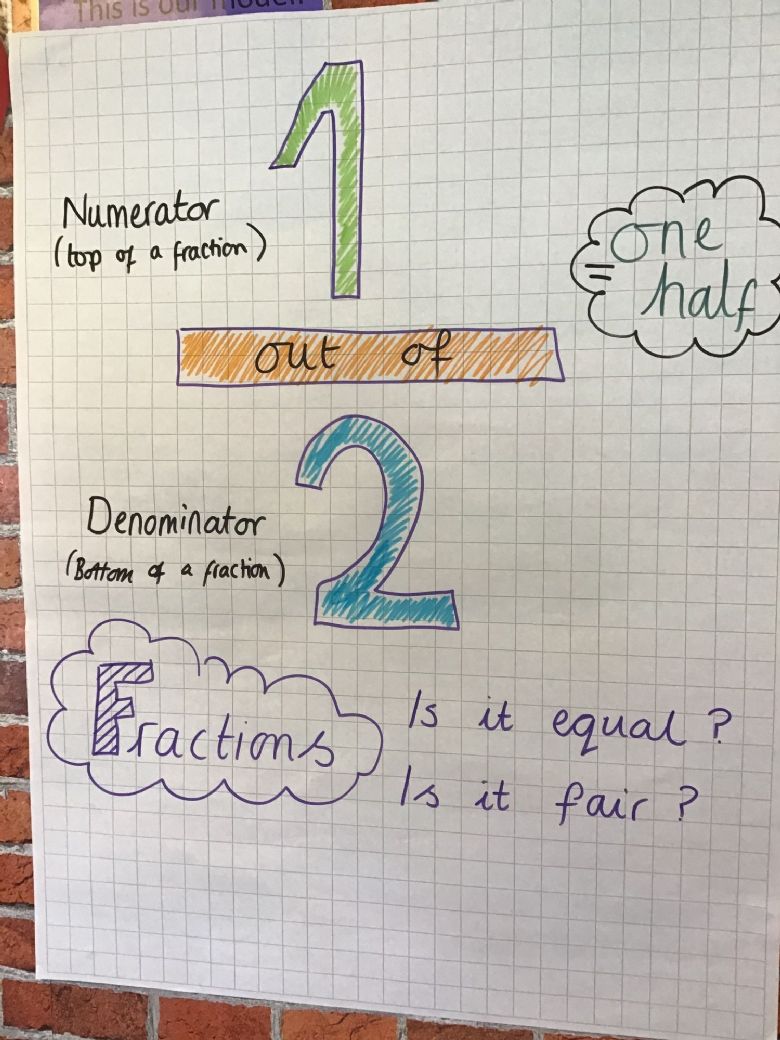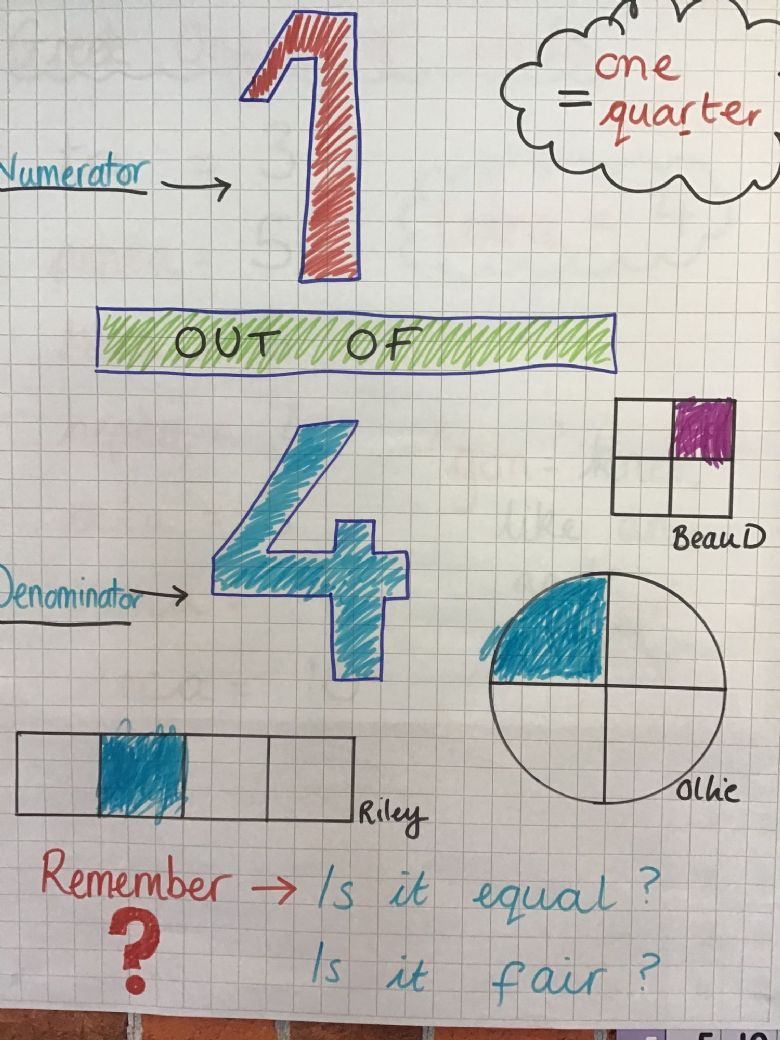 All about grammar!
This week, Miss Smart has been so impressed with the children's engagement with our key text 'The Paper Bag Princess'. There hasn't been a day since half-term where a child hasn't brought in a picture of Elizabeth, Ronald or created a story map at home. We love seeing the children enjoying our key text. Please keep sending in story maps, and encouraging your child to discuss the book at home!
The children have enjoyed looking at the grammatical features within 'The Paper Bag Princess'. On Wednesday, the children took a closer look at the text and explored the different types of punctuation the author has used. They hunted for: full stops, capital letters, commas, exclamation marks, apostrophes and even speech marks! The children underlined these key features, and annotated the text. They will use these key annotations when they come to write their own version of the story!
Miss Smart and Miss Bolton are so pleased the children are loving the book! We are loving hearing stories of the children re-telling the book to parents and siblings.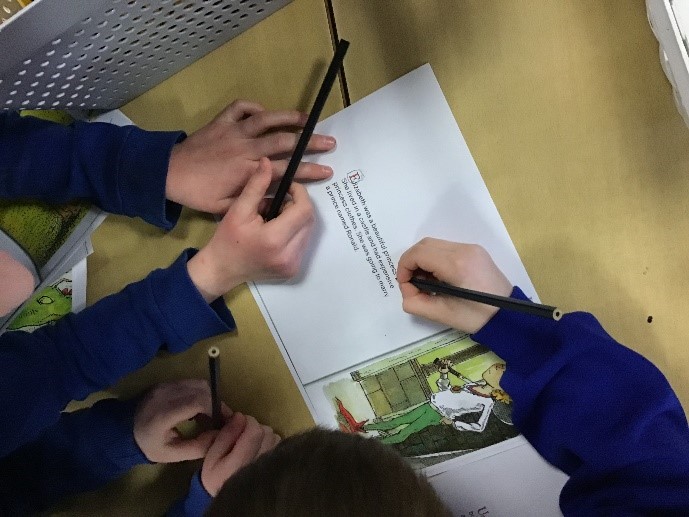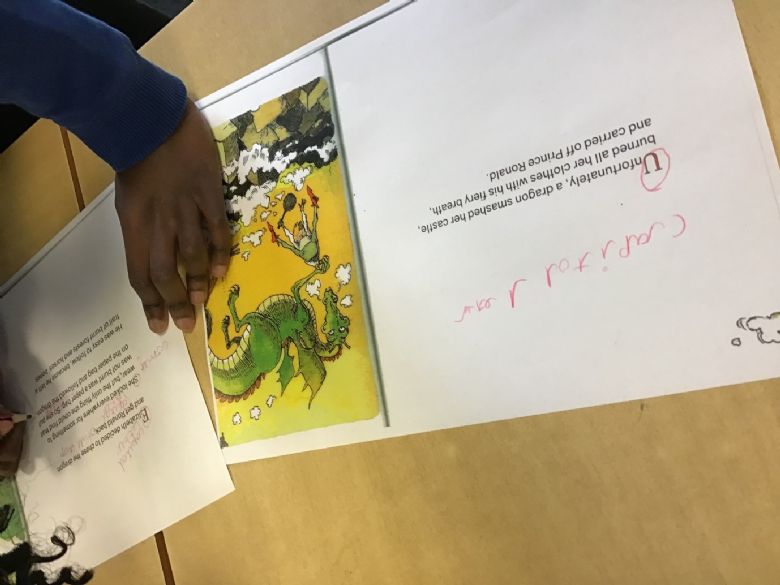 Let's Learn About Shapes!
Before Half Term, and this week, we have been learning all about 2D and 3D shapes. We have been investigating the names of them, and the properties they have. We've learned words like; vertices, edges, surface, face and prism. It has been very exciting with lots of pratical exploring with the shapes that we have. We're going to be moving on to making patterns with shapes and understanding the nets of 3D shapes too.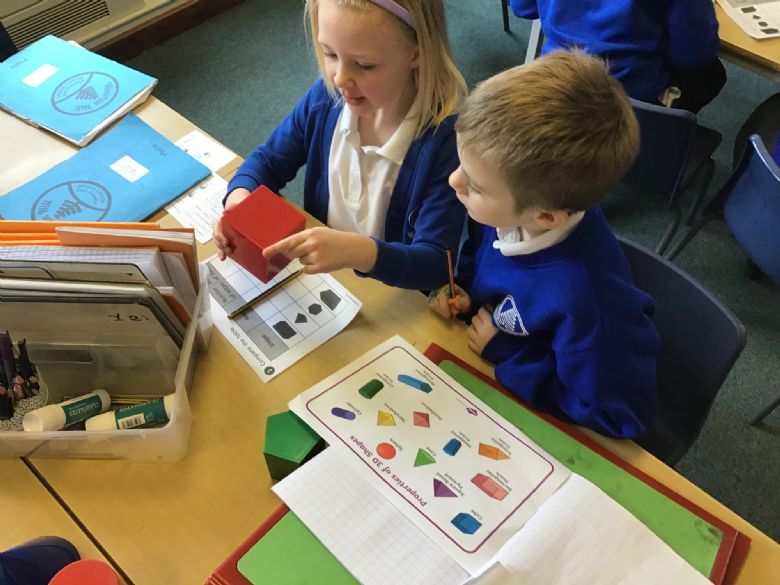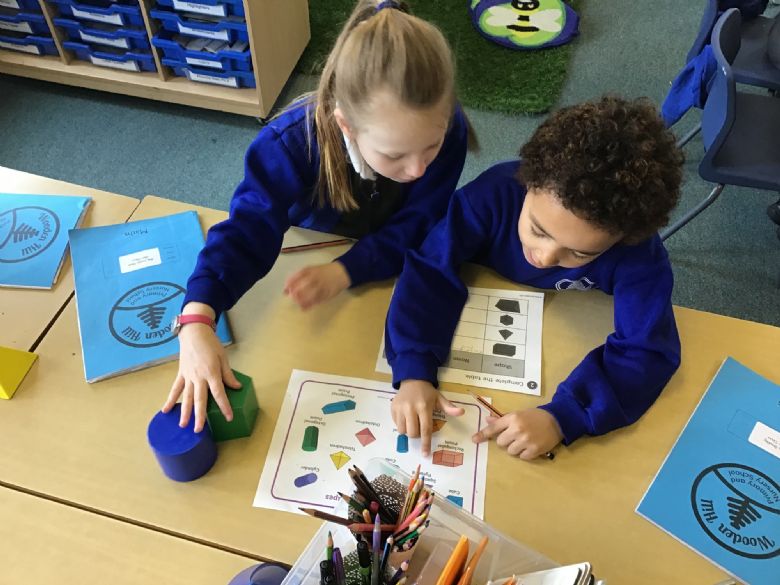 The Paper Bag Princess.
Our big question this half term is "what makes castles so strong"? In English this term, we our key text is 'The Paper Bag Princess' by Robert Munsch.
The children will be studying the book, creating actions, story mountains and spelling lists in order to build up to re-telling and innovating the text.
On Tuesday, we created a picture map to help the re-tellin of the story.
Miss Smart sent this home in bookbags, so the children are able to practise re-telling the story to family at home. Perhaps they could re-tell the story to a sibling at bedtime?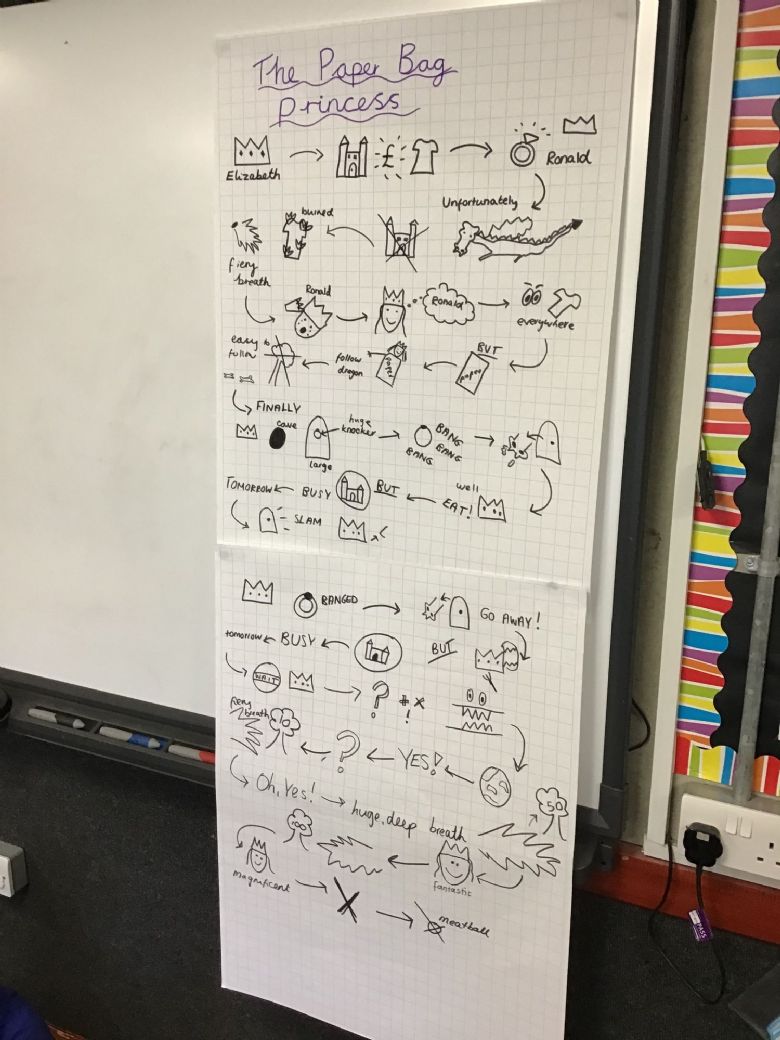 Time to tally up!
This week, we will be looking at 'statistics'. To begin with, we will learn how to make a tally from information gathered in the classroom from one another (based on our favourite ice-cream!). Throughout the week, we will be interpreting and constructing simple pictograms, tally charts and block diagrams. To deepen our understanding, we will be answering and asking simple questions about the data we have gathered such as 'which is the most/least popular?' 'what is the difference between chocolate flavour and strawberry flavour?'

What we've been doing in Maths!
Over the last four weeks, we have been learning how to multiply and divide successfully. To understand how to multiply, we have been calling it the 'lots of' sign. This way, when children read a multiplication number sentence (2 x 3 =) they would say "two lots of three is the same as..." This has enabled all children to fully understand the concept behind multiplying. They are all now able to draw arrays, groups of and use repeated addition to support this.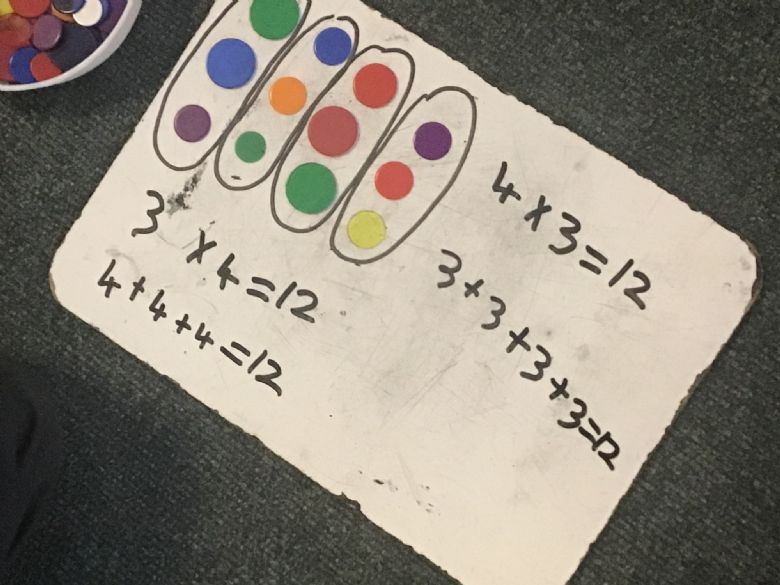 This week, we have moved onto division. We have been using our knowledge that we gained through multiplication to support our learning. To begin with, we looked into sharing and grouping an amount using a range of resources to first understand the concept. We have now moved on to using jottings in our workbooks to support us.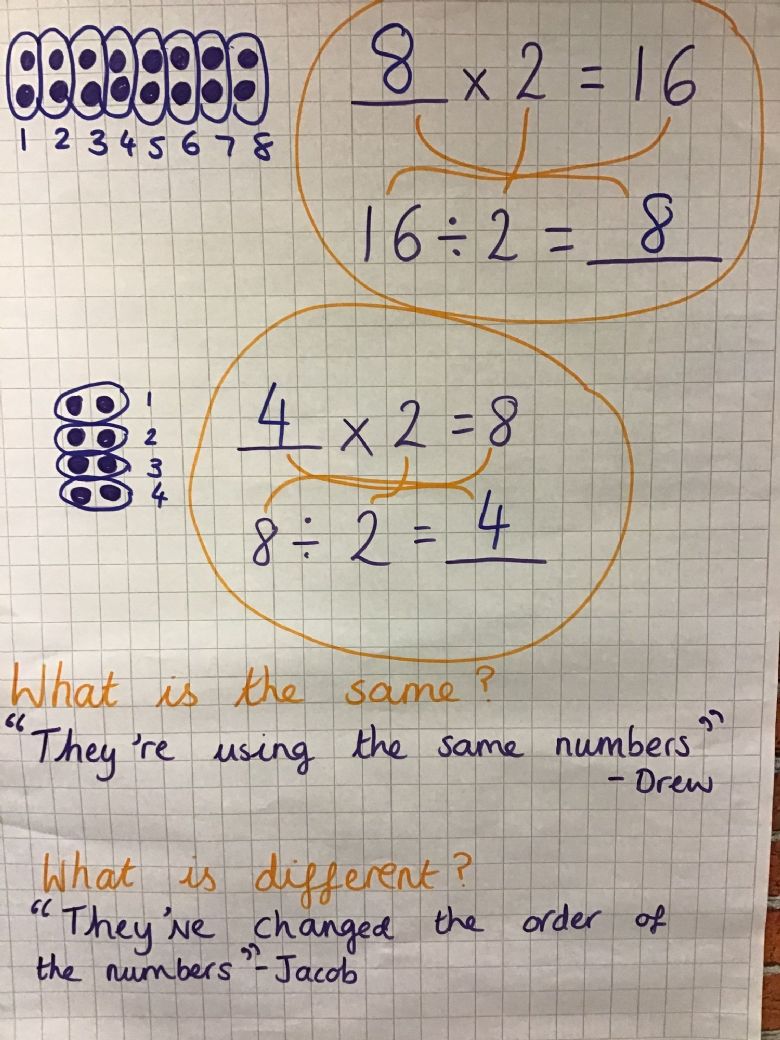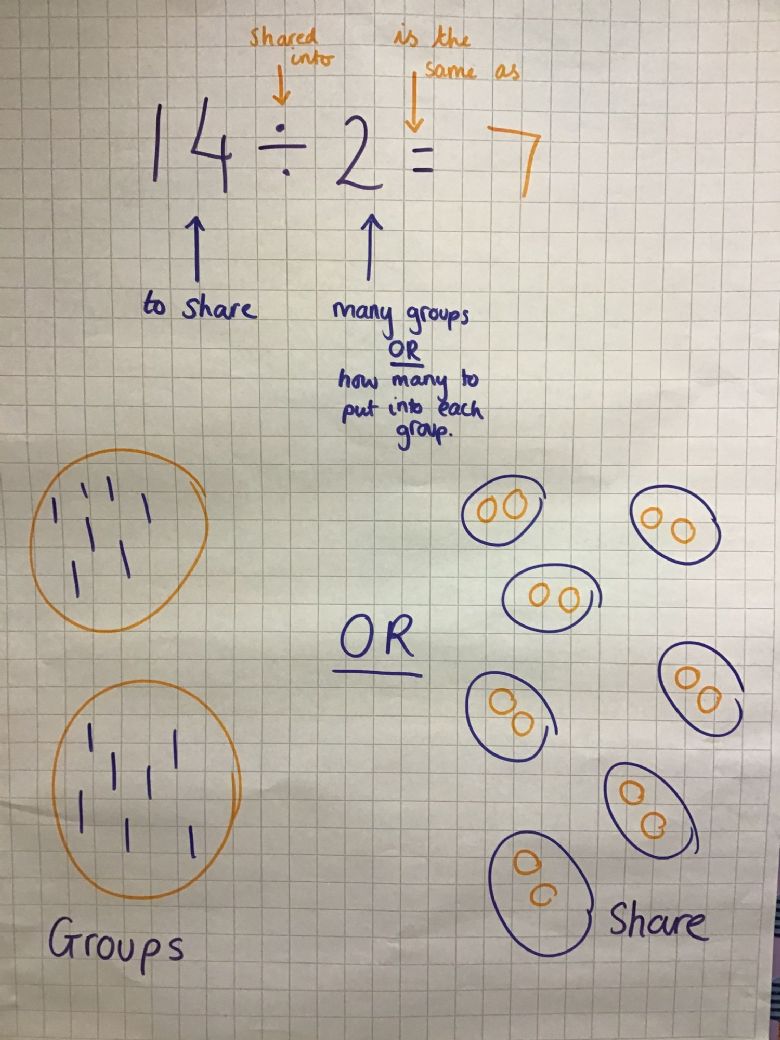 Beegu comes to Wooden Hill!
Over Christmas, Year Two had a very special visitor- Beegu!
Beegu is a beautiful, kind space creature who is very sad as she is far away from home.
The children were shocked to realise that Beegu had created quite a glittery mess in the classroom!
Our visit from Beegu has prompted some amazing writing, and we can't wait to see the children re-telling the story of Beegu.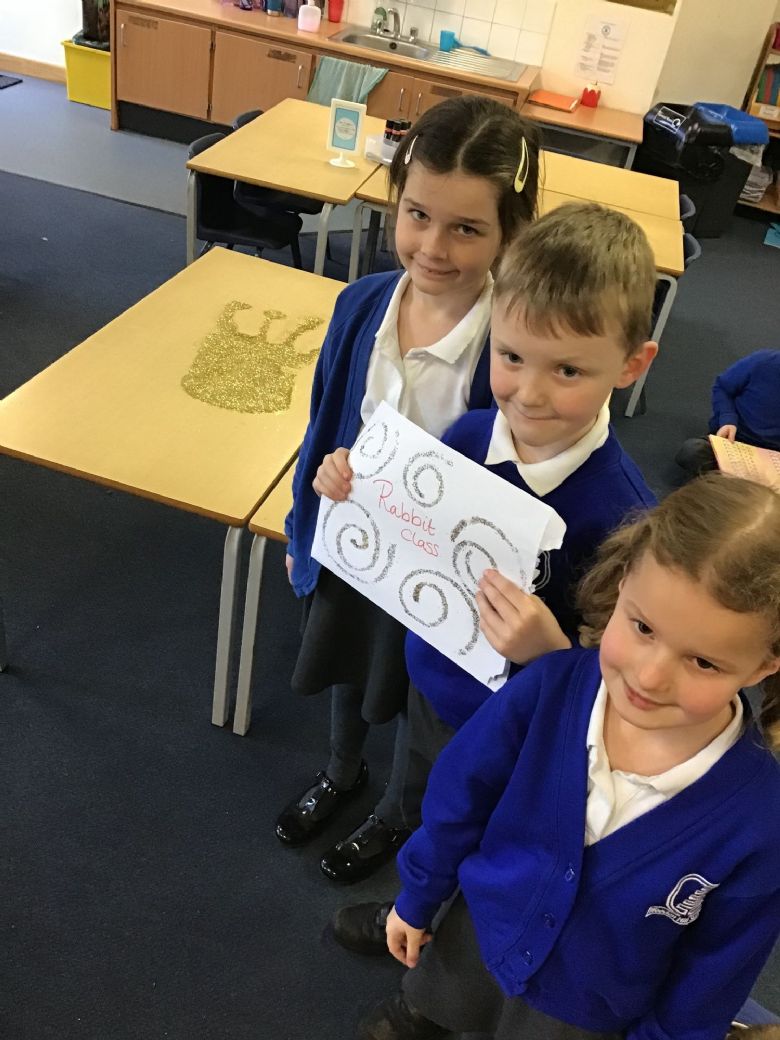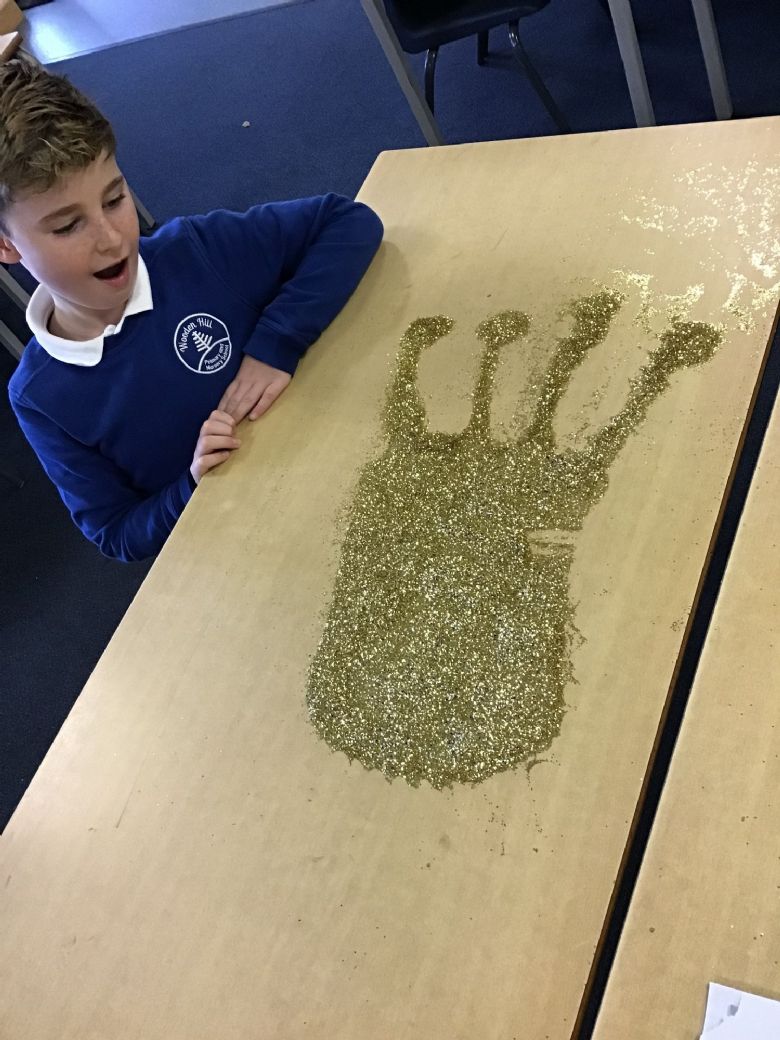 Sentence structure and word class!
" I know what an adjective is because it is a describing word. It can go with a noun to make an expanded noun phrase!" - Ivy
At the moment, during our spelling punctuation and grammar lessons we are focusing on sentence structure and word class. It is important for the children to explore the relationship between words in a sentence.
This week they have been identifying word class, and building sentences in a variety of different ways, exploring the order in which different words can go in a sentence.
This will lead up to them writing a narrative based on a traditional tale in which we hope that they will use a variety of different sentence structures to compliment their writing.
Please discuss adjectives, nouns, verbs, conjunctions and adverbs at home with your child - we know they would love to tell you all about them!
Spelling Shed
This week we have been focusing on spelling words ending in 'le'.
We are having a huge focus at the moment on spelling in Year Two. Spelling Shed enables the children to practise spellings we have taught them, and helps them consolidate their learning.
The children have been loving using Spelling Shed, and it is amazing to see their progress.
Our big question this term is 'How can we put a twist in a tale?' so as well as our weekly spellings, the children have been assigned common words in fairy tales to practise.
Understanding Non-Fiction Texts!
We have been looking at non-fiction texts this week to help us write our own fact-file of information about Victorian Toys. So far, we have been finding out what features we need to make a successful fact-file, as well as understanding the differences between fiction and non-fiction texts.
Counting in Threes!
This week, Year 2 will begin to practise counting in our threes using a range of techniques such as adding three to the number in our head as well as counting two numbers silently in our heads and saying the third number aloud. Please help your child practise counting in threes at home, along with their twos, fives and tens.
Retelling a Story!
Today, the children in Year 2 have been developing their retelling skills. Over the last week and a half, we have been reading 'Toys in Space' by Mini Grey and using techniques like echo reading (adult reads then the children copy) to learn the story. During our lesson today, the class were in small groups and sequenced the key events from our story. Afterwards, they retold the story in their own words to the class. It was very successful and the children loved having their own take on what had happened in the story!
Times Table Rockstars!
This week, we have introduced the children to Times Table Rockstars, and they are absolutely loving it!
Times Table Rockstars is an app for a computer or a device, which allows the children to practice their times tables. This app is used throughout the school, and children are encouraged to compete against each other to earn 'coins' for practising their times tables. The app also allows the teachers to look at how the children are performing, and can identify any times tables the children need more practice on.
So far in Year Two, the children have been practising counting in 2s, 5s and 10s. We have been encouraging them to use their fingers to count if they are unsure of an answer- this has been modelled to them in class.
The children have had some time in class to get used to the app, and are all excited to get practising at home! We can't wait to see how the children are getting on.
Please note, there is no way for us to remove division from their games at the moment. We have discussed this with the children, and they know that it is something we will cover more later on in Year Two. It is something we have touched on in Year One, but if your child is struggling to complete division questions please remind them not to worry, they are just for practise.
Here are some photos of the children loving using Times Table Rockstars in the classroom. Who will be the class who gains the most points? Can Year Two get more coins than the other year groups? We are excited to find out...
See the attachment below to see what we are learning in English and maths this half term.