Attendance
Every Day Counts
It is vital that pupils attend school, on time, every day, in order to gain the greatest benefit from their education.
96.7% in the national average for school attendance
95-100% (less than 10 days absence in a year) is good attendance and anything
97% or above is excellent - although 100% is what you should be aiming for.
For further information, see 'School Attendance' factfile below.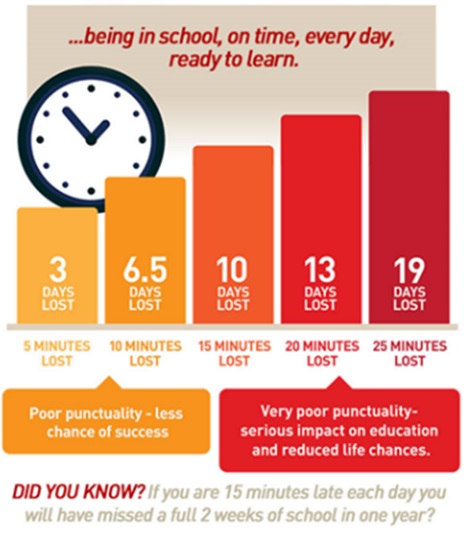 Frequently Asked Questions
Q. What is good attendance?
A. 100-95% Less than 10 absences per year.
Q. What is poor attendance?
A. Anything below 95% attendance is worrying, as your child is missing key learning opportunities and therefore, has less chance of success.
Q. What will happen if my child's attendance falls below 95%?
A. Schools monitor pupil attendance every term and if a child's attendance is falling below 95%, a letter will be sent home in the first instance. You will then be invited to an attendance meeting with the Headteacher and a member of the participation team from the local authority,
Q. Isn't my child entitled to 10 days holiday or odd days off for long weekends?
A. No, the school will only authorise absence in exceptional circumstances. Did you know that there are 175 non school days per year to spend on famlily time, visits, holidays, shopping trips etc.
Q. What is meant by 'genuine medical reasons to be absent'?
A. Diarrhoea, sickness, childhood ailments eg. measles, chicken pox, extremely high temperature etc. are genuine illnesses. Children should not stay at home if they have minor coughs, tummy aches or headaches. If your child is too poorly to remain at school, the school's Welfare Officer will contact you to come and collect your child. Please remember that even absences due to genuine medical reasons still affect a child's attendance. Where possible, you should provide the school with medical evidence to support the absence.
Q. What should I do if my child is absent?
A. Contact the school's Attendance Officer, by 9am on the first day of absence, to explain why your child will be missing school.